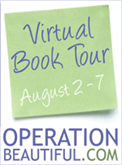 Toot, toot!
All aboard, the Operation Beautiful Virtual Book Tour!
I am excited to be talking about a body image topic that is very near and dear to my heart this morning- Happy Weights!
But first, a delicious, healthy, and energizing breakfast!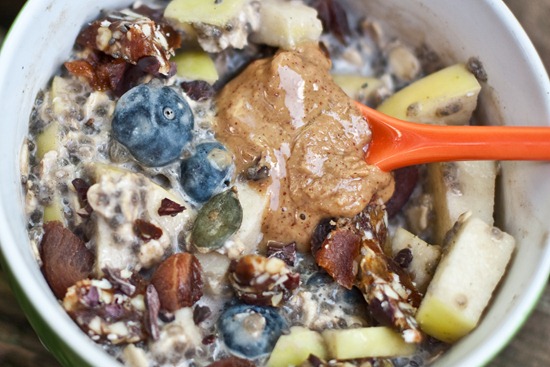 YUM!!!!
Morning Glow Vegan Overnight Oats
Ingredients:
Classic Vegan Overnight Oats (1/3 cup oats, 1.5 tbsp chia seeds, 1 cup Almond milk, 1 tbsp Amazing Grass chocolate Amazing Meal powder)
1/2 apple, chopped
1/4 cup blueberries
1 dried apricot, chopped
1 tbsp peanut butter
Drizzle of maple syrup, optional
Directions: Mix classic vegan overnight oat ingredients and leave in fridge overnight or in fridge for 1-2 hours. When VOO is ready, stir in mix-ins (chopped apple, blueberries, apricot, 1/2 cookie bite, peanut butter. Serve and enjoy!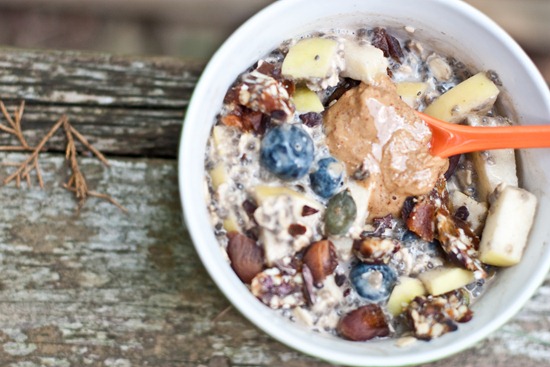 This was soooooo delicious.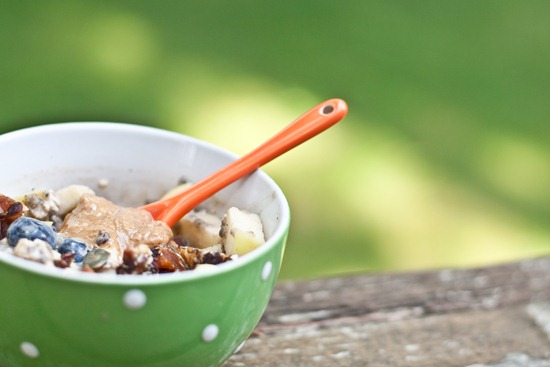 Revved up and ready to roll!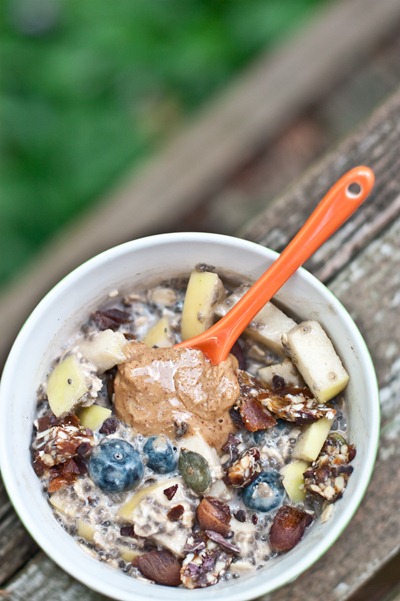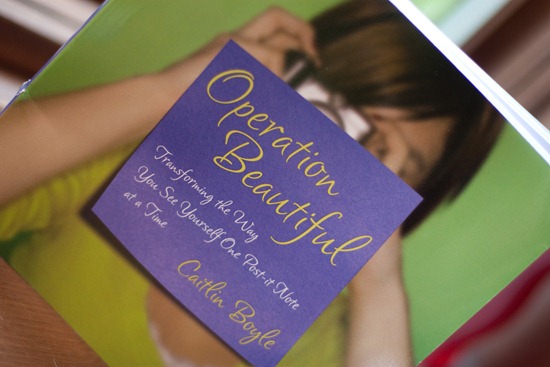 Fun fact about the OB book- OSGMOM has the very first note in the entire book!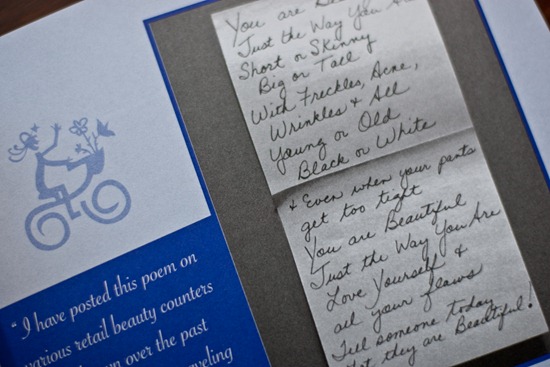 You can also find me on pages 25 (my OB note) and 129-131 (I talk about the Superwoman Syndrome). I am so honoured to be a part of this great book!
OK, let's begin.
I went on a post-it spree in Wal-Mart in honour of this post!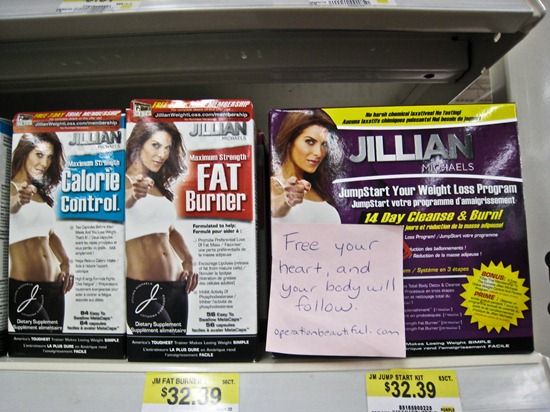 Happy Weight: What It Means To Me
The term Happy Weight seems like an oxymoron, doesn't it?
I mean, who is ever happy with their weight?
I define a Happy Weight as a weight that your body can maintain with relative ease where you feel healthy, energetic, and sane.
How many women do you know who have said to you, 'I am at my happy weight?' and then 2 months later they still say the same thing? And a year later they still say the same thing? It is usually along the lines of, 'In 10 pounds I will be at my happy weight' or 'Just 5 more pounds to lose until I am happy with myself.'
At least for me it always was.
Part of the problem is that the weight we think will make us happy is often not the right weight for our body.
The weight that we desire and the weight that the media tells us we should be is often NOT the weight our own body is happy at. This happy weight will be different for every single one of us. My Happy Weight is not the same as yours and your Happy Weight is not the same as your sisters or your best friends. We are all unique.
It took me years to figure this out. In the process my weight went up and down and up and down.
Many women pick a specific number on the scale that they want to reach. We chose our goal and we do everything in our power to get there and stay there. Often in the process, we lose ourselves and forget that we have worth outside of this goal.
An 'unhappy weight' is a weight that we do not feel our best at energy wise, health wise, and hunger wise.
For years, I used to battle with myself, with food, and with the scale to maintain my weight. I fought the battle every single day to stay at that weight. Every morning when I opened my eyes, the first thought in my mind was about my weight. I vowed to eat less and to workout more. To stop bingeing. At night, I would often cry into my pillow, ashamed at myself for eating 'too much' food or for being weak and bingeing on junk food. The cycle of shame, guilt, and desperation went on for years.
I always told myself in 10 pounds, I would finally be happy. All I had to do was lose 10 pounds and achieve 'x' weight and my life would fall into place. In 10 pounds, I could eat normally, binges would stop, and I could stop hating myself. All I had to do was lose 10 pounds and my problems would be solved.
I would love myself in 10 pounds….but not yet.
Not yet.
For myself, and for many women, the number on the scale is sadly a barometer for our own self-love and self-worth.
If the scale tipped higher, I hated myself a bit more. If it tipped lower, I was a better person worthy of at least a small amount of love, but of course not fully until I achieved my goal weight.
Not yet. Some day though.
I promise.
Well, I finally did lose those 10 pounds and when I got there I realized that the number was actually not my happy weight. I couldn't love myself yet because- wait for it- I actually had a new goal weight! I was mistaken before. I thought my happy weight was 10 pounds less, but I was wrong, it was actually in another 5 pounds.
I guess I was wrong.
I would love myself someday, but….
Not yet.
Not yet.
5 more pounds, and I promise that you can be happy again. You can eat more in 5 pounds. I can eat normally again. I will love myself. I will be able to concentrate on my school work. I won't binge when I lose 5 pounds. I will be free of the monsters that tell me I am no good.
These thoughts are easily justified in the mind of someone suffering with disordered eating. You are never good enough. Life passes you by as you chase after happiness in a number.
The problem- and I didn't figure this out for years- was that when I allowed the scale to be a barometer for my happiness, the number will never be good enough. I will never be happy living this way. Happiness is not derived from some extrinsic factor, it has to come from within to have a lasting impact.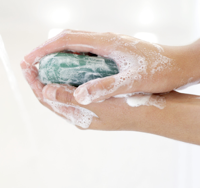 So many women chase a specific number on the scale. When we approach it, it slips away from our grasp like a wet bar of soap. We try desperately to cling harder to it, and it shoots in the opposite direction. We trip and fall many times chasing it. The harder that I clung to my strict diet and exercise regime, the worse my binges got and the more the scale climbed and climbed which only perpetuated the negative thoughts and desire to restrict. It is an extremely hard cycle to get out of.
So how did I find my happy weight?
It took me years and a lot of hard work to find my happy weight, but I can now confidently say that I am there. I attribute this to several choices that I made along my journey. These are my own personal choices and I do not assume that they are necessary for others. It is simply my own experience and what worked for me.
1) I claimed responsibility for my happiness
For so long, I felt powerless about my own happiness with myself and my body-image. I felt like I couldn't change myself, my thoughts, or my actions. One day it occurred to me that I had to finally accept responsibility for my happiness. If I didn't, who would?
2) I ditched the scale
While I don't think scales can

make

us unhappy (ultimately, we have the power to decide that!), I do think the scale was negative for me. To this day I do not weigh myself. The scale can be a useful tool for many people, but it was poison in my life and I chose to stop weighing myself. I have never been happier since ditching the scale.
3) I got professional help
Having suffered from an eating disorder since the age of 12, I strongly believe the only way I could beat the negativity and find my happy weight was to seek out the help of an experienced professional. I tried and failed many times on my own, but things started to fall into place when I had the counsel of a loving professional. You have to

want the help

first though. My commitment and determination + a loving professional = the right tools for progress. There is no shame in talking to someone!
4) I stopped counting calories
Just like scales, calorie counting can be a useful tool for weight loss. However, in the hands of the wrong individual (like myself) calorie counting turned into an obsession. I couldn't stop even when I tried and it took over my life. I had to get rid of calorie counting and I instead chose to listen to my body's hunger signals. It took me years to be able to do this successfully. For so long I had denied my hunger that I found it was almost impossible to listen once I tried. The worst part was that I continued to binge even when I stopped counting calories because my body didn't trust me. However, overtime my body trusted me again and I became in-tune with my body's needs. This does not happen over night…patience is a virtue.
5) I exercise for FUN and for a healthy personal challenge (not just to burn calories!)
I never focus on how many calories I burn during workouts anymore. I focus on how I feel and I do things that I enjoy like racing. Find what you enjoy and stick with it. Set goals. See what your body is capable of! Make it an adventure.
Today, I can't tell you how much I weigh (because I don't know), but I can tell you that I am at my Happy Weight. I know this because I eat healthy foods when I am hungry and I exercise in a moderate amount. Some days I overeat or indulge in too many sweets, but other times I pass up on dessert. It is all about finding a balance. I don't starve myself anymore and my body feels no need to binge. My body is happy because it stays about the same size and my clothes fit how they should. If my pants get a bit tight, I know to pass up on a few desserts or extra servings here and there. Nothing extreme anymore.
For the first time in my life, I don't care how much I weigh because I know that I am healthy and happy. As long as I have this, no number will ever be able to dictate how I feel about myself again.
I decided that all scales should come with a disclaimer when you open up the package…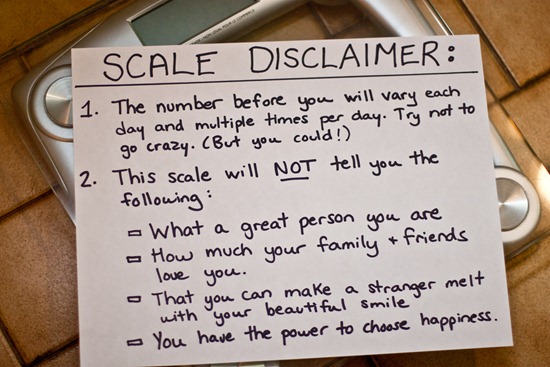 Half way through writing this disclaimer, I was overcome with emotion and I broke down into tears. I wasn't expecting to feel those intense emotions after all this time. I guess my heart still remembers the pain I went through for many years.
The fight was worth it.
I am worth the fight.
And so are you.
If you would like to be entered in a random draw to win a copy of the Operation Beautiful book, please leave a response below.
What would your 'Scale Disclaimer' read? What does a happy weight mean to YOU?