Good morning!
Yesterday, I played the role of an Undercover Blogger as I spent all of my 'blog time' working behind the scenes answering emails and I did not have a chance to post. I am sure you all appreciate a break from my ramblings now and then! I know I do. I am about 90% caught up on my emails now, so I will ride this high as long as I can! I also updated the Green Monster Movement with wonderful reader recipes.
Some food highlights of yesterday…
My healthy spelt pancakes for one that I doubled for Eric and I.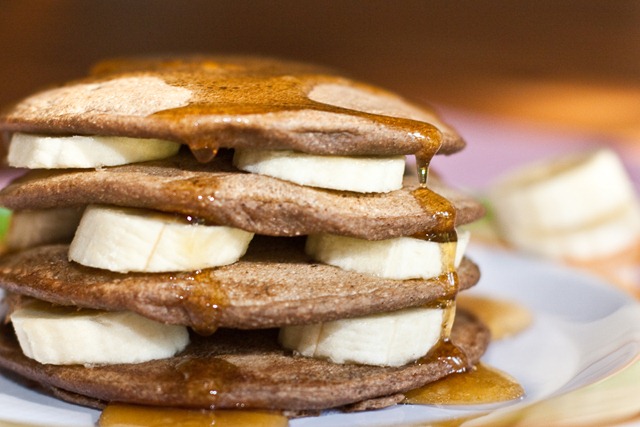 Mmmmmmmm!
After digesting, Eric and I headed out for a very humid Brick workout! I skipped my Brick on Friday so I decided to make up for it Sunday morning.
The bike leg:
Distance: 5.55 miles
Time: 31:44 mins
Avg Pace: 5:43 min/mile
It was a great bike ride. We did mile 2 on the trail and I took the lead and did my fastest trail ride yet! I was going fast over the rocks. It was exhilarating!
Eric didn't come for the run portion because his knee started bothering him a bit. My transition was a quick one…just over 1 minute and I was up and running!
The run leg:
Distance: 2 miles (mile 1 = 8:27; Mile 2 = 8:14)
Time: 16:41 mins
Avg Pace: 8:20 min/mile
Max pace: 6:18 min/mile (sprinting last 300 metres)
This run was super challenging! My legs were tired and I pushed myself to maintain under an 8:30 min/mile pace. I kept saying, 'Feed The Warrior!' and before I knew it, I was turning back after 1 mile and just had to make it home. I love out and back runs so much because the run 'back' always feels easier!
When I got home I needed to Feed The Warrior…this time with food!
Lunch was a huge, delicious mixed baby green salad with chickpeas, green onion, tomato, etc.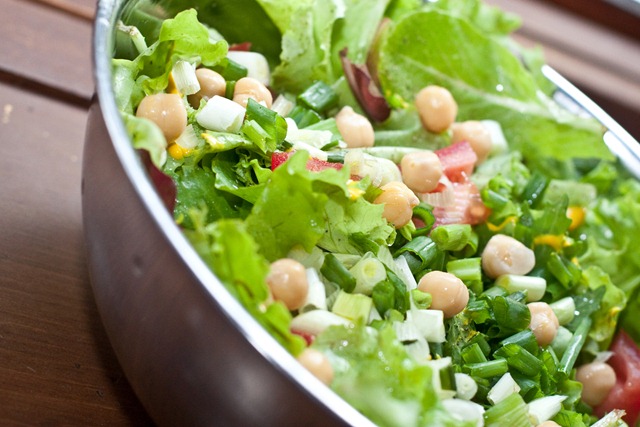 With a generous amount of my Better than Balsamic salad dressing!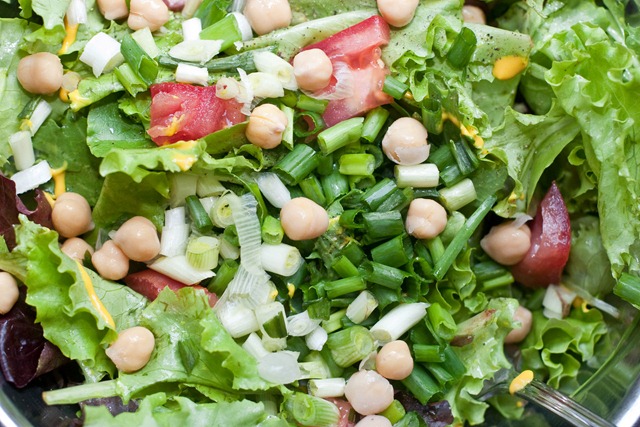 It's official: Green onions are my new favourite thing to top a salad with. It gives the salad so much flavour!
By the way…check out DAY 3…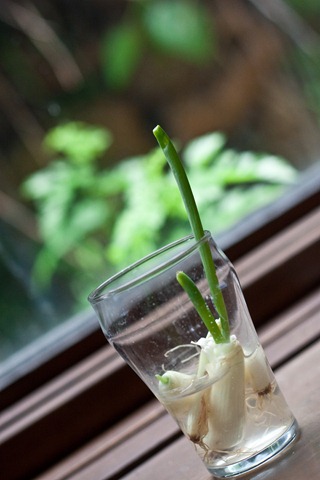 Craaaaaazy!
Another obsession as of late…the open-faced sandwich!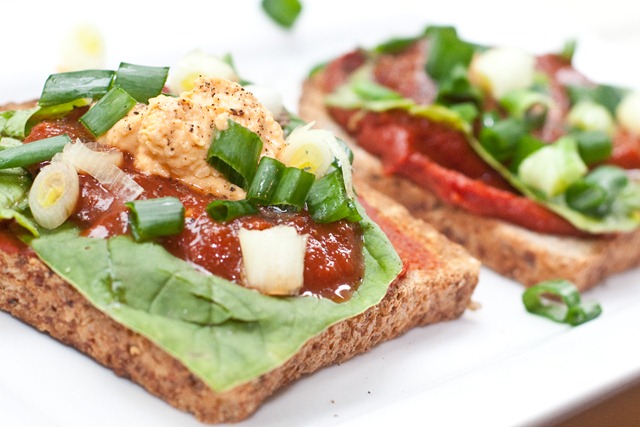 Berries for dessert…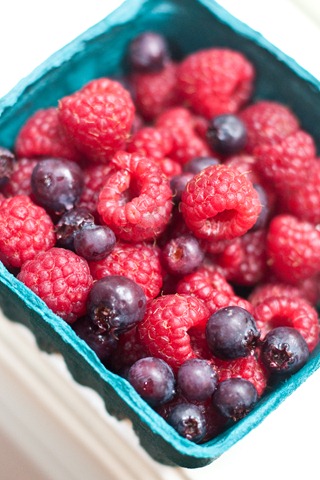 Sadly they do not last long in this house!
Afternoon snacks..
Chickpeas + Cheeze sauce from the other night + EVOO + vinegar + pepper: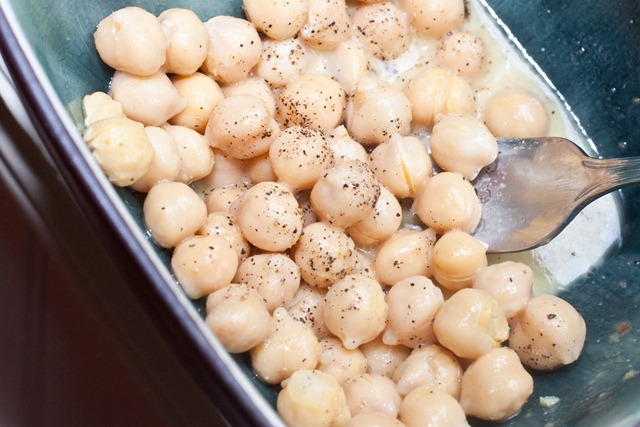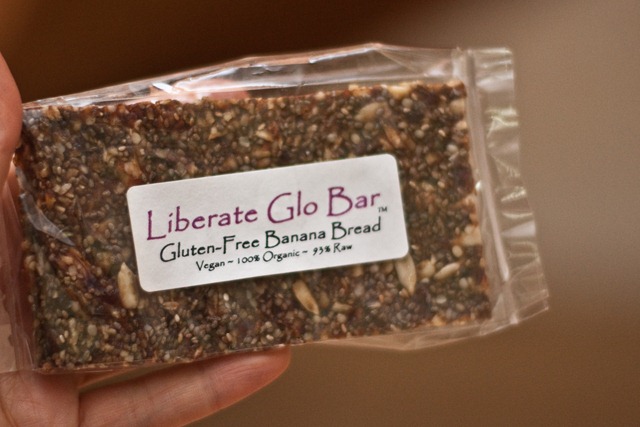 We went over to my Aunt and Uncles for dinner and had such a nice visit! I didn't take pictures of dinner as I was OFF DUTY! I forgot how nice it was to sit down to a meal and not whip out the camera!
After spending more time on the laptop, Eric found me like this around 11:30pm…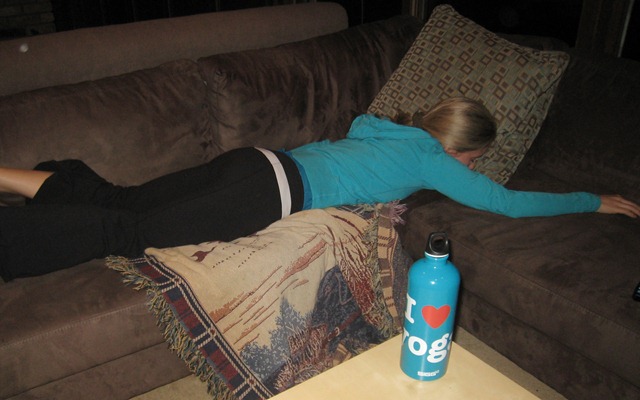 Good times.
Breakfast was an 'open-faced' bowl of Banana Soft Serve Vegan Overnight Oats…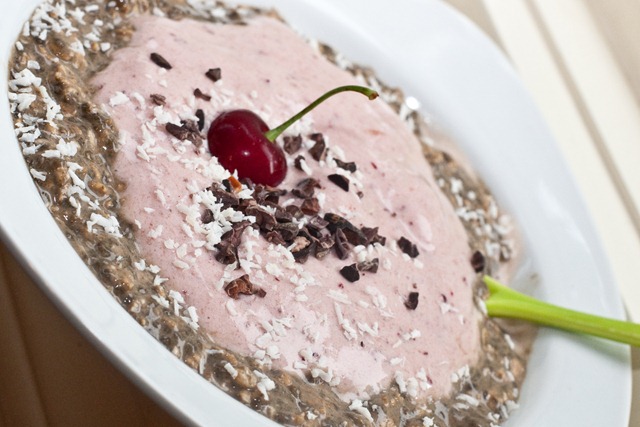 I made Cherry Bomb Banana Soft Serve using 1 frozen banana and 6 pitted cherries.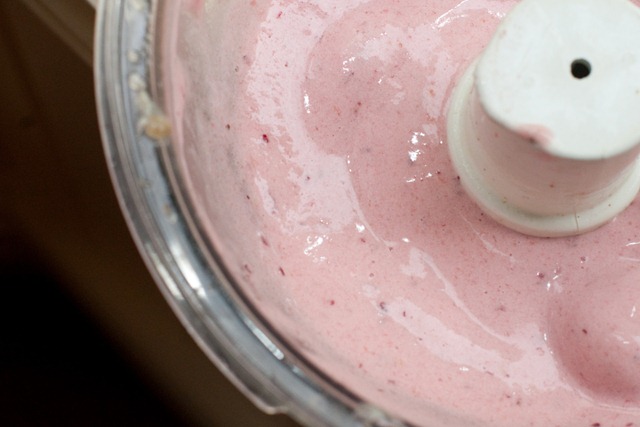 The layers: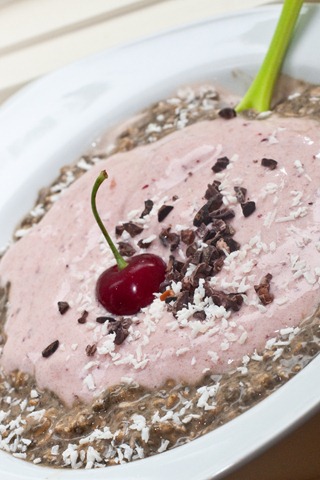 Love, love, love.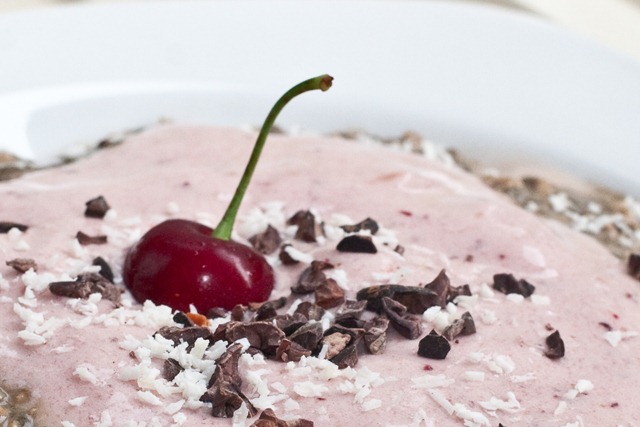 Today's question: Do you take pictures of what you eat? If so, how much to you photograph- everything or just once and a while? Do you take pictures at restaurants or when visiting family or friends? Are there ever days when you are 'off duty'?
Updates:
Have a great day. I will see you tonight!