Mmmmmmmmm.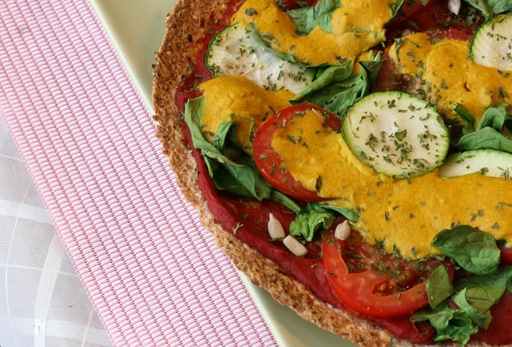 Did you do a double take?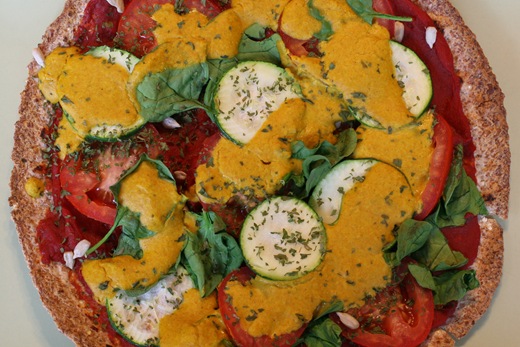 Tuesday, I did a review of Ezekiel tortilla wraps. I received a comment from Meagan saying that I had to try these wraps as a pizza and she linked me to her amazing post. After wiping the puddle of drool from my desk, I knew I had to make this- stat!
Vegan Pizza with Cheeze
Adapted from Meagan's post.
Ingredients:
1 Ezekiel tortilla wrap
2-3 T tomato paste
handful baby spinach
7-8 slices zucchini
plum tomato, sliced
basil and parsley
Sunflower seeds, hulled (a little fat helps with absorption of nutrients in veggies)
Mea's Humnut Sauce:
3 T hummus
water to thin out
1/2 t Turmeric (to make it yellow- it will change the taste a bit keep in mind)
Directions: Spread tortilla with tomato paste (or pizza sauce if preferred). Add toppings followed by cheeze and seasonings. Broil in the oven for about 3 minutes on low- watch carefully! Serve immediately.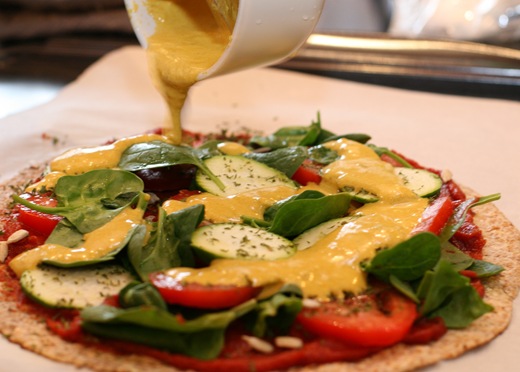 This was incredible.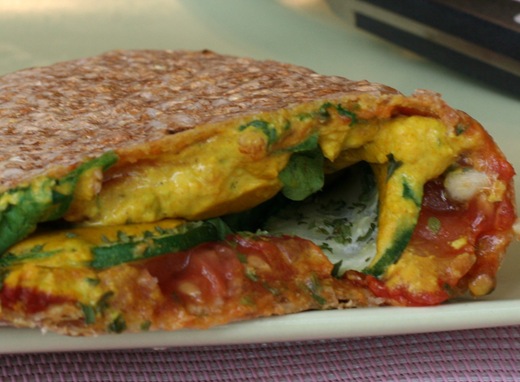 I love finding out about new food concoctions! :mrgreen:
Our weather lately has been beautiful…we have been blessed with the sun for the past week or two. It feels more and more like Spring everyday (minus the snow of course, but it is beautiful to look at!).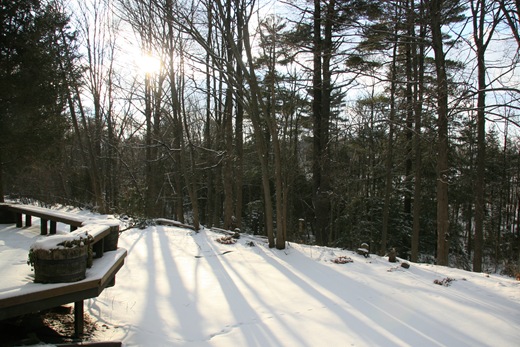 I was asked if I am still drinking Green Monsters and the answer is yes, yes, and yes! I have about 4 a week now, and about 2-3 juices a week. I like mixing it up.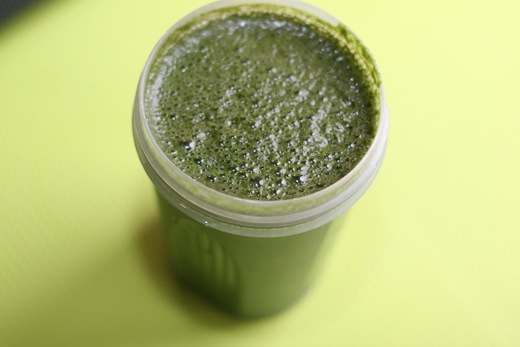 As I mentioned in yesterday's post, I skipped my scheduled 3 mile tempo run yesterday in favour of some stretching. I was quite sore from my Booty Camp Fitness workout, so I decided to take it off to let my muscles repair. I have updated my Spring Training Plan to reflect this. I simply added on the 3 mile run to today's workout.
I did 13 Poses for Runners last night and it was just what I needed!
Now I want everyone to try a quick activity with me, don't even think about it and answer the following question as quickly as possible…
Are you holding your breath right now?
I do it all the time, I am horrible at BREATHING!
Yup, I am a chronic shallow breather! I also often find myself holding my breath when I am busy or stressed. Lately I have been trying to be mindful of breathing deeply. It feels so good to breathe deeply and unfortunately it also feels a bit foreign to me because I rarely do it! I hope to be more conscious about my breathing and try to make it a 'habit'.
What kind of breather are you- shallow or deep? Do you consider yourself a conscious breather?

"Being relaxed, at peace with yourself, confident, emotionally neutral, loose, and free-floating – these are the keys to successful performance in almost everything." ~Dr. Wayne Dyer