Hey guys!
How is your holiday going so far?
Missed Part 1 of my Christmas recap?
This is my 'not impressed' face hahaha ;) I planned on working out on Christmas Day…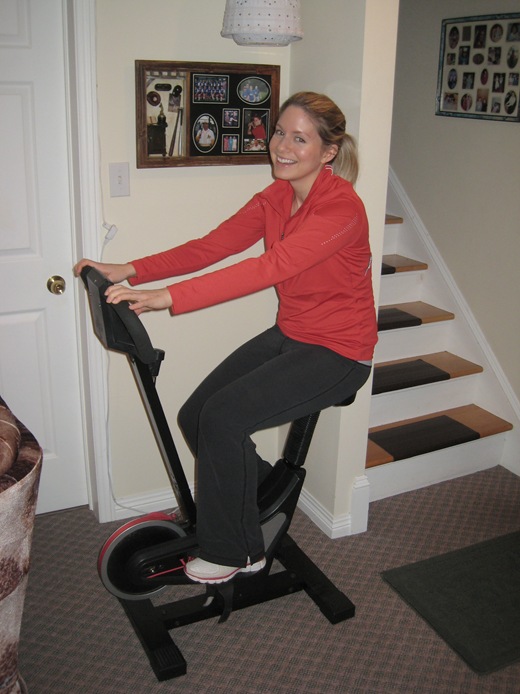 My dad failed to tell me his exercise bike was straight from the 80's! LOL!!!! I got on it and I thought I was going to tip over. Eric laughed and laughed at me.
BIKE FAIL.
bahahaha.
My dad tells me he USES this bike…I just don't believe him!
I lasted a very long 2 minutes and then I begged Eric to go for a walk outside with me instead. Luckily he agreed and we had a great 30 min. walk! It was so refreshing and we saw lots of Christmas lights.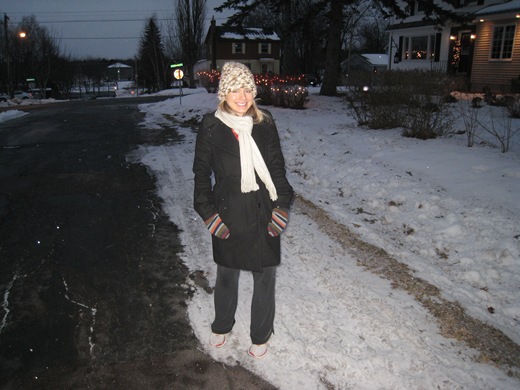 Unfortunately I had a horrible sleep last night and didn't fall asleep until 3am! I think it was all the dark chocolate I ate while watching The Hangover.
Breakfast this morning was another lovely Green Monster in front of the Christmas tree while listening to some beautiful Celtic Christmas music.
Then I was off to Nubody's!
A brand spankin' new all women's gym in Moncton. When I got there I was pleasantly surprised that the lady gave me a 3 day pass for FREE (I was told earlier last week it would be $9 a day)! I was super impressed with this gym- gorgeous, tons of machines, and flatscreen TV's.
I was most impressed with the sparkling clean change rooms though! I hate hair and band-aids. ;)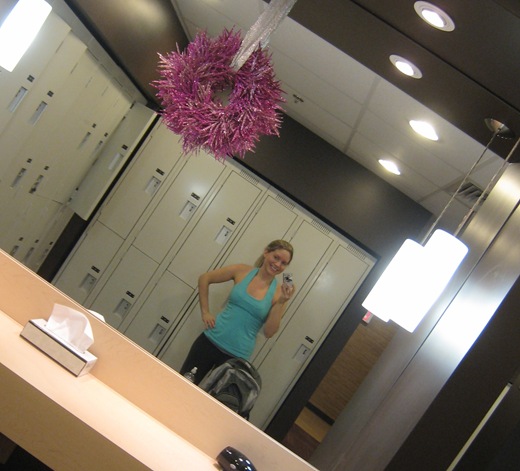 [I was so nervous someone was going to come in when I was taking a picture and think I was a weird creep! bahaha…luckily it was dead today]
I had an awesome holiday workout!
I did a 45 minute 'Around The World' workout:
20 mins. on stairmaster @ level 15
10 mins on elliptical @ incline 10-11, resistance 11-12
10 mins treadmill hill workout @ incline 15, speed 4-4.2 mph intervals (60 sec.)
5 mins cool down @ incline 10-5, speed 3.5-3 mph
Whenever I go to the gym, I love sampling all of the machines! It's fun :) Much better than 45 mins. on the dreadmill! What a tough workout that was!!!!!
I worked up a huge appetite! I came home and gobbled a Glo Bar and then showered.
This is a top secret new flavour!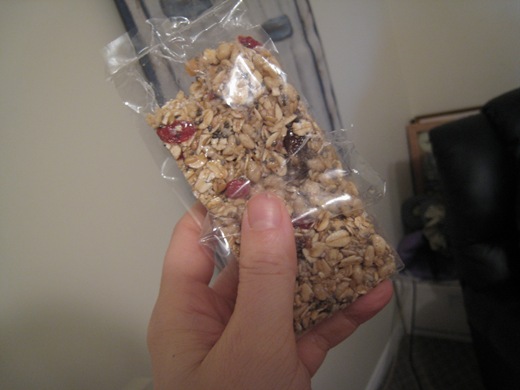 Around 2pm, Eric and I were off to a vegetarian restaurant in Moncton called Calactus Cafe.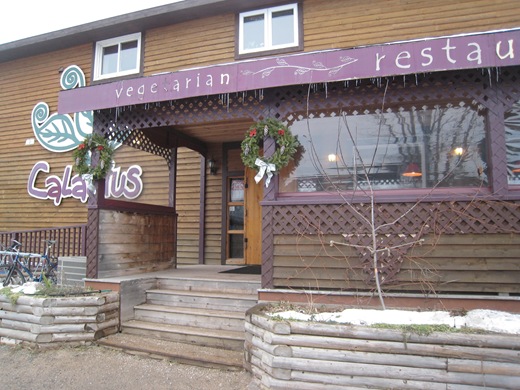 The inside was really funky looking and cozy. We sat by the window.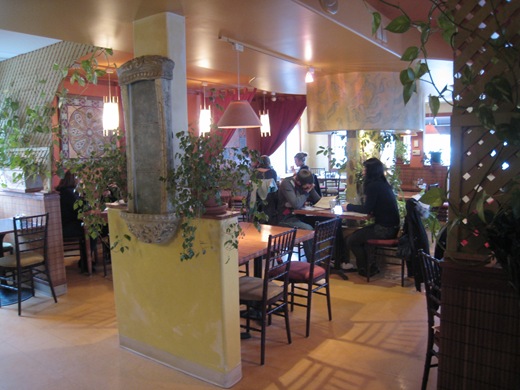 Everything is in French and English in Moncton as NB is a bilingual province.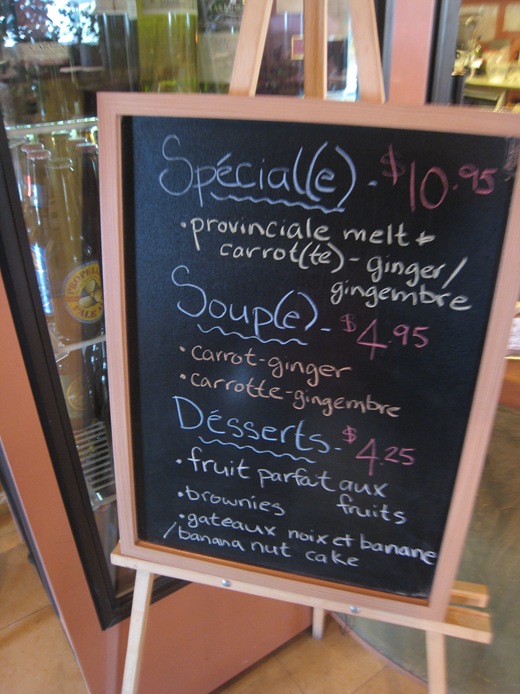 Loved the menu!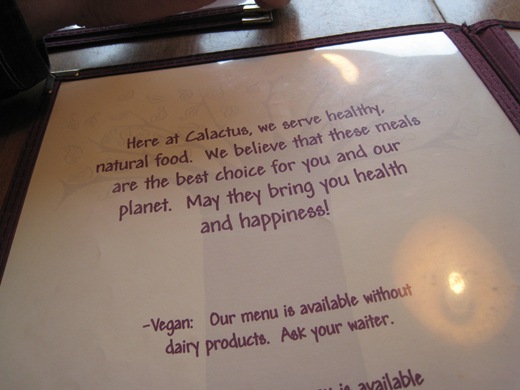 I was in the mood for tea and I tried the Blossoming Herbal Tea.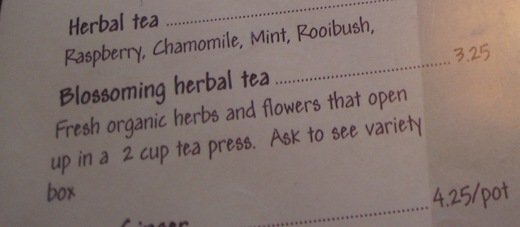 It was lovely!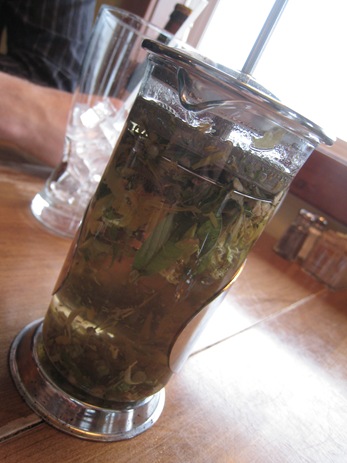 Eric got Rootbeer!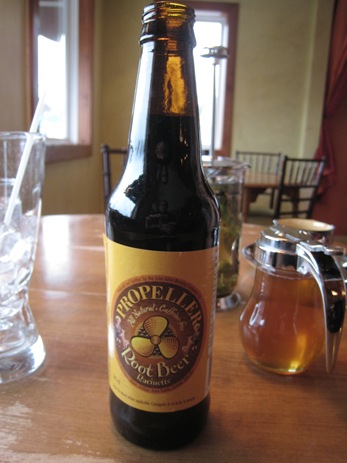 Eric and I shared Vegan Chapati Bread and veggie sticks with hummus and guacamole for an appetizer.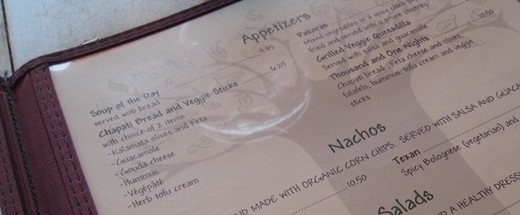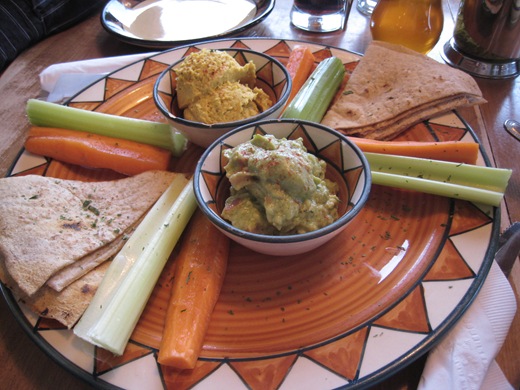 The guacamole was to die for! The hummus was quite good too.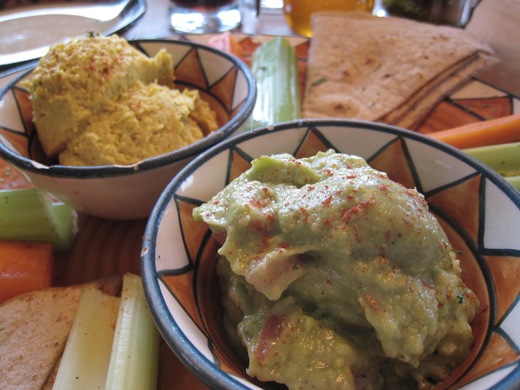 The pitas were spread with some type of garlic infused oil. So. good.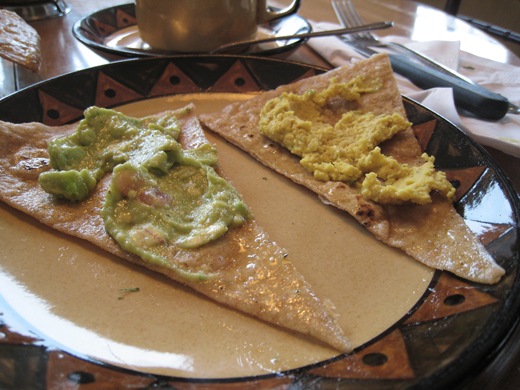 I had 3 pita pieces and some veggie sticks…
For my main, I decided on Enchiladas! This is a dish that I love but I have yet to have a vegan version yet so I knew I had to try it!

WHOA BABY, right!?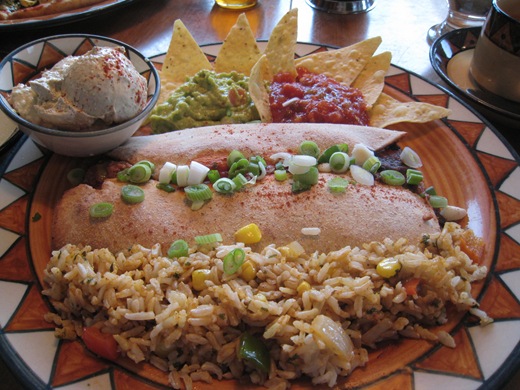 Instead of cheese, the server gave me tofu cream…it was delicious.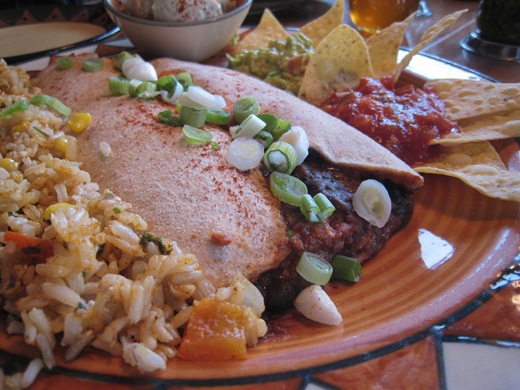 Eric had this amazing looking veggie pizza (with a thick crust and extra sauce)! He loved it.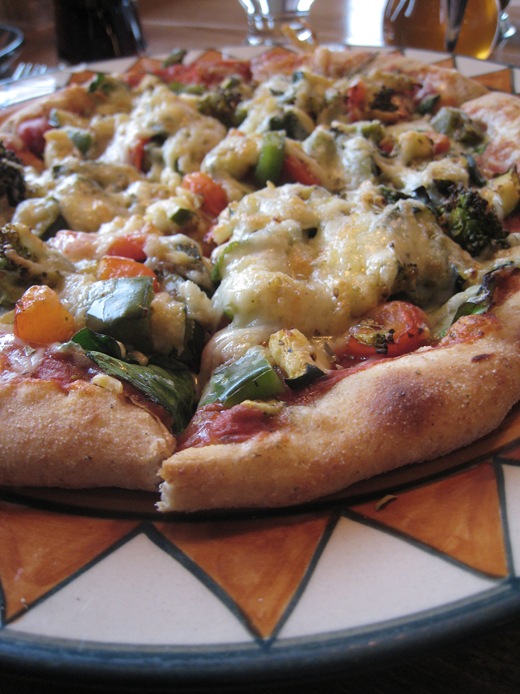 Such a transformation from his old days of just cheese and pepperoni.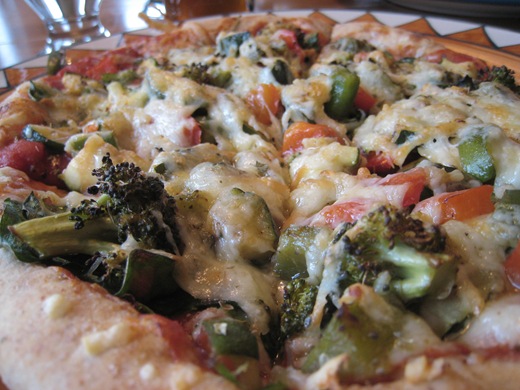 Eric said, 'You always get this cute grin on your face when you are eating at a good vegan restaurant.' He loves when I am happy at restaurants since it is such a challenge for me now. It is honestly such a RELIEF when I find a good vegan dish that tastes amazing. I said, 'I'd love to open a place like this someday.'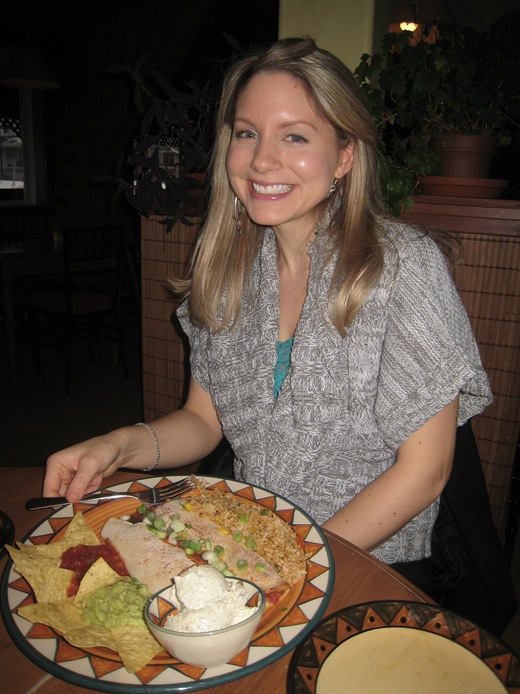 I cleaned my plate!!!
The best thing I have noticed since eating a vegan diet is that I no longer feel tired, drained, or 'blah' after eating out at a restaurant. Eating plant based foods leaves me feeling happy, energized, and content. It is such a change from the old days when I would leave restaurants feeling like crap and like a stuffed sausage.
A big thank you to Calactus Cafe for the great experience!!! Will be back next visit.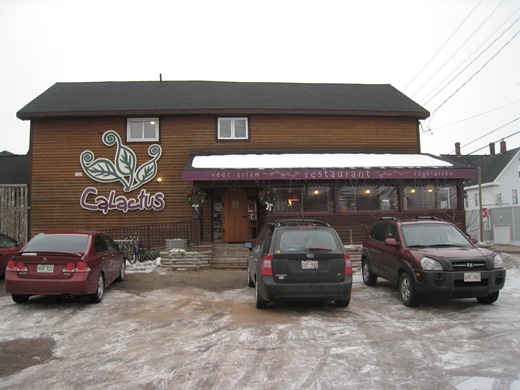 Here is a quick video I filmed on the bumpy roads of New Brunswick.
Now we are watching the Canada Juniors Hockey game. We're kicking butt!!
Happy Boxing Day to my fellow Canadians! Any good sales today? :)