Yesterday was a long day- an 18 hour day to be exact! Eric and I were up until 12:30 trying to solve our QuickBooks woes. So I decided that this morning would be a fun and indulgent morning. I knew Eric was working from home today, so I decided to treat us to a nice breakfast together.
Oh. And let me tell you. I have new favourite pancakes and I think you will too once you try these.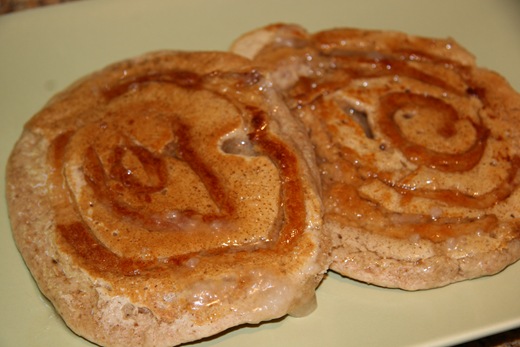 Healthy Peanut Butter Coconut Swirl Pancakes
Inspired by Fat Free Vegan
Ingredients:
Batter:
1 1/4 cup whole wheat flour
2 T organic cane sugar (or regular will do)
2 t baking powder (I use aluminum-free)
1/2 t salt
1 1/3 cup soy or almond milk
1/2 T egg replacer mixed with 2 T warm water (or 1 egg)
Peanut Butter Swirl:
2 T peanut butter
1-2 T natural unsweetened applesauce
Coconut Maple Syrup:
1 generous T coconut oil
1/2 T Pure Maple Syrup
Directions:
1. Mix dry batter ingredients into a medium sized bowl. Mix egg replacer in a small bowl and set aide. Whisk in milk into dry ingredients. Whisk in egg replacer. Add more milk to thin out if necessary. Set batter aside and preheat skillet. While skillet heats up, mix swirl batter into a small bowl or mug. Place swirl batter into a baggie and clip off end. This will allow you to pipe it into the pancakes. Pour batter onto skillet and immediately pipe the swirl onto the pancakes. Once bubbles have form and popped, flip pancakes and cook the otherside. Mix the syrup ingredients together and brush onto the cooked pancakes with a spoon. Garnish with shredded coconut. Now enjoy the most decadent and moist tasting pancakes you've ever had! Makes 6 medium sized pancakes.
Print Recipe
This recipe was inspired by Fat Free Vegan's cinnamon swirl pancakes.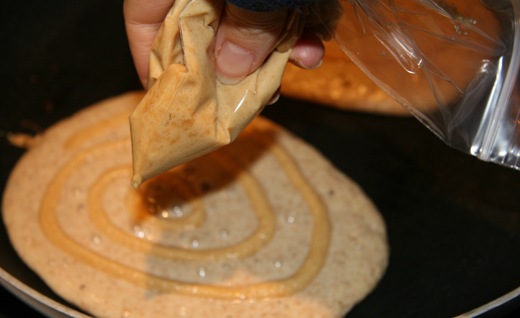 Piping on the swirl was so much fun I couldn't stand it.
These were the BEST pancakes I have ever made!!!!!!
The peanut Butter swirl made the pancakes so decadent and super moist. I couldn't get over it. The coconut oil 'syrup' was something I have been dreaming up for a while now and it was even better than I expected. I can't believe I only needed 1/2 T of maple syrup and it still tasted so sweet. It was the perfect breakfast when you are looking for something a little wild, fun, yet still filled with tons of healthy ingredients (coconut oil, peanut butter, whole wheat flour, etc).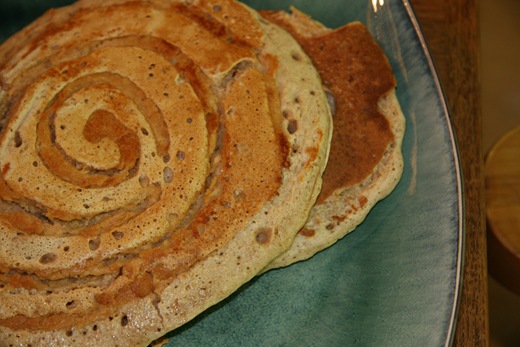 Eric loved them too…and he hates peanut butter! lol. Or so he thinks ;)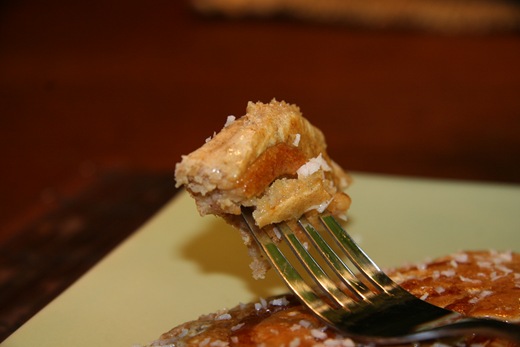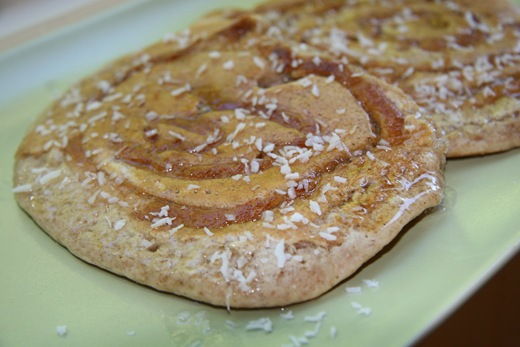 These are my new 'go-to' pancake recipe. I want to make these for lunch now. lol. ;)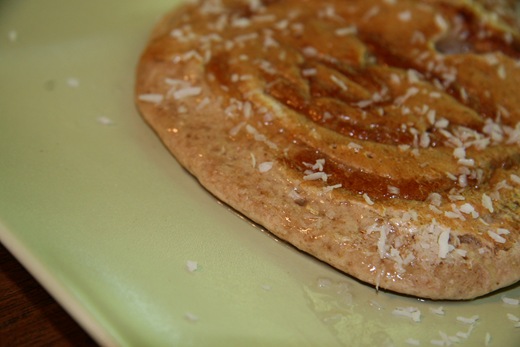 Well folks, I am off to continue the be good to myself morning with a nice run. Then it is back to work!
Enjoy your day! :D