Good morning!
I am in a flurry getting ready for Leah's stagette today! I was up around 7am so I would have time to prep everything and not have to rush too much. I think summer has finally arrived because it is beautiful outside again today! Must be the bridal luck. ;)
I started off my morning with a delicious new green monster.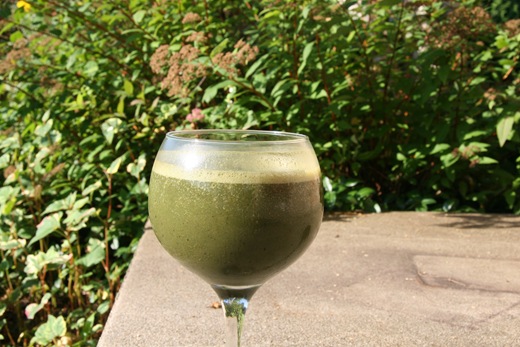 Chocolate Blueberry Banana Green Monster
Ohsheglows.com
Ingredients:

1 cup soy milk
3 cups steamed spinach
1 squirt Kyolic garlic extract
1/4 cup frozen blueberries
1 heaping T cocoa
1/3 cup Banana softserve
2 cubes ice
1 scoop Amazing Grass wheatgrass
Print Recipe
WHOA this was good. It was so chocolatey tasting! I forgot how much I love the taste of cocoa in a green monster. I also forgot about the frozen blueberries that I had in my freezer, so it was a good way to use some more up!
I'm off to go get ready now. I am wearing a very 'business' like outfit to the stagette tonight…I'm pretty excited about it! Of course, I am bringing a few shirt options in case I change my mind, lol.
I have a really fun post prepared for this afternoon, be sure to check it out!
I will be telling you all about what new project I am REALLY excited about!!!! :)
Ciao :)