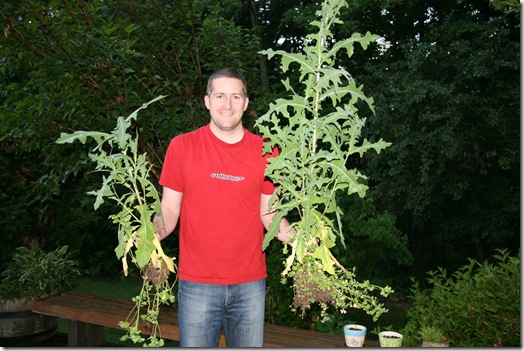 Who says we don't have a green thumb??? LOL :D
Have you ever seen a bigger weed!?
Last night Eric thought he'd scare our friend Mary…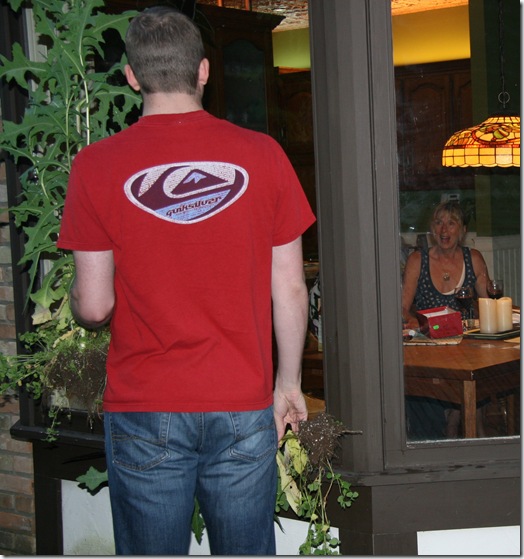 Down to the woods it went!
Someone challenged me to put up a sweaty post-workout pic of myself, seeing as I am now embracing my post-exercise appearance and all.
And of course I was up for the challenge!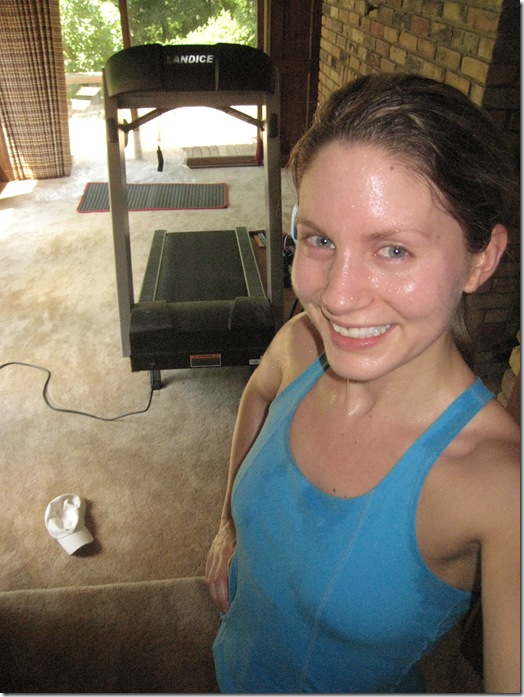 For some weird reason, my face wasn't nearly as red today as it usually gets when I workout! Usually I am a BEET. So picture this image only 10 shades darker. lol.
Did I mention that it is HOT this week? lol. Does anyone else find sweating it out in an intense workout session to feel really cleansing? I don't know why it is, but I feel so awesome after sweaty workouts (even more so after a nice cold shower!). I have never been one to like saunas or steam rooms though.
I was going to go for a run today, but then I decided to 'save' my run for Saturday morning! I always love running on Saturdays and I knew if I ran today I wouldn't be able to run tomorrow (I try not to run 2 days in a row if I can).
The workout:
Duration: 50 mins
Incline 15%, speed 4.0 mph
Max heart rate: 167 bpm
Avg heart rate: 149 bpm
Distance: 3.25 miles
Since it was so hot today, I got off the treadmill every 10 mins and guzzled water. I also did some core moves to mix things up a little. I did 2 sets of raised side planks on each side for approx. 45 seconds each side. Generally, I do one to two core moves per night before bed and I usually forget to mention it!
Oh and for the record- yesterday was an OFF day! After baking all day long and spending 10 hours in the 95F kitchen I was in no mood to workout!
+++++++++++++
I am still having fun with my…errr…Eric's camera… ;)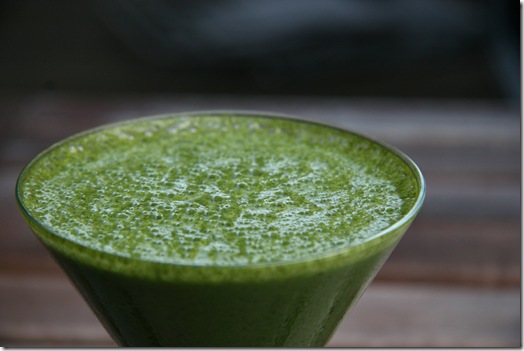 I threw myself a little 'Happy Hour' this Friday morning. :D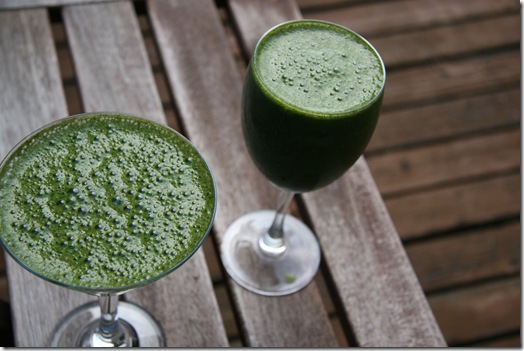 In today's amazing mix:
1 cup plus 1/4 cup low-fat soy milk
4 cups spinach
4 ice cubes
Amazing Grass Berry Powder
Scoop of Hemp-Maca-E3Live powder
1/3 cup cantaloupe
handful blueberries
4 ice cubes
GLORIOUS!!!!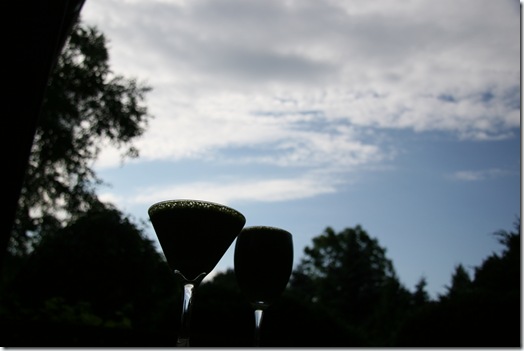 Sketchie pics of the day…
As you can see we didn't declaw him (I have the scars to show for it too!):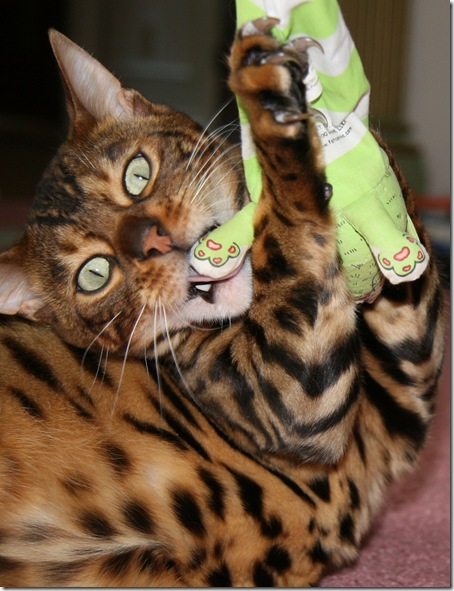 Because he has 7th generation Asian Leopard in him, his claws are MUCH thicker than a regular domestic cat. And they hurt like a b*tch. He also freaks out when we try to clip his nails, so they are usually very long! Thank God for his scratching post!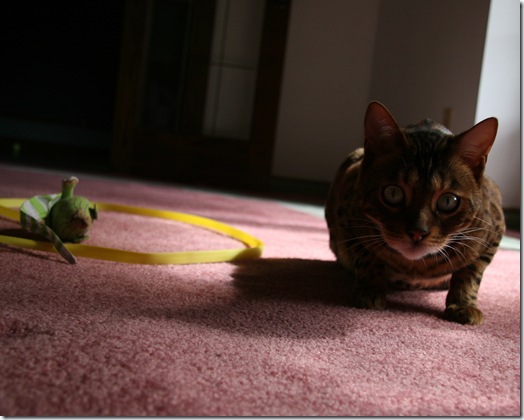 As you can see, his favourite room in the house is the pink and green living room! I wonder what he will think of it once it is renovated?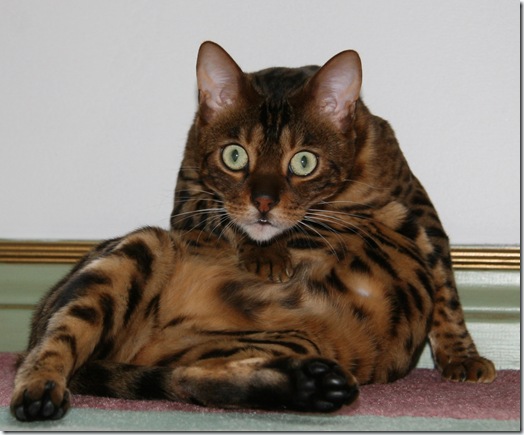 He loves licking his tummy!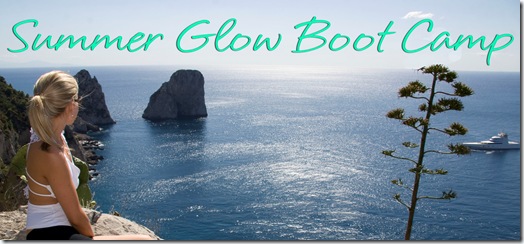 We have a SGBC BANNER! :)
Today's Clue: Smile for the camera!!
SGBC Casting Call:
Do you want to be featured in the SGBC? Do you know some fun and unique strength exercises that require no equipment? Well, here is your chance to shine!
What you need to do:
1. Pick one or two of your favourite unique toning exercises that require no equipment (although regular household items like chair, steps, soup cans are ok).
2. Have someone take 1-2 pictures of you (or another agreeing individual) doing the exercise.
3. Write up a brief description/instructions of the exercise.
4. Email me the pictures along with the name of the exercise and brief description to [email protected]
5. Casting call closes at 4pm EST on Saturday June 27th, 2009.
++++++++++
In other news…
Check out Allison from High Heels and Running Shoes (love the name!!). She recently did a wonderful and thought-provoking post on intuitive eating. I absolutely LOVED learning about the eating Pendulum.
We have a busy weekend ahead of us!
Renos
Gardening
Glo Bakery Business- Eric is helping me put together an online order form
Updating recipes/website
Bakery shopping/grocery shopping
Picking photos for professional wedding album (we still haven't done this!!!)
Cleaning!!!!
Mountain Biking
Develop gluten-free brownie recipe
Bakery orders
Dear Body VIDEO!!!
Ok, I need to go back to the kitchen to check on a new recipe I developed today! Healthy Macaroons anyone??? :)
I hope you have a FUN Friday night whatever you are doing! See you tomorrow AM!!