It's been a fun week! I thought I would do a recap! Please let me know if you find this feature beneficial and I will try to do it more often. :)
Let's take a look at what was going on on OSG the Week of May 2-May 8th, 2009:
Recipes
Everything but the kitchen sink soup
Fundraising
Blog Talk
What I wore
Baking with tofu
What's In My Fridge

Green Monster Pancakes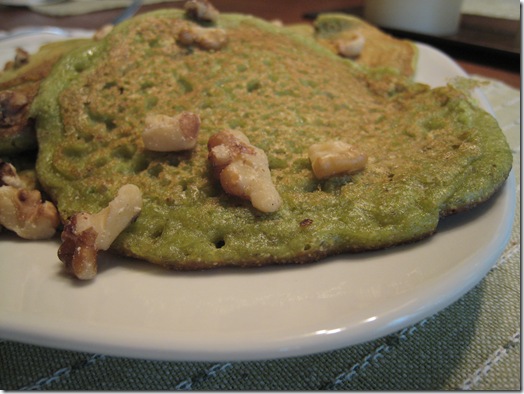 It was bound to happen, right?? :)
Ingredients:
1 cup milk (I used vanilla soy milk)
1/2 cup coconut milk
1 tsp vanilla extract
1 ripe banana
1 cup spinach
pinch of salt
1/2 tsp nutmeg
1 tsp baking powder
1 1/2 cup spelt flour
walnuts for garnish
Directions: In a blender, puree together the first 5 ingredients. In a medium sized bowl, mix together the dry ingredients by hand. Add the wet ingredients to the dry and mix well. Pour onto a pre-greased, pre-heated (medium- low) non stick skillet. Cook on one side until bubbles begin to burst and then flip and cook for another minute.
Makes about 8-10 medium sized pancakes.
Recipe adapted from ED&BV, called 'Banana Cream Pancakes'
Note: I found the banana taste got lost in the pancake. Next time, I would coarsely chop the banana (or at least half of it) and stir it into the mixture at the end before cooking. That way you can get a few chunks of banana here and there. :)
With a green monster of course :)
These were just awesome! Of course we couldn't taste the spinach at all! I ate about 2/3 of my plate and then I was stuffed!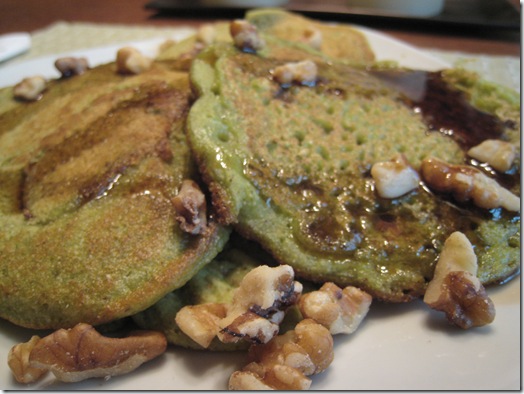 Well, I am off to finish organizing the kitchen. I was up until about midnight in the kitchen doing all of my labeling and organizing! I am at it most of the day today. Eric sanded down the rooms last night and today is primer day (2 coats- one this AM and one tonight!).
I am going to a friend's bachelorette party tonight– should be so much fun. I think we are going to a drag show?????
See you this afternoon! I will be announcing a couple exciting upcoming features on OSG!

Today's Question: What is your favourite type of post on OSG? What was your favourite post this past week?