Oh yes.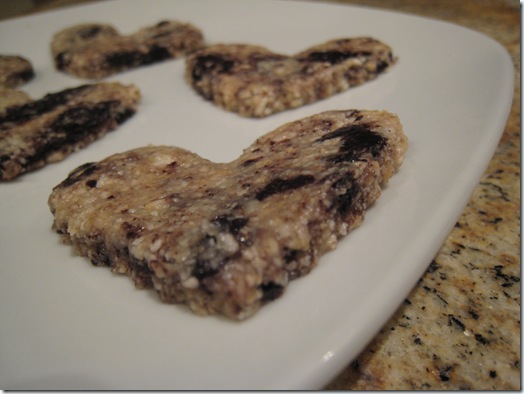 I simply could not wait to post about my most recent creation in the kitchen.
I could probably live off of raw cookie dough if I had to. It is one of my most guilty pleasures. The only problem as we all know is that it is far from healthy.
Could I really create raw chocolate chip cookies that were delicious yet healthy too? I sought to find out!
Of course I researched a few raw chocolate chip cookie recipes online, and then I went to experiment!
Raw Chocolate Chip Cookies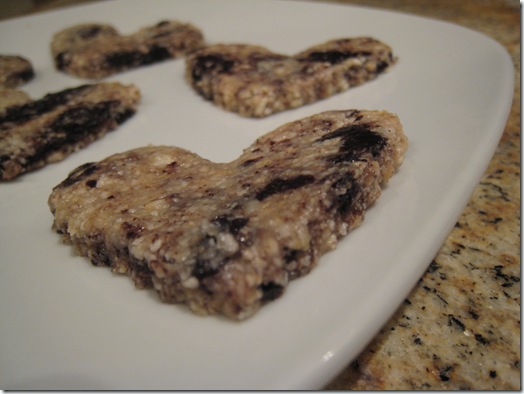 Ingredients:
Cookie dough:
1 3/4 cups ground raw cashews
3/4 cup ground raw oats
1/4 cup Agave Nectar
2 teaspoon vanilla extract
1/4 cup coconut oil
Raw chocolate chips:
2 Tablespoon coconut oil
1/2 cup carob powder
1/2 cup cocoa powder
4 T agave nectar (or maple syrup probably works)
2 teaspoon vanilla
Directions:
Dough: Grind up raw cashews and raw oats in a food processor or blender. Place all cookie dough ingredients into a large bowl and mix by hand or with a spoon. OR simply place all ingredients in the processor and blend (why didn't I do this!? lol). Mix until a dough forms and you can make a large ball. Refrigerate dough while you make the chocolate chips.
Chips: Mix all chocolate chip ingredients together in a medium sized bowl. Roll the dough out onto parchment paper and place in the freezer for about 30 minutes. Optional: Half way through at 15 mins., flip the chocolate sheet over for even freezing.
When chocolate is frozen, cut into chips. This is the fun part! I used a pastry slicer and it was SO fun making the chips.
Mix chips into dough and have fun!
Place in fridge (if you have any left that is) to harden for about 30 mins. They get real hard! Make sure to refrigerate them on parchment paper or they will stick to the plate.
Notes: If you don't have carob powder you can substitute it for cocoa powder just as easily. Alternatively, you may be able to sub the agave nectar for maple syrup or honey. If you try this and it turns out let me know!
Also note, I cut the recipe in half to make a smaller batch. Don't be too worried about getting exact measurements here. They will still turn out, promise.
The best part is the total prep time (not including freezing and refrigerating) was 10 minutes! So quick and easy. These would be amazing to whip up before guests come over or for a quick birthday gift.
I adapted this recipe found here. I used much less coconut oil in both mixtures, substituted raw oats for groats, and I added vanilla and agave in the chocolate chips.
Flipping it after 15 mins of freezing: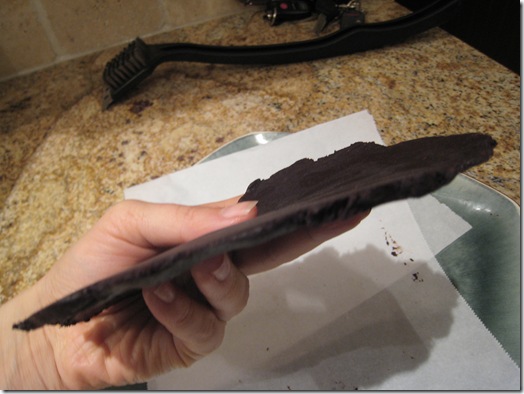 WAY TOO MUCH FUN. Seriously. I can't handle it.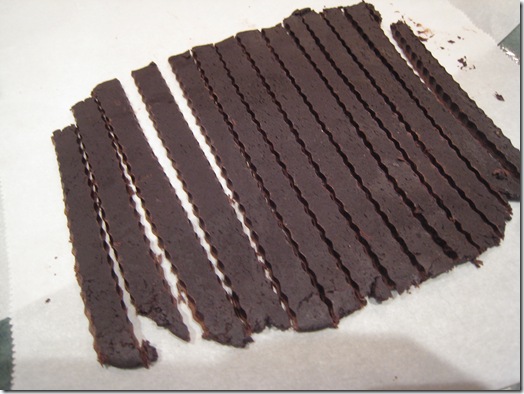 Dare I say these were the best chocolate chips I have ever had?!?! I do, dare!!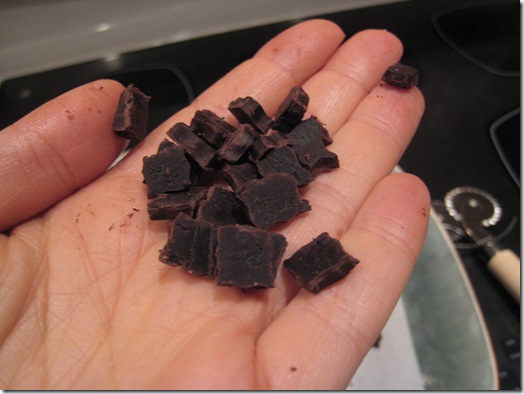 I am feeling the love, are you?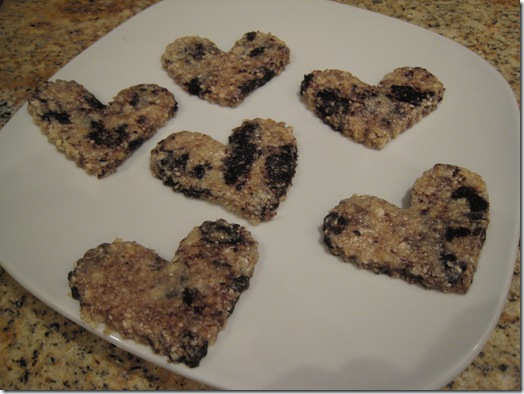 Pure, sweet, rolled up bliss: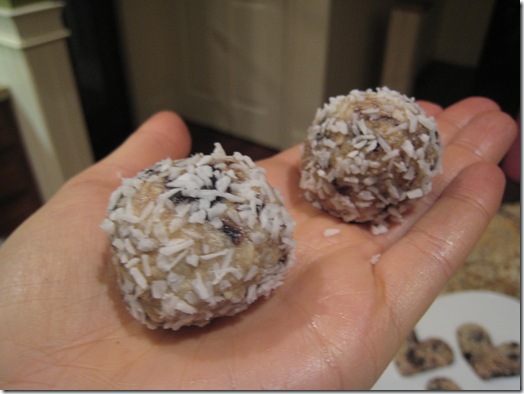 Ideas:
1) Roll out dough mixture and use cookie cutters.
2) Roll dough mixture into balls and then roll in coconut.
3) Add other mix-ins instead of chocolate chips, like raisins or chopped up dates.
The taste?
These raw chocolate chip cookies BLEW MY MIND! Seriously I was NOT expecting this. I could not stop eating this stuff. It was pure heavenly bliss with some great health benefits to boot! :)