Good morning!!
Only 2 days until I leave for Eric and Ange's Christmas vacation! Yawhoo :D
We are supposed to get a big storm here tomorrow morning, over 20 cm of snow, so I may even get to work from home tomorrow! That would be really nice :) I have to start packing tonight!
My workout flew by today, I did a 4-mile tempo run:
0.10 mile walking warm up
2.70 mile run at 6.5 mph
1.3 mile run at 7.0 mph
0.15 walking cool down
Total Duration: 40 mins.
Max Heart Rate: 169 bpm (87%)
Avg Heart rate: 150 bpm (77%)
Why did my run fly by you ask? My thoughts were on my Door Decorating Contest of course! :D
I was plotting, planning, and devising my plan for the door. I am a bit nervous because I will only have about 30-60 mins. to pull this off (and that is only if my boss doesn't need something else done right away which she might). I hope I can pull it off! I am making most of it from work materials that were lying around the office so it should be pretty funny looking.
A Staples box and a file folder are the main stars of the show (besides my baking of course!)
I had a Way Back Playback on my Ipod Shuffle during my run when this song came on:
http://www.youtube.com/watch?v=KKAIlrkSZOg
I have no idea why, but when this song came on it motivated me to run the last 1.3 miles at a faster pace (7.0 mph). Can you tell I need some news tunes on my Ipod??? LOL.
I like some of the new Britney songs, but as others have said, they aren't great fast running songs. The beats are just too slow.
My brekkie as I blogged: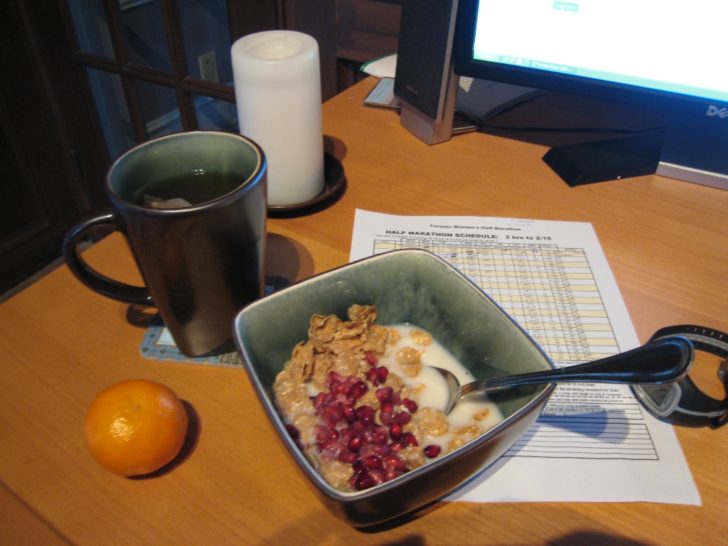 Gingerbread Spice tea, about 2 cups of Spelt cereal, Almond Breeze milk in original, a clementine, and the last of the pomegranate seeds. Delicious!
~~~~~~~~~~~~~~~~~~~~~~~~~~~~~~~~~~~~~~~~~~~~~~~~~~~~~~~~~~~~~~~~~~~~~~~~~~~~~~~~~~~~~~~~~~~~~~~~~~~~~~~~~~~~~~~~~~~~~~~~~~~~~~~~~~~~~~~~~~~~
Ok, stay tuned early afternoon for the results of the Door Decorating Contest, pictures, and a guest blogger!!!
To be yourself in a world that is constantly trying to make you something else is the greatest accomplishment.
Ralph Waldo Emerson