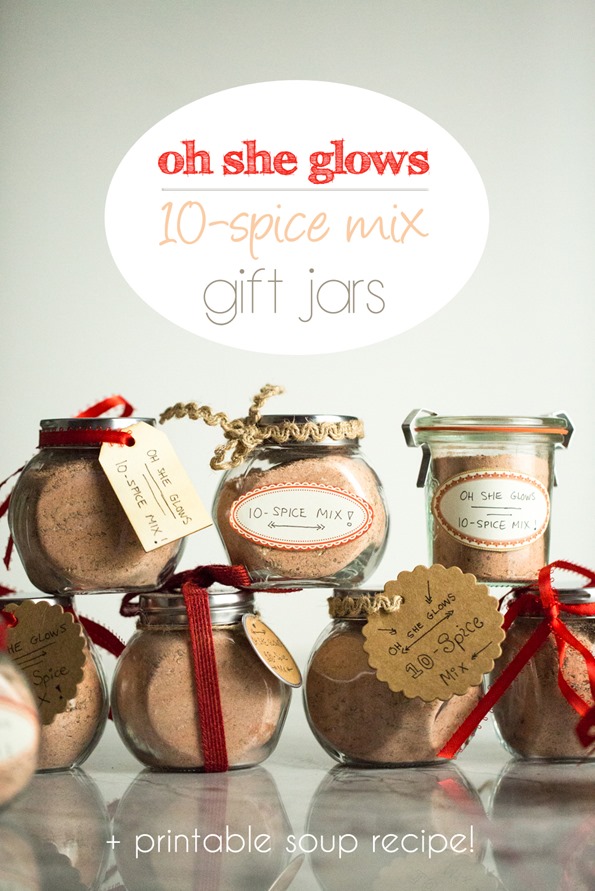 If you're looking for a lightening fast and cost efficient homemade holiday gift, I have just the thing for you!
I love to make homemade food gifts for friends and family around the holidays. It's fun to give them and all, but mainly, I love having a reason to buy more glass jars. SEE ERIC, I ACTUALLY NEEDED THESE JARS. And cute tags…oh my goodness, the cute tags. I die.
I almost didn't get a chance to make any homemade gifts this year because the past two weeks have been consumed with the cookbook photoshoot (behind the scenes one, two, three). So, we just started our Christmas shopping/gift planning on Saturday which was fun. Our tree is still not up yet, but it is what it is. We're squeaking in at the last minute this year, and I'm just going to have to make peace with the fact that the holiday season is never "perfect". Isn't it so much better when you just accept that?
My motivation was running a bit low after the excitement of last week, but sometimes inspiration strikes when I least expect it. I got a text from my sister Kerrie on Friday night. She wrote:
"Mixing up your 10-spice mix and putting them in jars with your recipe attached! I'm giving some out for Christmas! How's that for an idea?"
Then she attached a photo. Immediately, I knew I had to do this.
Then a short while later, I received another text from Kerrie:
"Do NOT touch your face when using the CAYENNE pepper!!!! OH MY GOODNESS!!"
I just about died laughing.
A short while later, another text:
"A frozen face cloth helps."
She kills me, she really does.
So, a big thanks to Kerrie for this post's inspiration (and hilarious personality). I love you.
Also, thanks to Eric for being my crafting partner in crime yesterday (he was the one who insisted we do this idea!) and for being the best hand model eva. If you are following me on snapchat, you saw the entire process (as well as the Crispy Almond Butter Cookies from my cookbook)! We had a blast.
The fine print: Do not attempt to use a mixing bowl this small. I only used it for the photo and then promptly transferred the spices into the biggest, baddest bowl I own (a bamboo Caesar salad bowl that could feed 25 people – 3 pics down).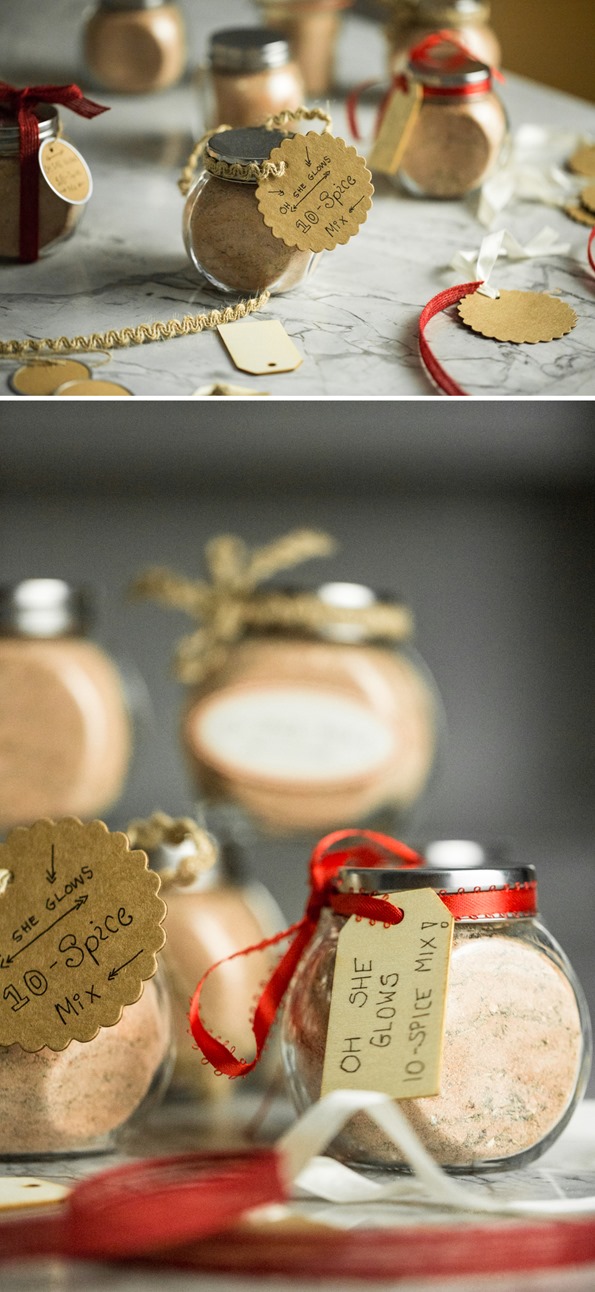 p.s. – I have a couple exciting tidbits to share today!
– Pinterest selected The Oh She Glows Cookbook for their Pinterest 100 list which features the top trends and predictions for 2016! So cool and exciting. Thank you, Pinterest! Check out the top 100 trend predictions for 2016 here.

– The Oh She Glows Cookbook was selected by Publisher's Weekly as one of the Top Cookbook Stories of 2015! You can read the article here.

– I'm hosting a big giveaway on Instagram this week! Up for grabs is a signed copy of my book and a $200 Amazon gift card! See the deets here.
p. p. s. – My jars are from Bulk Barn and they hold 3/4 cup of spice mix. The funnel is from Lee Valley (had it for years and so in love). Tags and ribbon are from Michael's craft store.
Last but not least, I'd like to wish you all a very happy holiday! Merry Christmas to those of you celebrating later this week. I hope you can enjoy some downtime spent with loved ones, and lots of delicious food! We have a lot of exciting things in the works for 2016 and I can't wait to share them with you. Thank YOU, as always, for your incredible support and encouragement this year. xo
Let's get social! Follow Angela on Instagram @ohsheglows, Facebook, Twitter, Pinterest, Snapchat, and Google+