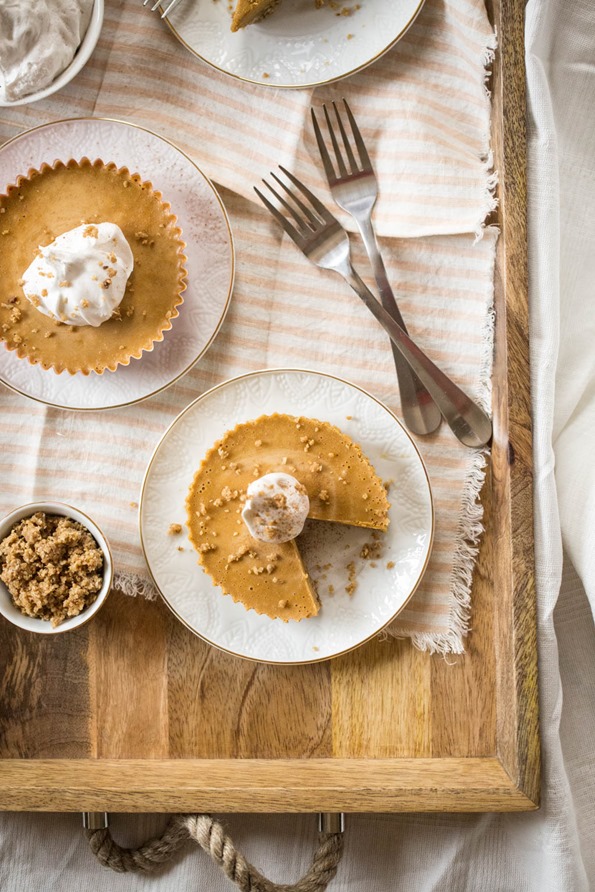 A couple weeks ago, I received a reader recipe request. Let's call him "Jason". Jason asked if I could create a nut-free version of my Raw Pumpkin-Maple Pie with a Baked Oat Crust (found in my cookbook, page 247) because his wife can't have cashews and pecans. Apparently, it was tormenting her not to be able to try this pie! He wants to surprise her next month with this dessert as a special thank you because "she's the best wife and mom ever".
He went on to write, "Angela, I have no clue where to begin and don't want to mess this up like I usually do."
I immediately knew that I had to step up to the (pie) plate on this one (no pressure, no pressure!) because the world needs more love. And pie. Plus, I've always wondered how I could make this recipe without pecans or cashews, and now I have a nice option to share with you all. I tested multiple fillings and there was a clear winner that I'm sharing below. Spoiler alert – a combo of super luxurious full-fat coconut cream and sunflower seed butter worked so well as a replacement for cashews! It tastes so awesome.
I also paired it with a new toasted sunflower seed and oat "cookie" crust that's a wonderful, crunchy compliment to the creamy and cool pumpkin pie filling. Pie crusts should never be boring or flavourless, and I love that this one is an easy "press-in" crust.
I meant to have this recipe up on Monday, but I ended up testing this pie about 7 times this week! I can't sleep at night unless I've tested all of my options. Better late than never, I say. I'd rather not rush a recipe just to get it out on time. Anyway, I made this pie as a contribution to our Thanksgiving dinner later today (we're in the US currently), and I'm so looking forward to the spread at my mom and stepdad's. I hope those of you celebrating have a happy, fun, and safe Thanksgiving! And if you can't make this pie today or this weekend, I hope you'll include it on your holiday baking list.
Well, Jason (you know who you are) I hope this works out for you. If it doesn't, I'd prefer that you not mention my name.
I'm joking! It'll work out. Promise.


Let's get social! Follow Angela on Instagram @ohsheglows, Facebook, Twitter, Pinterest, Snapchat, and Google+