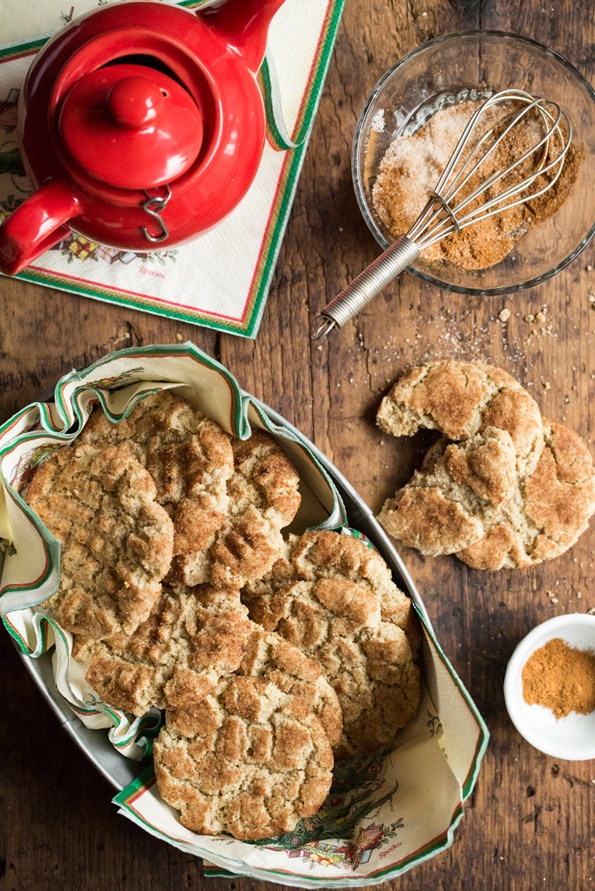 Meet my favourite holiday cookie of 2014 – the vegan and gluten-free Snickerdoodle! I've been testing all kinds of Christmas cookies this year and I decided to pick the best of the bunch and share that recipe with you before the holidays. The humble-looking Snickerdoodle doesn't get enough respect in my opinion; it's often overshadowed by spicy gingerbread, decorated sugar cookies, and fancy flavoured shortbread, but I think that needs to end today! My favourite kind of Snickerdoodle is chewy with a crisp edge, craggy/textured/crinkly, and of course, rolled in cinnamon sugar. Oh yea. I can't get enough of the doughy, cinnamon-y simplicity.
It's been a goal of mine to make my vegan Snickerdoodle recipe gluten-free. I actually found that I prefer this version over the one with wheat flour that I posted on the blog 4 years ago; there's just something so flavourful about the nutty, sweet, and buttery combo of oat flour and almond flour that I adore! Whenever you want your cookies to have a lovely chewiness to them (and light buttery flavour), add a bit of almond flour into the mix. A little bit goes a long way though. I made the mistake of making a shortbread cookie entirely out of almond flour and it was way too chewy/tacky (and stuck to the teeth!) – lesson learned. I'll nail that shortbread recipe some day, but for now…snickerdoodles!
Other exciting things about this recipe:
1) Prep time = 15 minutes, Bake time = 10 minutes

Yes, that means you can be eating these bad boys in under a half hour!! Isn't that what it's all about?

2) Snickerdoodles make your house smell amazing. This is the perfect recipe to pop into the oven before guests arrive.

3) For the fat component, I used virgin coconut oil instead of vegan butter. I'm happy to say it worked great and meshed with the flavours so well! Thumbs up for healthier fat swaps.
One last thing. I experimented baking the dough as balls (image left, below) and also flattening with a fork (image right). When I flattened with a fork, the cookies came out quite flat and spread out (as you'll see in most of the photos), but when I left the dough as balls they had a bit more thickness and lift to them and weren't as spread out. I think I prefer not flattening them out – plus it saves an extra step too. Just an FYI. You can always try some rolled and some pressed with a fork and see which you prefer!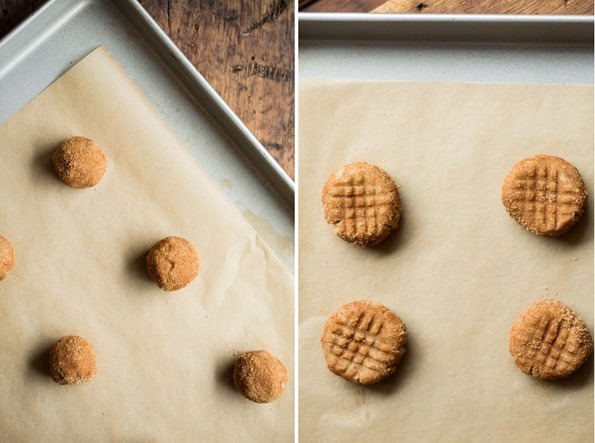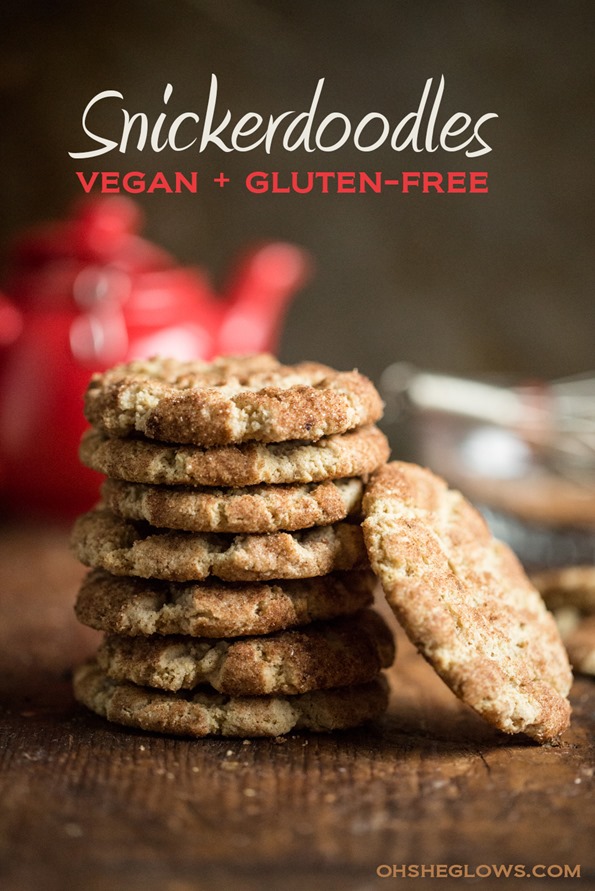 PS – See all my cookie and square recipes here!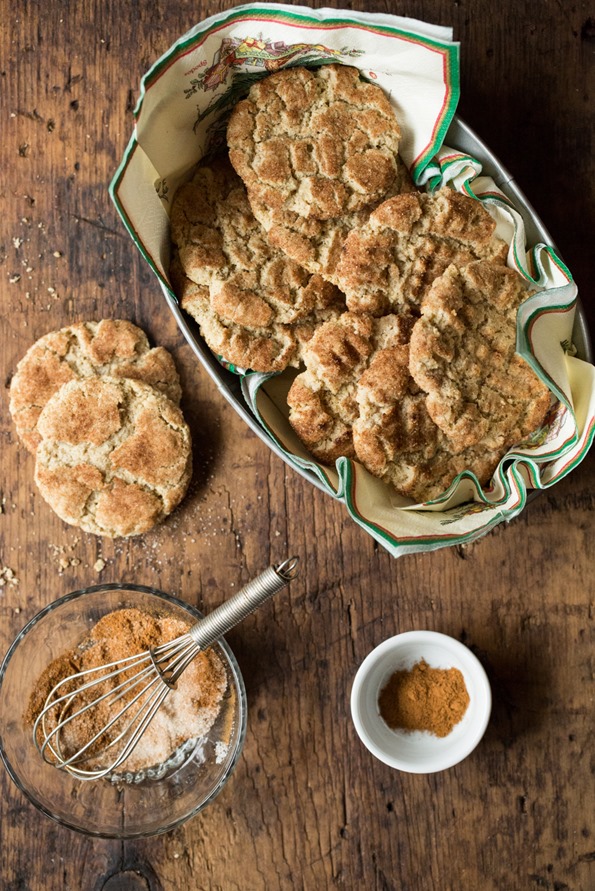 Contest Winner:
Congrats to Elicia K. for winning the big OSG Holiday Giveaway!! We have sent you an email to collect your info. Thank you for everyone who participated and gave us all kind of awesome flavour ideas for our tea! I would like one of each please.
We are gearing up for Adriana's first Christmas and I can't wait to experience it as a family of 3! I'm looking forward to a bit of downtime over the holidays too. While it's been a great year, it hasn't left me with much free time and I'm hoping to wind down and chill out with friends and family as much as possible to close out the year. And hockey, LOTS of hockey!!! hah. I'm not sure when I will be posting a recipe next, but if you'd like to see what we're up to you can follow my weekly posts on the Baby blog until then (you can also follow @theglowspot and @ohsheglows on Instagram). And of course, take a peek at my recipe archives – there are about 500 vegan recipes to chose from.
Anyway, I'm really excited for 2015 and have some fun news coming your way in the New Year! I'm so thankful for your support this year, and every year. It's definitely been a year I will never forget. I hope you all have an amazing holiday surrounded by family, friends, great food, and good cheer!
Let's get social! Follow Angela on Instagram @ohsheglows, Facebook, Twitter, Pinterest, Snapchat, and Google+