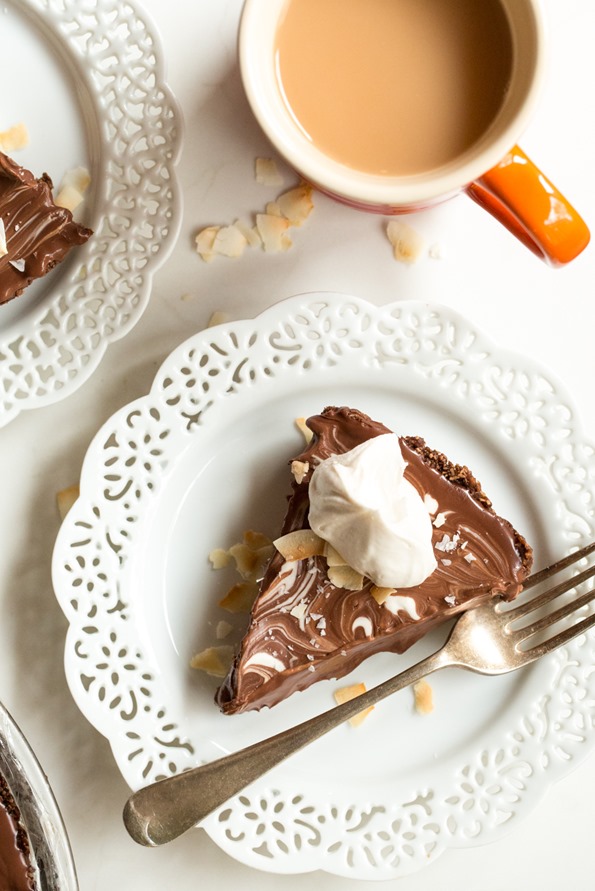 Halloween week without chocolate is simply a crime. We must fill our quota! Luckily, I have the perfect solution..
After teasing you with this dessert the other week (and seeing you lose your mind over it) I figured I better deliver the goods. I set a lofty goal of making this chocolate pie as friendly to as many different dietary needs as I could. I always love a good challenge in the kitchen; it keeps me on the brink of crazy town.
In addition to being vegan, this pie is also gluten-free, grain-free, and nut-free. A Halloween miracle if you ask me!
It's also free of self-control because it's impossible to have any when this pie is near. Obviously.

Halloween chocolate quota fulfilled. Check, check, GULP.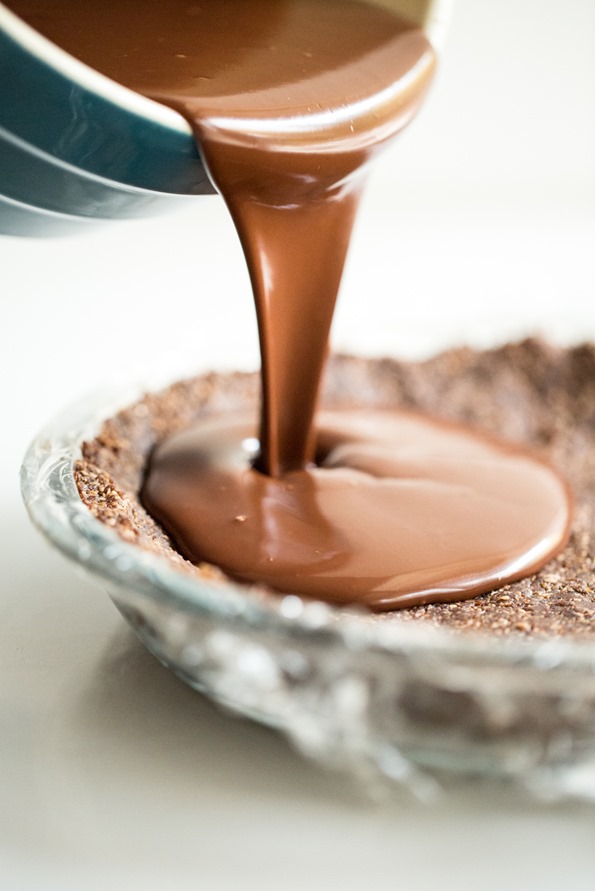 After drowning myself in chocolate, I'm absolutely thrilled with the final result. Plus, now I have a freezer full of chocolate pie for a couple parties we're hosting this week. [Eric said, "Well that's if I don't eat it all first!"]
And of course, let's not forget HALLOWEEN. Adriana is going as a carrot to balance out the chocolate. I know…she's going to hate me. But come on, a newborn carrot bunting costume? JUST STOP.
Tip: I had major trouble with the pie crust sticking to the dish in an early trial. Eric saved the day with his genius solution. It involves three strips of parchment paper placed on the base of the dish, and then you cover it with a piece of plastic wrap on top. This way you can pull out the entire pie using the parchment paper. It still takes some wiggling to pop it out, but this worked so much better than my other attempt. Thanks Eric for letting me sleep at night. Note: The pictures below don't show the parchment strips because it was an earlier trial.
Ok enough chit chat. I'd say there's still time to whip up a crazy decadent, show-stealing, rich chocolate pie. And it's no-bake to boot. Thirty minutes of prep and a few hours in the freezer is all that stands in your way. Nothing scary about that!
PS- Don't mind the long recipe – I learned a lot of tips as I made this pie so I wanted to be as helpful as I could when writing up the recipe.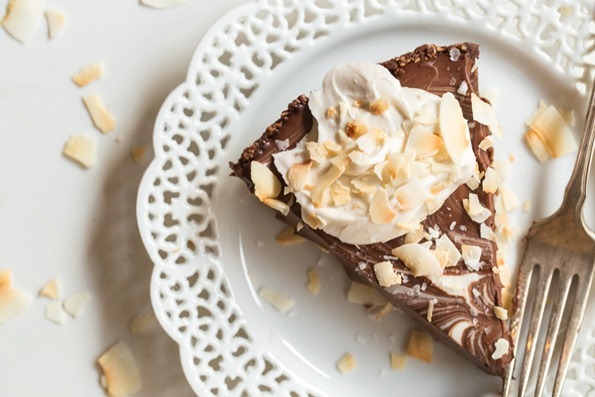 PS – Looking for other Halloween recipes? You're in luck – I have 3 pages of recipes
PPS – Don't forget there is still time to enter The Oh She Glows Tea Shoppe giveaway!
Let's get social! Follow Angela on Instagram @ohsheglows, Facebook, Twitter, Pinterest, Snapchat, and Google+