This simple recipe was my favourite food of the entire weekend. And there was some stiff dessert competition this weekend too. I've been craving doughy fresh bread like nobody's business. In honour of breaking in the new kitchen, I decided to revisit one of my favourite old recipes on the blog: Organic Homemade Spelt Tortillas. And by old, I mean it was posted a good 5 years ago! Time is flying. Before I know it, you'll be calling me Grandma Glow.
Not only did I improve upon the previous recipe, but I discovered a way to shave 40 minutes off the dough-sitting time. In other words, the dough rest wasn't even necessary. What the what? I know. As a result, these spelt tortillas are literally thrown together quicker than you can run to the store. They are much fresher and tastier too. This makes me a happy girl, especially after the dishwasher and washing machine broke within a 24 hour period. That was after they leaked all over floors of course. Nobody said moving was easy, but stuffing homemade wraps in my face sure helps.
The beauty of the wrap is that you can add any toppings you're in the mood for. Change it up every time! One of my favourite simple combos is vegan butter spread over a warm tortilla with a sprinkle of Herbamare (heaven). Or for a sweet treat, spread on coconut oil and sprinkle it with cinnamon and sugar. Drool. Or toast it in the oven and make a pizza. Ok, now I'm getting hungry again!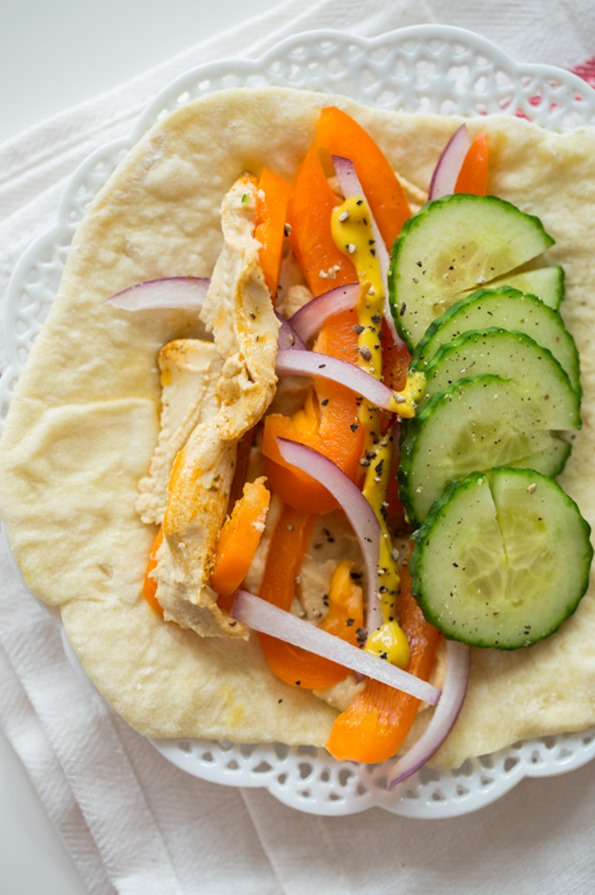 The veggie wrap above is a simple mix of fresh orange pepper, red onion, cucumber rounds, hummus, black pepper, and yellow mustard. I don't know what it is, but I've been craving yellow mustard all day + all night. I'm dipping veggies in yellow mustard for crying out loud (for the record, I put on more mustard after shooting these photos). Things are getting weird in my mouth. Whenever Eric sees me with the mustard he says, "I put that shit on everything!" in the voice of the old lady from the Frank's hot sauce commercial. 
When I took my first bite of this veggie wrap I almost shed a tear of joy. All the moving and renovation pains vanished from my memory during those crunchy, fresh, zippy bites. Simple homemade food is the best food, don't you think? Eric also demolished his wraps (yes, I managed to share somehow) and said he can't get over how much better they taste compared to his regular store-bought ones. It was a success on all fronts! I'll let you know if I try out any other flours – and you can feel free to do the same in the comments.
Cheers to a new, fresh spring week and significantly fewer boxes to unpack. Yellow mustard for life!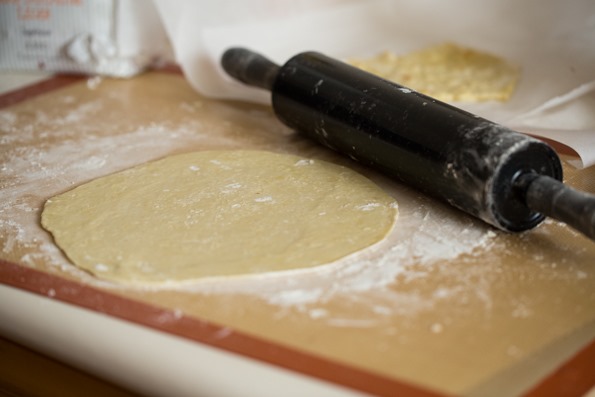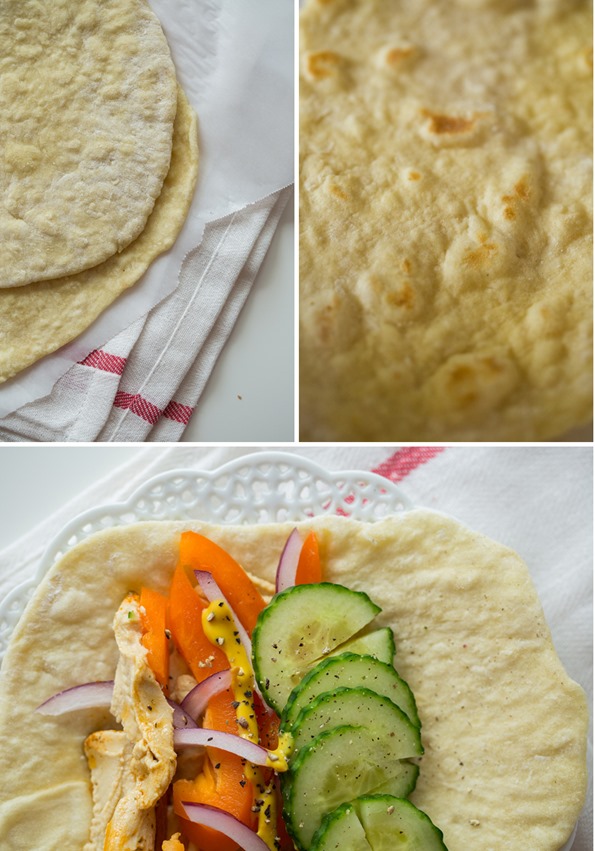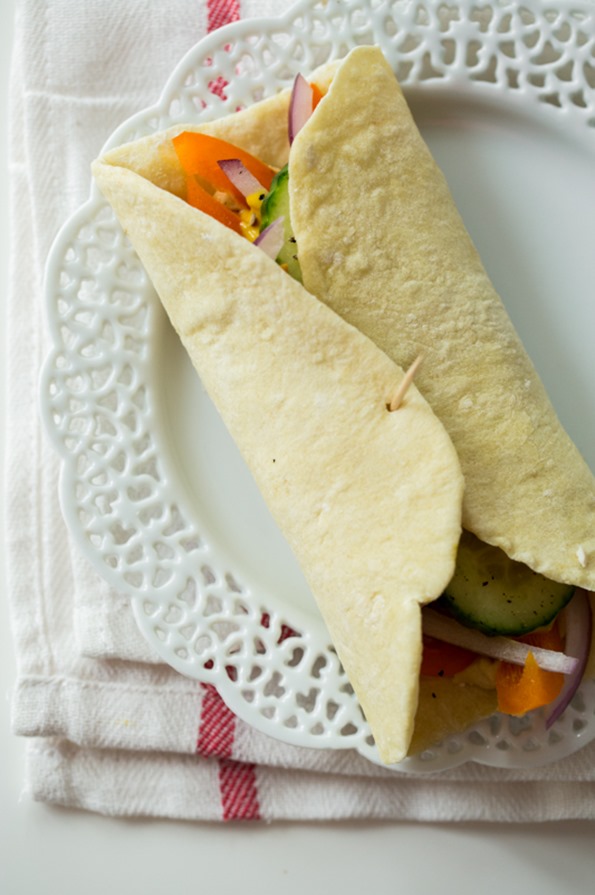 Oh, and in case you are wondering – yes, they do wrap nicely! I didn't experience any tears or cracks with this batch. I think this is due to cooking it for much less time than the previous recipe and also using light spelt flour instead of whole spelt flour. I'll have to test more versions to be sure…
Let's get social! Follow Angela on Instagram @ohsheglows, Facebook, Twitter, Pinterest, Snapchat, and Google+