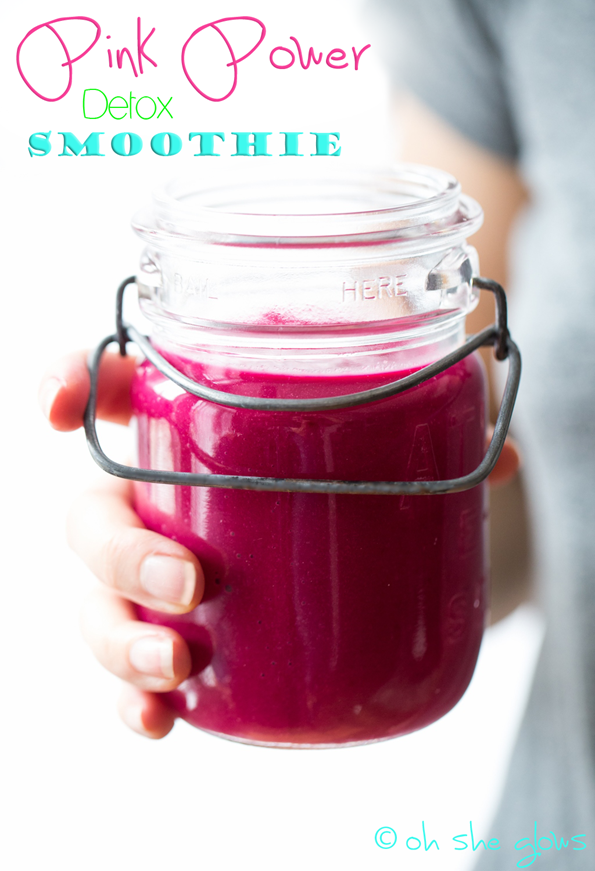 After years of drooling from the sidelines, this marks my first year participating in Vegan Mofo which challenges participating bloggers to write about vegan food for the entire month. [For more details, see the Vegan Mofo website.] Colour me excited.
I considered all kinds of random themes for September, but in the end I decided on something I know I could put my heart and soul into. Even though my sweet tooth voted for "DESSERT MONTH!!", my head decided otherwise. Vegan Glow will showcase wholesome, vegetable-heavy vegan recipes that will leave you feeling energized. The recipes will be similar to my own style of recipe creation, but they'll be kicked up a few notches. Given that it's back to school and work season, I'm aiming to share as many quick and easy recipes as I can.
In other news, I now have a "thing" for making rather pathetic "glowing" suns in Photoshop. Oh dear.

What can you expect to see on Oh She Glows this month? Well, I have several recipes lined up from raw recipes and juices/smoothies to healthy desserts and energizing fall-inspired soups. And who knows what else. I sure don't.
I hope you are hungry because it's going to be a great month!
Up first, I'm sharing this power smoothie that I'm obsessed with lately. Power smoothies are what I call the mega dose, nutrient-packed smoothies of the bunch. You know that's how I roll. This one surely is up there on the list of health drinks. I've been drinking it for breakfast several mornings a week and it makes me feel incredible. Best of all, it makes just shy of 4 cups…aka one big ass smoothie. I like big smoothies and I do not lie. All you other bloggers can't deny…
Seeing as we're just coming off a holiday weekend, I figured this was a good "back on track" smoothie to kick off the new month. Let's do it up.
Here are a few reasons to chug this down, from a nutritional standpoint. I'll talk more about the flavour in the headnote below.
Beet – cleanses the liver, purifies the blood, anti-inflammatory, source of iron
Avocado – helps lower blood pressure, lubricates joints, anti-inflammatory, loads of healthy fats, high in fibre
Strawberries – high in antioxidants, rich source of vitamin C, benefits digestion
Celery – acts as mild diuretic, promotes feeling of fullness, rich in B vitamins and fibre
Lemon – antibacterial properties, aids digestion, high in Vitamin C, detoxifies and alkalizes, mild diuretic
Virgin Coconut oil – fights viruses, fungi, and bacteria, metabolism booster, healthy MCT fats, increases good HDL cholesterol
Apple (optional) – helps balance blood sugar levels, helps lower cholesterol, aids digestion
[Source: Healing Foods, DK Publishing 2013]
Convinced yet?
[Just an update – We're still having issues with the new recipe uploader not displaying in Feedly. Hopefully we'll have a fix for this soon! Thanks for your understanding.]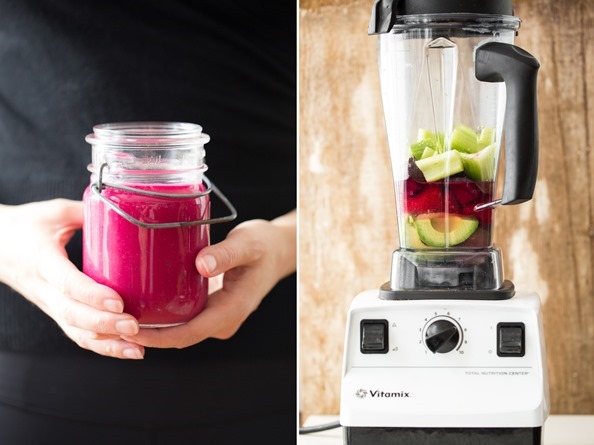 This recipe directly below is an updated version (April 23, 2016). The original recipe follows.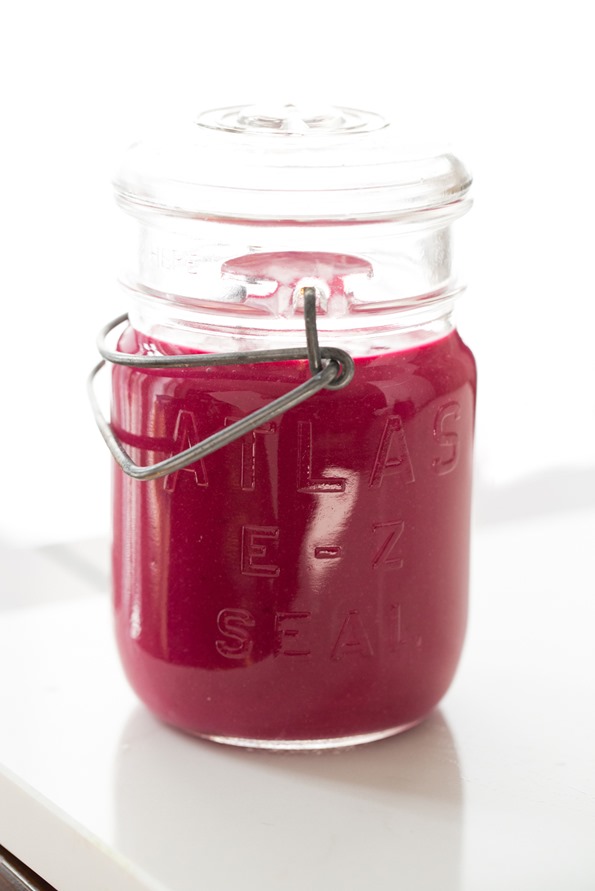 Let's get social! Follow Angela on Instagram @ohsheglows, Facebook, Twitter, Pinterest, Snapchat, and Google+