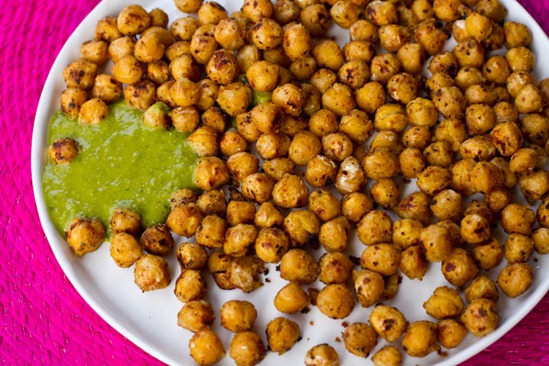 This battered chickpea recipe happened completely by accident.
Accidents don't usually happen in my kitchen, unless we're talking about the bad kind. Like when my processor exploded while making this pesto…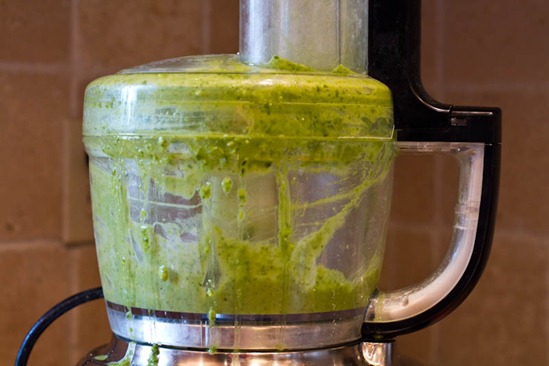 Or when the blender decided to erupt, exploding Green Monster lava all over the kitchen. Or those (many) times when I plugged in the electric mixer to discover it's already turned on, shooting batter all over the place, as I scream for help.
This processor is the second Kitchenaid 14-cup processor that I've murdered, slowly and painfully over time. Actually, I broke the first one trying to process dates on the first try. It takes a real skill to break a processor on the first go around!
I've become so accustomed to this wonky processor, I don't even bat an eyelash when it does weird things like ooze liquids. Eric walked into the kitchen the other day, looking with horror at the processor explosion. I tried to explain to him that this was "normal" and now he thinks I'm the crazy one.
Why do I get the feeling that I'm getting a food processor for Valentine's Day?
After making the pesto, I had some leftover chickpeas to use up, so I decided to lightly fry them in the skillet, adding seasonings as I went.
This was my first time making fried chickpeas…and oh my lanta they are good!!
I never thought I'd see the day when Eric would pound back chickpeas.  It was funny at first until he ate all of them on me…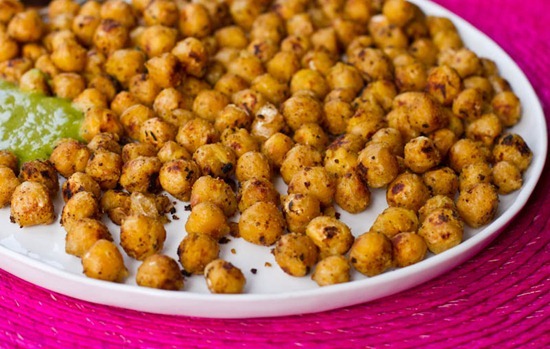 Tuesday's Post
Thank you for your kind words about the news (and patience for the blog crashing most of Tuesday morning). We now have over 3,000 of you signed up for the newsletter! I've started working on the first questionnaire and hope to have the first newsletter out in the next couple weeks. I just need to figure out how this beast works…
Bloggie Awards
The 2012 Bloggies are going down right now until Feb 19th, with bloggers nominated in all kinds of categories. Oh She Glows is nominated in the "Health or Wellness" blog category (along with many of my fav bloggers, like Caitlin and Leo). If you'd like to check out the nominees and vote for your favs in each category, click here. There are a ton of fun categories (and blogs) to check out.
~~~
Today, I'd love to make myself feel better by reading about your kitchen appliance disasters. Tell me all about it…I know I'm not alone!
Also, do you have a food processor that you're in love with? I'd love to hear about the brand/model you recommend (I get asked this a lot too, so I know many readers would love to read your input.)
Let's get social! Follow Angela on Instagram @ohsheglows, Facebook, Twitter, Pinterest, Snapchat, and Google+