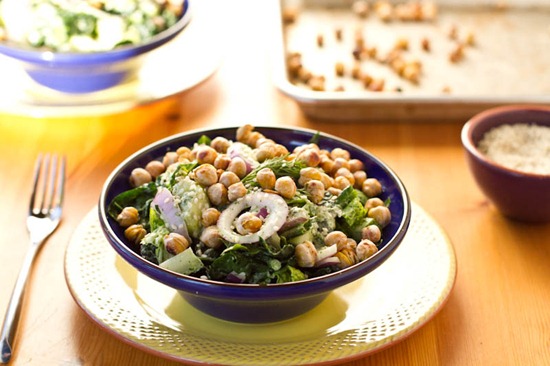 The healthy dinner recipes continue…
I'm happy to report that as of December 30th, I finished off my cabbage that haunted me for almost 2 months in my fridge.
2 months.
I think I've discovered the fountain of youth because cabbage just won't die!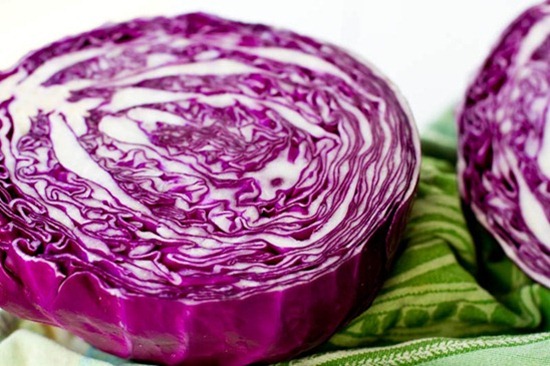 Plus, I really didn't want to bring this "cabbage baggage" with me into 2012.
har-har.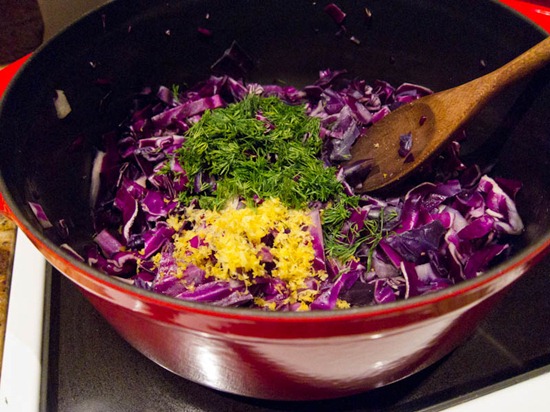 I ended up throwing some things into a pot and it turned out incredible. Lots of dill (thanks for the tip, Ewa), lemon and zest, cabbage, drizzle of extra virgin olive oil, marinara sauce, herbamare, lots of cooked wild rice, etc. It tasted much better than it looked.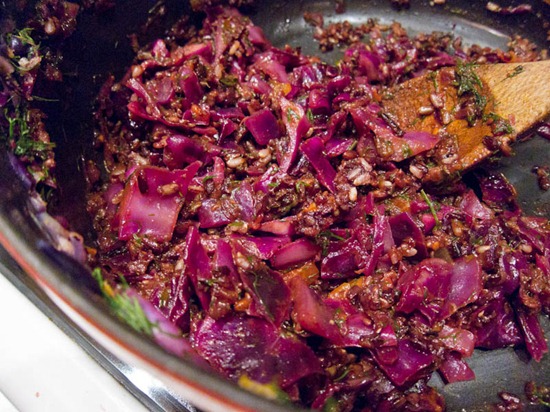 I actually ate so much, I got a stomach ache from all the cabbage…never fun!
Now, I was faced with a new problem…I had a huge amount of dill to use up. Those bunches of dill from the grocery store are h-u-g-e.
As a result of my dill surplus I made this healthy dill dressing, packing in a whopping 1.5 cups of fresh dill.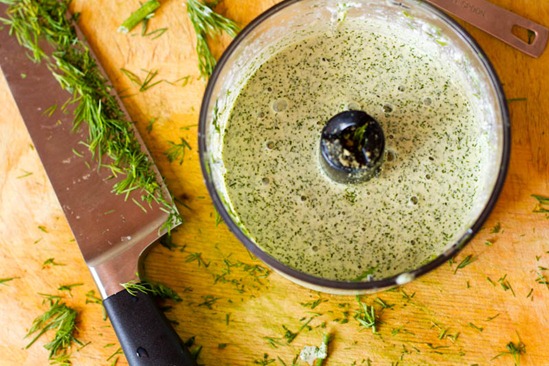 Dill be gone.
I tossed together Dinosaur kale, red onion, cucumbers, my salt & Vinegar roasted chickpeas, and sesame seeds with the dill tahini sauce for a healthy, well-rounded meal.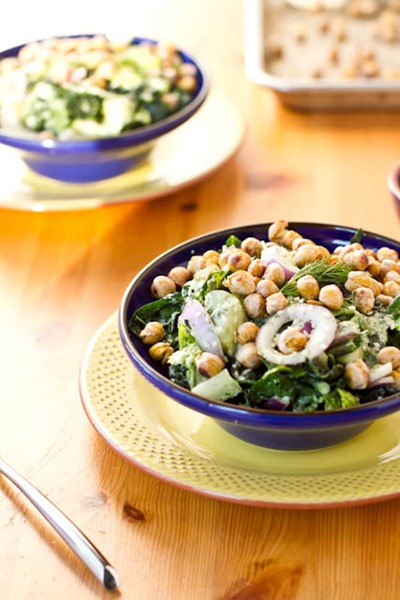 And unlike the cabbage, when I ate my weight in this stuff, I didn't get a stomach ache.
Kale for the win!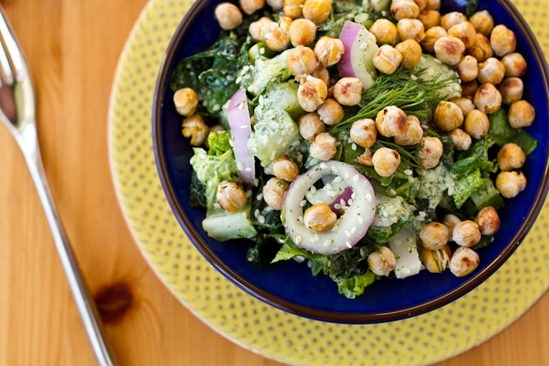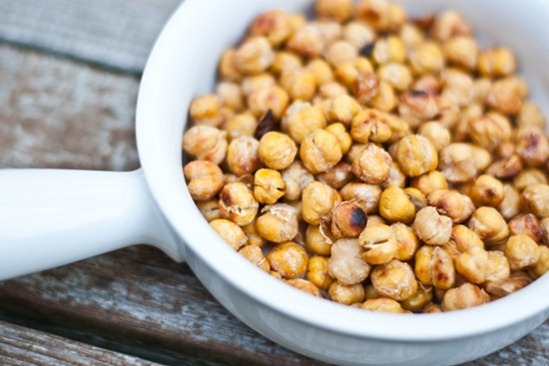 The first thing I did was make my roasted salt and vinegar chickpeas. Have you made these yet? The chickpeas taste just like salt and vinegar chips, minus the deep frying and unhealthy ingredients. I strongly recommend them if you are a salt & vinegar fan!  They require 30 mins of vinegar soaking time and about 40 mins baking time, but the actual prep work is less than 5 minutes. They turn out so nice and crispy too.
While they roasted, I made the salad dressing.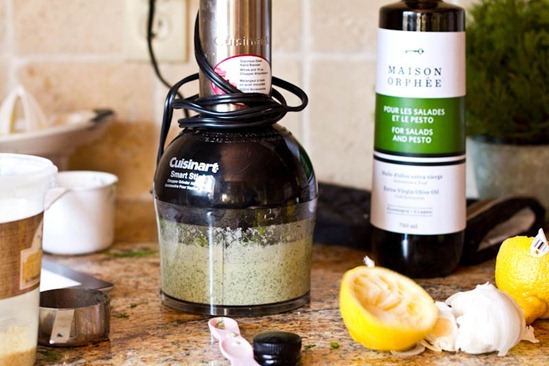 I must say, I have no idea how I cooked so long without a stick immersion blender and mini chopper! I know you have been telling me this for years, but I really didn't know how much I would use one.
I got this Cuisinart Smart Stick for Christmas and it's working good so far. It does everything from finely chop garlic, puree dressings, blend soups, and more. It's also very easy to use…I haven't even glanced at the instructions yet. Hopefully it stands the test of time (and abuse) in my kitchen!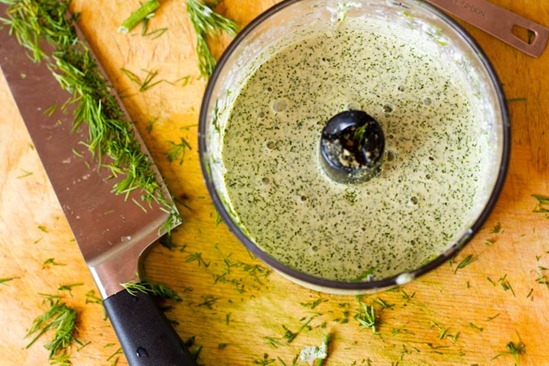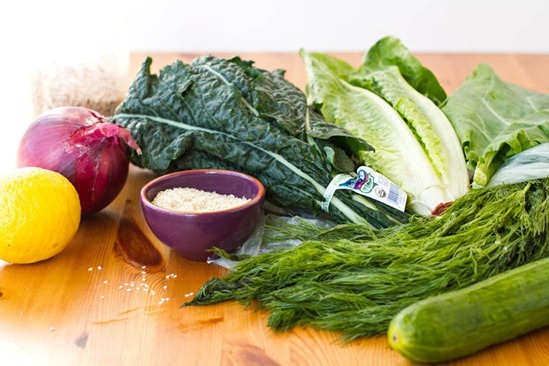 Once the dressing is prepared, chop your kale, red onion, and cucumbers. You can also use regular curly kale if you wish, but it will need to marinate longer to soften.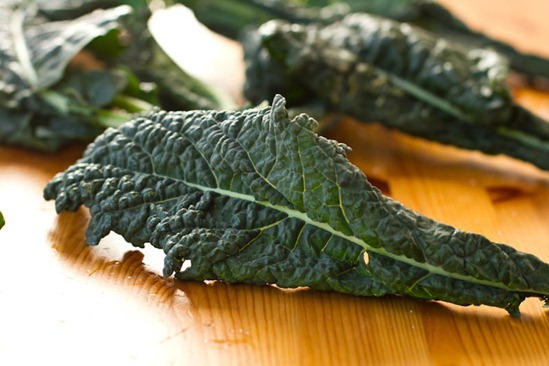 Pour some dressing onto the greens and massage it in. You can let it "marinate" for 10-15 (or longer) minutes before serving, but it's not necessary when using dinosaur kale.
When the chickpeas are ready, sprinkle 1/2-1 cup on top along with more dressing and sesame seeds. Serve and enjoy!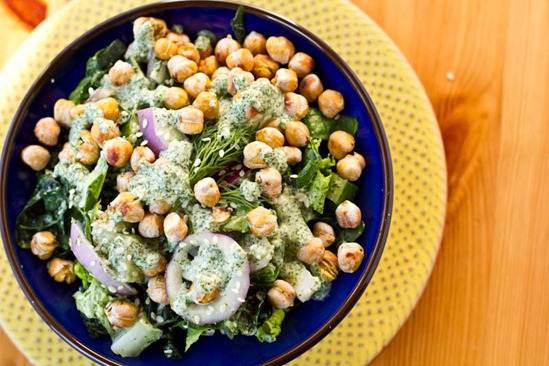 A delicious, well-rounded, vegan & gluten-free dinner, lovely for the first week of January.
I ended with a vegan chocolate cupcake, leftover from Monday's dinner party. When you eat a meal this good, there's always room for dessert!
P.S.- I now have a page just for my Top recipes in 2011, so it's easier for you to find them. The page is also located at the very top of the blog in the menu (beside "recipage"). I will be adding desserts and possibly snacks this week as well.
Let's get social! Follow Angela on Instagram @ohsheglows, Facebook, Twitter, Pinterest, Snapchat, and Google+