Top of the Morning to ya! :D
I could not sleep in this morning…despite being up until after 1am, my body was wide awake at around 7:30am. How maddening! Oh well, I still laid in bed until about 8:30am before I got up. :)
I think I was too excited about using my new Polar RS200 HRM today! I honestly couldn't wait to get to the gym. I didn't get through the entire manual last night (yawn), but I did learn the basics of the monitor. Enough so that I would be able to do everything I wanted to do today!
Before my run I grabbed a handful of raw almonds for fuel.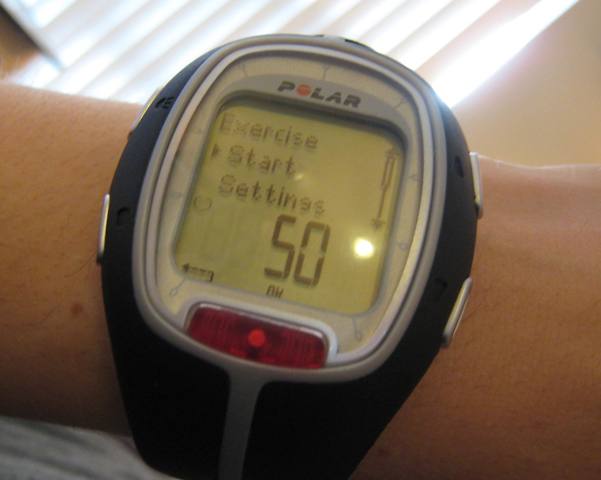 First things first:
Calibrate your Heart Rate Monitor (to ensure accurate speed/distance measurements):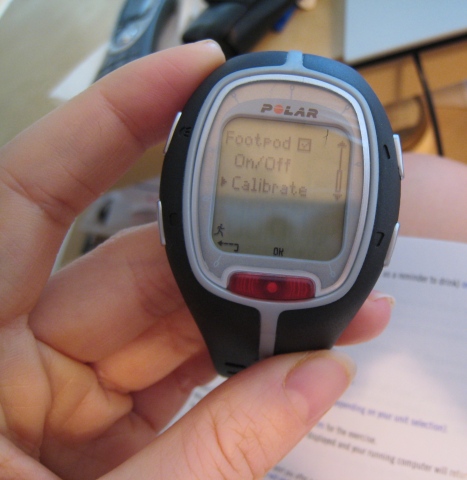 Once I was down to the gym, I entered my calibration distance. This is the distance that I would run, and the running computer measures against this distance to calibrate and ensure accuracy of my stride.
I decided to calibrate it for 1 mile, so I entered 1.6km into the calibration distance.
I ran at 6 mph and incline 7. It says to match the terrain that I normally would run, so I decided to put the incline up since I usually do so. Once Spring comes, and I am back outdoors on pavement, I will re-calibrate it to ensure accuracy!
At the end of the mile, I pressed stopped and in 10 seconds it was calibrated. :)
Then I continued my run as usual!
Workout:
Running on treadmill @ incline 7 (speeds 5.5mph to 7.0mph) for first 25 or so mins.
Then I changed incline from 4.0-7.0 for rest of workout (speeds 5.5-7.5 mph)
some walking (maybe 10 mins. total) on incline 4-7
Max heart rate: 179 (92% of maximum)
Avg. heart rate: 152 (78% of maximum)
Distance: 4.56 miles
Then I did my usual 24 flights of stairs
I was starving after my shower so I had a huge bowl of Nature's Path Spelt Cereal and a big Red Delicious Organic apple. Yum! I am still not full but lunch isn't far away thankfully. :)
For those of you who don't know, I am training for the Mississauga half marathon May 10th, 2009 (167 days away!).
I have had a hard time deciding on a training program for the half-marathon. The training programs I have looked at start off too easy for me since I have already been building up my endurance for a while.
Does anyone recommend any half-marathon training programs that start off a bit more difficult? I am looking to keep my runs no less than 3-4 miles in the beginning.
I could just take this 2hr-2hr15min1 training program and start at week 5 or 6, but it would be nice to follow a program from start to finish. I am sure there has to be something out there! Any help is greatly appreciated! :D
~~~~~~~~~~~~~~~~~~~~~~~~~~~~~~~~~~~~~~~~~~~~~~~~~~~~~~~~~~~~~~~~~~~~~~~~~~~~~~~~~~~~~
Ok, Eric and I are off to pack and move some stuff into our new house today!
I am also going to check out the new gym I am going to be signing up for!!! I am so pumped. This gym was just built a couple months ago and apparently it is the Lexus of all gyms (or so I hear), lol.
We are going to check it out today and I am going to get a temporary pass so I can test it out!
Apparently their gym locker rooms are 'spa like' and even have individual showers, sinks, and toilets to get ready in! If this is the case, I will probably workout before work there in the mornings and get ready at the gym before heading to work.
I am most excited about doing fitness classes again!!! It has been a long time since I was a member of a gym and I am excited to have more variation to my workouts. I love love love spinning (I did it on my honeymoon!!) so I can't wait to have that opportunity once again.
What are your favourite workout classes or workout DVD's?
Question to everyone who blogs with WordPress: Do you know how I set my blog so that only the most recent 3 posts show up PER page?? I can't figure out how to do this even after trying many different things in the settings tabs. Right now all of my posts are on one page and it is really making the page load slowly! Any help is appreciated!!! :D
~~~~~~~~~~~~~~~~~~~~~~~~~~~~~~~~~~~~~~~~~~~~~~~~~~~~~~~~~~~~~~~~~~~~~~~~~~~
Everybody thinks of changing humanity and nobody thinks of changing himself.
~Leo Tolstoy