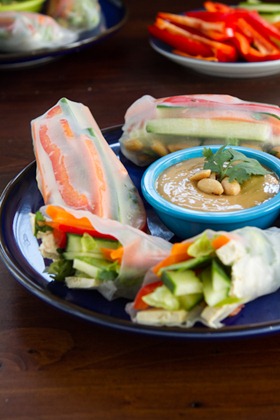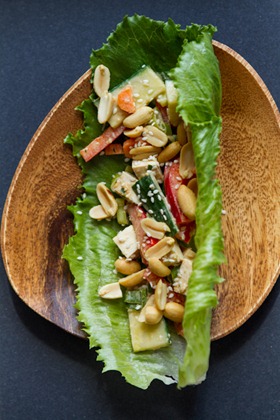 This is the first time I've featured a summer roll or lettuce wrap recipe on the blog, so today, I'm giving you both. A 2-for-1 deal rarely disappoints! Anyway, I'm not sure how I haven't made a lettuce wrap recipe on here because I really do adore them. I just never think to make them at home. This recipe is going to quickly change all that.
Summer rolls, on the other hand, I haven't always been so sure of. I tried them a couple years ago and wasn't a fan of the sticky rice paper wrappers. It also didn't help that I tried the rolls plain without a dipping sauce.
I finally got the nerve to make them recently – some two years later – and much to my great surprise, I really enjoyed them. The rice wrappers weren't as scary as I remembered (although still a bit scary) and I found when paired with a great dipping sauce, I just couldn't get enough. If you aren't down with the rice wrappers I have a lettuce wrap option for you to enjoy too. Lettuce wraps are also good for those times when you don't want to fuss with rice wrappers.
Really, the show stopper of this entire recipe is this peanut lime sauce. Oh my word, it's good. I used roasted peanut butter, low-sodium tamari, fresh lime juice, sesame oil, fresh ginger & garlic, and a touch of sugar to balance it all out. Fresh ingredients make the best peanut sauces so I don't recommend using powdered garlic or ginger for this one. You'll be rewarded with a sauce so good it could make cardboard taste like a delicacy!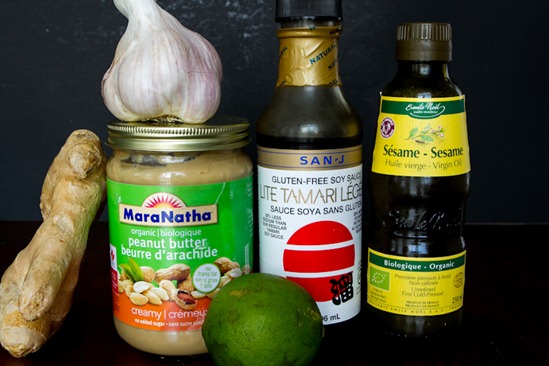 Like many sauces that have come out of my kitchen, I could not stop dipping my greedy little finger in for a million tastes!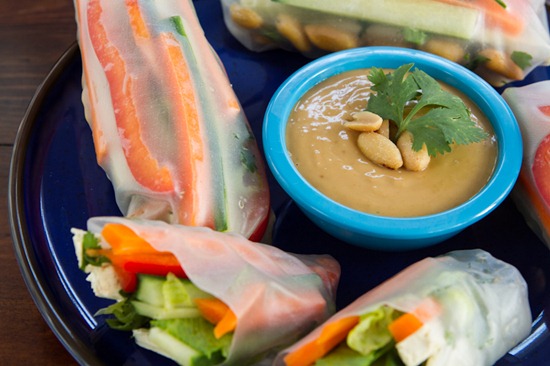 For the filling, I used extra-firm tofu (pressing it for about 20 mins while prepping the veggies and sauce), cucumber, red pepper, roasted salted peanuts, carrots, Thai basil, cilantro, and green onion. You'll want to julienne the filling ingredients, slicing into matchstick like pieces. I'm not very patient, so I'm sure yours will turn out looking better than mine.

To make the veggie rolls, start by placing a rice paper wrapper into a large bowl of hot tap water. When it's soft and bendy, place it carefully onto a tea towel as shown below. My wrappers kept folding up on me and my first one ripped, so I suggest keeping a few extras on hand if it's your first time working with rice wrappers. If this happens, just unfold the edges carefully. No big deal. Now, start layering the veggies and tofu on, keeping everything near the centre.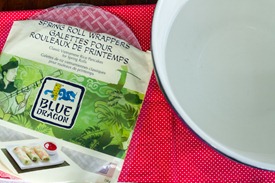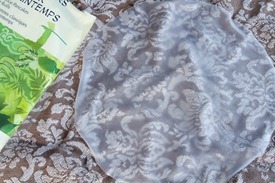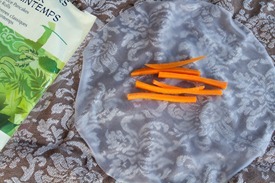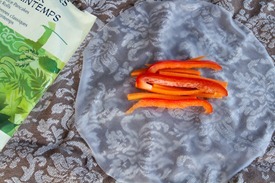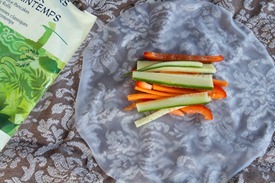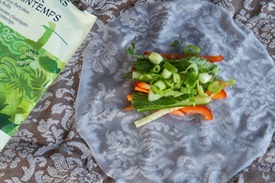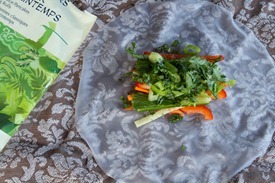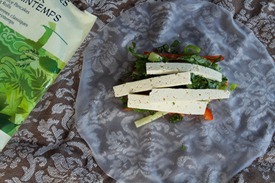 When the filling is all on, fold the two sides inward and then scoop one end over top the filling and roll forward. Repeat for the rest!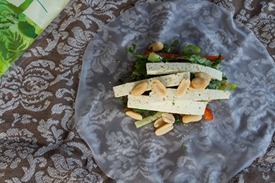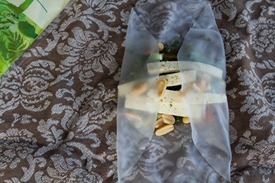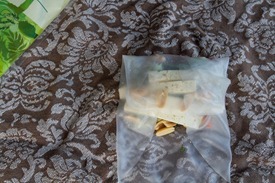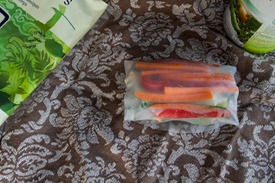 It took me a while to get the hang of rolling these, but in the end they turned out decent looking. Next time, I will definitely roll them a bit tighter, but I guess that comes with practice.
If you have leftover veggies like I did, just serve them on the side – another great vehicle for peanut sauce!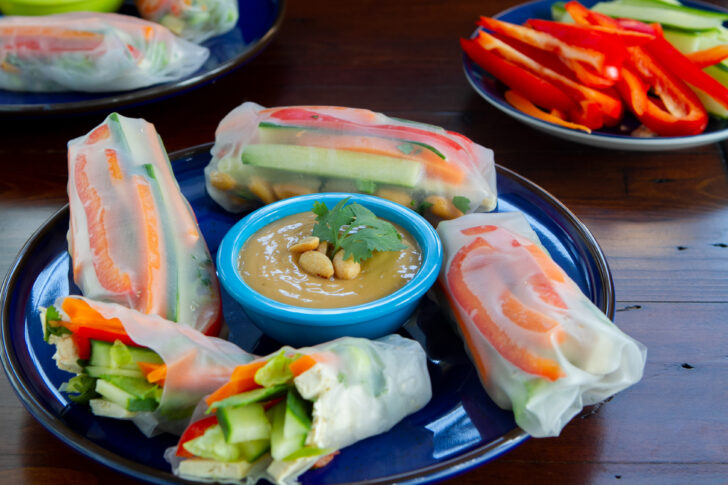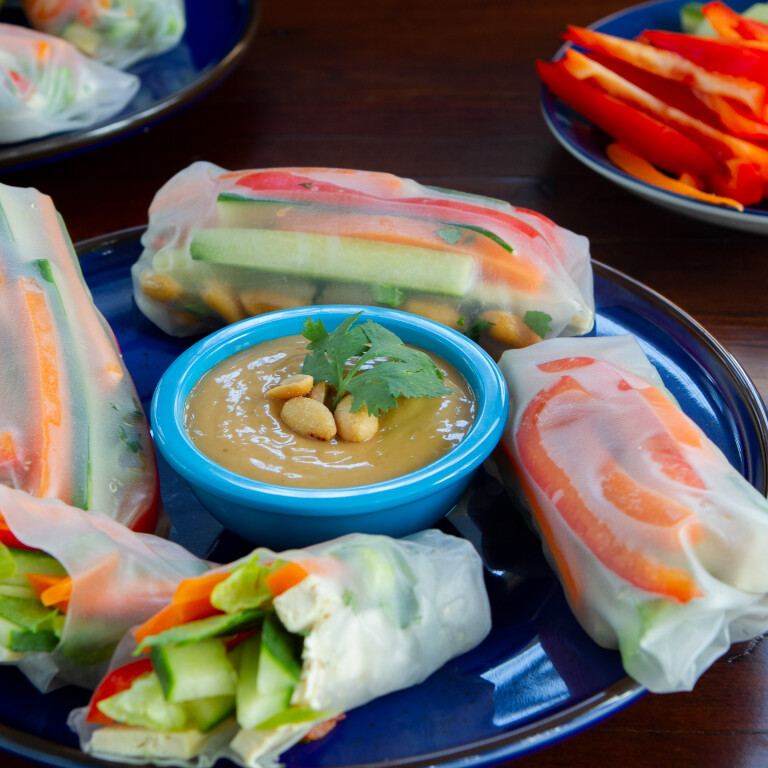 Summer Veggie Rolls with Spicy Peanut Lime Sauce
Vegan, gluten-free, no bake/raw

Yield

8 rolls plus 1/2 cup peanut sauce
Prep time

Cook time

0 minutes
Total time

Ingredients
For the filling
Spring Roll Wrappers (at least 8-10)
1 block firm or extra-firm tofu
1/2 English cucumber, julienned
1 red bell pepper, julienned
2 medium carrots, peeled & julienned
2 green onions, chopped
3-4 lettuce leaves, julienned
1/4 cup fresh Thai basil leaves, minced
1/4 cup cilantro, thick stems removed and minced
1/3 cup roasted & salted peanuts
Herbamare or sea salt, to season
For the peanut lime sauce
1-2 garlic cloves
2 tbsp sesame oil
1/4 cup natural roasted peanut butter
1/2-1 tbsp peeled & roughly chopped fresh ginger
3 tbsp fresh lime juice
2 tbsp low sodium tamari
2 tsp sugar
1-3 tsp water, to thin out as needed
Directions
Press the tofu while you prepare the filling and sauce. For pressing instructions, see here.
For the filling: Julienne the vegetables (slice into long thin strips). Set aside, along with peanuts.
For the sauce: In a mini processor, process the sauce ingredients until smooth. Adjust to taste. You may prefer more sweetener, tamari, oil, or lime juice. Or mince everything by hand and whisk.
Slice pressed tofu into long thin strips. You likely won't need the entire block.
Set up a roll making station and gather all of your ingredients in one area. Place a tea towel on the counter and fill a very large bowl with hot tap water. Dip one rice paper wrapper into the water and carefully submerge it once it gets soft. Hold it under water for about 10 seconds, or until soft, and remove from water carefully. Place it onto the tea towel and unfold any corners that may have rolled up.
Add the filling ingredients in the centre of the wrapper (see pictures in post). Be careful not to overfill or the wrappers will tear. Sprinkle with peanuts and a sprinkle of salt.
Roll the two sides of the rice wrapper inward and then flip the bottom over top the filling and roll forward. Place roll on a plate and cover with damp paper towels. Repeat for the rest.
Serve the rolls immediately with the peanut dipping sauce. If you have any leftover vegetables enjoy them dipped in the sauce on the side. Sauce should keep for at least a week in a sealed container in the fridge. Rolls will keep for 1-2 days in the fridge.
Nutrition Information
(click to expand)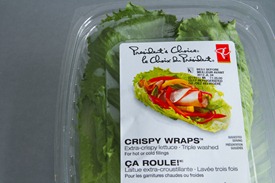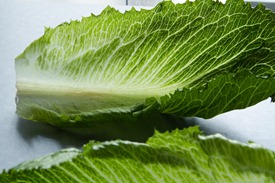 If you aren't down with the rice wrappers, feel free to try this with lettuce wraps! I used President's Choice Crispy Wraps, but use any kind of lettuce you prefer. Bibb/Butter lettuce would also work well. Lettuce wraps are certainly much quicker and less fussy than the rice wrappers, so it's a good option if you are short on time.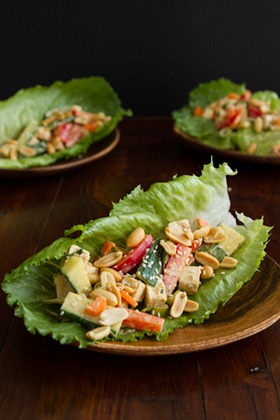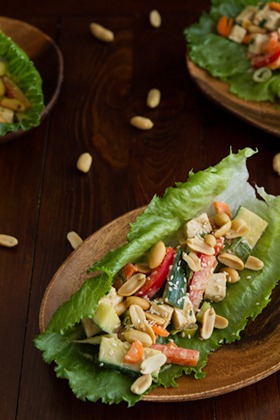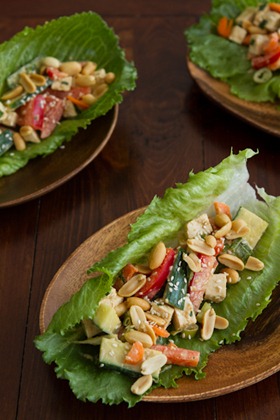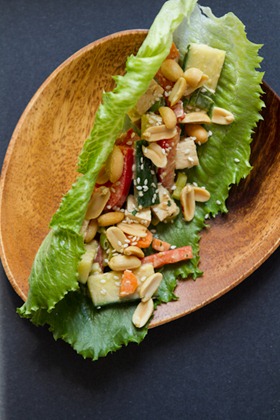 Thanks to those of you checked out the "Speak out against Walmart's cruelty to pigs" petition and spread the word on Facebook yesterday. I always feel so hopeless and sad regarding factory farming issues, but thanks to grassroots organizations and committed individuals, change is possible no matter how large and overwhelming the problem. As some of you noted, the issues at the root of this are the incredibly low animal welfare standards. These industry standards need to change. No animal should have a life like that. Of course, let's not forget the power in voting with our forks.
I don't mean to end on a sad note, but this weighs heavily on my heart! I hope you all have a great weekend.