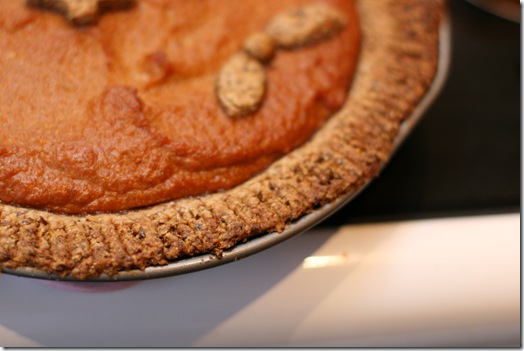 After I asked all of you to let me know what Thanksgiving recipe you wanted me to 'veganize', I was overwhelmed with requests to veganize the traditional pumpkin pie. I have always wanted to ante up for the challenge so I knew this was the perfect opportunity to give it a whirl.
Now if you have been following the blog for a while now, you know that I don't tend to bake things the traditional way. I am always looking for ways to make traditional recipes healthier. Just because a pie crust is supposed to use white flour and shortening, doesn't mean you can't make a good one using spelt and milled flax!
So here is my take on vegan pumpkin pie….I hope you will enjoy it as much as we do!
Vegan Pumpkin Pecan Pie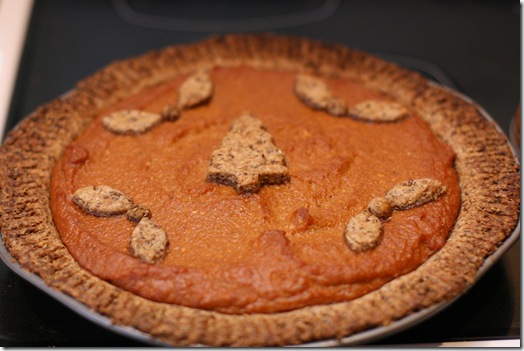 Ingredients:
Spelt Crust (revised):
1/2 cup coconut oil, melted OR 1/2 cup earth balance, melted
1/4 cup Sucanat (or brown sugar or white sugar)
1 cup whole grain spelt flour
1 cup unbleached all-purpose flour
2 tbsp ground flax
1/2 cup non-dairy milk (I used Original Almond Breeze)
1 teaspoon cinnamon
1/4 tsp salt
Filling:
1/2 cup pecans + 1 tablespoon pure maple syrup
2 cups pumpkin
12 ounces Silken tofu
1/2 cup Sucanat (or brown sugar)
1/4 cup pure maple syrup
1.5 teaspoons pure vanilla extract
1/2 teaspoon fine grain sea salt
2 teaspoons pumpkin pie spice (OR: 1 teaspoon cinnamon; 1/2 teaspoon ginger; 1/4 teaspoon cloves)
1-2 tablespoons cornstarch (I didn't use for this pie, but next time I

would

to firm up filling)
Step 1: Preheat the oven to 400F. Lightly spray pie pan with non-stick spray.
Step 2: For the Crust: Whisk together dry ingredients until well mixed. Add in earth balance or oil and milk. Blend with an electric mixer just until dough comes together. Use your hands to form the dough into a ball.
Step 3: Take ball of dough and place it on a non-stick mat. This method is preferred because if you put it on a floured surface the dough may dry out a bit. However, you can still roll it out onto flour if that is your only option. It won't make or break your crust by any means. Roll out the dough making the circumference a couple inches wider than the pie dish. The dough is quite sticky and it breaks easy so handle it as delicately as possible.
Step 4: Carefully roll the dough around the rolling pin and then unroll the dough over the pie pan. You may get a couple rips in the dough like I did. If this happens just patch them up with your fingers. Next, trim the edges of the crust with a pastry wheel or a knife. I also made small scores along the crust for a cool effect. Save the scraps to make decoration for the top of the pie.
Step 5: Take 1/2 cup pecans and 1 tablespoon maple syrup and mix in a small bowl. Spread mixture over the base of the pie crust. Set aside crust while you make the filling.
Step 6: Filling: Blend the silken tofu in a food processor until smooth, stopping often to scrape the sides of the processor. Once that is smooth, add pumpkin, sucanat, 1/4 cup maple syrup, vanilla, sea salt, and spices. Blend well. I also made a mini pie with leftover crust and filling (see below, step 8.)
Step 7: Pour the filling into the pie shell. Garnish with decorative shapes made using a knife or cookie cutters. I used a leaf cutter and a small Christmas tree cookie cutter. I have made the shapes by hand in the past, so you don't need cutters to make it look good. Just some patience.
Step 8: Place in the oven and cook at 400F for 42-45 minutes. You may want to cover the pie crust carefully with tin foil for the last 10 minutes of baking as my pie crust got brown.
Step 9: Cool for at least 30-45 minutes and then enjoy with some non-dairy vanilla ice cream or whipped cream.
Note: Spelt crust was adapted from my Pumpkin Pie Glo Bites and the filling was adapted from Care2.
Directions in pictures, because a picture tells a thousand words!
Step 2:
Step 3: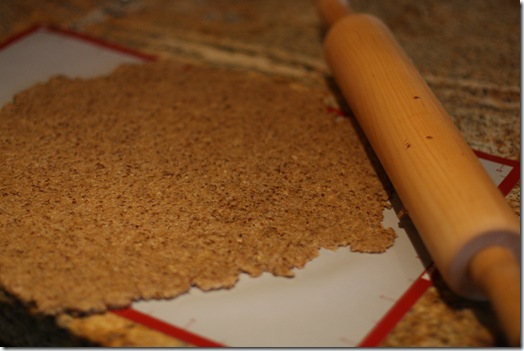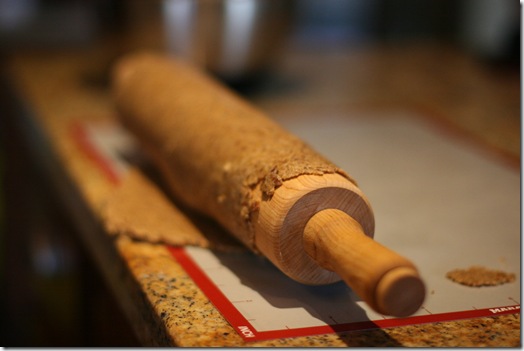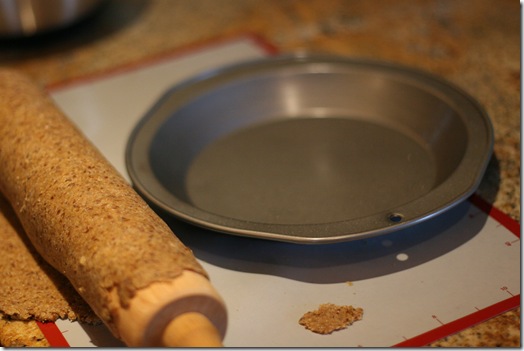 Step 4:
Note tear in dough. No worries!!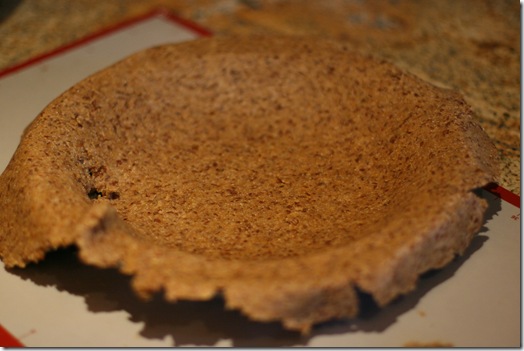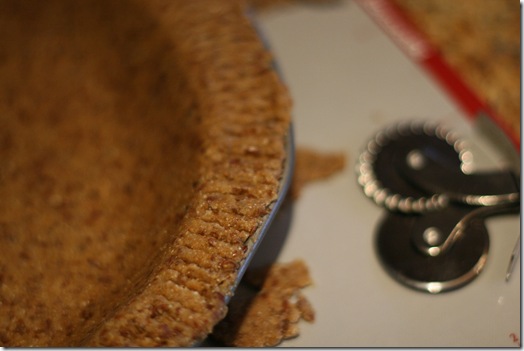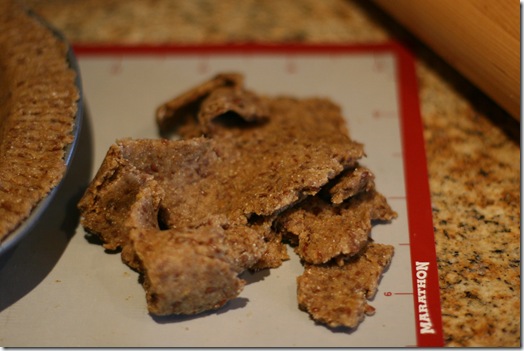 Step 5: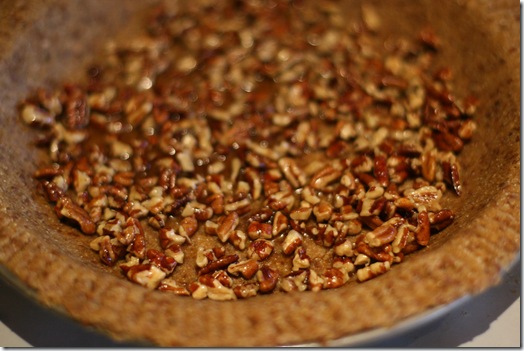 Step 6: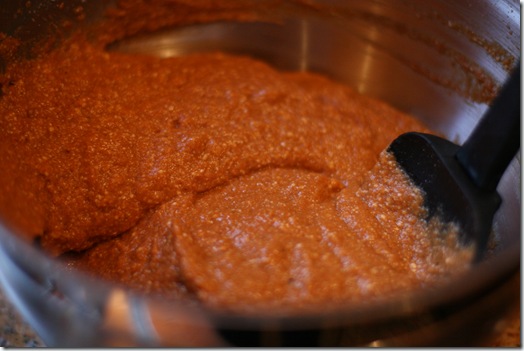 Step 7: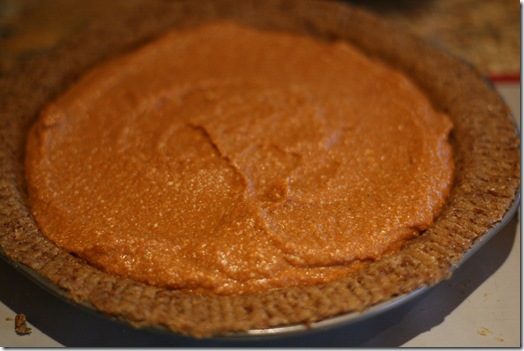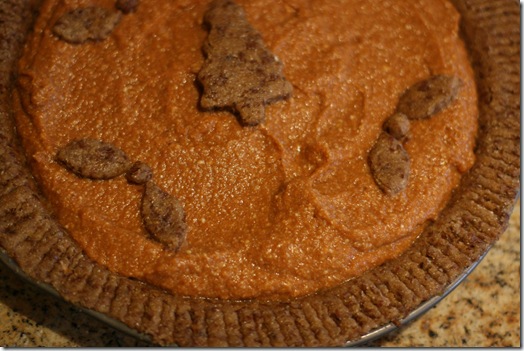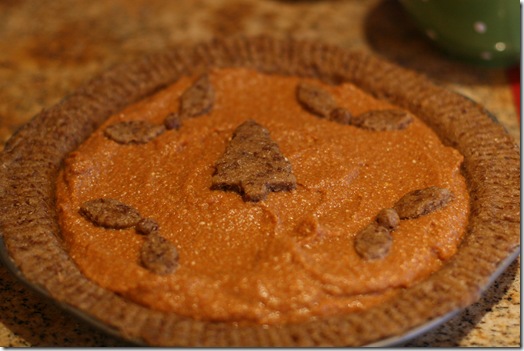 Step 8: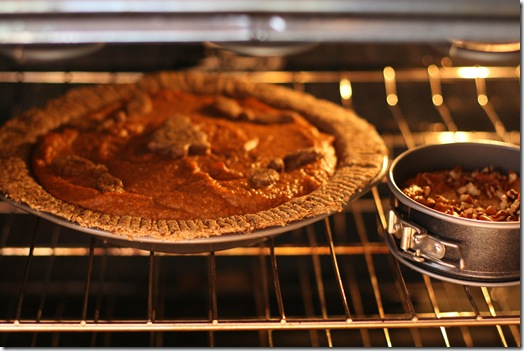 Step 9: TA-DA!
ENJOY!!!!!!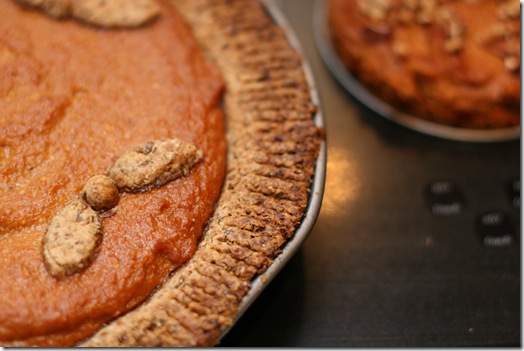 My mini pie that I gobbled up right away. Just delicious!
You can bet your bootay the house smelled amazing.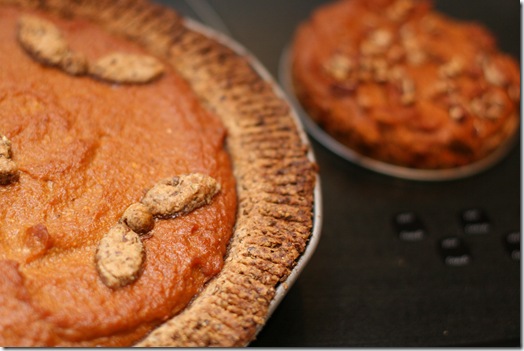 So what did I think?
Isn't it obvious? ;) I LOVED this vegan pumpkin pie. So much in fact that I prefer this one over the traditional pumpkin pies I have had in the past. I really love this pie crust that I made.  It is down right delicious!! Pie crusts don't come any healthier than this baby!! It is so wholesome and satisfying. It kicks white flour and shortening's butt any day.
You probably won't believe this, but it only took me a mere 30 minutes to prepare this pie! It was soooo unbelievably easy. This is only the third pie I have ever made, so if I can do it so can you!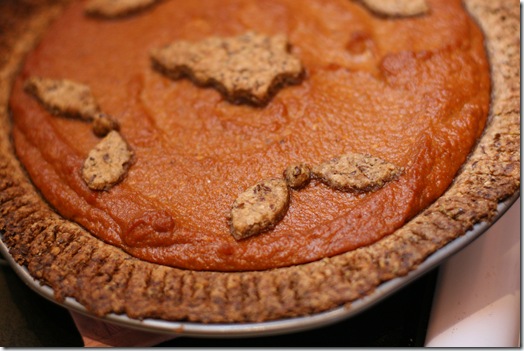 Future modifications: Next time I would probably add a tablespoon or two of cornstarch as the filling was a bit soft for my liking. I would also toast the pecans before using next time.
Please let me know if you end up making it! :) It was just SO easy!!
What is your favourite pie flavour?
Mine has always been pumpkin by a landslide!
~~~~
Well, In case you couldn't tell…the old Ange is back! :)
All it took last night was a good laugh (Eric pinned me down and tickled me!), vegan pumpkin pie, and some Gossip Girl. Thank you for all of your lovely comments and emails. :)
Have a glowing day!!