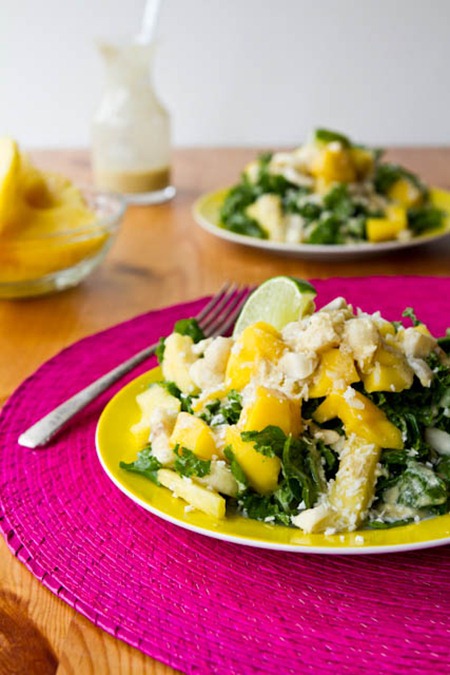 As I type this post, we're getting a snow storm. It's so beautiful out, but I can't help but dream of the summer. I can barely remember what the forest looks like all green and full of life. Right now, it's stark white and eerily still.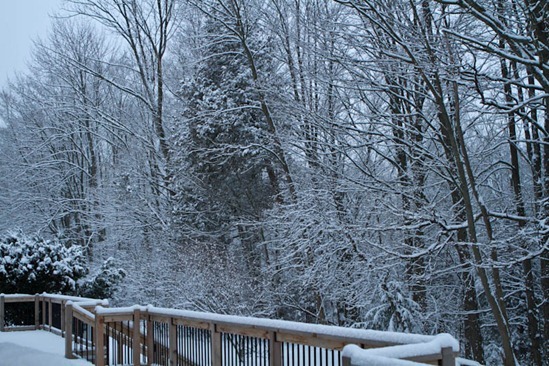 I don't know about you, but I've got a bad case of cabin fever lately. I get this urge to run races just to get outside, declutter the house, and buy a huge pineapple at the grocery store. I also feel like I'm slowly going to go stir crazy if I have to plant my butt on the couch for a second longer. I really can't bring myself to watch another reality show either. I mean, Ice T and Coco…really?
I'd rather pick lint off my sweater.
But I find myself watching it anyways, while I pick lint off my sweater and tell Sketchie to stop eating it.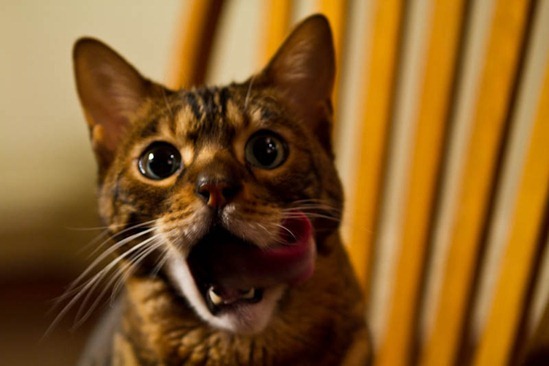 Mmm, lint. Yum.
Then I come to my senses and remember that Up All Night is on and everything is well in the world again.
If I'm feeling really desperate for warm weather, sometimes I'll eat food that reminds me of the tropics. The tropical fruit that I usually pass up at the grocery store, is now a craving that can't be ignored. It's a splurge that just might save my sanity, at least for now.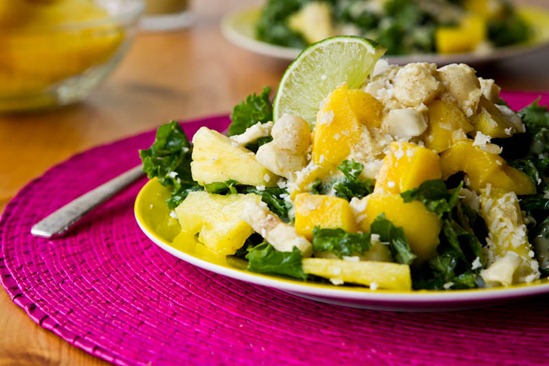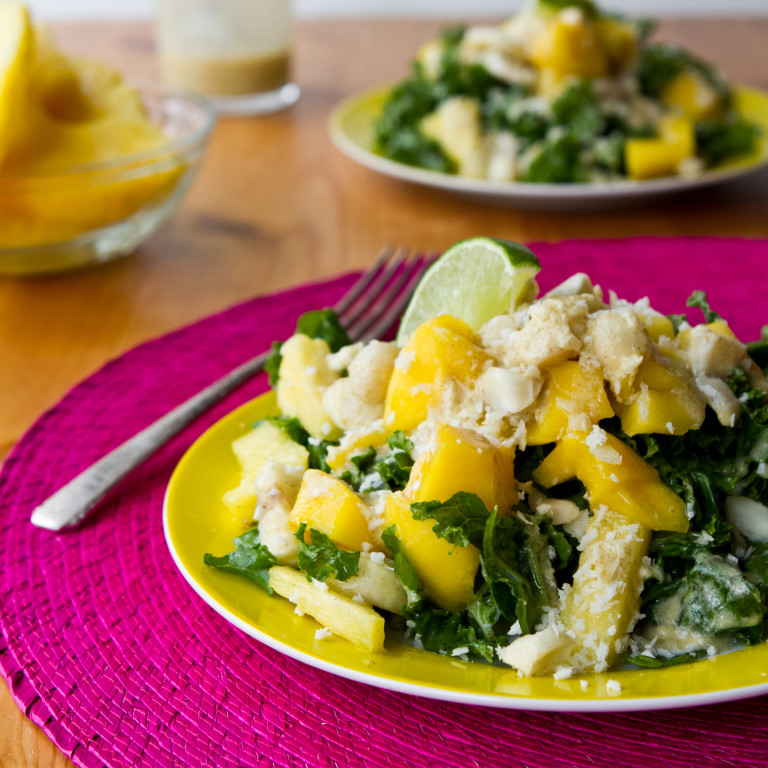 Tropical Mango, Banana, Pineapple Kale Salad with Creamy Pineapple Lime Coconut Dressing
Vegan, gluten-free, no bake/raw, refined sugar-free, soy-free

Yield

2 large or 4 small salads
Prep time

Cook time

0 minutes
Total time

The next best thing to going on a tropical vacation. Let's call this a staycation salad, shall we?
Ingredients
For the dressing
1 cup chopped fresh pineapple
1/4 cup fresh lime juice
3/4 cup coconut milk (I used So Delicious original, see below)
1/4 tsp kosher salt
1 tbsp chia seeds
1 tbsp coconut oil, melted
For the salad
5 cups packed kale, stems removed and roughly torn
1 ripe mango, chopped
1/2 large banana, chopped
1/2 cup fresh pineapple, chopped
1 tbsp shredded dried coconut
1/4 cup roughly chopped macadamia nuts
Directions
1. In a blender, blend all dressing ingredients until smooth.2. Meanwhile, prepare the kale and add about 2/3 of the dressing to the kale and massage it in with your fingers. While it marinates, chop the fruit.3. Mix everything together, top with coconut and mac nuts, and serve.
Nutrition Information
(click to expand)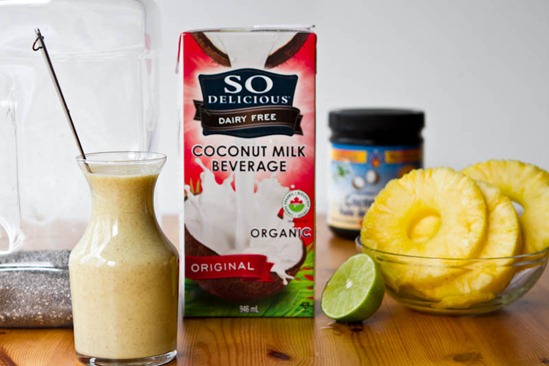 This dressing is something I whipped up on a whim to pair with the flavours of the fruit. I usually have the hardest time making salad dressing (I'm so picky with them), but I loved this one immediately. It's one of those dressings you can eat with a spoon too…seriously.
I used chia seeds to help thicken the salad dressing. They probably aren't absolutely necessary, but they do help. I'm really not a fan of using things like xanthum gum as thickeners, so chia seeds are a nice, all-natural alternative.
Blend the dressing ingredients and let it sit and thicken while you prepare the kale. Now, pour about 2/3 of the dressing onto the kale leaves and massage it in with your fingers, letting it marinate while you chop the fruit and nuts.
Mix it all together, squeeze on some lime juice, and you're good to go!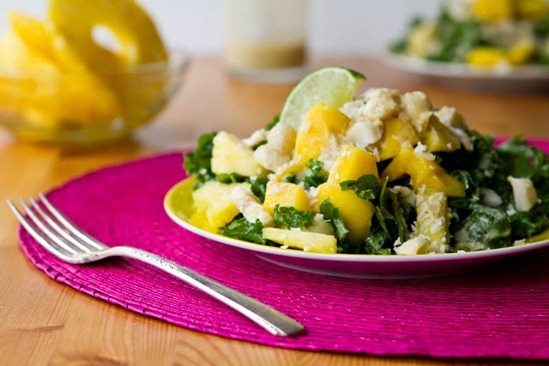 When I eat this salad, I don't see a snow storm outside.
I see a sunny white sand beach, clear blue sky, and glistening turquoise water. I'm sitting at a beachside bar enjoying this salad with a sarong tied around my waist and a wide rimmed hat.
You are all there enjoying the beach too. HI!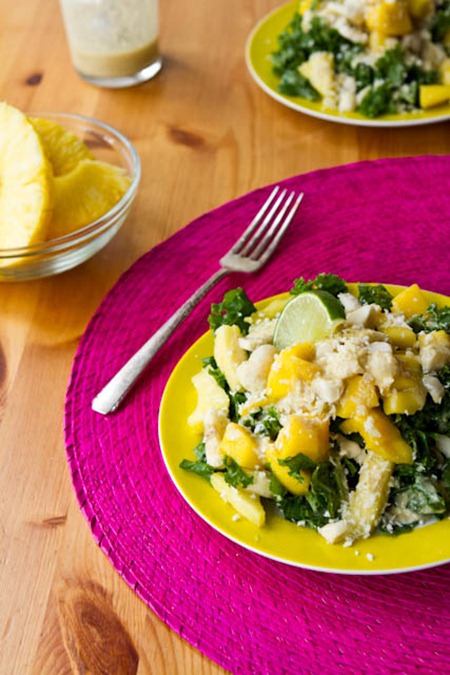 We're rehydrating with a tropical smoothie made with 1 cup coconut milk, 1/2 cup frozen pineapple, 1 frozen banana, and 1 tbsp fresh lime juice. Add some rum too…we're on the beach, after all.
Life is good.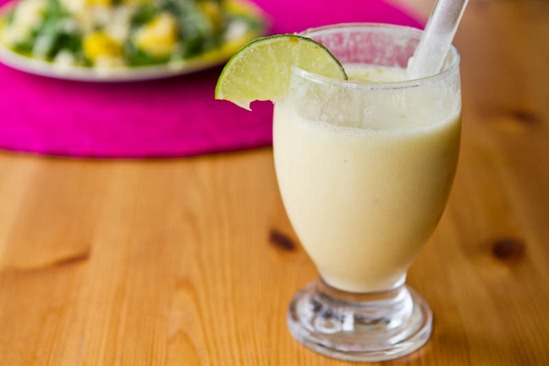 When I wake up from my dream, I feel like Cinderella after the clock struck midnight. Only instead of a glass slipper, all I'm left with is some questionable peach nail polish and a kitchen that needs a major cleaning. Pineapple juice is STICKY.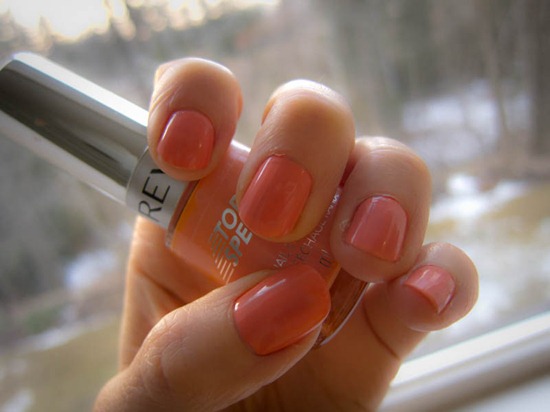 Should I wear my wide rimmed hat while I shovel the driveway?