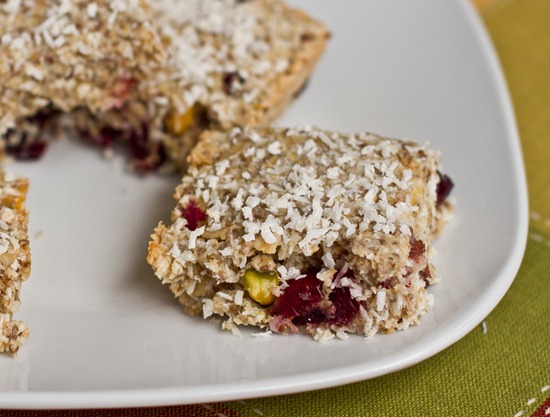 Hi there! I hope you are enjoying your weekend.
Many of you have been asking me how you can subscribe via email and I finally figured it out (Feedburner)!
It only took me 2 years, but better late than never right?
You can click each widget and it will bring you to that page. Pretty snazzy, I know.
I am also working hard on my new Frequently Asked Questions page, found at the top of my website called 'FAQ'. You can check it out here. I am not finished yet, but like to think of it as a work in progress!
And finally, I have a delicious breakfast bar recipe to share with you. I made these last week and they they make a perfect snack bar when you are running out the door and need a boost, but not a sugar crash.
[print_this]
Tropical Lemon Cranberry Coconut Chia Bars
Packed with chia seeds, dried cranberries, pistachios, and lemon, these bars are chewy, light, and tropical. I like to think of them as a tropical macaroon bar. They also make a perfect breakfast when you are running out the door!
Inspired by Navitas Naturals.
Ingredients:
3 tablespoons chia seeds
6 tablespoons fresh lemon juice (approx 1.5 lemons)
1.5 cups regular oats, ground into a flour in food processor
1/2 cup regular oats (not ground)
1 tsp baking powder
1/2 tsp kosher salt
1.5 cups unsweetened shredded coconut + additional for sprinkling
2 tablespoons lemon zest
1/2 cup unsweetened applesauce
1/3 cup Agave nectar
4 tablespoons coconut oil, melted
1/4 cup pistachios
1/2 cup dried cranberries
Directions:
1. Preheat the oven to 350F. Line an 8 inch square pan with parchment paper.
2. In a small bowl, mix together the chia seeds and lemon juice. Set aside to gel up while you prepare the rest of the ingredients. Take your 1.5 cup of oats and process them in food processor until a flour forms.
3. In a medium bowl, mix together the oat flour (regular oats processed into a flour), baking powder, 1/2 cup regular oats, kosher salt, lemon zest, dried cranberries, pistachios, and shredded coconut.
4. In another small bowl, whisk together the melted coconut oil, applesauce, and agave nectar. Mix in the gelled up chia seed mixture until combined.
5. Add wet to dry and stir well until blended. It will take a while to mix it thoroughly. Scoop the mixture into the prepared pan and spread out smoothly with a spatula. Sprinkle additional coconut on top before baking.
6. Bake for about 20 minutes at 350F until golden around the outer edge. It will very lightly spring up when pressed.
7. Cool in pan for about 10 minutes before transferring onto a cooling rack for about 30 minutes. Cut into 16 squares. Approx 200 calories per square.
[/print_this]
The first thing you do is mix one big chia egg with fresh lemon juice!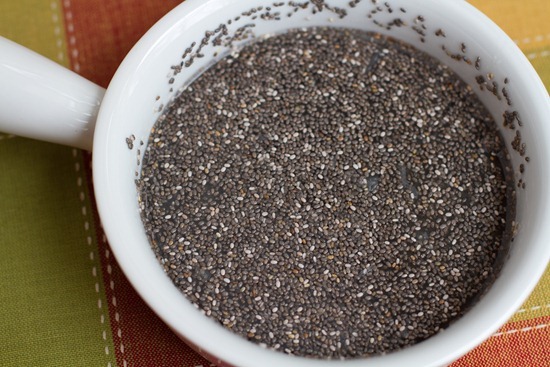 I love this recipe because there are 3 full tablespoons of chia seeds. You could also sprinkle more chia seeds on top before baking if you wanted too.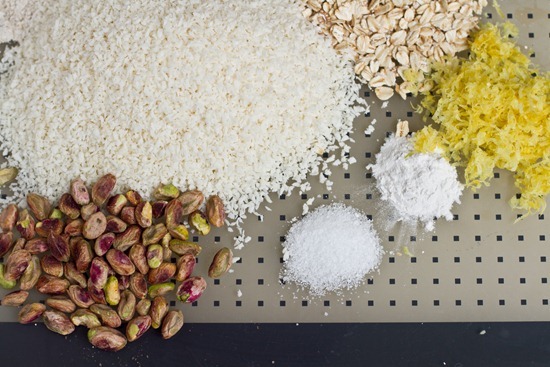 Mix together the dry ingredients.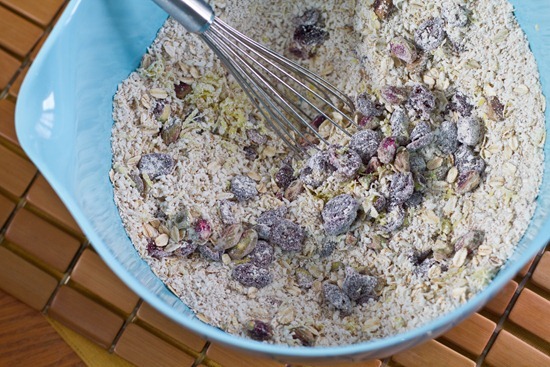 And the wet ingredients in another bowl: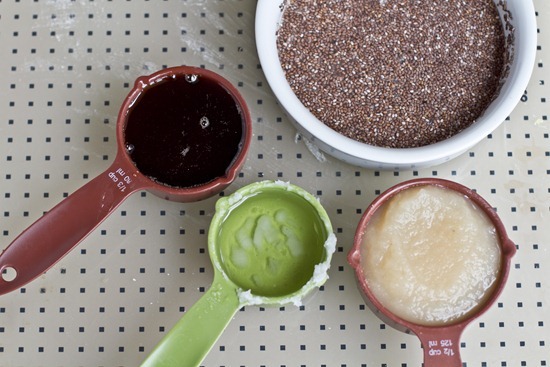 Add wet to dry and mix well.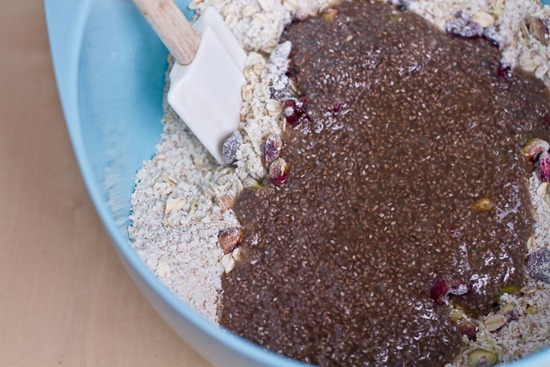 Bake for about 20 minutes at 350F, cool, and slice!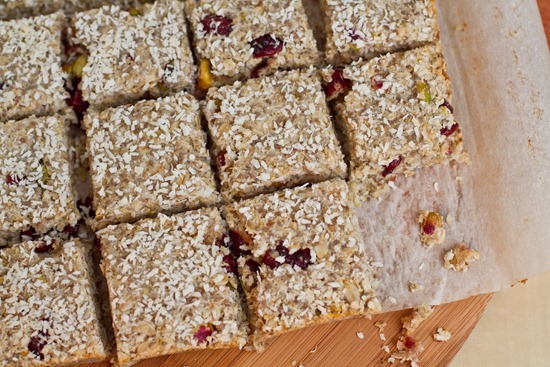 The flavour is outstanding. I am not much of a 'lemon flavour' person, but I just love the flavour of these bars. They are like a tropical macaroon bar with a wonderful chewy texture and pistachio crunch!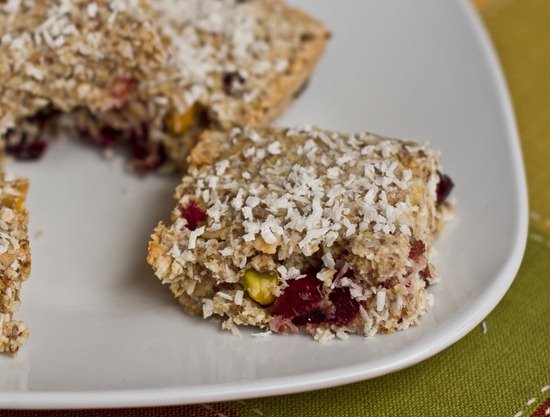 I rarely bake with Agave nectar, but I used it in this recipe because I find that the flavour of Agave goes well with lemon. I'm sure you could substitute the agave for another liquid sweetener if you wanted though.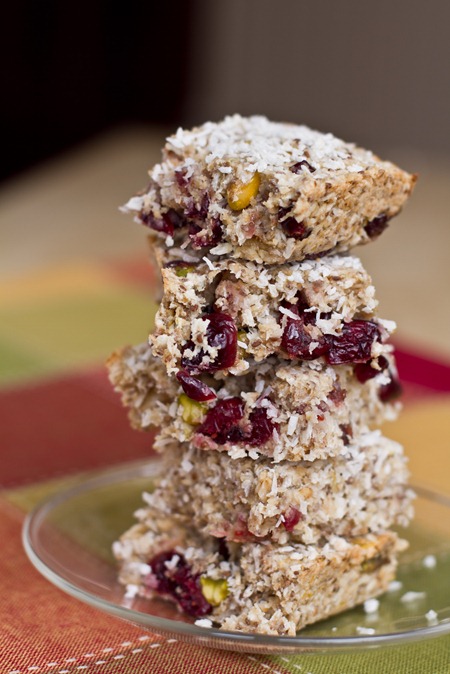 Something tells me I could use these for my 7 miler long-run fuel today…I better get cracking!