Just a quick note to say that the Amazing Grass Giveaway is only open until 11pm tonight! Make sure to get your comment in!

Good evening!
Tonight I am going to talk about my training for my first 10-miler race on Sunday! I have been receiving lots of questions about it so I thought I would address them in 1 post.
10 miles will beat my longest distance I have ever run by 2 miles. Naturally, I was a bit nervous about this distance, not really for my lack of cardiovascular training, but for the fear of not wanting to get injured again. As you know, I have been very careful easing back into running and I now approach running in a completely different manner.
Let's take a quick look at my training since my 10-km race on June 14th, exactly 30 days ago today:
June 15, 2009: OFF day, very light walking
June 16, 2009: 3 mile run
June 17, 2009: 15 min hill walking, core work, tons o' stretching, pushups
June 18, 2009: 60 mins treadmill hill walk (This was my first regular treadmill workout since my 10k race on the 14th of June and man were my calves screaming on the incline!!).
June 19, 20009: 3.31 mile run
June 20, 2009: 30 minute treadmill hill workout
June 21, 2009: OFF DAY
June 22, 2009: 5.35 mile run
June 23, 2009: OFF Day
June 24, 2009: 3.33 mile run
June 25, 2009: OFF Day
June 26, 2009: 50 min treadmill hill walking
June 27, 2009: 5 mile run
June 28, 2009: Treadmill hill walking
June 29, 2009: 35 mins treadmill hill workout
June 30, 2009: OFF day
July 1, 2009: 4.60 mile run 
July 2, 2009: 55 min treadmill hill workout
July 3, 2009: OFF day
July 4, 2009: Treadmill interval workout, 50 mins.
July 5, 2009: 4.5 mile run
July 6, 2009: OFF day
July 7, 2009: 6 mile run
July 8, 2009: OFF day
July 9, 2009: 50 min treadmill hill workout
July 10, 2009: OFF day
July 11, 2009: 1 hour treadmill hill workout
July 12, 2009: 7 mile run
July 13, 2009: OFF day
July 14, 2009: 8 mile run
REST DAYS:
As you can see out of 30 days, 10 of those days were REST days.
Averaging it out, one in three days I took a rest from exercise! You may also notice that my rest days almost always follow a run. I have been much more mindful of this since my injury.
You can also see that I never ran two days in a row. Others might be able to handle running two days in a row, but I prefer to give my body a break.
One thing I have really learned lately is just how important rest days are. I never used to take them and I felt guilty about it. I find I have changed my entire outlook on it now.
How did you stop feeling guilty about taking off days?
When I was injured for 2 months, I couldn't exercise for the entire time. I couldn't even go on a walk without feeling pain. I couldn't do yoga. Zippo. Those two months taught me a lot about my body and how I should listen to it more. I used to hate rest days, but now I see them as saying a big 'thank-you' to my body that works so hard for me all the time! Just like it is healthy to take breaks from work on the weekends (or whenever your scheduled off days are), it is healthy to give our bodies a break too. I always feel re-energized after a rest day. For example, I took a rest day yesterday and came back today stronger than ever! So now whenever I feel a small twinge of guilt for skipping a workout or taking a planned rest, I remind myself what it was like to be out of exercise and training for 2 months. It was not fun. Since I don't want to be back there, I play it sensibly this time around.
Why the increase in rest days lately?
I generally try to stagger my off days after runs, and you may also notice that my off days increased in frequency in the past 2 weeks. This is because I started to increase my mileage and speed training. Since both of these things are harder on the body, I knew my body would need extra repair time.
What about mileage?
I barely did any running in the two weeks before my 10k race, yet I felt fine cardiovascular-wise during the race. I credit this to high intensity cross and interval training. As you know, I am a huge proponent of steep incline walking at a fast pace and I believe this conditioned me and prepared me for the race, even though I wasn't hitting the road and doing 8 or 10 kms each week.
However, a 10 mile race is a whole other ball park and I knew I would have to increase my running mileage if I was to be ready for the race. So gradually, over the past month I have increased my mileage to a point that I now feel confident entering this race.
What did your weekly mileage look like over the past month as you trained?
Week 1: 6.3 miles (this was a decrease in mileage since I was recovering from the 10k)
Week 2: 13.6 miles
Week 3: 9.1 miles
Week 4: 13 miles
Week 5 (current week): 8 miles (taper week)
Now of course, my mileage isn't perfect over the past month and I wouldn't expect it to be. I don't think mileage should be a linear thing either. I think it is natural to have fall-back weeks where our mileage is less than normal. This allows the body to recover. We have also just gotten out of a nasty month of weather where it rained basically every day so many of my runs were cut out in favour of the dry treadmill. :)
How are you preparing for your race now that it is 1 week away?
I did my last long run today-8 miles. I made sure to reduce my pace and I took it very easy. It was a very calming run and relaxing. I wasn't out of breath or struggling because I wasn't focusing on my speed…just distance. I needed to know physically and mentally that I was capable of doing the 10 miles this weekend. After 8 miles, I knew I could do another 2. I felt fine and since I didn't want to push it too much, I was content with 8 being the longest distance I have yet to run ever in my life. On Sunday, there will hopefully be a new record. :)
For the rest of the week, I plan on tapering. I have 4 days left now, and I don't plan on running again until Sunday. I may do a couple of easy miles on Friday, but I probably won't. here is my game plan:
Tuesday: 8 mile easy run + stretching (done and done)
Wednesday: Off day + SGBC exercises 19, 20, maybe light walking, stretching
Thursday: Treadmill hill workout
Friday: Interval training + SGBC exercises 21, 22
Saturday: Off day
Sunday: 10-mile race
This is just a plan and of course may change :)
How has stretching improved your running?
Let me just start off by saying that last year when I was running, I didn't stretch. Barely at ALL. Bad, bad, Angie, I know! Now I stretch almost immediately after getting back from my run and then I stretch at night too. And get this- my muscle soreness has virtually disappeared! Even after my longer runs this past week, I have not been sore the next day. This is a first for me actually and I credit most of it to stretching. I focus a lot on my inner thigh/groin muscles because that is my trouble spot for getting tight.
Is there anything else that has helped you out?
Yes! After my runs I now make sure to take my favourite vitamins along with my post recovery meal. I take Spirulina, Vitamin D, Calcium/Magnesium, and Omega 3 vitamins. I'd like to think that these vitamins have helped build my bones and help my muscles recover faster.
Secondly, I have said it before, but I'll say it again: My knee sleeves have CURED my knee pain. I have worn them every single run since I got them (2 months ago or so??) and I no longer experience knee pain. A true life saver for me!
Thirdly, I have helped my blister issue by using Moleskin. It is a pain in the butt to put it on each run, but it is worth it. I also secure it with electrical tape and I have had no problems with blisters.
How do you get motivated to run on the days you don't want to (like Sunday after the Wedding)?
I do a lot of pep-talks to myself and I use motivating phrases. Feed The Warrior works for me and puts a big smile on my face. Sometimes, I remind myself of how I will feel afterwards or those blissed out moments when I am running and everything seems right in the world. I also make sure I have lots of fuel in the tank!
I also have been wearing my 10k medal off and on to ramp up my motivation to race! Here I was this morning, mentally prepping myself for the 8 mile run (a distance I have not done since pre-injury):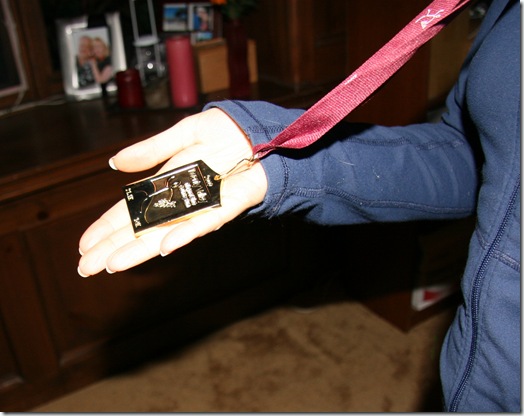 So there you have it! I hope this has helped answer some of your questions. :)
Tonight's question:
Have you ever had to revamp the way you approached exercise or training for an event? What did you do? Were you ever injured and as a result learned news ways of approaching your training?

Stay tuned for tomorrow AM for the post-run recovery food I am in love with! I will also be revealing a new Glo bar, and a fun relaxation exercise!