[Do you see the new blog header? If not, hold down the 'Control' key and 'F5' key at the same time to refresh your page if you aren't seeing the new header.]
When the seasons change, I'm often motivated to change as well. I purge clutter, enjoy new seasonal food kicks, and break out a to-do list before succumbing to disorganization in 3 days time. Ah, it's great.
The other day I was reading an article about improving the appearance of a blog. It said, 'If your website had no text at all, would people know what your blog was about?'
I imagined my blog without text. All that was left was a creepy, glow-y profile picture circa 2008. Yikes.
It was kind of like looking back on my Grade 2 picture seeing myself with a side pony tail and a scrunchie.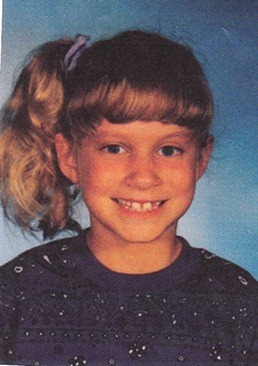 Oh wow. Thanks Mom?

I'd like to think this new header is clean, fresh, and seasonal. Aside from my dying basil plant, I was able to grow these vegetables in my garden this summer (the picture, however, is from 2010).
My plan is to create a new header for each season shooting local and seasonal produce. So if you hate this one, it's only going to be around for about a month. For Fall, you'll probably see gourds, squash, pumpkins, candy corn, apples, etc.
For Winter, you'll probably see snow, ice, and extremely unflattering winter boots circa 1994. For Spring, dirt and mud. You get the idea.
This header was a close second with a new and improved tagline…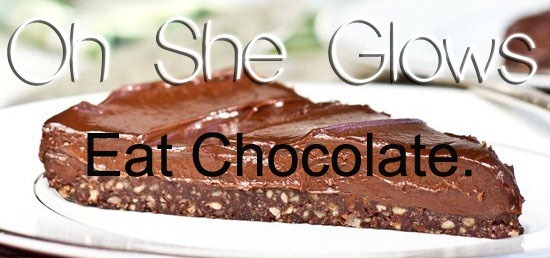 My third idea was a Chocolate Chunk Toffee Bar dipped into a Green Monster. It demonstrated a lovely balance of health and indulgence, but perhaps not the most photogenic header of all time.
PS- Photoshop owns my soul.
~~
I thought it would be fun to have a discussion about blog headers today. What makes a great blog header? For bloggers: Did you design yours or have someone design it? What do you love about your header or want to change? Feel free to link to your blog in the comments.