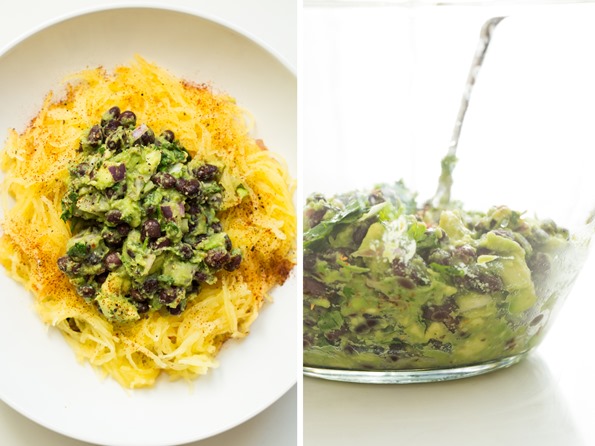 Eric and I have been quite obsessed with HGTV and DIY Network for some time now. We know all the shows. All the hosts. Bryan Baeumler fan girl/boy right here! We can recite all the annoying commercials by heart (ugh). We watch repeated episodes multiple times to the point where we could recognize the homeowners on the street. Eric is tormented by the fact that we're renting right now and can't really do anything major to spiff up this place. Not that it's a bad place to live, but it doesn't really feel overly personalized for us. It doesn't quite feel like home. He's so desperate to build things he didn't complain once when putting together an Ikea cabinet the other week! How does that even happen?
The point of this story, however, is that the DIY shows are brainwashing me.
Proof? I'm entertaining Eric's idea of gutting an old house from top to bottom. That's on his bucket list. His dream is to buy the crappiest, oldest, creepiest house on the block and gut it to the bones. We recently went to look at a 100-year old house that hadn't been updated since the original owner moved in. Green cabinets, knob and tube electrical, scary stains in the basement, rotary phones. It was straight out of a horror flick. Isn't that every girl's dream? Can I even survive that kind of torment? Who knows. Watching them make it look so easy on TV makes me feel like it's possible though (or insane, depending on the day).
I hate to be a dream crusher, so I'm entertaining this idea. Plus, I love when he's happy and doing what he is passionate about. I just don't want a house gutting to be a marriage gutter, you know what I mean? I recall the renos we did in our previous house and it wasn't always puppy dogs and rainbows. There were tears, fights, hefty bills, excruciating trips to Home Depot (loathe), dust, and more dust. Did I mention dust? Maybe renting isn't so bad after all.
I'll keep you posted on what we end up doing. In the meantime, feel free to share your own home renovation stories with me! Are you living through any right now?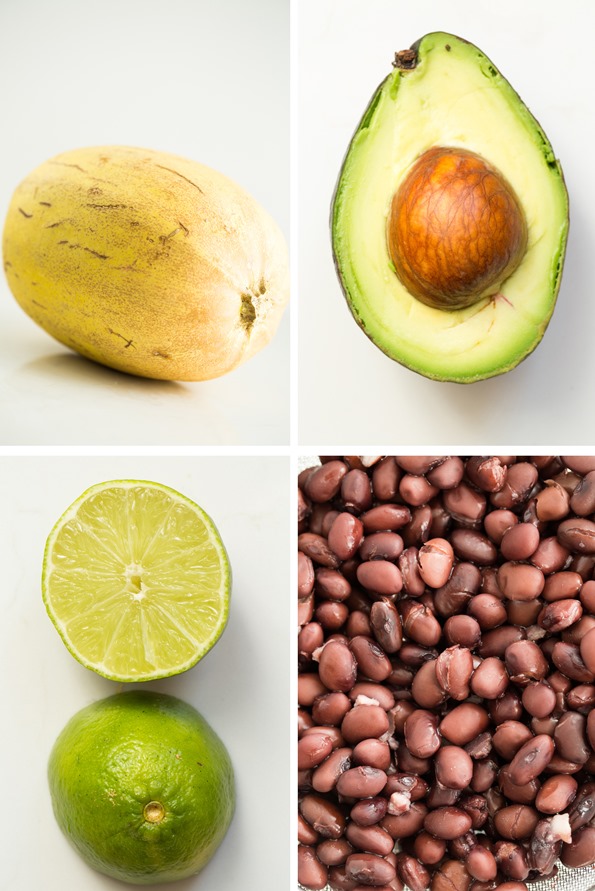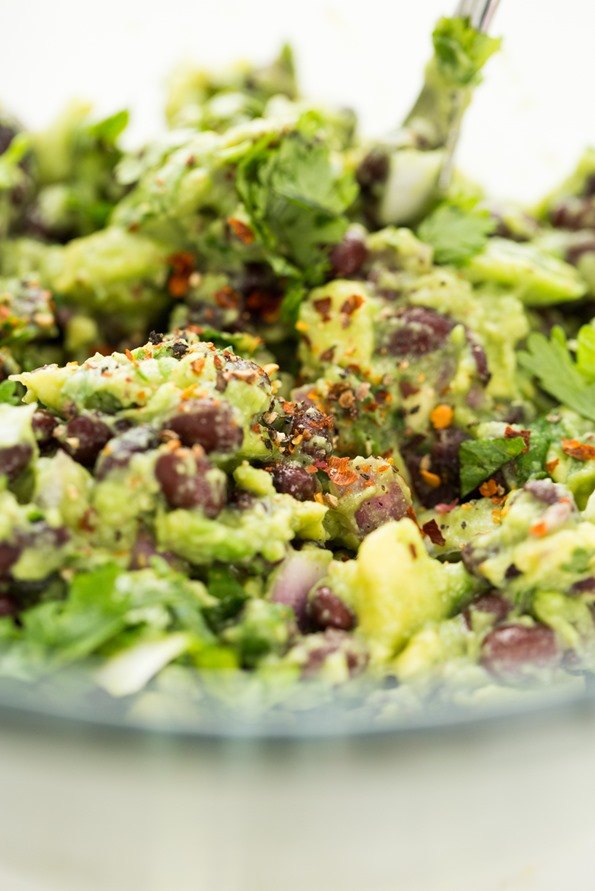 Something that isn't a marriage crusher? This recipe right here. Smiles and happy bellies all around with this meal. As per my theme of Vegan Glow in September, this meal was super easy to throw together. In fact, I think I'm going to put it on the rotation every week! It's also a great way to boost your vegetable intake significantly. 
When the squash is done roasting, season it with chili powder, cumin, oregano, and more salt and pepper. I go wild with the spices. Then layer on a hefty serving of black bean guacamole. I repeat: go wild.
aaaaand feast!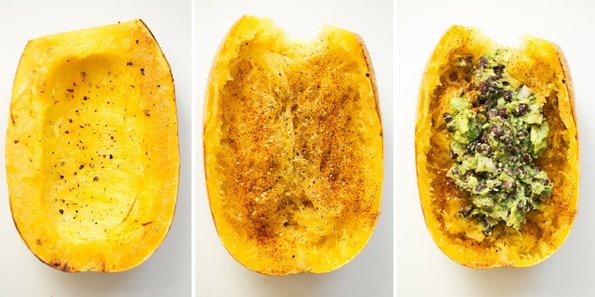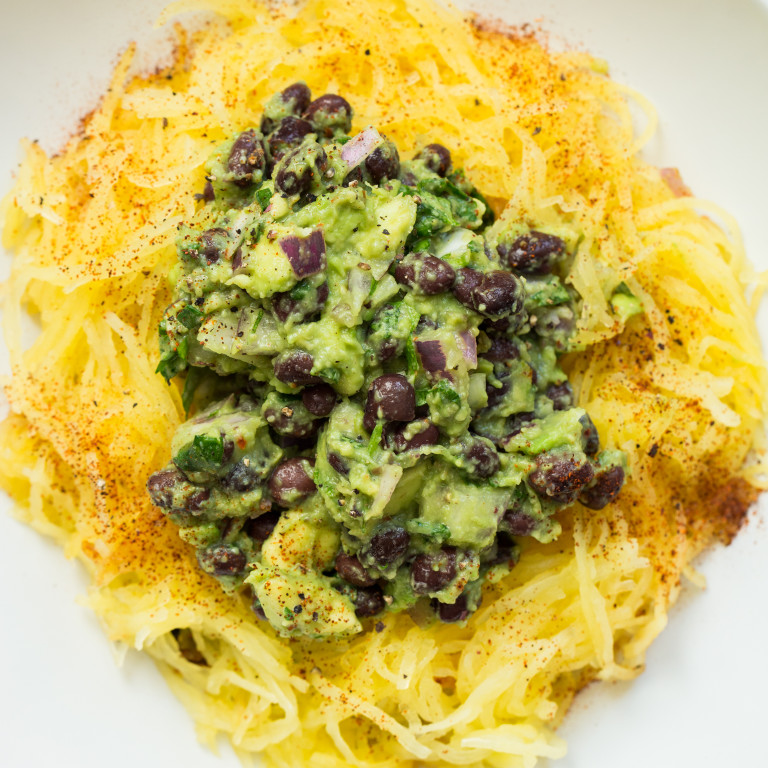 Tex Mex Spaghetti Squash with Black Bean Guacamole
Vegan, gluten-free, grain-free, nut-free, refined sugar-free, soy-free

Yield

2-3 servings
Prep time

Cook time

Total time

A satisfying and healthy dinner for two! Recipe inspired by Whole Foods.
Ingredients
For the spaghetti squash:
1 medium spaghetti squash
extra virgin olive oil
ground cumin
ground chili powder
dried oregano
salt & pepper
For the black bean guacamole:
2 avocados, pitted and flesh scooped out
1/2 cup diced red onion
1 small tomato, seeded and diced
1 (15-ounce) can black beans, drained and rinsed (about 1.5 cups cooked beans)
1/4 cup chopped cilantro leaves
2 tablespoons fresh lime juice, or to taste
fine grain sea salt, to taste
freshly ground black pepper, to taste
red pepper flakes, to taste
Directions
Preheat oven to 375F and line a large baking sheet with parchment paper. Slice off the stem of the squash and place the squash cut side down on a cutting board. With a chef's knife, carefully slice through the squash lengthwise to create two long halves. Scoop out the seeds and guts with an ice cream scoop. Brush some olive oil onto the squash and sprinkle with salt and pepper. Place squash halves cut side down on the baking sheet and roast for 30-50 minutes, depending on how large your squash is. When the squash is tender and you can easily scrape the strands with a fork, it's ready. I like to check the squash after 25-30 minutes to make sure I'm not over cooking it. Be sure not to cook for too long or it will turn mushy.
While the squash is roasting, prepare the black bean guacamole. Mash the avocado flesh in a large bowl. Fold in the onion, tomato, drained and rinsed black beans, and cilantro. Season to taste with lime juice, salt, pepper, and red pepper flakes.
Remove squash from the oven, flip over, and scrape the flesh with a fork in vertical motions. Do this until you've scraped all the strands off the skin. Now sprinkle on some chili powder, cumin, oregano, salt, and pepper (as much or as little as you want). Top the squash with guacamole and serve warm. You can also plate the spaghetti squash, if preferred.
Tip:
For a step by step photo tutorial for roasting spaghetti squash, see this post.
Nutrition Information
(click to expand)