Good evening!
We had a busy day today…
Dropped Sketchie at the vet/picked him up (

$155

!!!!!!! For a urine analysis!)
Bought cat food
Organized/paid bills [phone, internet, water heater rental etc], changed phone plan
Office stuff: Paid property taxes, faxed in warranty for car, discontinued tenant insurance
Took car in to have transmission checked
Transferred insurance companies on my engagement ring
Wal-Mart (see photos below)
Glo Bakery business stuff [research, phone calls, applications, etc]
COOKING, clean up etc
Blogging
Post office
etc!
I still have to organize all of my files! When we moved in this house my mini filing cabinet BROKE and I haven't gotten a new one until today…I got this one below at Wal Mart for 10 bucks: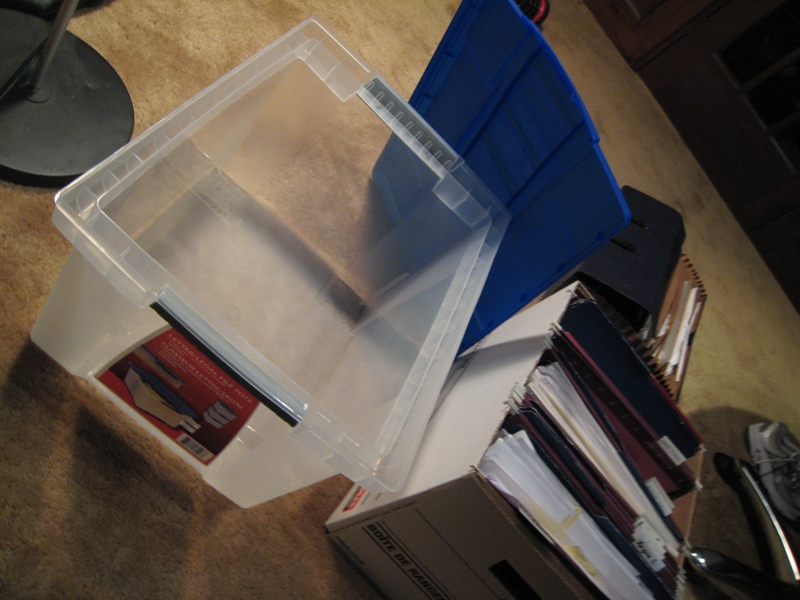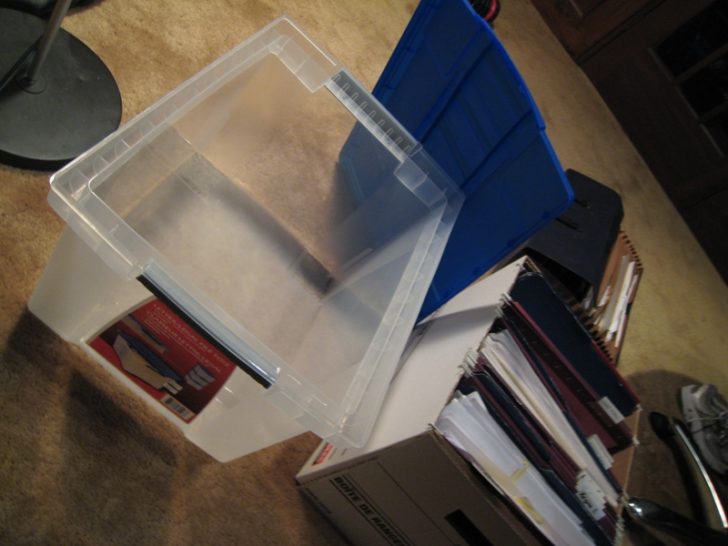 I need to move the two on the right, into the new one on the left…plus add in tons of bills and files that I haven't been filing since we moved in end of November!
Our Wal-Mart Shopping trip: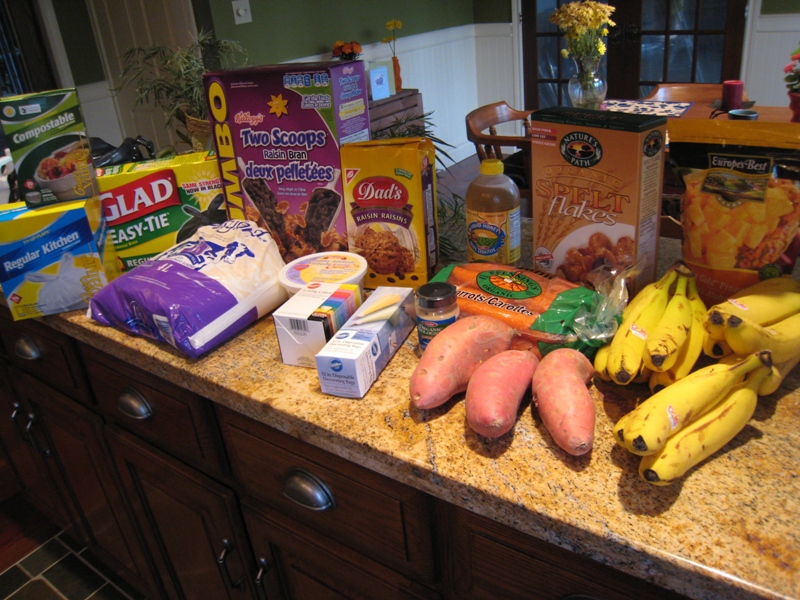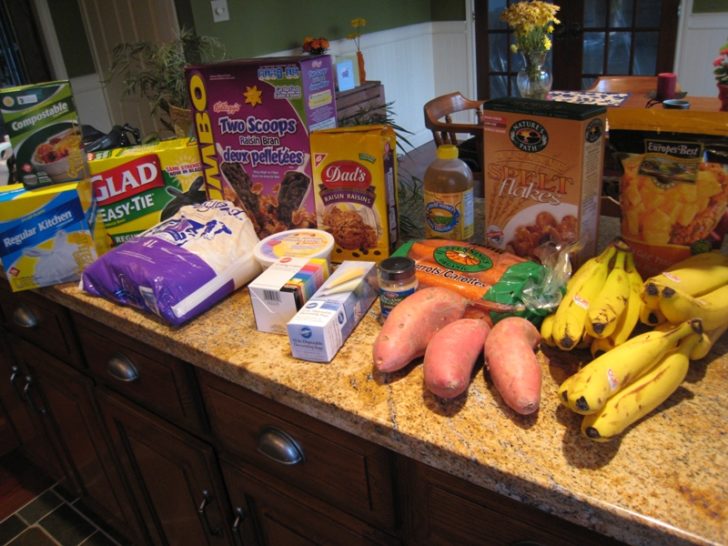 Eric stuff on the left:
garbage bags (he is our sanitary engineer, lol)
1% cow's milk
Raisin Bran
margarine
Dad's Oatmeal Cookies
My stuff on the right:
Icing color paste (!!!)
Piping bags (50)
3 sweet potatoes
3 bunches of bananas on sale for 30 cents/lb.
Organic carrots
organic garlic puree (the whole jar only $1.29- it was cheaper than buying whole garlic cloves)
Nature's Path Spelt Cereal
Bulk honey
Europe's Best Frozen Pineapple (sooo sweet!) for smoothies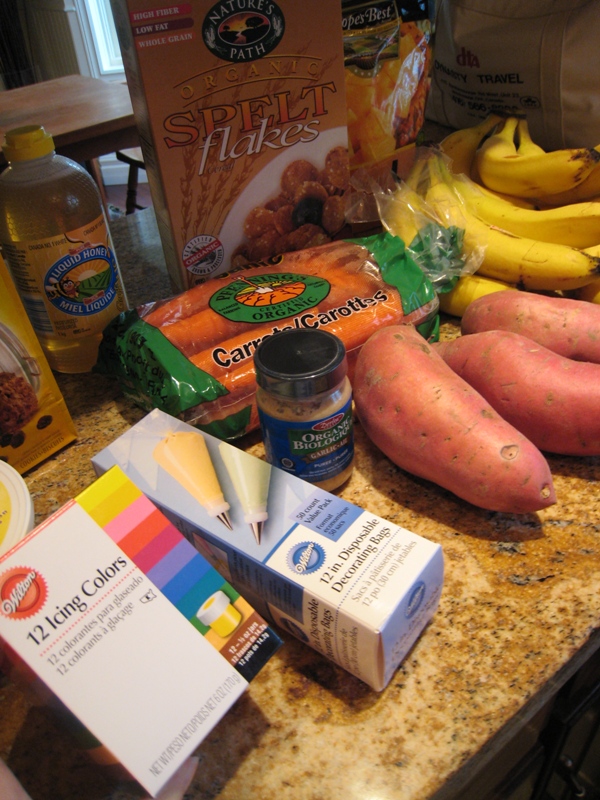 i can't wait to decorate and mix all kinds of wonderful icing colours!
~~~~~~~~~~~~~~~~~~~~~~~~~~~~~~~~~~~~~~~~~~~~~~~~~~~~~~~~~~~~~~~~~~~~~~~~~~~~~~~~~~~~~~~~~~
Sweet Potato Spelt Perogies
I was in wal-mart tonight and passed the perogies in the frozen section, and this idea for dinner just came into my mind! It turned out pretty darn fantastic if you ask us!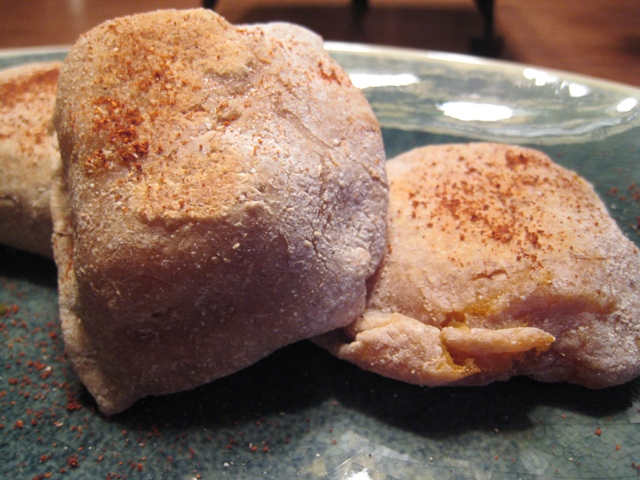 Ingredients:
Sweet potatoes, boiled and mashed
paprika
Directions: Boil sweet potatoes until tender, drain, and mash. Sprinkle with lots of paprika. Set aside. Cook other veggies if desired. In retrospect, I would have added some mixed veggies to the sweet potatoes and mixed together. Roll out spelt dough as if you were making a tortilla, Cut into the size you want to make perogie. Spoon 1-2 tbsp. of sweet potato puree on each piece of dough. Fold together as shown and pinch at sides to secure. Cook in a skillet for 4-5 mins. each side on medium heat until firm to touch.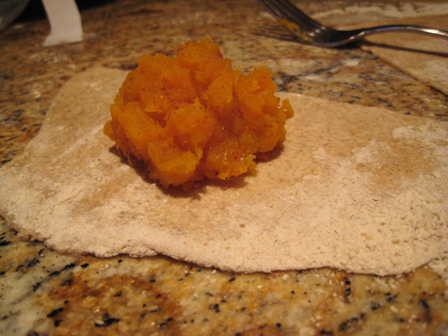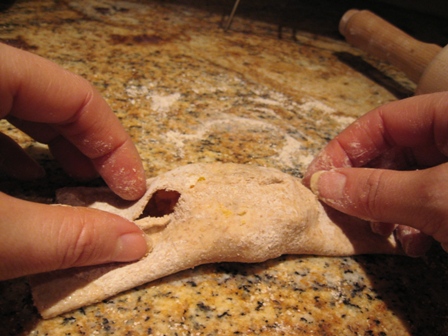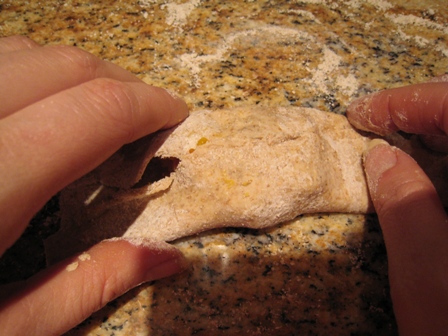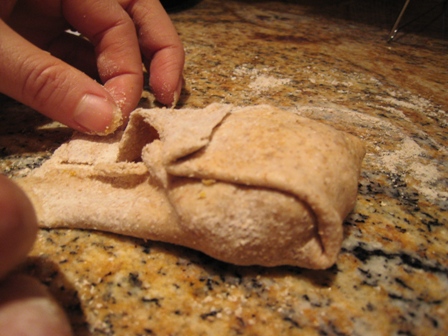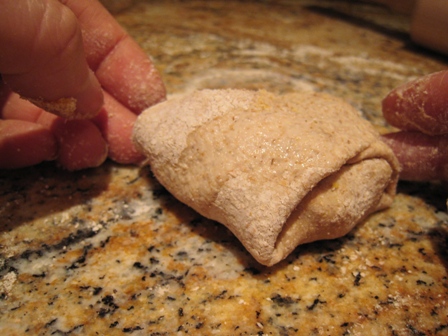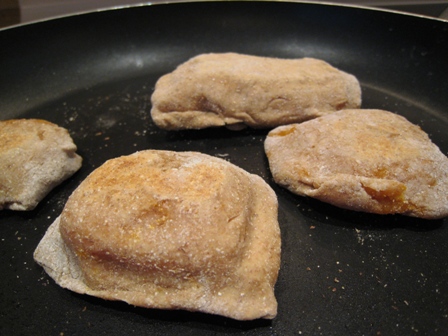 Ta-da!!!!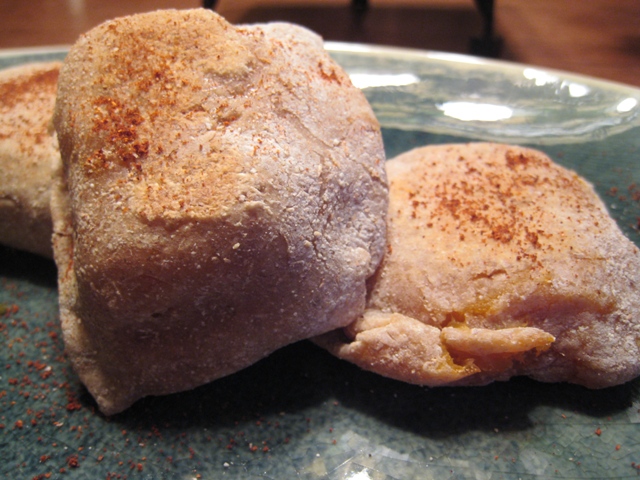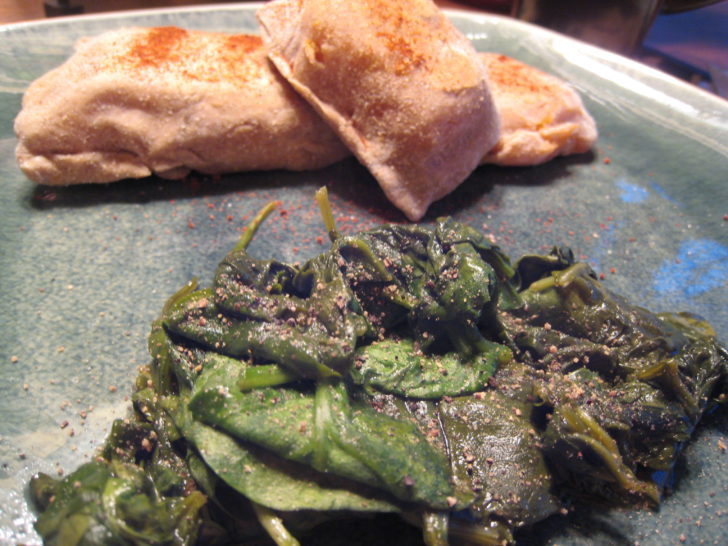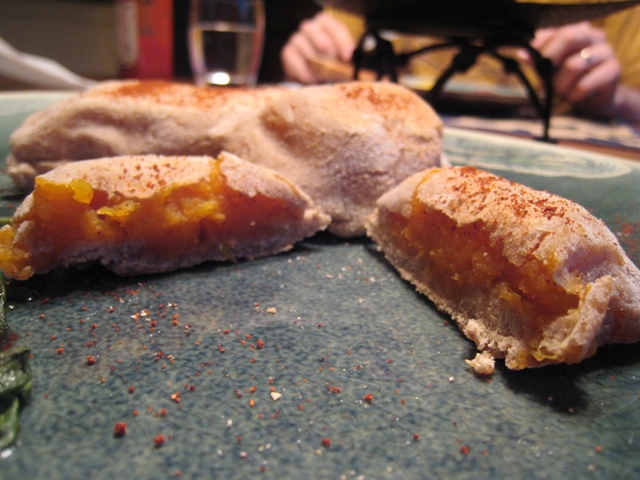 We dined with another couple in the window! tee hee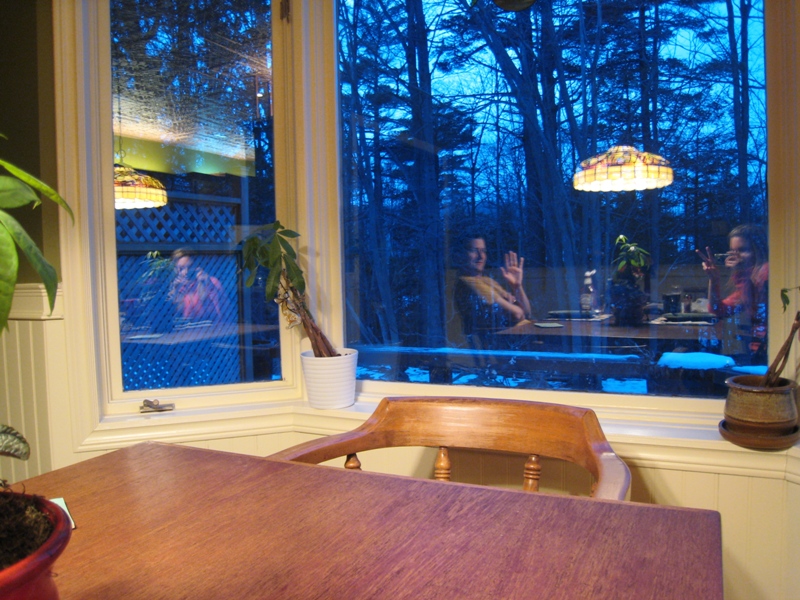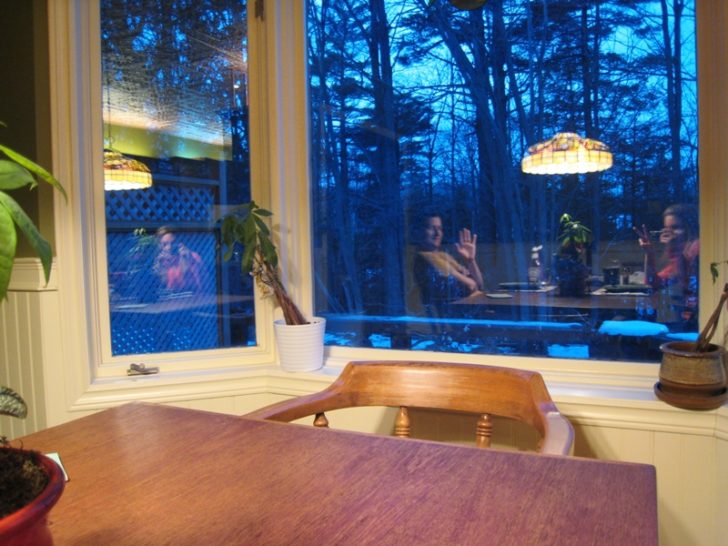 Beautiful house warming gift from my brother and sis in law: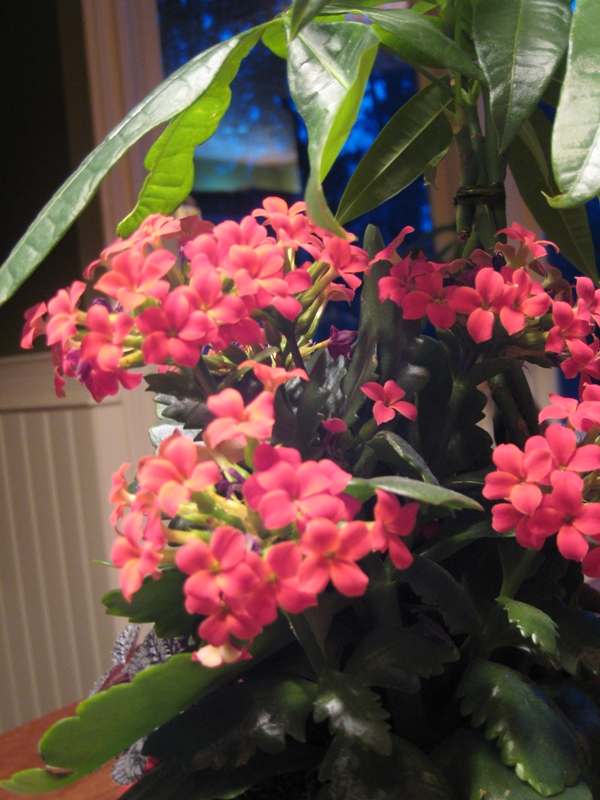 Dessert was a small bowl of spelt cereal + Almond breeze and 3/4 cup of unsweetened apple sauce with a handful of raisins.
Tonight I was really craving sugar– specifically my pumpkin bread!!!! I still haven't had any yet since I made it and I was watched Eric eat it everyday. oye. Day 6 complete….but damn I want some pumpkin bread!!!!!
See you tomorrow for the next contest announcement!
Off to file…
~~~~~~~~~~~~~~~~~~~~~~~~~~~~~~~~~~~~~~~~~~~~~~~~~~~~~~~~~~~~~~~~~~~~~~~~~~~~~~~~~~~~~~~~~~~
Which celebrity said this quote:
""I have a chocolate drawer in my desk where I keep treats at all times," she admits. "As long as I can have one or two pieces, I'm fine. But my biggest food vice is bacon. And no, I don't have a bacon drawer. In fact, I don't keep bacon in my house—that would be way too tempting."