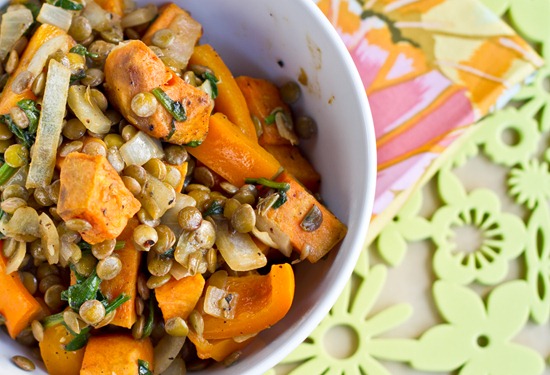 March 23, 2010 (FL vacation)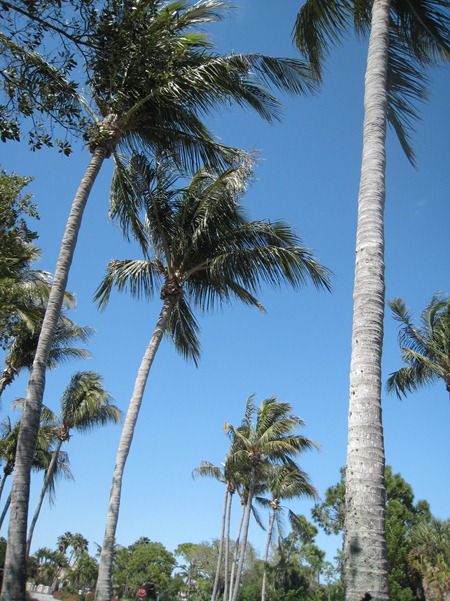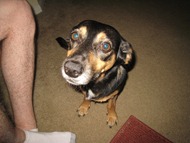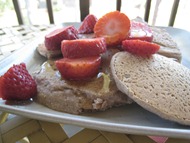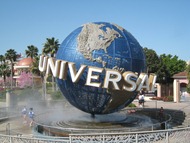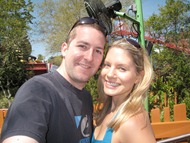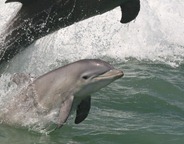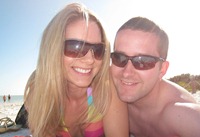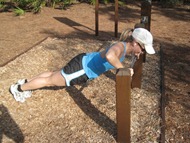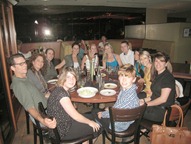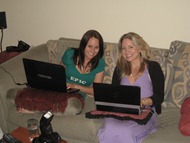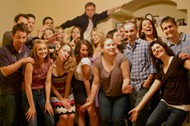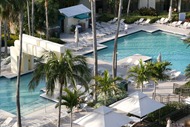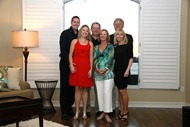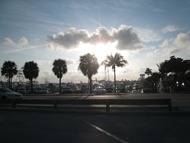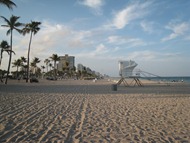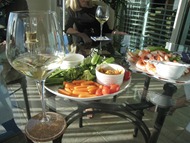 March 23, 2011 (Southern Ontario)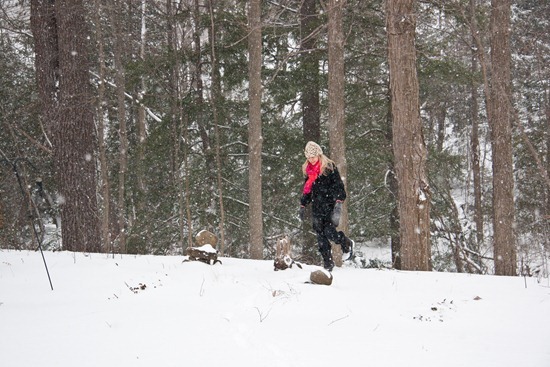 If you woke up to snow this morning, I feel your pain!
That is a tough pill to swallow.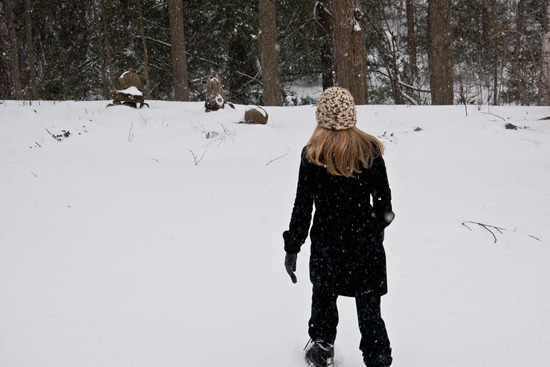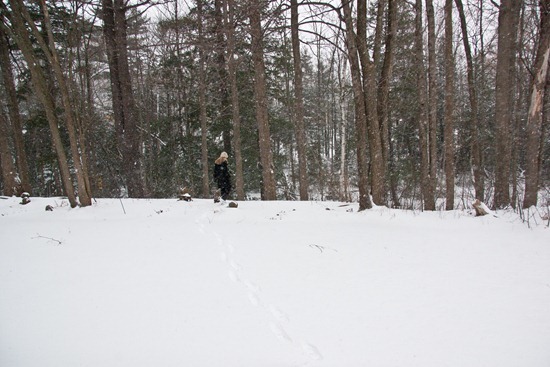 If you squint your eyes really small, you can see the beach and sunshine. I'm lounging with a margarita off in the distance! Cool, huh?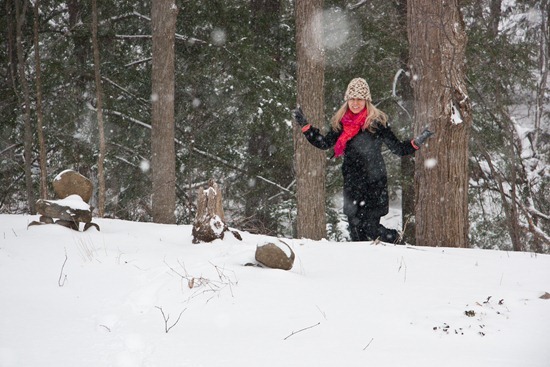 And because I'm apparently a 90 year old lady, I slipped on the driveway this morning while shoveling and bruised my tailbone! I'm sitting here with a big bag of ice on my bum, sipping hot tea in front of the space heater.
If you think about it, I'm pretty much in Florida right now. And I think I would fit right in with the elderly and their dog strollers.
I've always wanted a Cadillac.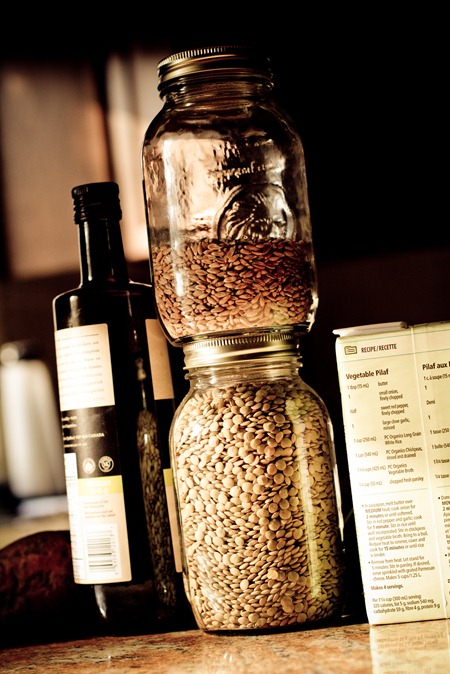 [print_this]
Sweet Potato and Lentil Salad
Adapted from Kath Eats.
Yield: 2 main servings or 4 side servings.
Ingredients:
2 medium sweet potatoes or 1 large
1 tbsp extra virgin olive oil + more for sautéing
Salt and pepper, to taste
2 cups vegetable broth
1 cup uncooked green lentils
1 onion, chopped
2 garlic cloves, minced
1 orange pepper, chopped
Couple handfuls spinach, chopped

Dressing:

1 tbsp maple syrup, 1 tsp Dijon mustard, 1 tbsp Extra virgin olive oil, 1 tbsp balsamic vinegar, salt and pepper, to taste
Directions:
1. Preheat the oven to 400F. Peel and chop sweet potatoes into a 1 inch dice. In a bowl mix with 1 tbsp oil and season with salt and pepper. Roast for about 25-30 minutes, stirring half way through.
2. Meanwhile, cook the lentils in a pot with 2 cups of broth over medium heat.
3. Chop the onion and mince the garlic. Add into a skillet with some olive oil (~1/2 tbsp?) to coat the pan. Cook over low-medium heat being careful not to burn, for about 5 minutes. Now add in the chopped pepper and spinach and cook for another 5 minutes on low. When the lentils and sweet potatoes are cooked add them into this skillet mixture and stir.
4. Finally, mix your dressing and stir into the skillet mixture. Season with salt and pepper to taste. Makes 2 servings or 4 side servings.
[/print_this]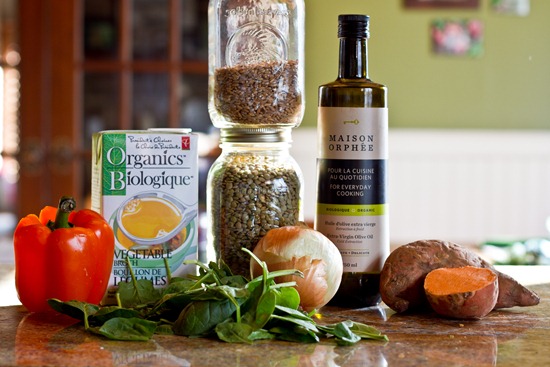 The great thing about this recipe is that you could pretty much clean out your fridge and use whatever you have and it would still turn out. :) I didn't have any green beans or apple as in Kath's recipe, so I just used what I had. Be sure to check out her recipe too!
I came up with 1 orange pepper, 1.25 sweet potato, 1 onion, 2 cloves garlic, couple handfuls spinach.
The dressing ingredients: EVOO, pure maple syrup, Dijon mustard, black pepper, balsamic vinegar, S + P.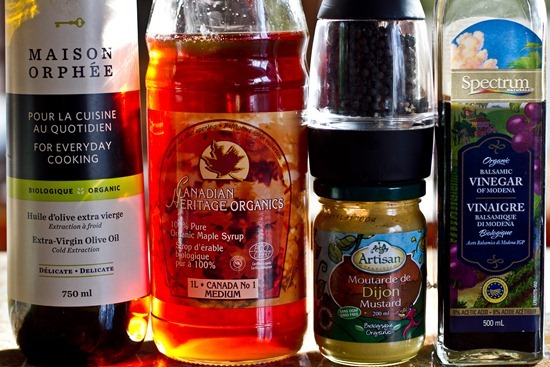 My version included onion! ;)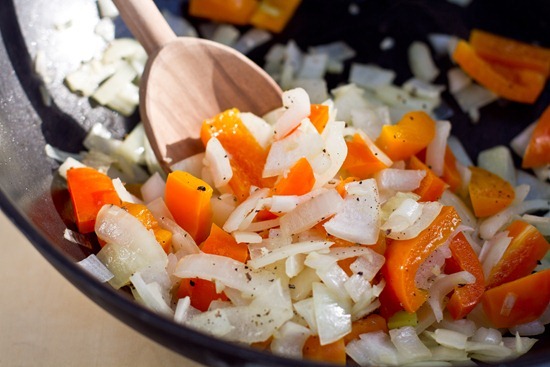 Get your sauté on.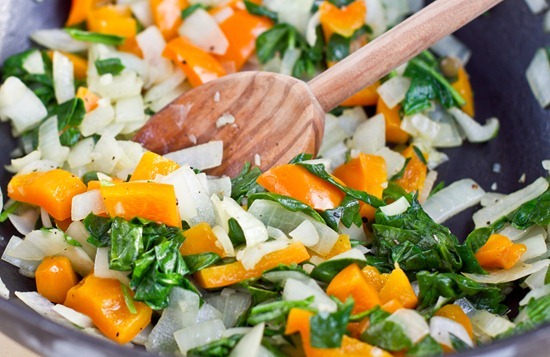 Add in the cooked lentils.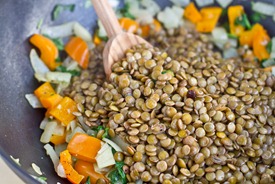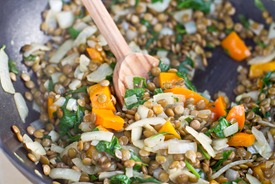 And in the roasted sweet potatoes.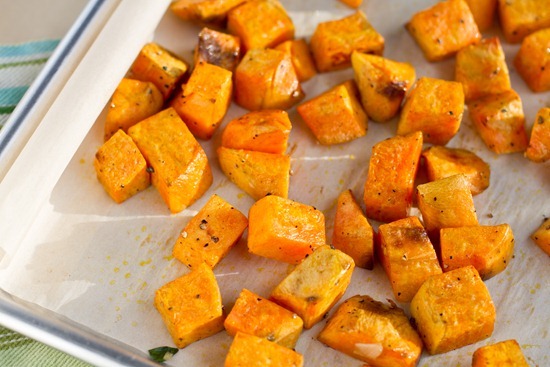 And mix everything in!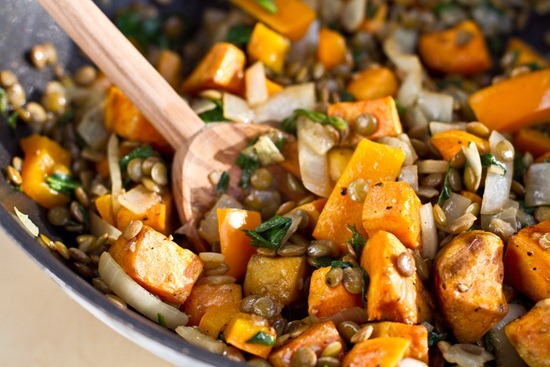 Despite the frightful weather we are experiencing, this really is a lovely dish for Spring!
Light, fresh, and energizing!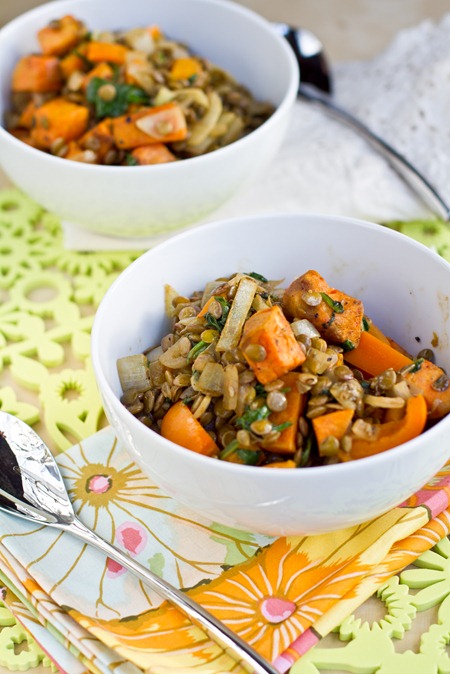 I'm also rocking a new bowl of Vegan Overnight Oats this week.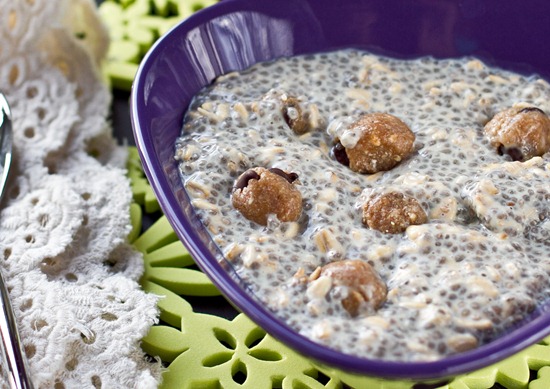 [print_this]
Heavenly Chocolate Chip Cookie Dough Vegan Overnight Oats
Ingredients:
2 tbsp chia seeds
1/4 cup rolled oats
1 cup non-dairy milk + a bit more in AM to thin out
1/2-1 tbsp pure maple syrup, to taste
1/2 tsp almond extract or vanilla
Mini Chocolate Chip Cookie Dough Balls  (I used about 7-8)
Directions: In a bowl, mix together the dry ingredients (oats, chia seeds) now add in the wet ingredients (milk, maple syrup, extract) and whisk well. Stir in some mini chocolate chip cookie dough balls. Place in the fridge overnight. In the morning, simply serve cold, drizzle maple syrup if desired, and enjoy! No cooking involved.
[/print_this]
Delicious! Cookie dough and doughy oats are a match made in heaven.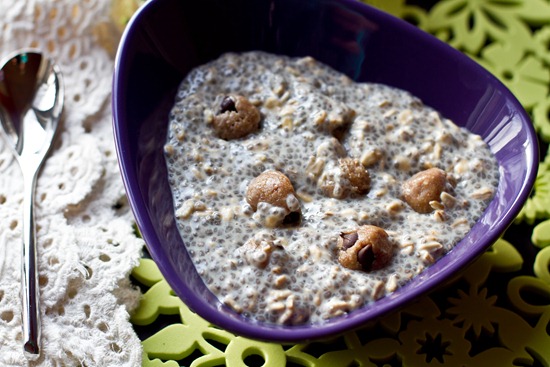 According to this mug, I should book a tropical vacation today… ;)