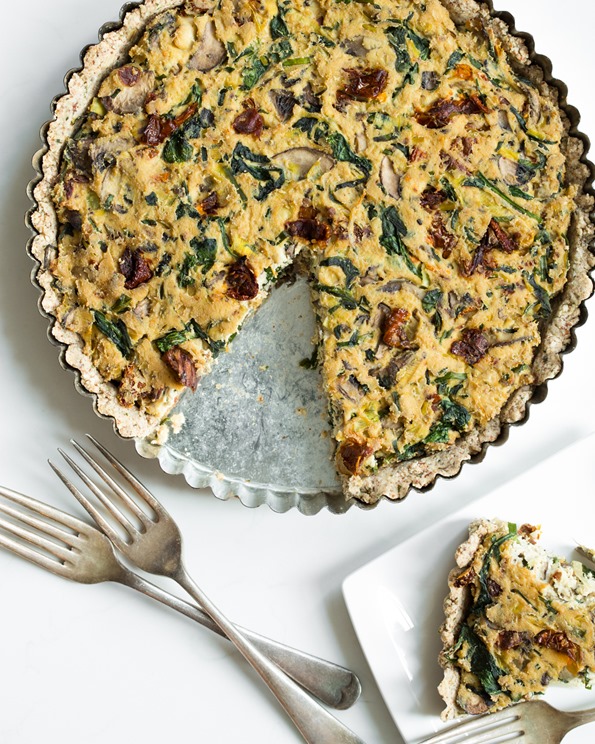 As someone who works from home, I often need a nudge to be pulled away from my work; there aren't as many opportunities for social connections (at least, in person) and that's something I've missed since working for myself. I'm also a self-professed workaholic, always with fear in the back of my mind that if I'm not working all the time everything will somehow go to shit. Combine this mindset with loving what you do and it's a recipe for not giving yourself much free time. I'm trying to work on this and create a better balance with it all, especially now that the majority of my book is complete. A change of pace is in order! Eric asked me the other night what my professional goals were for the next year and I'm still thinking about it, even toying with ideas like teaching vegan cooking classes, going back to school, and who knows what else. Or maybe I'll just be content to keep things as is, but with more wiggle room to try new things. Half the fun is figuring it out, I guess.
Several months ago, one of my girlfriends organized a monthly meet-up inviting a group of friends who are all fellow entrepreneurs/business owners. I couldn't say "count me in" fast enough, knowing it would be a great way to connect with other women who are balancing their businesses (with motherhood, for some), while facing many of the same questions and doubts that I've faced myself. In our group we have a photographer, an interior designer, a mortgage broker, an esthetician, a real estate agent, and me, the blogger/future cookbook author. They are all such amazing women and it's a fun, random mix of experiences and talents. It's been refreshing to share our struggles and victories together and I've even surprised myself at how much I needed this support system. Self-reliance has always been my strength (to a fault, perhaps), but there is no weakness in asking for help, support, or friendship. In fact, it's quite the opposite.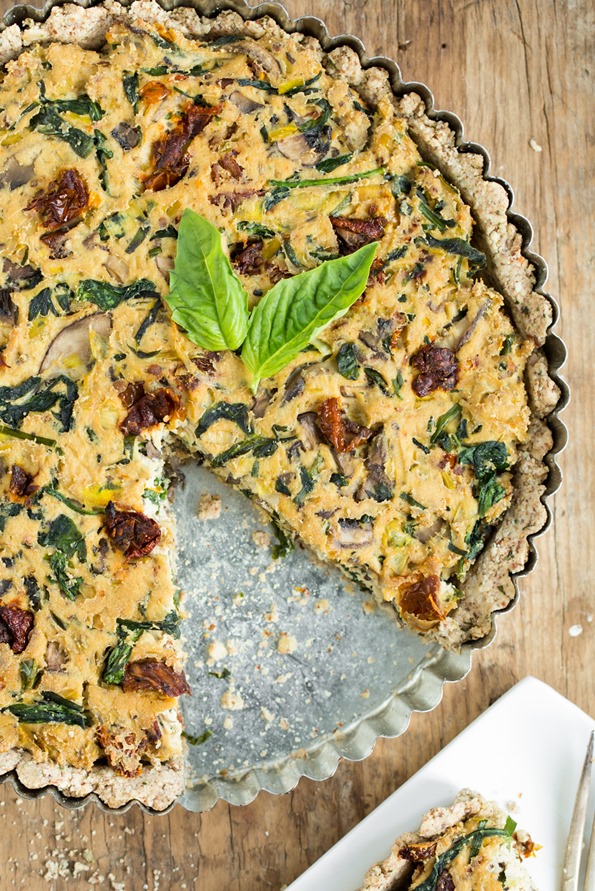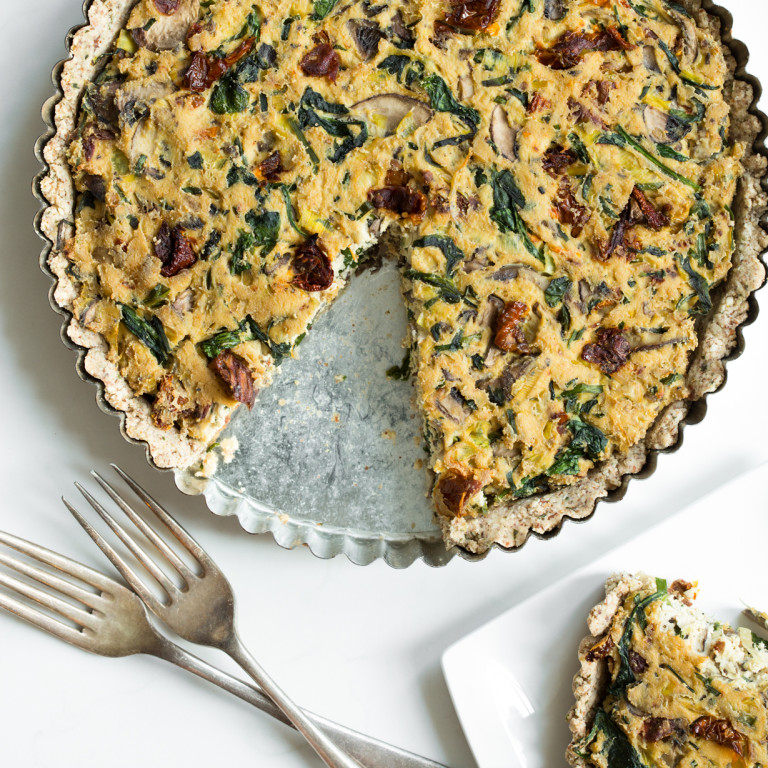 Sun-dried Tomato, Mushroom, and Spinach Tofu Quiche
Vegan, gluten-free, refined sugar-free

Yield

8
Prep time

Cook time

Total time

This was my first time making a tofu quiche and it really surprised us with how amazing it turned out! Even Eric went crazy for this quiche, often enjoying leftovers twice a day until it was finished. Enjoy it for breakfast, lunch, dinner, or a snack. I've made this a few different ways simply by changing up the vegetables used. One version used asparagus (1 cup diced) and broccoli (1.5 cups diced), which was also very nice. The only thing I would advise against is using a high-water vegetable, like fresh tomatoes as it might result in a water-logged quiche. Best of all, it reheats well. Simply place leftover quiche on a baking sheet and pop it in the oven for 15-20 minutes at 350F. Inspired by the Sprouted Kitchen Cookbook.
Ingredients
For the crust:
1 tablespoon ground flax + 3 tablespoons water, mixed together
1 cup whole almonds, ground into flour
1 cup gluten-free rolled oats or buckwheat groats, ground into flour
1 teaspoon dried parsley
1 teaspoon dried oregano
1/2 tsp kosher salt
1 tbsp coconut oil or olive oil
1-2.5 tbsp water, as needed
For the quiche:
1 block (14-oz) firm tofu
1 tablespoon coconut oil or olive oil
1 leek or yellow onion, thinly sliced
3 large garlic cloves, minced
3 cups (8-oz) sliced cremini mushrooms
1/2 cup fresh chives, finely chopped
1/2 cup fresh basil leaves, finely chopped
1/3 cup oil-packed sun-dried tomatoes, finely chopped
1 cup baby spinach
2 tbsp nutritional yeast
1 teaspoon dried oregano
3/4-1 teaspoon fine grain sea salt
Black pepper, to taste
Red pepper flakes, to taste
Directions
Preheat oven to 350F and lightly grease a round 10-inch tart pan. Alternatively, you can use a 9-inch glass pie dish if desired.
Wrap rinsed tofu in a few tea towels. Place a few books on top of it to lightly press out the water while you prepare the crust.
For the crust: Whisk together flax and water mixture in a small bowl and set aside so it can gel up.
In a large bowl, stir together the almond meal, oat flour (or buckwheat flour), parsley, oregano, and salt.
Add in the flax mixture and oil. Stir until mostly combined, adding the remaining water until the dough is sticky (about the consistency of cookie dough). The dough should stick together when you press it between your fingers.
Crumble the dough evenly over the base of the tart pan (or pie dish). Starting from the centre of the pan, press the mixture evenly into the pan, working your way outward and up the sides of the pan. Poke a few fork holes in the dough so air can escape.
Bake the crust at 350F for 13-16 minutes, or until lightly golden and firm to touch. Set aside to cool while you finish preparing the filling. Increase oven temperature to 375F.
For the filling: Break apart the tofu block into 4 pieces and add into food processor. Process the tofu until smooth and creamy. If it doesn't get creamy, add a tiny splash of almond milk to help it along.
In a skillet, add oil and saute the leek (or onion) and garlic over medium heat for a few minutes. Stir in the mushrooms, season with salt, and cook on medium-high heat until most of the water cooks off the mushrooms, about 10-12 minutes. Stir in the herbs, sun-dried tomatoes, spinach, nutritional yeast, oregano, salt, pepper, and red pepper flakes until combined. Cook until the spinach is wilted.
Finally, remove from heat and stir in the processed tofu until thoroughly combined. Adjust seasoning to taste if desired. Spoon mixture into baked crust and smooth out with a spoon until even.
Bake quiche, uncovered, at 375F for 33-37 minutes, until the quiche is firm to the touch. For best results, cool the quiche for 15-20 minutes on a cooling rack before attempting to slice. The crust may crumble slightly when sliced warm, but not to worry.
Wrap up leftovers and refrigerate for 3-4 days. Leftover quiche can be reheated in the oven on a baking sheet for about 15-20 minutes at 350F.
Nutrition Information
(click to expand)