That has been the theme of my week.
Thankfully I am almost caught up on all my orders and will be able to get the rest out by tomorrow. It is going to be crazy not being in the bakery for 2 entire weeks! I feel like I am leaving my baby or something.
I have been packing and doing laundry all week, little by little!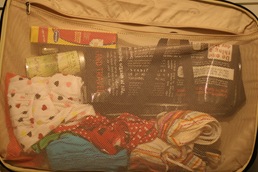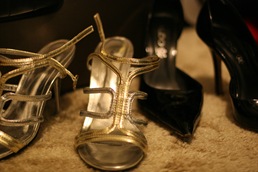 For us over-packers, we can't just pack in an hour, it has to be done over the course of several days! :mrgreen: Eric on the other hand, packs in 10 minutes the night before. lol.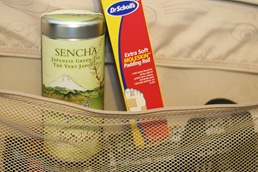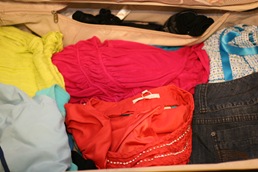 Yes I bring loose leaf green tea with me. Priorities, right?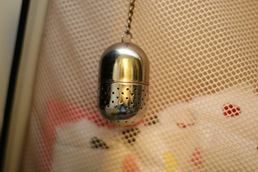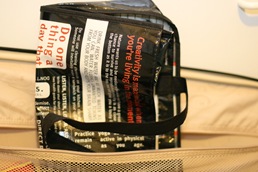 PS- Lululemon bags make great beach bags! :)
My workouts have sorta fallen to the wayside this week. I have been working long days and I just have been too worn out to fit much in. That is ok with me though. Life happens, right? I am planning some awesome workouts while in Florida so I know I will be nice and rested. :) I do hope to get in a run or two before I leave on Saturday though!
I did however, make room for some healthy food of course! This brings me to my Health Tip of the day…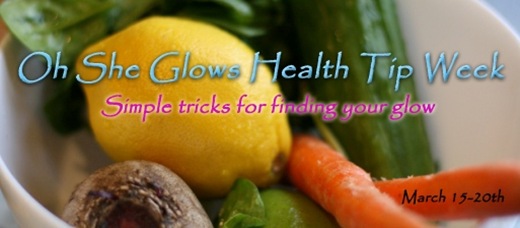 Health Tip #3: Play around with quick and easy recipes
One of my favourite things to do is to take a fairly complicated recipe and turn it into something very simple. The time I have to cook each day is typically less than 30 minutes for all three of my meals combined, so they need to be FAST. I don't think that having a busy lifestyle means that I need to forgo healthy meals! Because Eric doesn't get home until late (often 8pm!!), I am in charge of the dinners. It would be nice to have an extra pair of hands, but that has just made me more conscious of having quick things to throw together.
Once I started experimenting with recipes, I realized that I could cook things up fairly quickly if I was willing to adjust the recipe to fit my needs! My advice is to play around with recipes and have fun! Just because a recipe is 10 steps long, doesn't mean it needs to stay that way.
I thought I would show you an example of how I do this in action!
*does kung-fu move*
I came across this wonderful looking recipe by Smitten Kitchen. After reading the recipe, I realized that not only did I not have all the ingredients, but I didn't have the time required to make the recipe.
What's a girl to do?!
How about change it up!
And that is just what I did…
I took a recipe that was multiple steps long and I turned it into one step. To my delight, it still came out fabulous tasting too.
Speed It Up Spinach and Chickpeas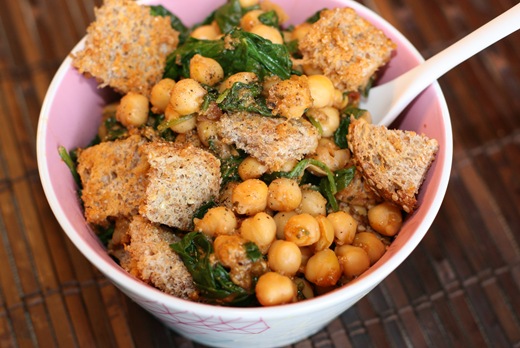 Adapted from the ever-so-fabulous Smitten Kitchen's Spinach and Chickpeas.
Ingredients:
Two cans of chickpeas, drained and rinsed
1-2 tablespoons olive oil
4-5 cups spinach, washed (or more but I needed my spinach for my GM's!)
2 slices of bread (I used Ezekiel), toasted and cut into cubes
1/2 cup tomato sauce
3 garlic cloves, minced
1/2 teaspoon ground cumin (optional, I didn't have any)
Pinch of red pepper flakes (optional, I didn't have any)
1 tablespoon red wine vinegar or apple cider vinegar
1/2 teaspoon smoked paprika (I used regular)
Salt and freshly ground black pepper
Lemon juice, to taste
3 tablespoons chia flour (optional, this was my addition to thicken up the sauce)
Directions: Throw all ingredients except toast into a big skillet and heat until spinach wilts. Once spinach is wilted and everything is hot, toast the bread and cut into chunks. Stir into mixture and serve immediately. Takes about 10-15 minutes from start to finish! BOOM! :) I guess that it serves about 4. You could easily cut this recipe in half too.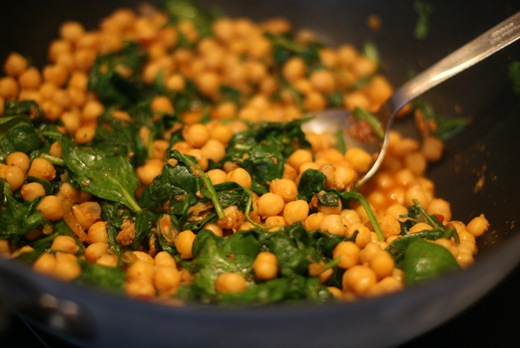 Chia Flour…I think this is just ground up chia seeds!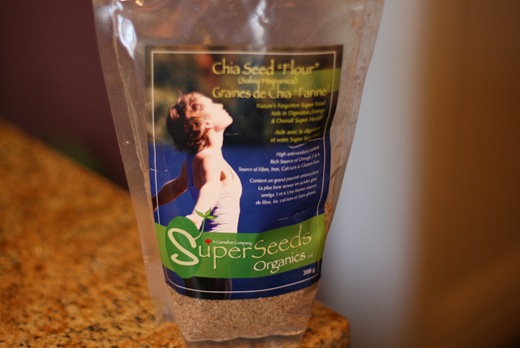 Make sure you put the toast in only just before serving so it doesn't get all mushy.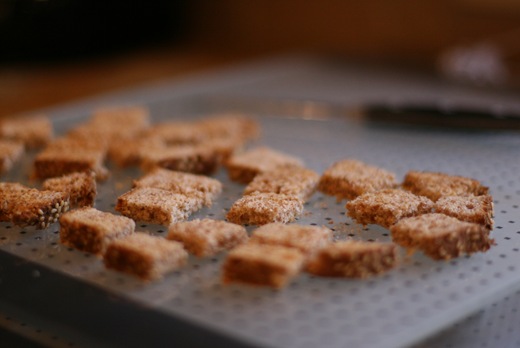 The toast MADE this meal! Amazing. I never would have thought to be toast in a dish like this! What a lovely idea.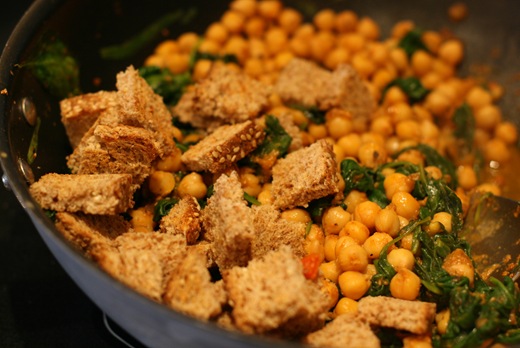 Yes that is another beautiful day outside in the background that I don't have time to enjoy! I will make up for it in Florida though, don't you worry. Apparently, I am bringing the warm weather with me as it is supposed to be in the 70's-80's during our stay.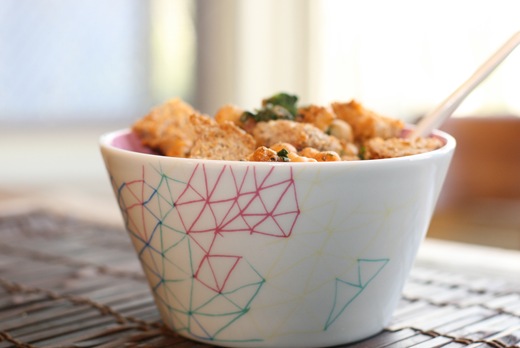 This was quite possibly the easiest and most fabulous dish I have made in a long time. I'm sure it didn't taste as good as SK's version, but it was still kick-butt!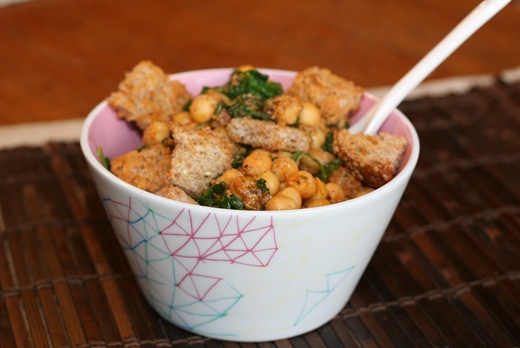 Like I said, the toast was key.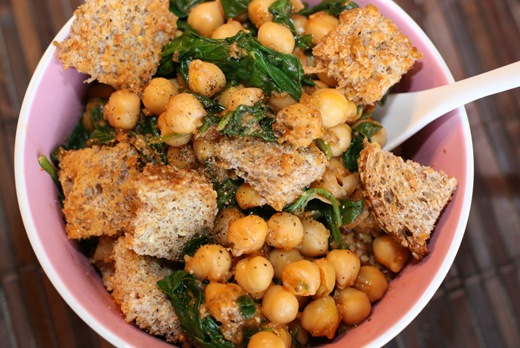 By the way some of you are asking if I am going to be blogging while away, and the answer is Hell yesssssssssssss. :) It is going to be FUN.
Work calls me.