The other day I was thinking about a show I saw on TV years back. The show was challenging women to go a week without make-up.
The show was absolutely ground-breaking.
It documented what these women went through each day as they went about their lives- make-up free. One lady even went to bed with her make-up on and admitted that her husband had never seen her without make-up!
Personally, I have always used my make-up as a security blanket. I generally don't go without it unless I am simply around the house or running to the grocery store. But even still, I tend to always put on my lip gloss when going out.
Some days I resent putting on make-up…I mean, it just adds another 10-15 minutes to my getting ready routine! It really can be a pain in the butt.
And expensive. Sephora, anyone?!
So as I started to think about this more and more, I realized that I have never gotten over my insecurity when I am make-up free. Sometimes I feel ugly, blotchy, or afraid to hold my head up high without make-up on my face.
This is really sad for me to think about.
I have always been self-conscious about the red undertones in my skin (much of my family has these rosy red undertones!) and I have always tried to cover it up and create a more even skin tone with foundation. I also have always been self-conscious about my beauty mark on my cheek. Many times growing up many people told me I had 'a little something' on my face and tried to rub it off, thinking it was dirt.
And you know what?
I'm sick of feeling this way.
I am sick of relying on make-up to make me feel beautiful! Now don't get me wrong, I think make-up can be a wonderful tool to give us some kick to our step just like clothing can do, but I think we also need to ask ourselves if we RELY on make-up to make us feel whole.
I know I sure do.
And I think that needs to change.
So today I decided to come clean to myself and the world. I took this picture with Eric's HIGH RES camera, so there is no hiding. ;)
ME: Make-up FREE!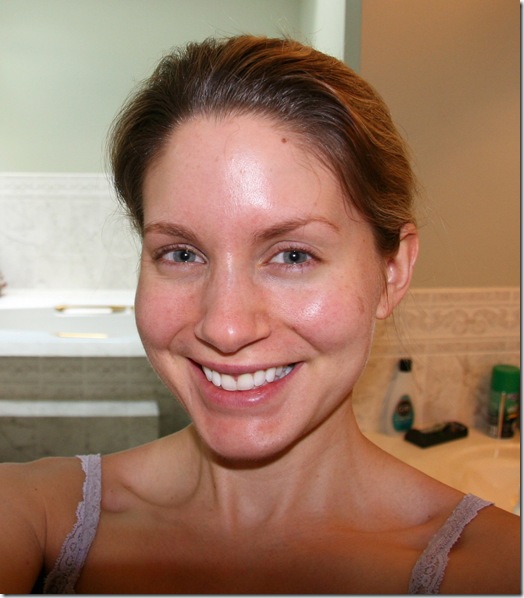 I admit, I was nervous taking this picture. But I am even more nervous about the thought of challenging myself to go make-up free. I am honestly not sure if I can do it. A few years ago, I challenged myself to go 1 week without lip gloss (I am addicted). It was incredibly hard (Eric LOVED it- he hates that 'stuff'!). It was so so hard for me.
Today's SGBC Reflection Challenge is to think about this post and ask yourself whether you rely too much on make-up to feel 'whole'.
ABC News wrote some tips for going make-up free:
Concentrate on your skin care. The best way to go without makeup is if you've been taking great care of your skin, so you can show it off. If you're feeling confident about your skin you're going to feel good about going without makeup as well. (Time to keep up with the green monsters!!!!)
Get a great cleanser, a very gentle exfoliant and a moisturizer with SPF. Most of the anti-aging creams out there are too rich for a woman under the age 35. If you still feel like you need anti-aging products, incorporate it; but, just like with makeup, less is more.
Keep your hair and nails looking good so you don't look unkempt, even though you're not wearing makeup. Consider getting a manicure or get a blowout that you can wear for most of the week. (While I can see their point with this tip, I think it contradicts their message! You shouldn't feel that you have to 'improve' other areas of your appearance to justify feeling good sans make-up!)
Have your lip balm handy. If your lips look healthy and moisturized, you won't look scraggly. (Well, gee thanks!) 
If you

must

have something on your face, try a tinted moisturizer with SPF. Clinique and Benefit make great ones. They offer moisture, a small amount of coverage and sunscreen — makeup or no makeup, you should wear sunscreen everyday.
Let's think about some benefits of going make-up free:
You will save money
Extra time in your day to do what YOU want to do! Spend that extra 10-30 minutes relaxing, reading, or watching some TV!
It will challenge you to find out how secure you can truly become in your own skin
You will start to appreciate your natural beauty
We need to really embrace our whole selves- even if that means learning to love our skin make-up free….blotchy…freckled…broken out…wrinkly…and ALL!
I don't know about you, but I feel STRONGER and more confident just writing these words.
~~~~~~
Today's questions:
Do you ever go make-up free?
Do you rely on make-up too much?
Do you think you could go 1 week make-up free? Why or why not?