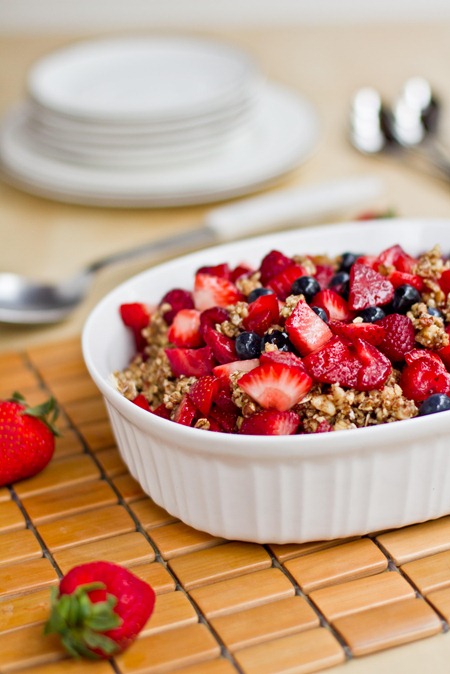 Thank you for your Birthday Wishes! I had a pretty low key day since we both worked, but the evening was fun. The restaurant we wanted to go to was closed on Mondays, so we are going tonight instead. We made Channa Masala together (using this recipe) and I opened a few gifts!
One of which was a 5 in 1 Reflector Kit for my photography. I'm so excited to use this! [nerd alert]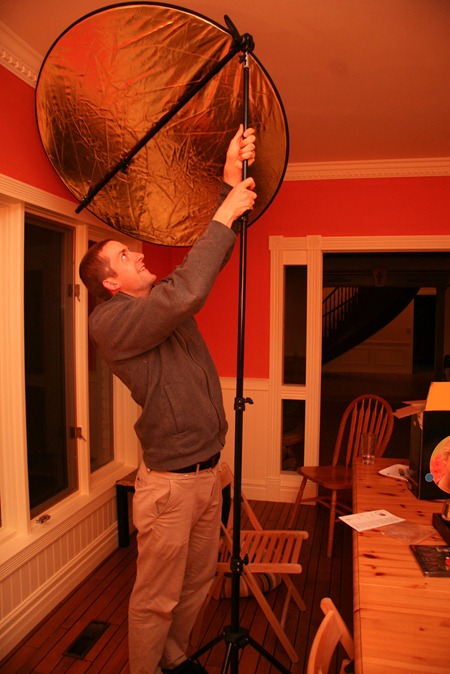 You can expand it over 10 feet and it also lowers to the ground too, which is the height I will use the most. It has silver, black, white, gold, and diffusion.
It will be lots of fun playing around with this thing!
Or for spontaneous animal shows when my nephews arrive in July??? ;)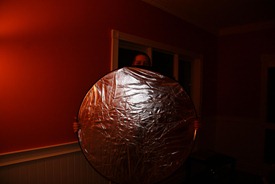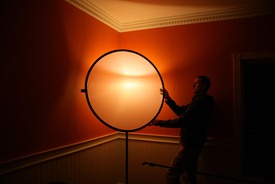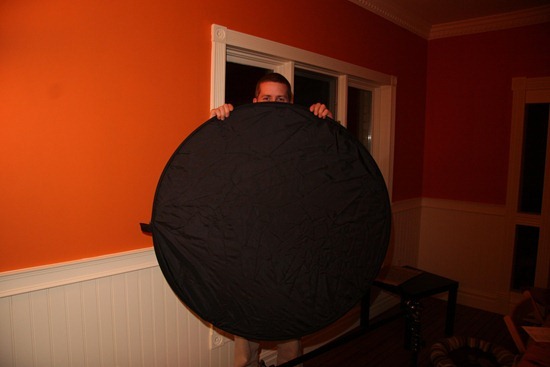 I also got some kitchen stuff that will be appearing on the blog shortly I'm sure. :)
Oh, and we also shared the last piece of the delicious Whole Food's Vegan Chocolate Cake, complete with Coconut Bliss 'ice cream'. :)
YUM!!!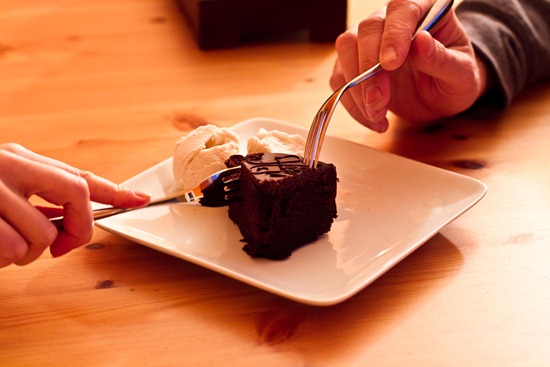 Now back to this delicious berry crisp that I made for my party on Saturday! I thought a raw crisp would be more Spring-like and fun to serve chilled instead of warm. It turned out great and the recipe was so easy to throw together.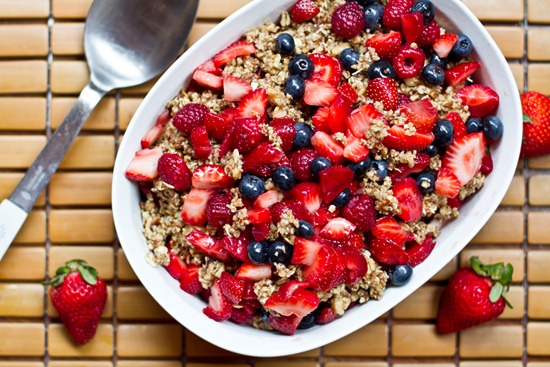 [print_this]
Raw Triple Berry Crisp
Adapted from Whole Foods and Adventures in Raw Food.
Yield: 6-8 servings
Berries:
1.5 containers strawberries (about 22 ounces)
2 small containers blueberries (6 ounces each)
1 small container raspberries
1 Tablespoon maple syrup (use agave, if you want it raw)
Topping:
1 cup raw walnuts
1 cup raw pecans
1/4 cup uncooked rolled oats
2 Tablespoon maple syrup
1/4 tsp kosher salt
1/4 tsp cinnamon
Directions:
1. Wash and slice all strawberries into bite sized pieces. In a large bowl, mix the sliced strawberries, and other washed berries. Toss with maple syrup or agave nectar.
2. Prepare the topping in a food processor by pulsing all ingredients until just mixed. You want to leave this mixture very chunky, so be sure not to over process.
3. In a 1.4 litre (1.5 quart) casserole dish, add most of the berry mixture, leaving a few tablespoons or so. Spread evenly. Now add most of the topping over top of the berries, reserving a few tablespoons. Now sprinkle on the remaining berries, and finally the rest of the topping. Serve immediately, or chill for 1 hour.
Note: This raw crisp does not keep in the fridge overnight as it gets very watery. Be sure to mix just prior to serving.
[/print_this]
This dessert couldn't be easier! Just prep the berries, topping, and add into a casserole dish!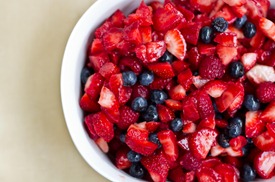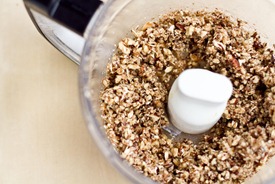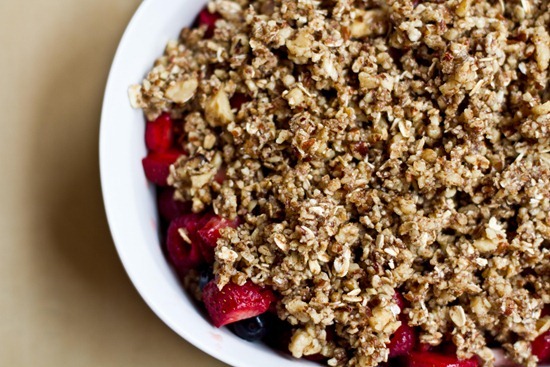 Voila :)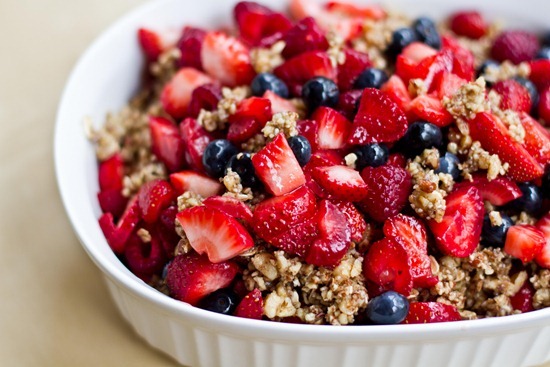 This crisp does not keep well overnight, so please be sure to mix it just prior to serving. The leftovers the next day were quite watery because there is no corn starch or arrowroot powder to soak up the water.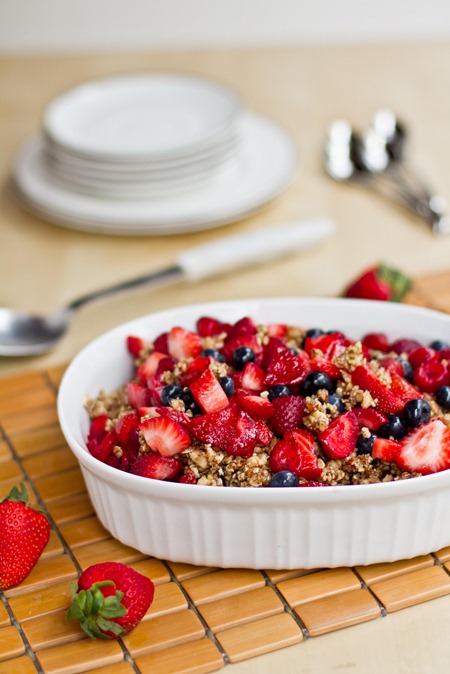 Enjoy with Coconut Bliss Vanilla Bean 'ice cream' or your favourite frozen dessert.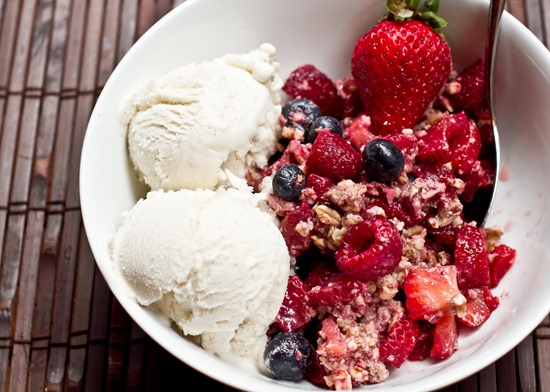 Have a great Tuesday!