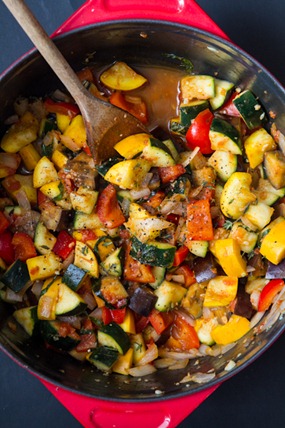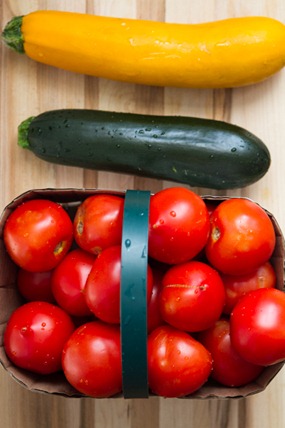 Every time we go to the farmer's market, I always curse myself for not making a list, or at bare minimum, planning a couple recipes to guide my purchases. I always make a list for the grocery store, but for some reason it never occurs to me to make a list for the market. I either leave empty handed or I buy everything in sight – there's rarely a happy medium.
This weekend though, I seemed to get it just right. We found ourselves at the Burlington Mall farmer's market and by some miracle, I came prepared with a few recipes in mind – Bread and Butter Pickles, Zucchini Bread, and Homemade Salsa. These are all long-time favourites, but two are new to my own recipe repertoire. In the end, I ended up with a basket of perfectly ripe tomatoes, 3 huge zucchini, raspberries, and pickling cucumbers. Just enough to round out what was already waiting in the fridge back at home!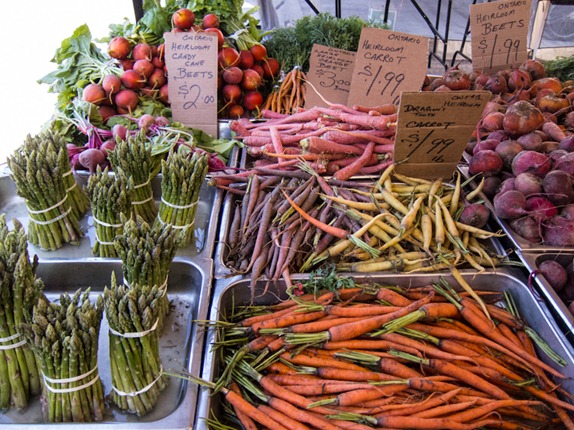 After spending much of the morning making recipes, a quick and easy meal was in order. I had zucchini and eggplant to use up, so I decided on this Ratatouille-inspired dish. This version below is only traditional in the sense that it includes many main ingredients found in Ratatouille – zucchini, eggplant, onion, garlic, tomatoes, etc – but the rest was interpreted according to my own taste buds. I encourage you to do the same.
Since I was out of tomato after my salsa making adventures, I stirred in some of my favourite marinara sauce at the end of cooking. You can add chopped tomato or marinara or both. It's really up to you. I also didn't bother cooking the vegetables separately, like many traditional recipes do.
The only thing I would change next time is to peel the eggplant. My stomach didn't appreciate having to digest all that eggplant skin! If you have a sensitive stomach like I do, consider this your warning. I served this with brown rice, but you can also try serving it with couscous, quinoa, potatoes, or with a crunchy baguette.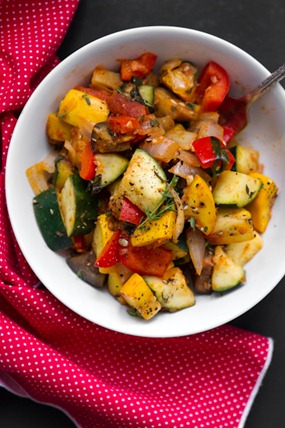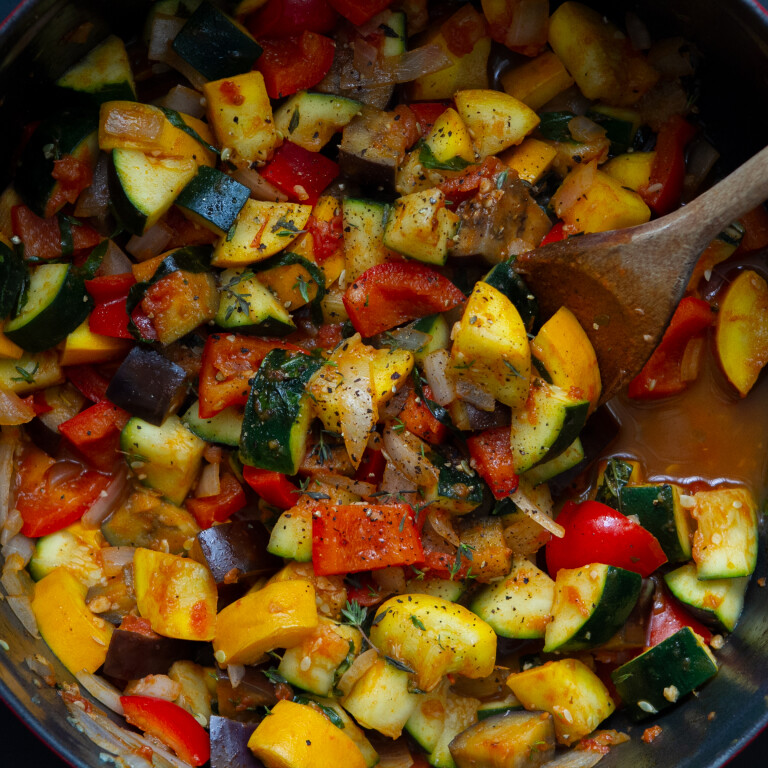 Ratatouille-Inspired Summer Veggie Dish
Vegan, gluten-free, nut-free, refined sugar-free, soy-free

Yield

6 cups
Prep time

Cook time

Total time

Ingredients
1 tbsp extra virgin olive oil
2 large cloves garlic, peeled & minced
2 cups chopped sweet onion
1 large zucchini, chopped into 1" chunks (~2 cups chopped)
1 large yellow zucchini, chopped into 1" chunks (~2 cups chopped)
1 Italian Eggplant, peeled & chopped into 1" chunks (~1-1.5 cups)
1 red pepper, chopped
3/4-1 cup marinara sauce (or use chopped tomato)
1-2 tbsp fresh thyme leaves, to taste
1/4 cup packed fresh basil, finely chopped
Herbamare + salt & pepper, to taste
Directions
In a large cast-iron pot or skillet, heat the oil, garlic, and onion over medium heat for about 5 mins, stirring frequently and reducing heat if necessary.
Add the chopped zucchini, eggplant, and red pepper, as they are ready to go in. Season with salt and pepper and cook over medium heat for about 10 minutes. I like giving the veggies a sprinkle of Herbamare to bring out the flavours.
Stir in about 3/4-1 cup of your favourite marinara sauce (I used The Linen Collection Marinara from Costco!) along with fresh herbs. Cook until vegetables are tender, but still a bit firm and not overcooked – about 5-7 more minutes.
Serve with a crunchy baguette, rice, potatoes, couscous, quinoa, or simply as a side.
Nutrition Information
(click to expand)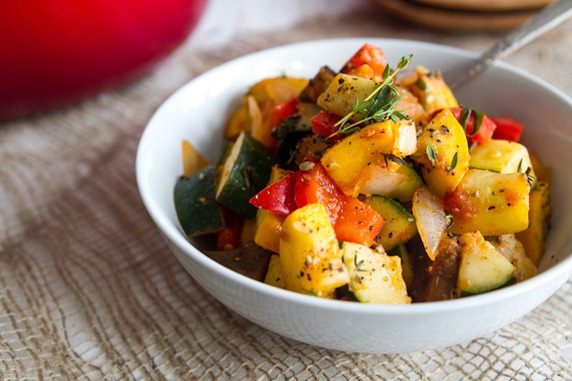 When I published my post Friday morning, I had yet to hear the tragic news about the Colorado shooting. My deepest sympathies and thoughts go out to those lost, along with family, friends, and community members. I simply cannot imagine the grief and horror.