The year is 1986.
My hobbies include playing in the snow, baking with my mom, and trying to be just like my older sister Kristi.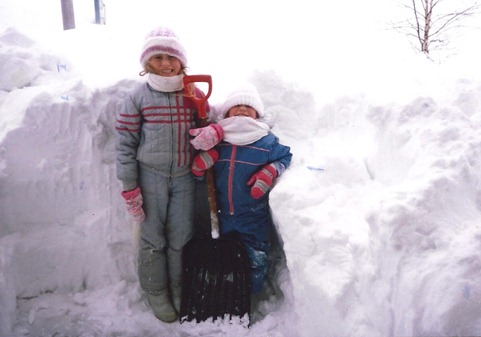 Life is good.
It is the middle of a long winter in Riverview, New Brunswick and we have just been pummelled with a snow storm. I would stay outside all day long, hour after hour, bundled up with layer upon fuzzy layer with just my excited eyes, red nose, and big grin peeking out through my scarves and hat.
Clearly, I was born to be an endurance athlete, don't you think?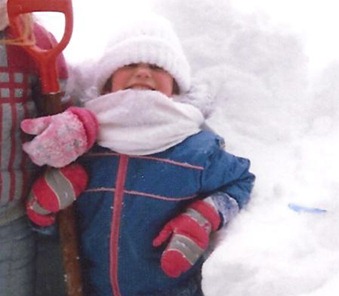 Don't answer that.
The year is now 1992.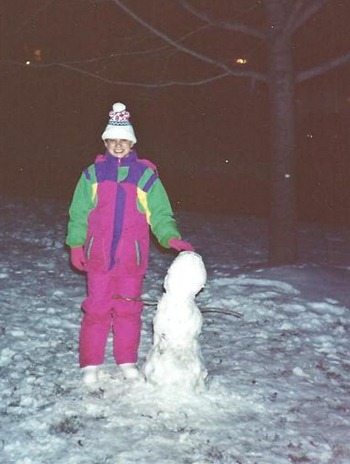 My hobbies include building the world's most awesome snowmen, baking cakes in my Easy-Bake Oven, and rocking a wardrobe full of neon clothing and snap bracelets. Life is good.
Despite my love for the great outdoors, there was one small catch.
My mom couldn't get me to come inside to eat!
'Just a bit longer, pretty please, with a cherry on top?' fluttering my eyelashes encrusted with icicles.
It is now 2010.
My hobbies are about the same, in addition to taking too many pictures of my food, writing about my day to day baking high jinks, and running.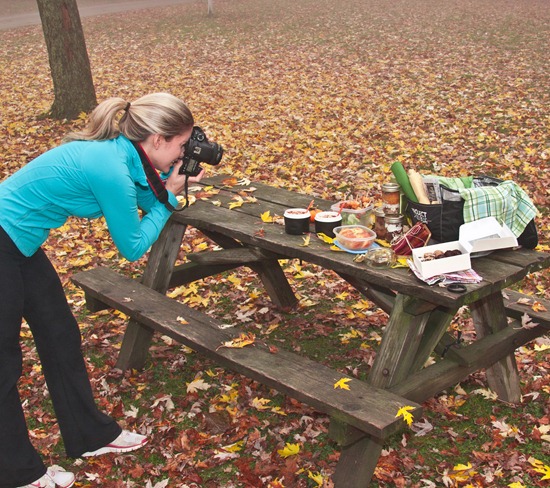 I am a vegan and unlike my younger self, I now understand the importance of fuelling properly for endurance activities.
This is the tale of a couple who fuelled a day of hiking with all-natural energy foods.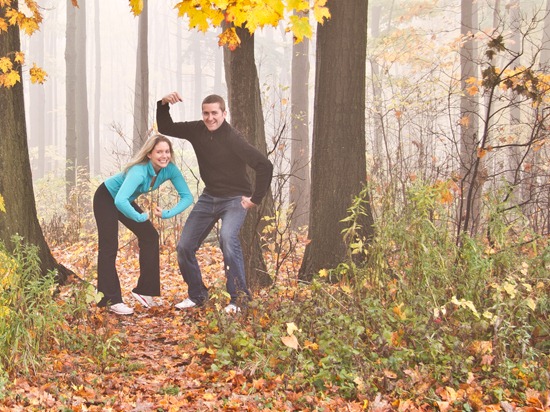 Won't you join us?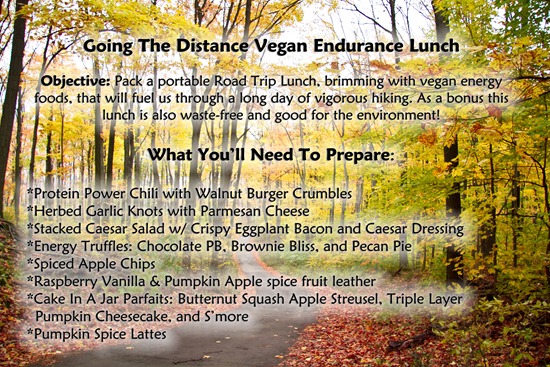 For the recipes, please see attached PDF document.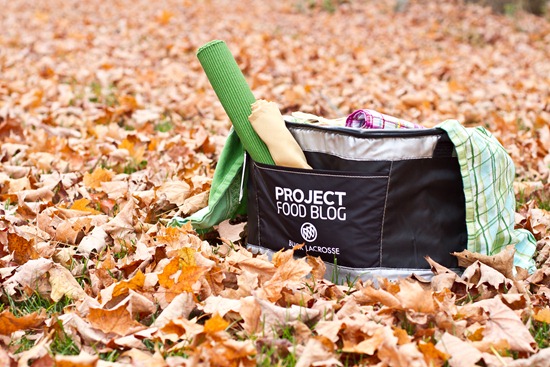 In tote, was a delicious lunch brimming with healthy energy foods to fuel our 7 mile hike!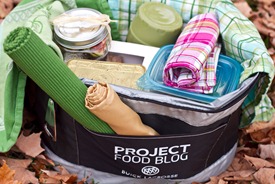 Eric observed, 'Well at least we know if we get lost we can survive on this food for a month.'
He obviously doesn't know me too well if he thinks I could make this delicious food last a whole month!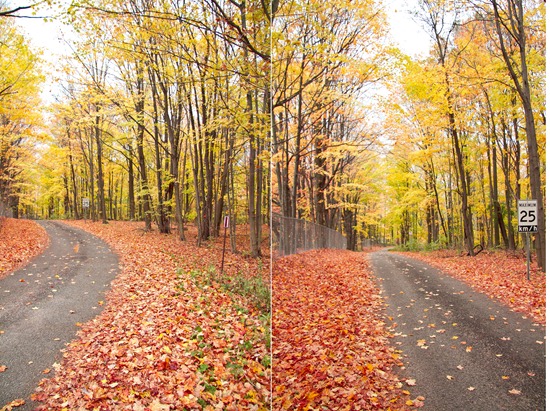 It was time to road trip and see some gorgeous Ontario Fall foliage along the way.
I had a plan. If I saw a Rattlesnake I was going to throw it a truffle and run like hell.
We searched for the perfect spot.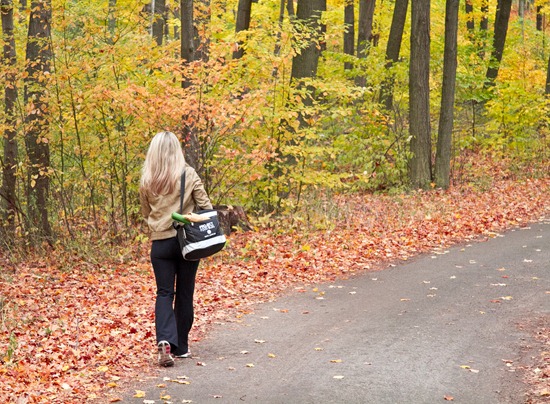 The park was packed with hikers and it was not easy to find a picnic table complete with perfect photography lighting (I joke, I joke).
Finally, it was time to feast…something I had been dreaming about all week long.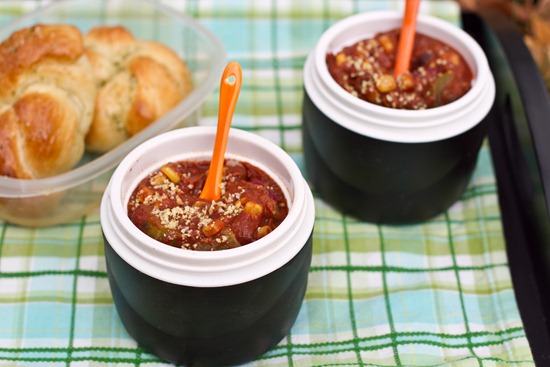 Our main dish consisted of Protein Power Vegan Chili packed with kidney beans, chickpeas, black beans, walnut burger crumbles, and chunky vegetables.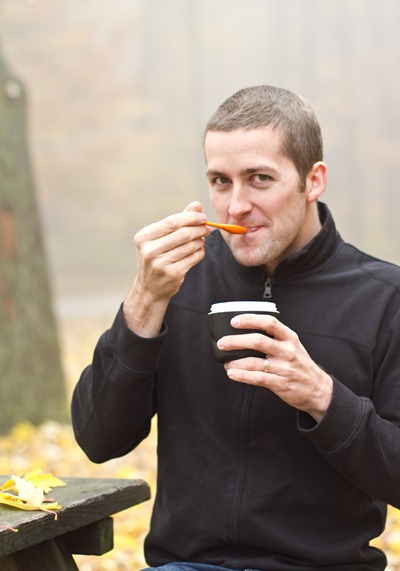 I had a giggle fit after seeing Eric eat his chili with my teeny tiny spoon! What a sport.
The chili was comforting, chunky, with a bit of a spicy kick.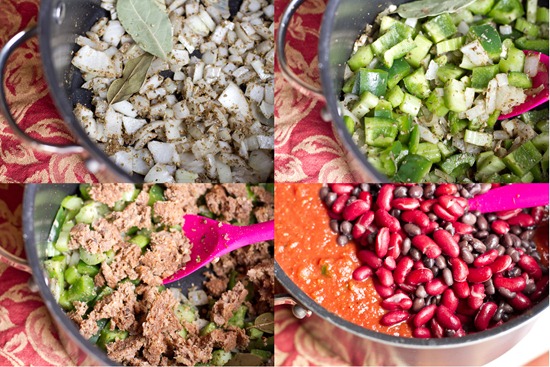 And was perfect for a chilly Fall day outdoors.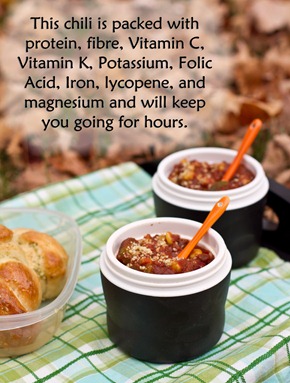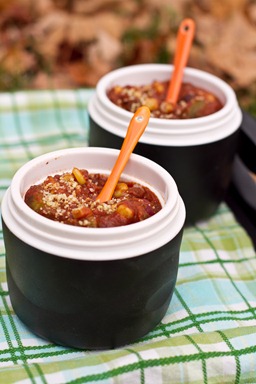 Alongside, Herbed Garlic Knots.
The garlic knots were great on their own, but even better when dipped into the chili.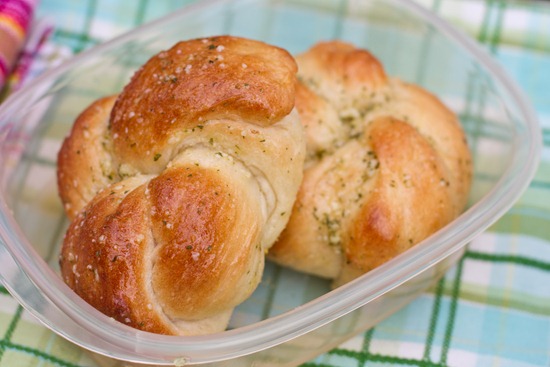 For a side, I made Stacked Caesar Salads with eggplant bacon and homemade croutons. I thought stacking the salad was fun for a packed meal.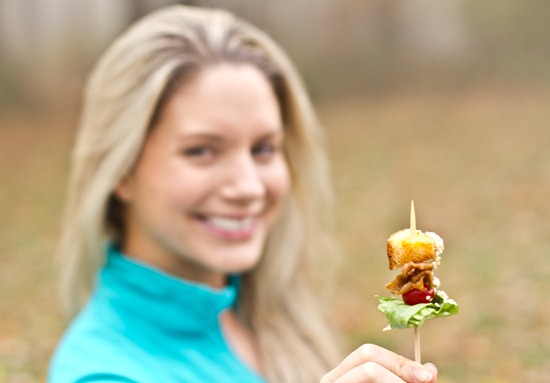 Yum!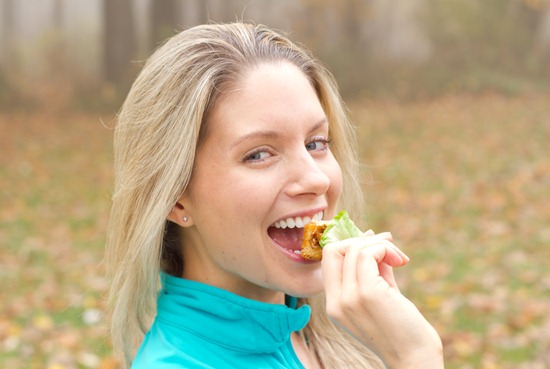 To wet our whistle, we sipped Pumpkin Spice Lattes made on the stovetop with almond milk, spices, espresso, pumpkin, and vanilla extract.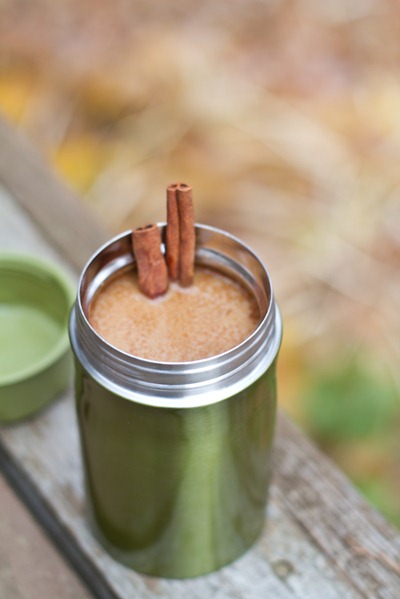 The lattes were comforting, warm, rich, and fragrant with notes of cinnamon, nutmeg, and ginger.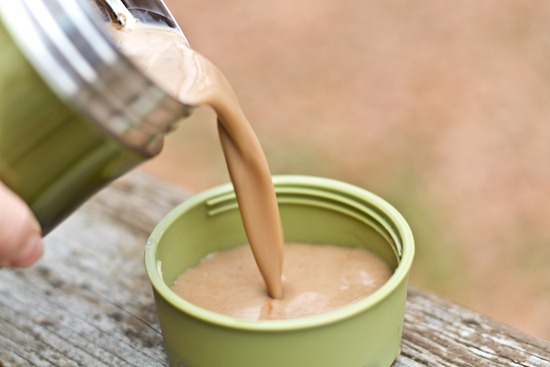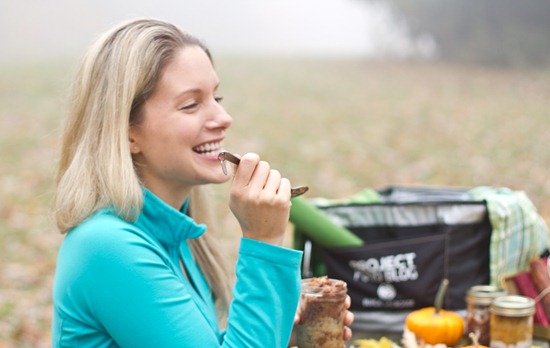 To say I was excited for dessert was a bit of an understatement…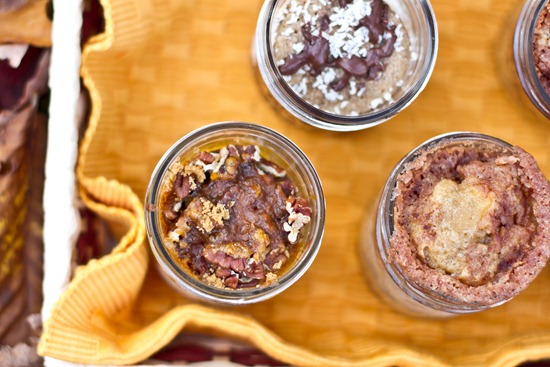 I saw a picture of a Cake in a Jar online and I thought it was a fun idea that would pack well! I put a fun twist on them by making Cake In A Jar Parfaits.
The flavours:
Butternut Squash Apple Streusel
Triple Layer Pumpkin Pecan Cheesecake
Decadent S'more with homemade graham cracker crumble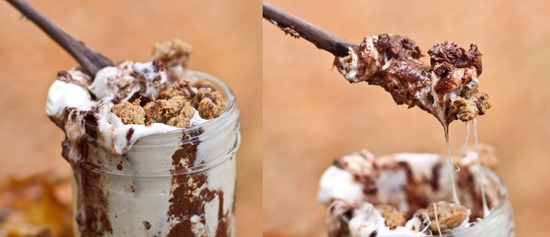 Damn. Good. Comfort. Food.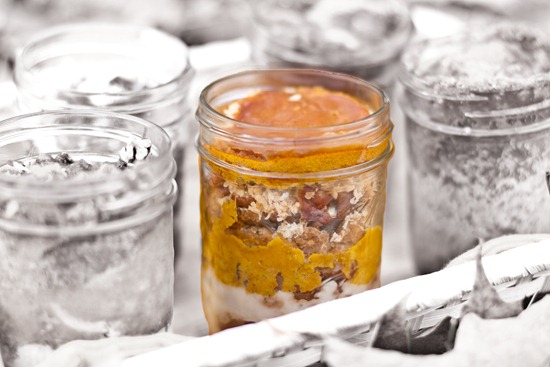 My favourite was the Butternut Squash Apple Streusel. The cakes were still warm from the oven and incredibly moist unlike any other 'normal' cake I have ever tried.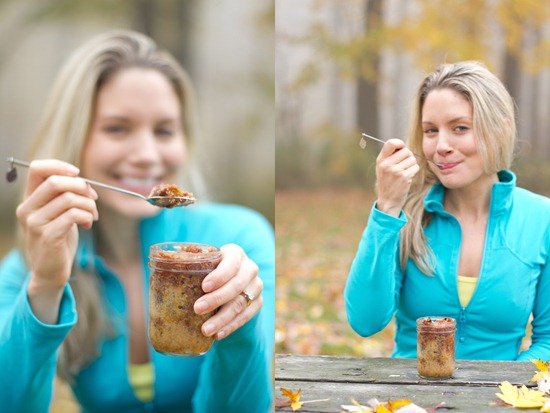 Mmmmm.
After lunch, we were bursting with energy and ready to tackle the trails! We dropped off our cooler in the car and were on our way.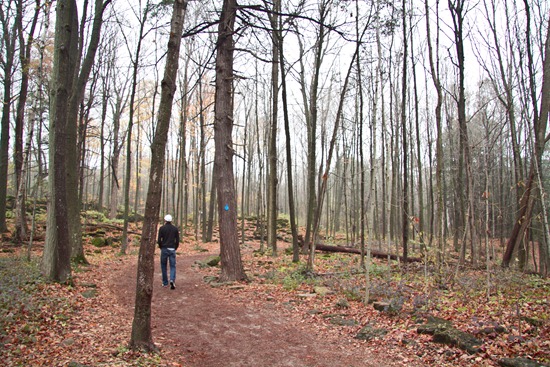 We brought along homemade Raspberry Vanilla & Pumpkin Apple Spice fruit leather.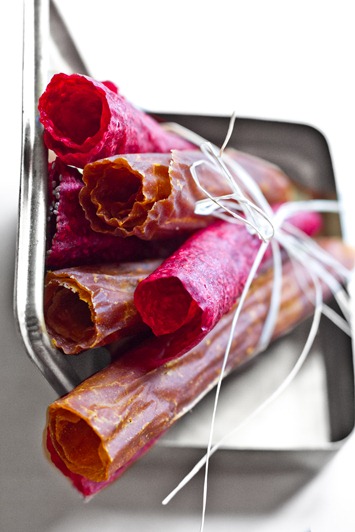 Can you guess what athlete's superfood is hiding in them?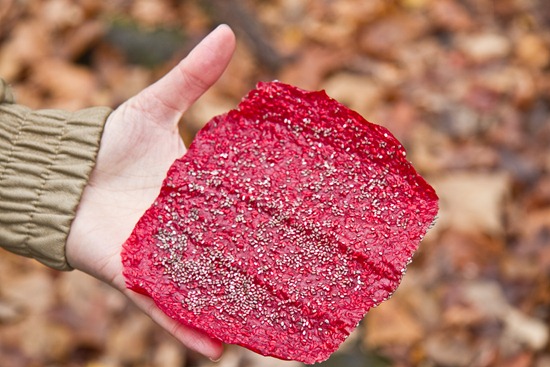 Chia seeds!
Chia seeds are great for hydration and contain healthy fats, iron, calcium, protein, and antioxidants.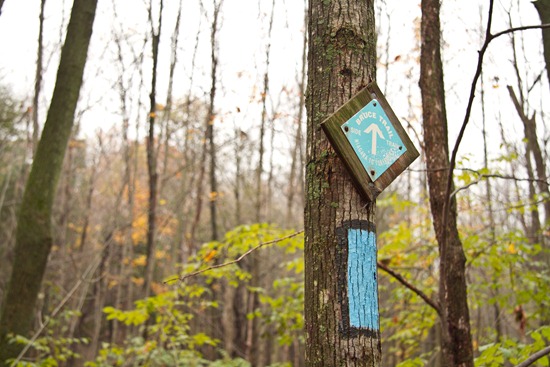 I also made a 'box of truffles'-vegan energy truffles, that is– made from dates and nuts.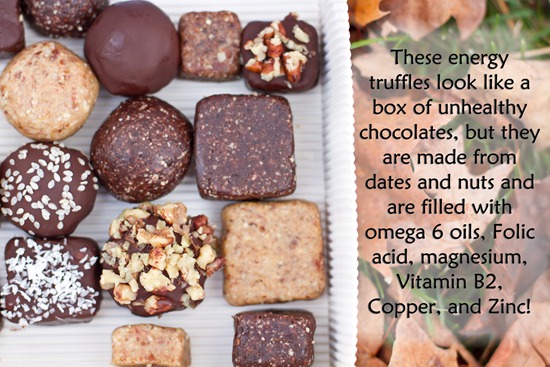 The flavours:
Chocolate Kissed Peanut Butter
Brownie Bliss
Pecan Pie Delight
I could not pick a favourite!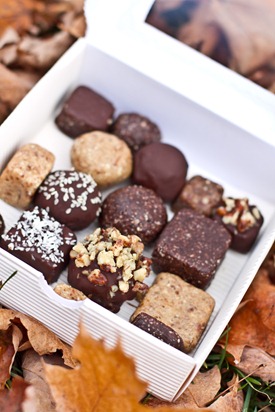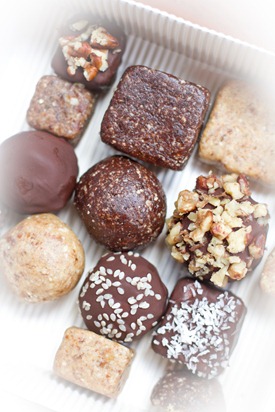 These would make fun and unique Thanksgiving or Christmas gifts, wouldn't they?
My happy customer inhaled several. ;)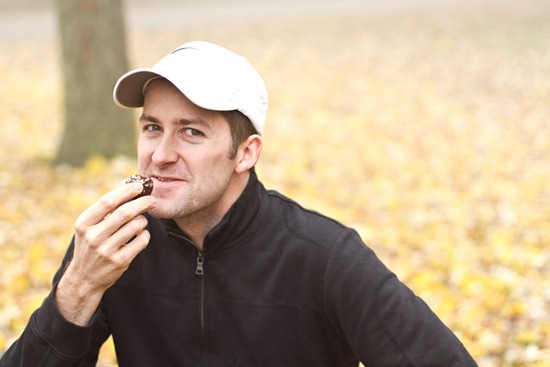 And finally, Spiced Apple Pie Chips…
Cinnamon is not only great for maintaining steady blood sugar levels, but it also contains Iron and Calcium.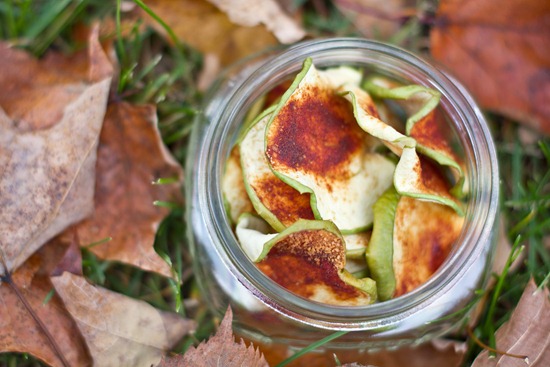 All in all we hiked about 7 miles and had a grand old time, even despite the damp and cool weather!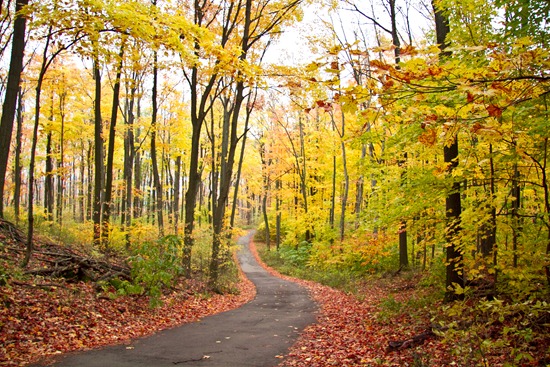 Thanks to the endurance lunch, Eric still had energy to carry me to the car!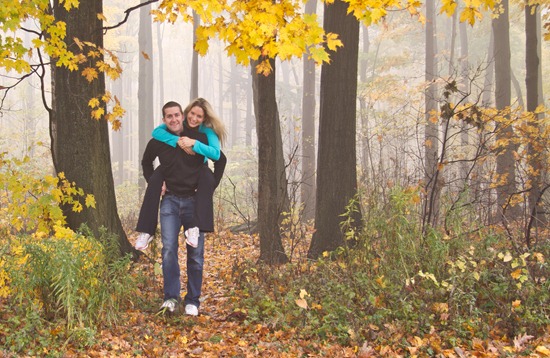 Life is good. ;)
This is my official entry for Project Food Blog Challenge #6. Voting begins at 9am EST on Monday October 25th. If you enjoyed this post I would greatly appreciate your votes in carrying me into the next round! Click here to vote . Thank you!