Happy Thursday folks!
Fun fact: Last night's post was my 1500th post since Oct 31, 2008. Where does the time go?! I want to have a reader appreciation day on Oct 31st. I just need to figure out what to do…
Today is also the last day you can vote in Project Food Blog Challenge #4. I would love your support in helping me get to the next round. :) You can vote here.
I went to Paris and back this morning… ;)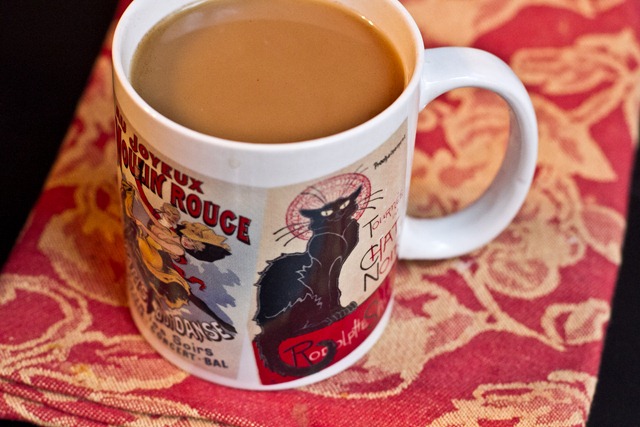 My goal for my morning recipe was to come up with a Powerhouse cookie for the Fall season.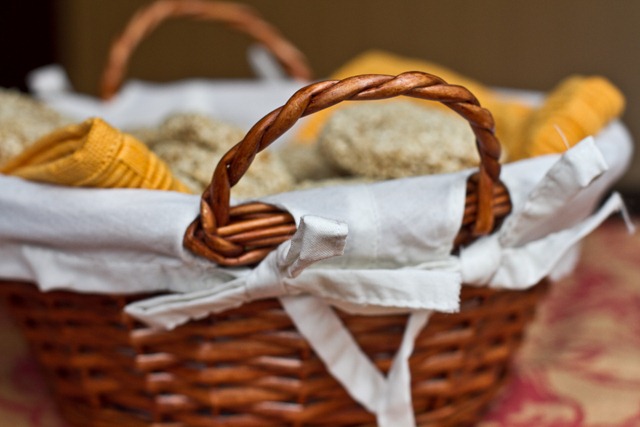 I didn't just want a cookie that was sweet and delicious; I wanted a cookie that would deliver a healthy dose of nutrients, protein, and fibre that you can use to fuel workouts or to simply grab when on the go. A cookie, with benefits, if you will.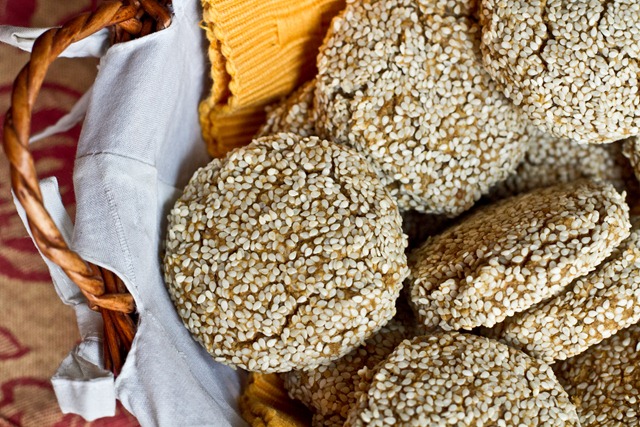 Power Me Up Pumpkin Sesame Cookies
Moist, healthy, and delicious. You won't believe what secret ingredient is hiding in there! Only 3 grams of sugar and a hefty 4 grams of fibre and 3 grams of protein per cookie. Use for pre-workout to give you a nice boost without the sugar crash.
Inspired by 101 Cookbooks's navy bean marathon cookies.
Ingredients:
1 can navy beans, drained and rinsed
1/4 cup coconut oil, melted
1/4 cup pure maple syrup
1/3 cup organic cane sugar
1 chia egg (1 tbsp chia + 4 tbsp water, mixed well)
1 tsp pure vanilla extract
1/3 cup pumpkin
1/2 tsp blackstrap molasses
1/2 cup sesame seeds (can use black seeds for Halloween!)
1 cup rolled oats, processed
1/2 cup whole wheat pastry flour (or all-purpose or mix of AP + spelt might work)
1.5 tsp cinnamon
Zest of 1/2 lemon (would probably omit next time!)
3/4 tsp ginger
1/2 tsp nutmeg
1/2 tsp baking powder
1/2 tsp baking soda
1/4 tsp sea salt
Directions: Preheat oven to 350F. Line a baking sheet with a non-stick mat or parchment paper. Set aside. In a small bowl, mix together the chia egg. In a food processor, process the oats until a crumbly flour forms. In a large bowl, whisk together the dry ingredients (processed oats, flour, spices, baking powder, lemon zest, baking soda, and salt). In the food processor, add the drained and rinsed navy beans, melted coconut oil, and maple syrup and process until almost smooth. Now add in the pumpkin, molasses, sugar, vanilla, and chia egg. Process until smooth. Remove from processor and scoop onto dry mixture. Mix well. With wet fingers, grab about 2 tbsp of the dough and roll into the sesame seeds to coat the entire cookie. Slightly flatten with hands and place onto baking sheet. Repeat for all cookies. Bake for 15 minutes at 350F. Remove from the oven and allow to fully cool. Makes approx. 18 medium sized cookies.
Nutritional info: (per 1 cookie, makes 18 cookies): 133 kcals, 6 grams fat, 3 grams sugar, 4 grams fibre, 3 grams protein, 16 grams carbs, 137 mg potassium.
First you process the oats: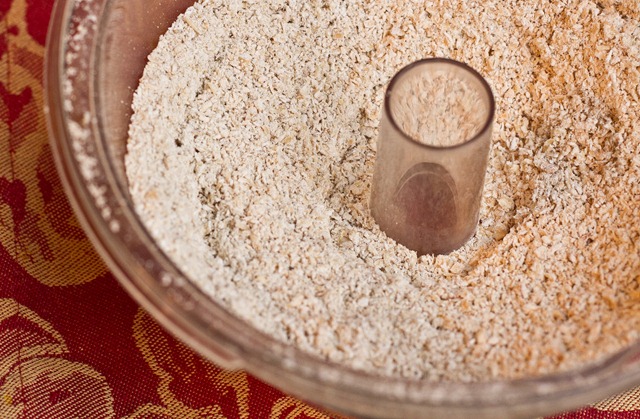 Drain your can of navy beans and rinse well.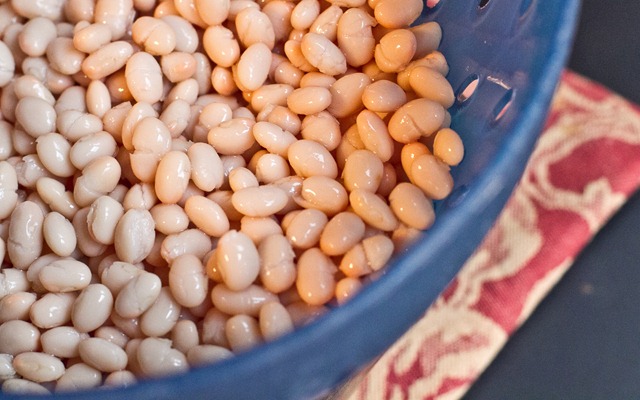 I was a bit scared that I would taste the beans in these cookies because I have had some baking flops trying to make black bean brownies before, but I hoped for the best!
In the processor, process your wet ingredients: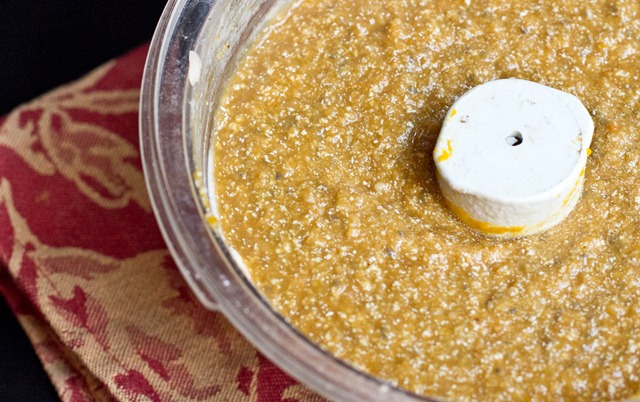 Add the wet to dry…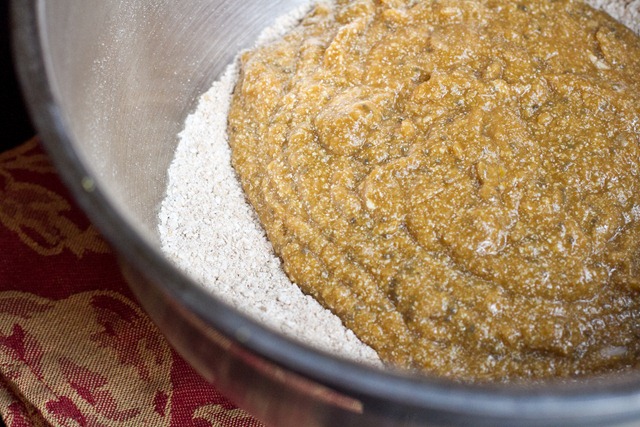 Mix well!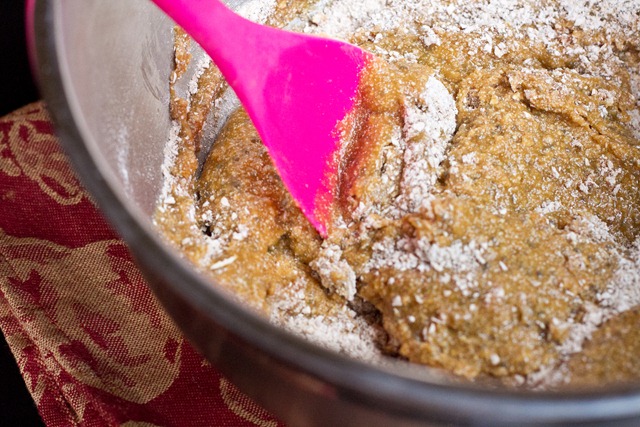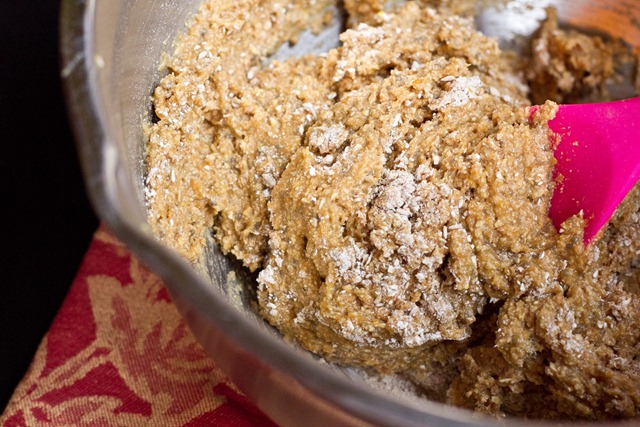 Looking good. :)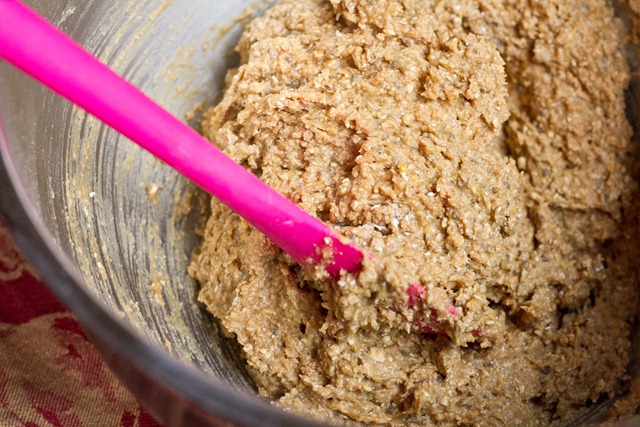 Now grab a couple tablespoons of the dough with wet hands and roll the cookie dough into the sesame seeds. The dough will be VERY sticky, but as soon as you cover it in seeds, it will become more manageable.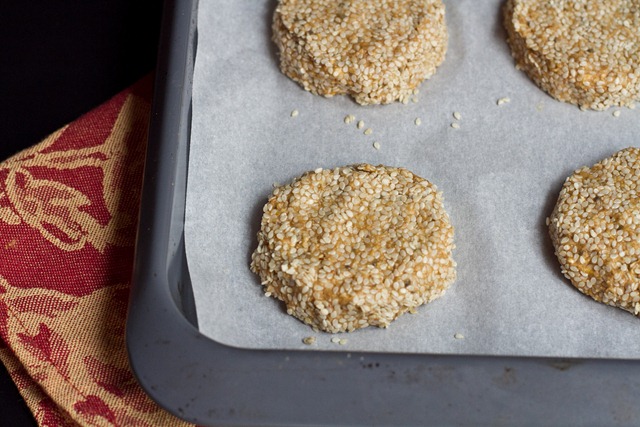 Slightly flatten with hands and place about 1 inch apart on the baking sheet.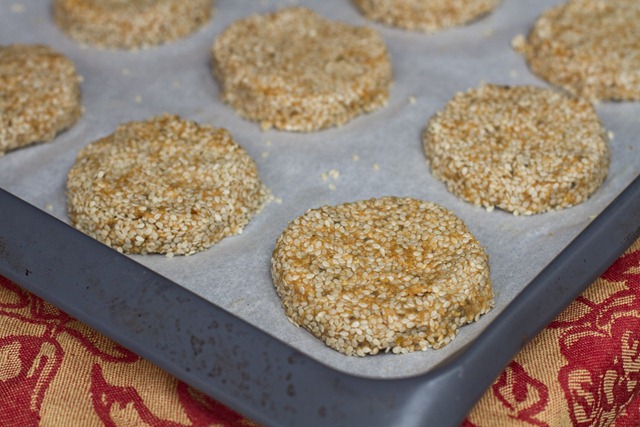 Bake for 15 minutes at 350F.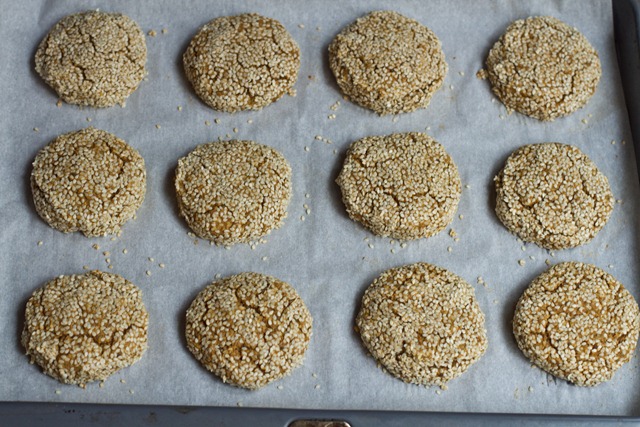 They will be beautiful and slightly crackled after baking!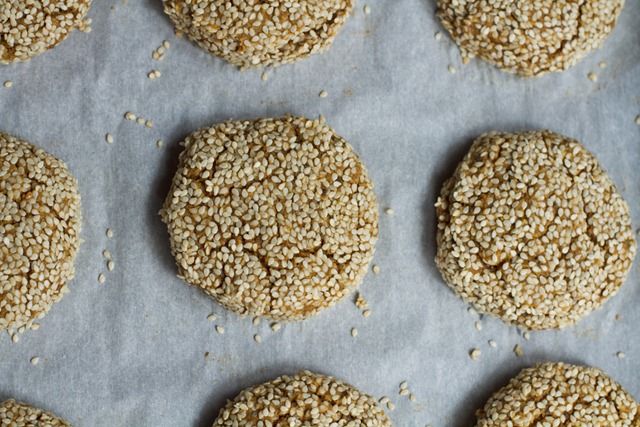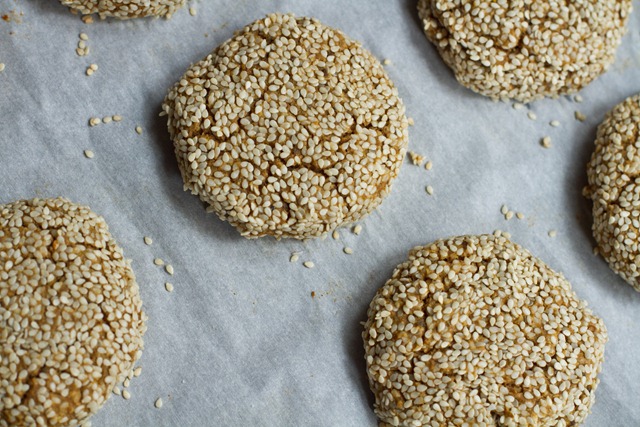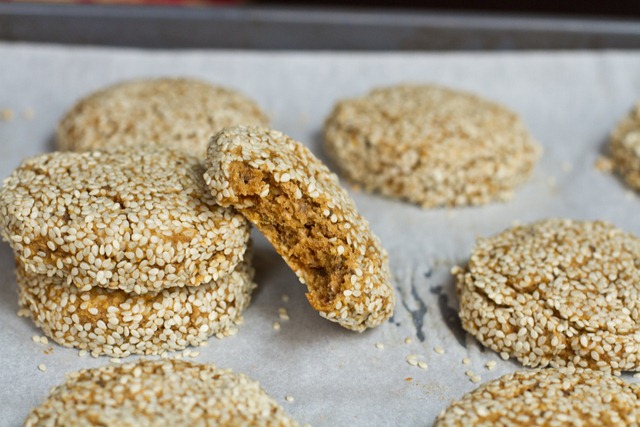 The result was a very moist + soft cookie. Eric and I could not detect the beans in the slightest! They are quite low in sugar, so if you like a sweeter cookie I suggest adding more sugar! I liked the fact that I could enjoy a few of them and not feel feel sick to my stomach afterwards.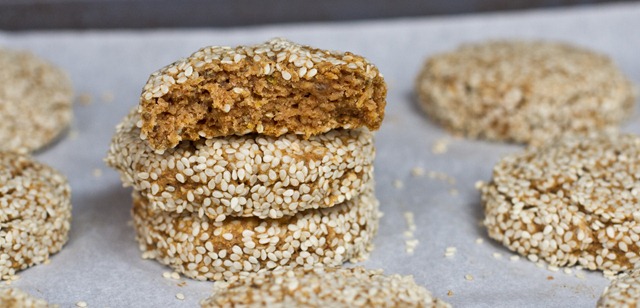 They are quite easy on the eyes too and look lovely in a basket lined with a Fall-coloured tea towel.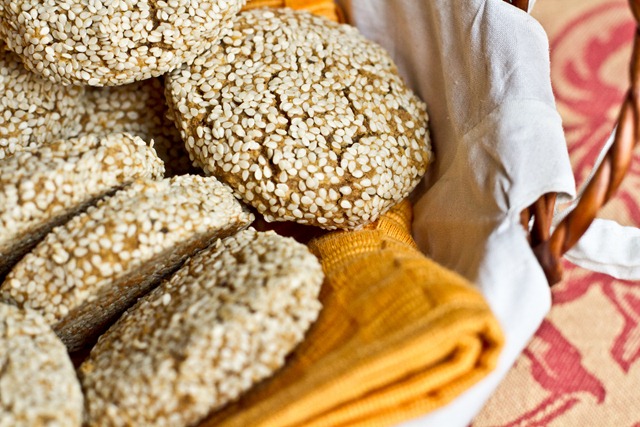 I enjoyed that they weren't too sweet and quite healthy, almost like a breakfast cookie. The flavour wasn't exactly how I wanted it though. I'm not sure I was crazy about the lemon zest in these and I think I would leave it out next time.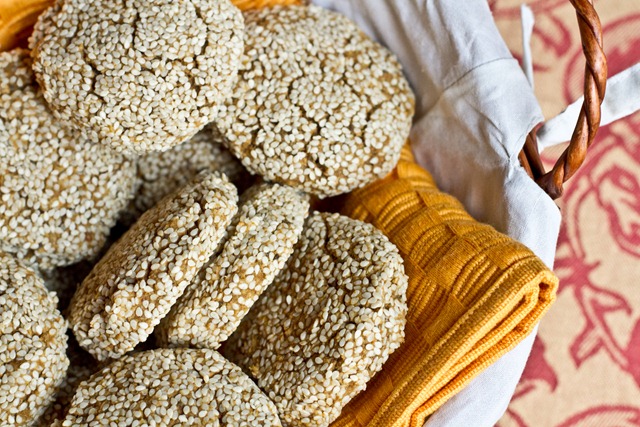 Eric said he enjoyed the cookies but they 'needed chocolate chunks' in them. And then he added, 'Well, I think every every cookie should have chocolate chunks in them." :)
You have to love the simplicity of his thinking.
I however, prefer to put my Homemade Pumpkin Butter sandwiched between!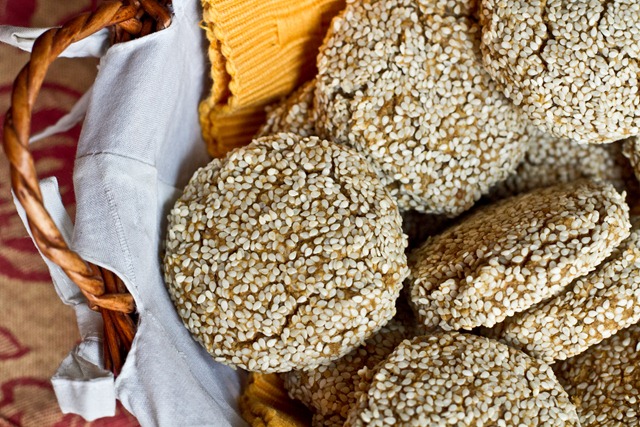 You can even make them into Halloween Cookies by rolling them in black sesame seeds!
Spooky, huh?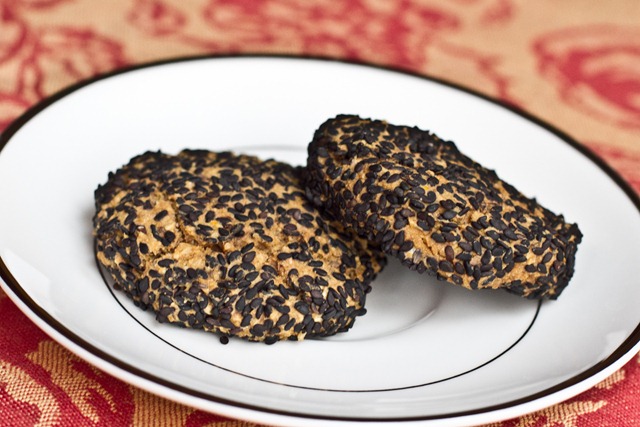 Now that I am powered up, I am going to hit the road for a run on this damp, rainy, and dreary day. Going to use my indoor warm-up trick first though!
See you later alligators.
"It all comes back to just letting go with love. Just put the love in it. Whatever it is, and if you can't put love in it, don't do it!" ~Bhagava Das, spiritual guru