Happy Birthday to OSGMOM!!!!
For the record, mom that was not me who called you and hung up this morning after realizing the 2 hour time difference.
I get a little excited at times.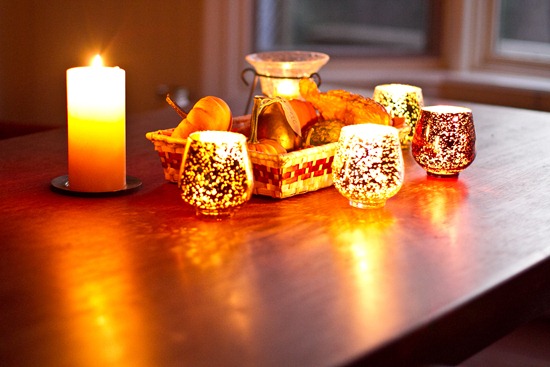 Yesterday, I discovered Things To Do When the Power is Out for 5 Hours.
Take up knitting
Have long conversations with your cat
Call the hydro company and notify them because…you know…they wouldn't already know from hundreds of other callers
Pace around the house
Have a brilliant idea to go to Starbucks and realize your car is stuck in the garage and you can't get the door to open
Bring freshly baked Glo Bars to neighbour down the road because you can't seal the bars 
Start to get scared when Eric works late and your house is pitch black and making weird noises
Take pictures of pretty candles and pretend not to be scared
Realize that there is HUMMUS to be saved in the fridge! Scarf hummus and Multiseed crackers.
After 4 hours, survival instincts start to kick in. Go for the sweets in the freezer!
Yesterday started off well. I had a productive morning of work, buzzing through my orders, and then I set out for a run on my lunch break. It was gorgeous, sunny, and crazy windy, but I figured it was nothing I couldn't handle!
The run:
Distance: 5:15 miles
Time: 43:51
Avg pace: 8:31
Splits: 8:26, 8:15, 8:31, 8:20, 9:00, 1:17
I thought I might blow away. I was so happy to be home. Instead of feeling energized on this run, I felt a bit drained like I had just run a tough race or something.
In the afternoon, a huge tree fell over onto an electrical wire and it knocked out the power for miles and miles in our area. When it finally came back on 5 hours later, I spent the rest of the night catching up on my work. I was not a happy camper!
Today has to be better…and how could it not be with Pecan Pie Truffles? :)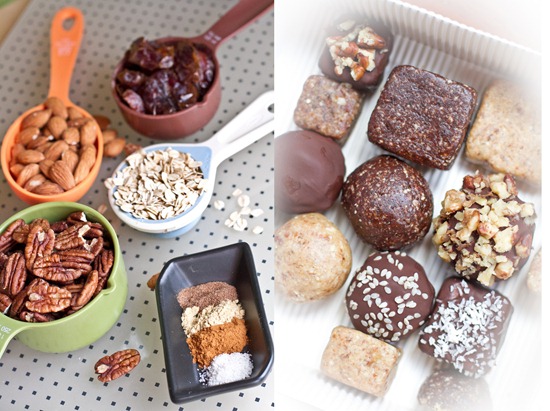 I thought I would show you how to make the Pecan Pie Truffles that I featured in my Project Food Blog Challenge #6 post. Also, some of you have been asking where the recipes are from that post. You mean I typed up all those recipes and you didn't see the PDF link? ahhhhh lol. ;) I linked to them in that post on Sunday (underneath the menu). The only recipes that were not featured are the Cake In A Jar and those recipes will be coming up in in the next week or two. :)
Pecan Pie Truffles
Ingredients:
1 cup pecans
1/2 cup almonds
¼ cup oats
½ cup pitted dates, packed (approx 11 medjool dates)
½ tsp pure vanilla extract
1/4 tsp almond extract
¼ tsp sea salt
3-4 tbsp icing sugar
¼ tsp ground nutmeg
½ tsp ground ginger
¾ tsp ground cinnamon
Directions: In a food processor, process the pecans and almonds until fine. Now add in the oats, followed by the vanilla, almond extract (optional), icing sugar, and sea salt. Add in the roughly chopped and pitted dates and process until crumbly. Process until crumbly. Do not process long enough for the mixture to get too sticky (like nut butter), but you do want it to be a bit tacky so you can shape the truffles so they will hold together. If mixture is too crumbly, process it a bit longer. You could also add a bit of maple syrup to make it stick together if necessary. You want to work the mixture a bit in your hands to warm it up so you can form a ball with it. Makes about 12-15 truffles.
The truffles are Eric approved! ;)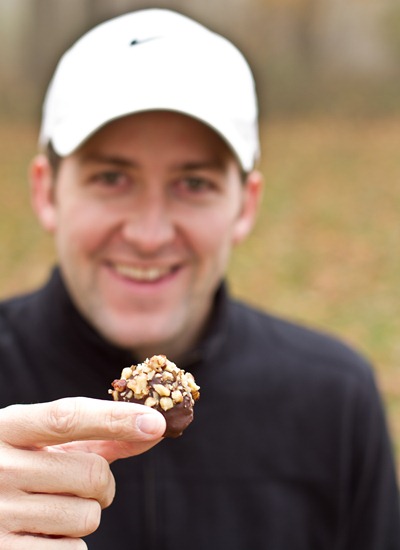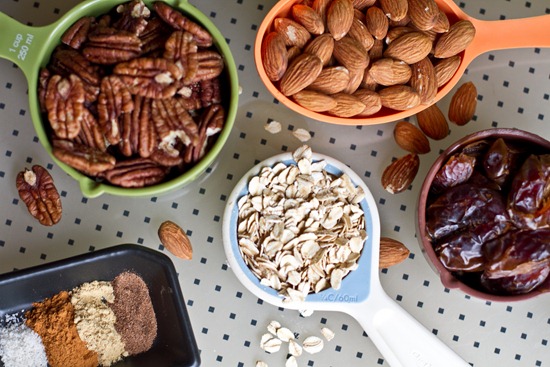 Step 1: Add pecans and almonds and process until crumbly.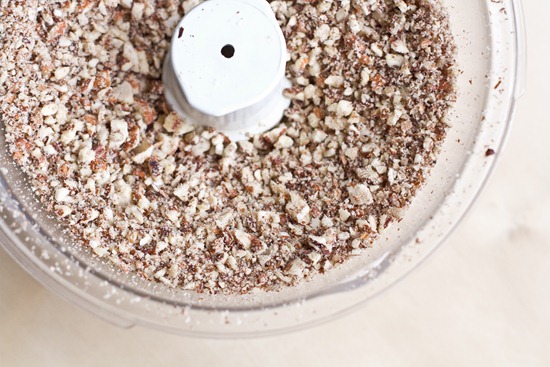 Step 2: Add in oats, spices, sea salt, icing sugar. Process until fine.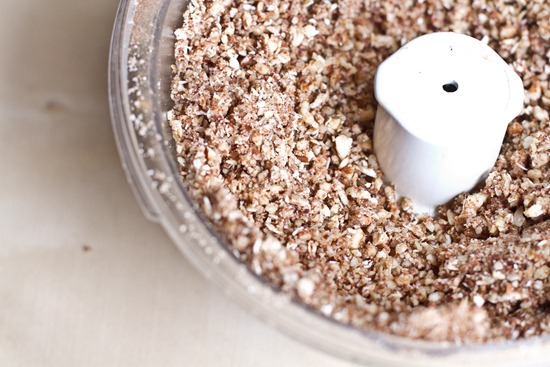 Step 3: Add in chopped dates and process until it just begins to get sticky.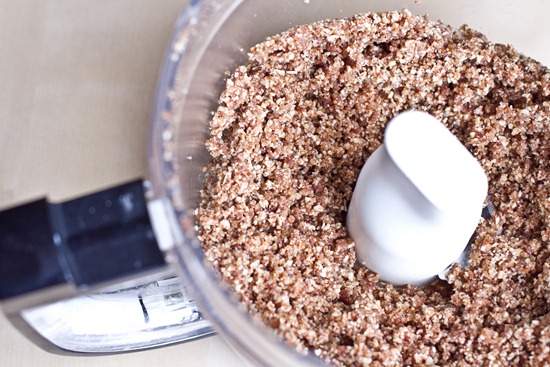 Step 4: Shape into truffles.
I made three varieties…Peanut Butter (and chocolate covered PB!), Pecan Pie, and Brownie Bliss. I adapted the Brownie Bliss from Dreena Burton and then the others I just made up as I went along. The recipes are linked in Sunday's post.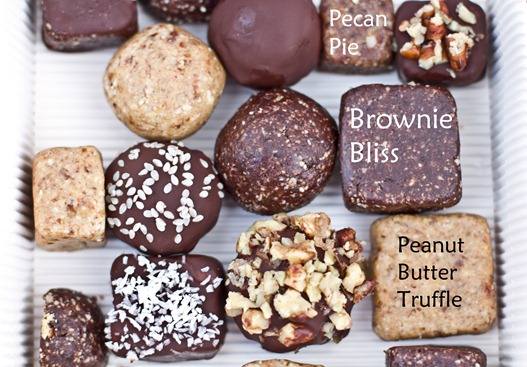 The best part is shaping the truffles to look like a box of chocolates! They would make a fun holiday gift.
Happy Thursday!