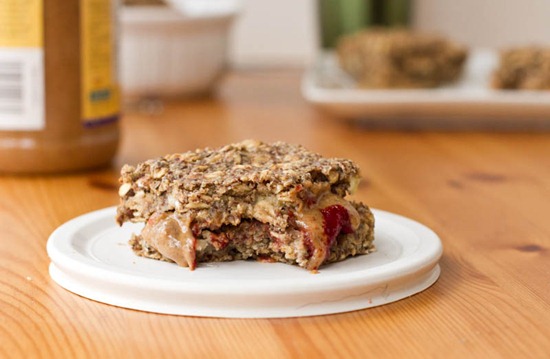 There are fancy squares and then there are not-so-fancy squares.
These are the not-so-fancy squares. In fact, they are downright boring, but the beauty is you can dress them up anyway you like. Just like a basic bowl of oatmeal, these squares can be changed up on a whim.
My goal was to make a basic everyday oatmeal square for on-the-go breakfasts or snack attacks. They aren't super sweet or bursting with chocolate and fancy mix-ins, although, you could make them that way if you wanted too! Filled with flax, chia, and whole grains, it's functional food at its finest. The nutritional stats are also impressive packing in 7 grams of fibre and 6 grams of protein per large square.
Despite eating half the batch, I actually made these for Eric (remember that guy who loathes oatmeal?). He's been insanely busy with his new role at work and now spends the better part of his days trapped in meetings without any healthy food on hand.
His options in meetings are usually the following: 1) cookies the size of his face, 2)  pizza, or 3) a muffin the size of his butt (which is cute and perfectly rounded).
While it's true that he loathes traditional oatmeal, if I bake it up in a square he's all over it. And by all over it, I mean he needed to slather Earth Balance all over the square before deeming it perfect. Like I said, these can be dressed up any way you want…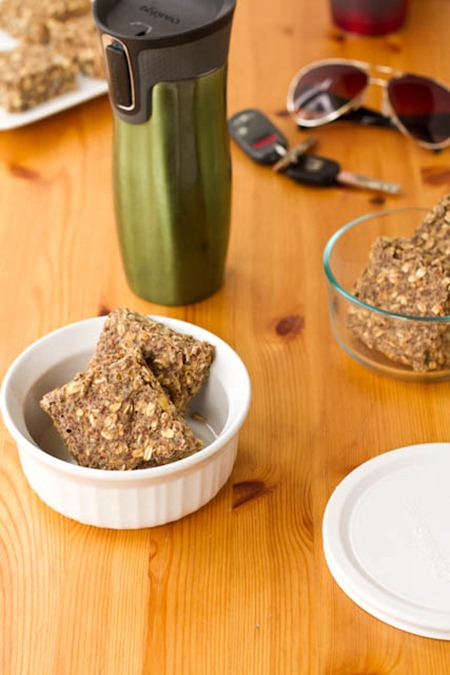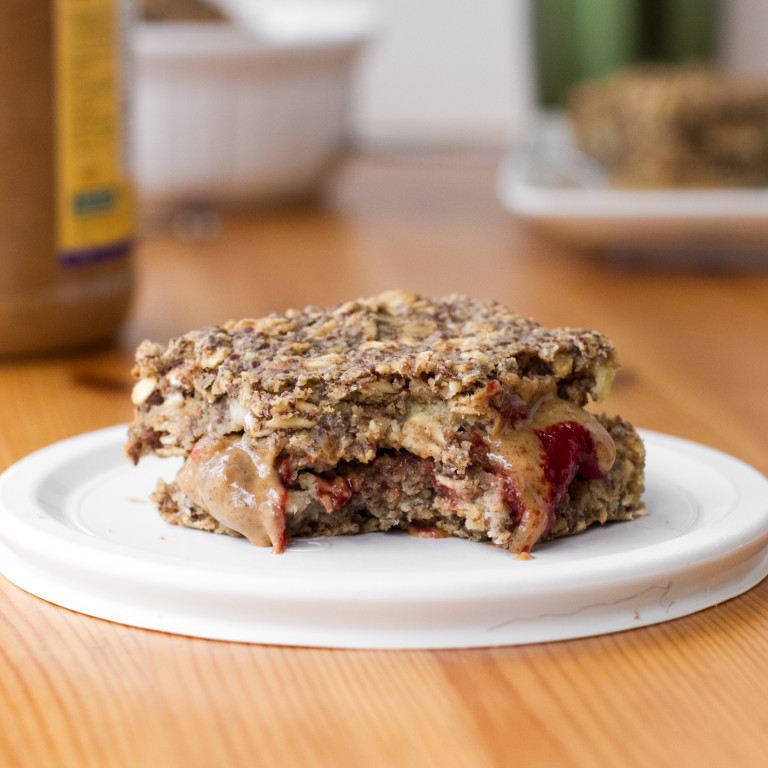 On The Glow Basic Oatmeal Squares
Vegan, oil-free, soy-free

Yield

9 large squares
Prep time

Cook time

Total time

Think of this oatmeal square as basic baked oatmeal that can be dressed up any way you like. Each large square contains a tablespoon of flax and a teaspoon of chia seeds as well as 7 grams of fibre and 6 grams of protein. Feel free to add in nuts, dried fruit, chocolate, and other mix-ins as you desire. Just be careful about frozen fruit. When I made a trial with frozen blueberries they became quite soggy. Use fresh blueberries and you should be fine.
Ingredients
2.5 cups regular rolled oats (not instant oats), divided
3 tbsp chia seed
1/2 cup + 1 tbsp ground flax
1 tsp cinnamon
1 tsp baking powder
1/4 tsp kosher salt
1.5 cups almond milk (or other milk)
1/2 cup pure maple syrup (or other liquid sweetener)
2 tbsp nut or seed butter
1 banana, chopped small
1 tbsp pure vanilla extract
Dry sweetener, to taste if you want them a bit sweeter
Directions
Preheat oven to 350F and line an 8 inch square pan with two pieces of parchment paper.
In a blender or food processor, blend/process 1 cup of the oats until a flour forms. Or you can just use 1 cup of oat flour.
In a large bowl, mix together the dry ingredients: oat flour, 1.5 cups rolled oats, chia, flax, baking powder, salt, cinnamon. In a smaller bowl, whisk together the wet ingredients: milk, syrup, nut/seed butter, banana, vanilla until no clumps remain. Add wet to dry and stir until combined. Add dry sweetener to taste if desired. Fold in any nuts or dried fruit that you desire.
Pour mixture into prepared pan and smooth out. Bake for 35-40 minutes until lightly golden along edge and it springs back slowly when touched. I baked them for 40 minutes, but baking time may vary. Place pan on cooling rack for 10 minutes, carefully remove, and cool on rack before slicing.
Nutrition Information
(click to expand)
The first trial I made was with frozen blueberries (above). Unfortunately they made the bars quite soggy (although tasty). Fresh blueberries would probably be a better option, so I will try that in the summer when they are in season. Sadly, that is a long time away…as I sit here watching a snow storm outside my window!
For the second batch, I left out the blueberries to see if I could get the consistency a bit better.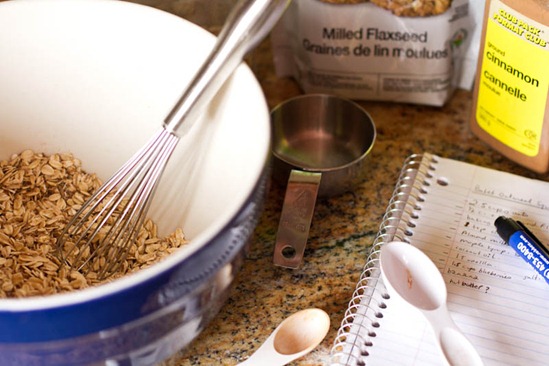 [Notice my hand writing is getting a bit neater? Ok not really, but I'm happy to say I now keep all my recipe trials in one notebook. No more scattered pages all over the house!]
Anywho, mix the dry ingredients together: ground flax, cinnamon, oats + oat flour (I ground up 1 cup of oats), chia seed, baking powder, and a touch of salt.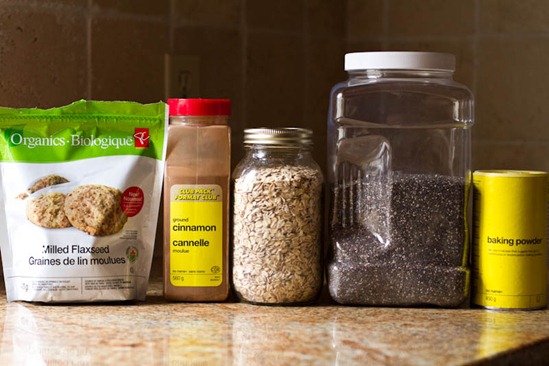 Then the wet ingredients: pure maple syrup, almond milk, vanilla, nut/seed butter, and a chopped banana. Feel free to use another milk, nut/seed butter, and liquid sweetener if desired.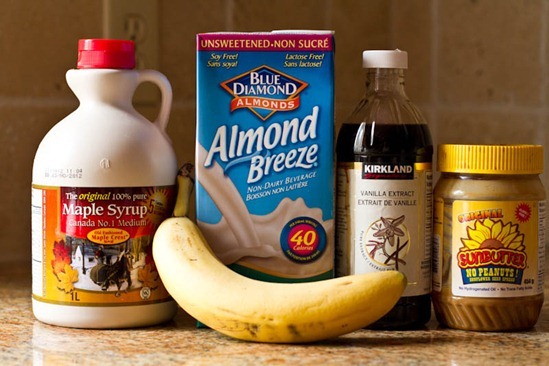 Whisk together in another bowl, making sure to break up the nut/seed butter.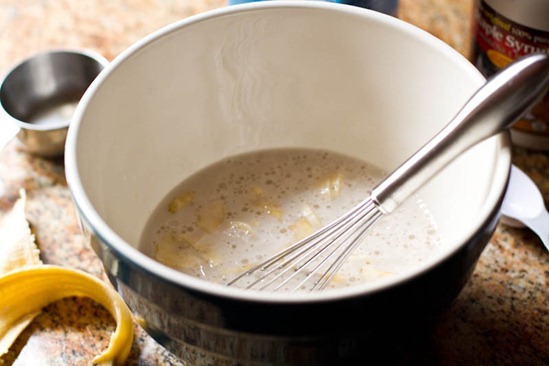 Add the wet to dry and mix well.
I planned on adding chocolate, but discovered that I was all out. How does that even happen?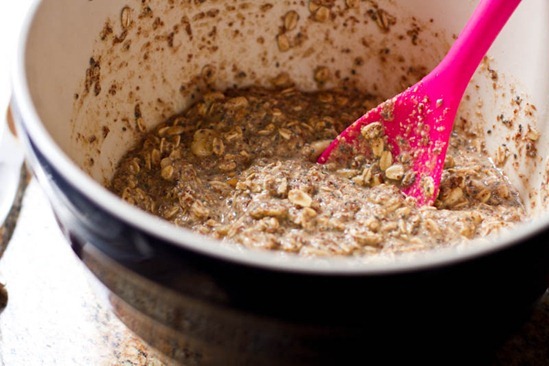 Pour into an 8 inch square pan lined with two pieces of parchment paper.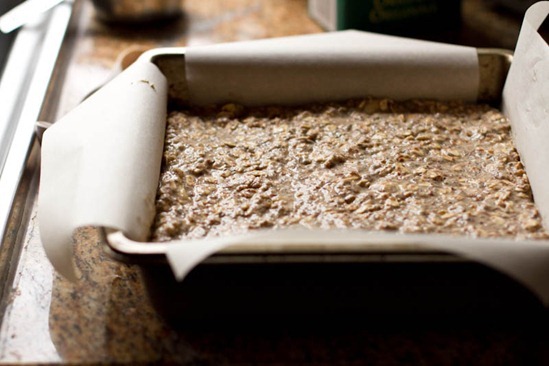 Bake for 35-40 minutes, cool, and enjoy! I baked them for 40, but I have a feeling that baking time will vary depending on the brand of oats used. I've found that some rolled oats absorb more liquid than others. Just watch it closely after 35 minutes. When it slowly springs back up when you press it, it should be good to go.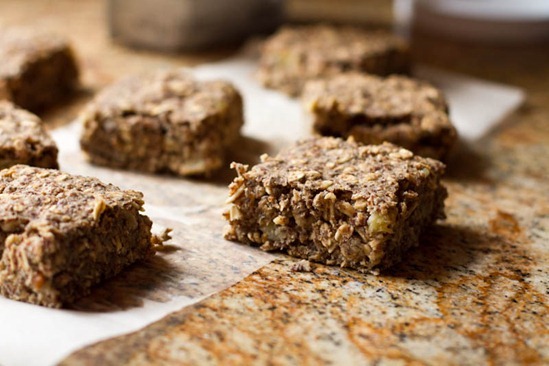 These are very soft and fluffy with tiny bites of banana throughout. We found that they are a bit plain on their own, but I still managed to eat 3 in a row just to be sure. I like to slice the square in half and make a jam & sunflower seed butter sandwich.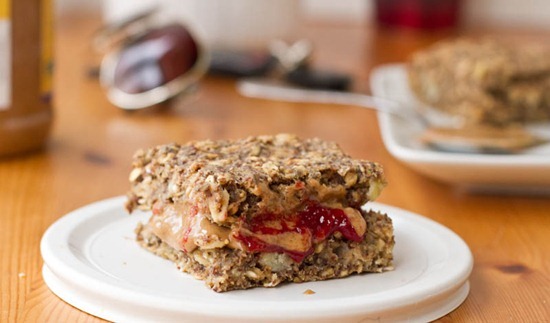 Note to self: restock chocolate chip supply stat.
Have a wonderful Friday!