[For my entire Road To Health Series see: My Road To Health: Part 1, My Road To Health: Part II, My Road To Health: Part III, My Road To Health: Part IV, My Road To Health: Part V, My Road To Health: Part Vb, My Road To Health: Part VI, My Road To Health: Part VII]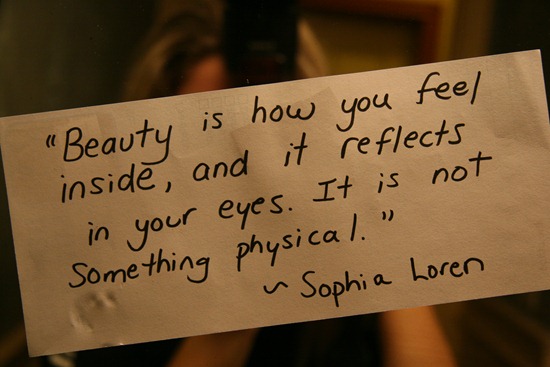 When you are struggling, the hardest part is always admitting to yourself that you deserve happiness. It is much easier to just believe that you don't deserve happiness and remain stagnant in your life. Once you look yourself in the eye and admit that you deserve to be happy, you now must do something about it.
Doing something about it is the hard part, but it sure beats the alternative.
That was one of my concluding thoughts in my last Road To Health post.
In this part, I would like to talk about how I took those initial steps toward happiness.
1. I had to admit to myself that I deserve happiness.
I realized that I must be at a place where I was ready to do something about my unhappiness. For years, I was perfectly content to stay exactly where I was, miserable and unchanging. Sure, I wanted to be happy, but for a long time it was easier to stay where I was rather than force myself to change negative patterns. It is hard work and is why so many of us remain unhappy for years before finally doing something about it.
We stay in unfulfilling jobs, relationships, dogmatic exercise regimes, and commitments because it is just easier then doing something about it.
2. Talk openly about my struggles
For years, I didn't talk about my eating disorder or negative body image. I didn't talk about having low self-esteem or anxiety problems.
It was a mixture of shame and denial, equally.
I was also scared that my eating disorder 'secret' would be taken away from me. As much as I hated that I suffered with it each day, it also brought me a lot of comfort. I didn't have to grow up or face real life issues.
I saw a therapist for a while during my time as an undergraduate at university. I remember feeling embarrassed to call and make the appointment, to sit in the waiting room with other students hoping I wouldn't see anyone I knew, and to tell a complete stranger about my struggles. I discovered that there was comfort in talking and there was also the potential to be impacted in a positive way.
3. Write
I also started Oh She Glows as a way to talk openly about my struggles and connect with others and I always say that the blog was a huge help in my recovery and determination to be happy in all areas of my life.
There is power in numbers and in women joining together with common goals.
No matter what emotion I am feeling, I know that I can always come to my keyboard and get my thoughts out. Some posts I don't end up publishing, but most I do. Writing has always been one of my great loves in life and a great way to work things through.
4. Focus on the big picture, not the numbers.
Eating disorders often revolve around numbers, even though to this day I still think the focus on numbers is simply a distraction from other problems. There wasn't a day that went by where I didn't know how much I weighed that morning or how many calories I consumed at breakfast.
I used to be able to recite the calorie count of virtually any food, whether I ate it or not. I was always prepared. I also knew my size in all of my favourite stores as well as what size I was last year and what size I wanted to fit into. I would keep a tally of the day's calories on a piece of paper each day, just in case my memory failed me (which it rarely did).
There was no room for me to explore the big picture because my mind was merely a calculator doing busy work, crunching numbers. I didn't know what my hobbies or my passions were.
When I decided that I deserved happiness, one of the first things I did was decide that I was going to live a life without numbers.
But in the beginning, I was convinced that I could recover while still counting calories. I would simply allow myself more calories for the day and that would be fine and dandy.
I would give myself a healthy calorie count to strive for and I thought that I could recover as long as I achieved this 'healthy' number.
I was wrong.
The obsession continued.
Despite eating more, I still suffered with guilt, anxiety over food, and constant rumination.
I still weighed myself.
After months and months of this 'I can have it both ways' approach, I took a hard look at my habits.
Would my continued focus on numbers (even if they were healthier numbers) prevent me from getting to where I wanted to be?
I knew my answer, although it was hard to put into action.
To be continued…