Thanks so much for your well wishes for my Grandpa this morning! I will be sure to pass along your kind words. Oh were the tears flowing when my mom read through the comments…she was very touched.
I thought it would be fun to change it up a little today and show you some of my most-used kitchen tools. They are tried, tested, and true and I find myself using most of them on a daily basis, or just about. All of the following items have been purchased by myself or were gifts from family members, just in case you were wondering if this was some kind of sketchy product placement or something!
My Most-Used Kitchen Tools
1) The Cookbook Stand.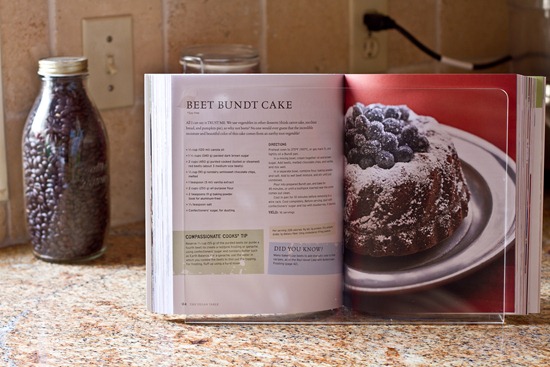 I don't know how I ever got by without my cookbook stand! I would say that 90% of the cookbooks I own do not lay flat on the counter, making this stand very helpful when following a recipe. For many years I used to wedge my cookbooks under heavy objects only to have them come flying up and close on me. Then I discovered that I could buy a cookbook stand for about $6 and it would not only hold my book upright, but it would also protect the pages from stains. Score. There are a wide array of cookbook stands on the market to suit every budget and need. I think I purchased this at Benix & Co., but you can also find nice Bamboo ones at Indigo, among other places.
2) Spurtle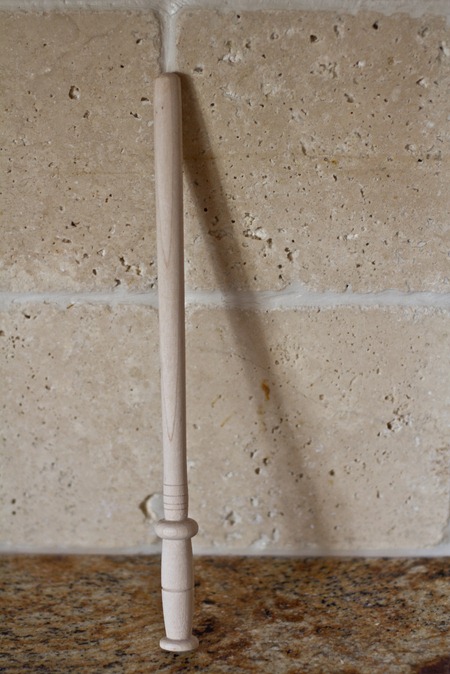 I've been kicking it old school with my awesome Spurtle. A spurtle is a Scottish stirring stick often used for stirring oatmeal, porridge, and soup. I have grown quite fond of using it when I make oatmeal! You can find this Spurtle at Lee Valley for under $5.
3) Bamboo Spoon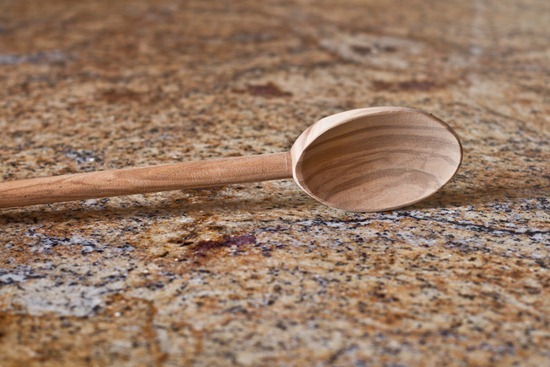 I use my Bamboo spoon the most when making soups, stews, sauces, and chili. I purchased this Bamboo spoon at Crate & Barrel. For some odd reason, I find it very comforting.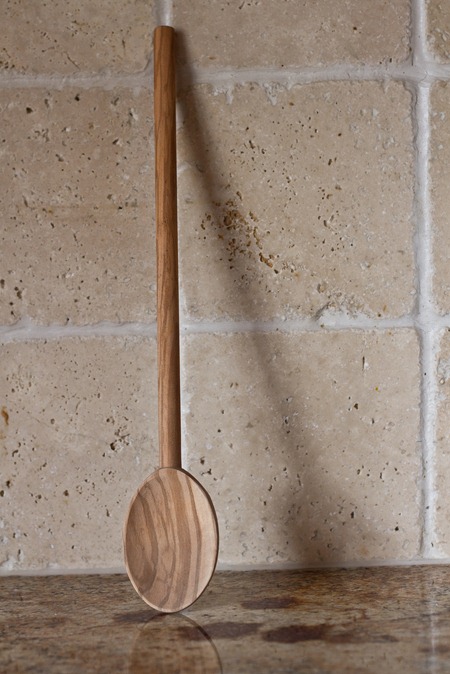 4) Pink Spatula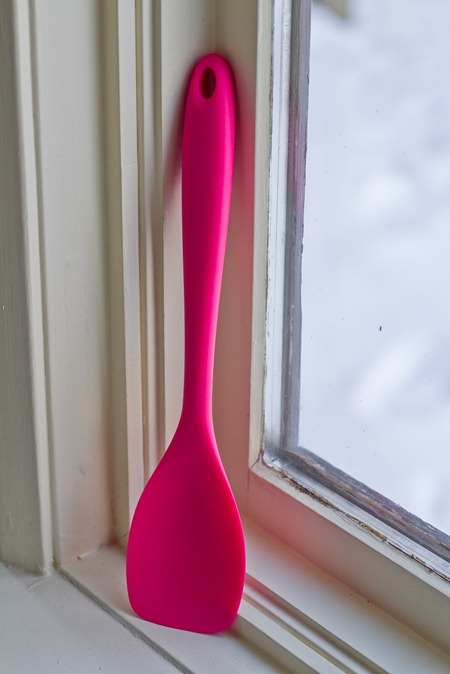 I use this spatula every single day in my kitchen. It is highly flexible, durable, and great for scraping down the side of a bowl. I got it at Goulda's Kitchen.
5) Microplane Zester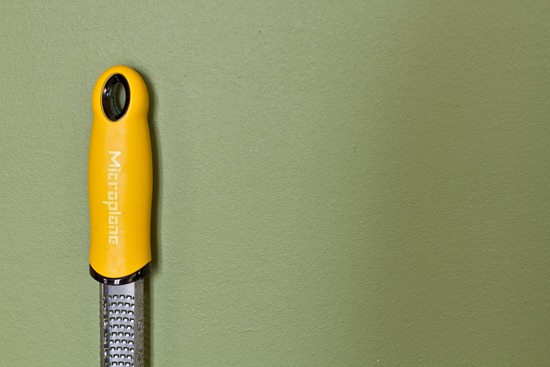 I tend to zest a lot of citrus fruits and the Microplane zester never lets me down. It has a super long blade that grates in both directions for quick zesting and it is also useful for shaving chocolate, spices (like cinnamon sticks or nutmeg), and cheese too.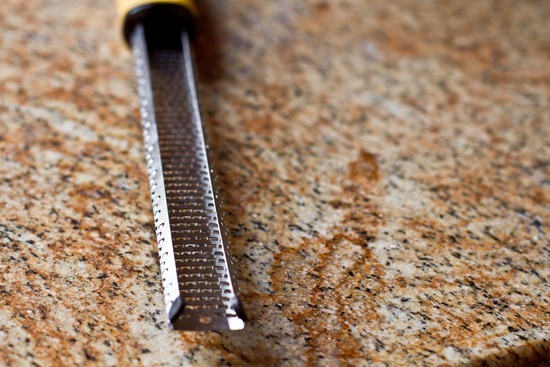 6) My Cookbook Collection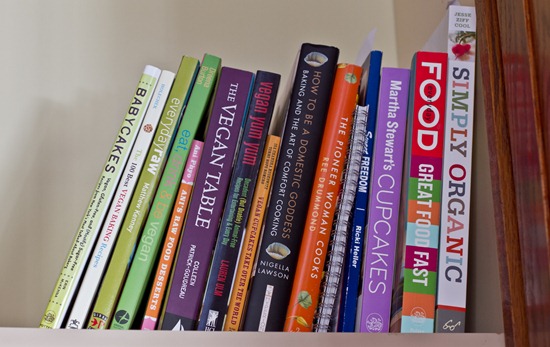 My favourite cookbooks are never far from reach and I often find myself leafing through the pages on the couch at night or whenever I am looking for recipe inspiration. I hope to do a post on my favourite cookbooks in the near future too.
7) Spoon Stand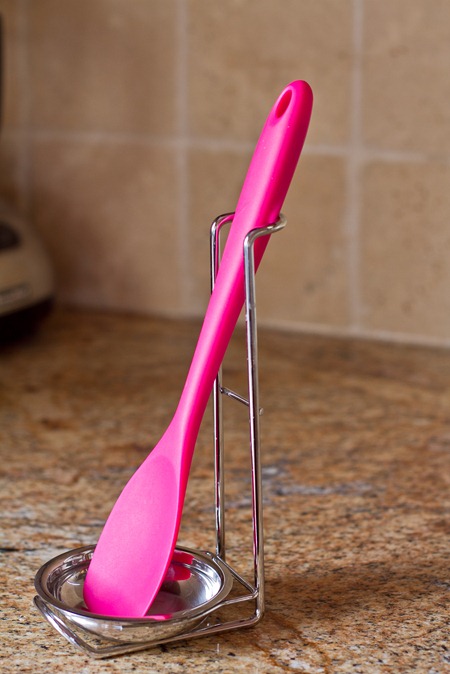 First the cookbooks need a stand and now the damn spoon too?! Why, yes they do. If you happen to bake with a lot of sticky or syrupy liquids (think- brown rice syrup), a spoon stand is very helpful for containing the mess. I use my spoon stand everyday in the bakery. You can purchase this one at Benix & Co.
8.) The Vita-Mix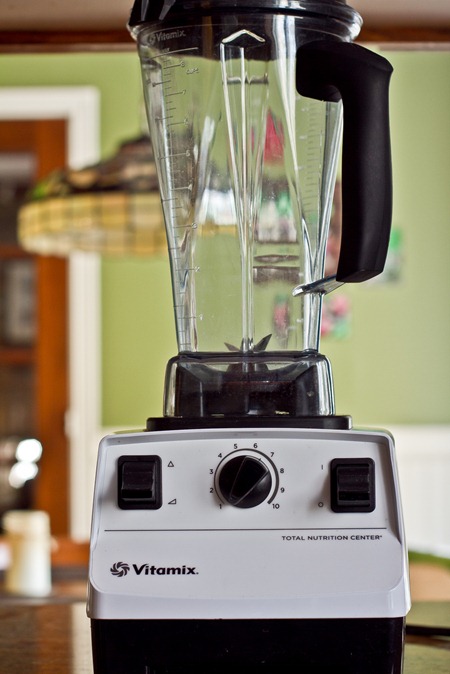 I've often said that I have two children: Sketchie and my Vita-Mix.
Actually, I never say that, but I think I might start.
After 2 years of Green Monster making, I finally saved up enough to buy myself a Vita-Mix. The price tag surely hurts, but I didn't regret my purchase for a minute and I use it 6-7 days a week. I also occasionally bring it for walks in the backyard.
I was also happy to find that it *just* fit underneath my cabinet…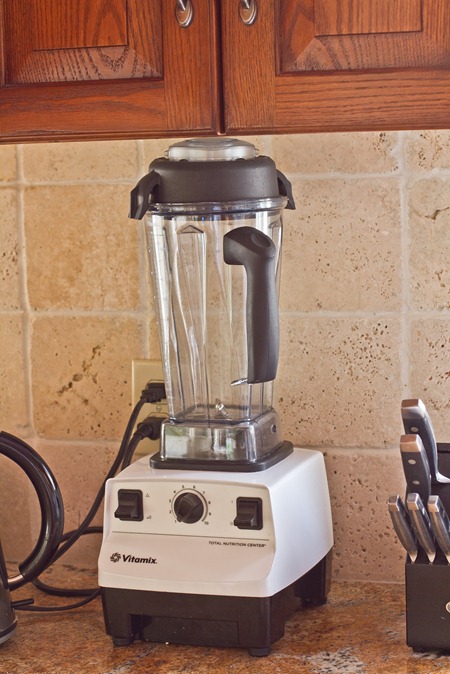 9) Mixing Bowls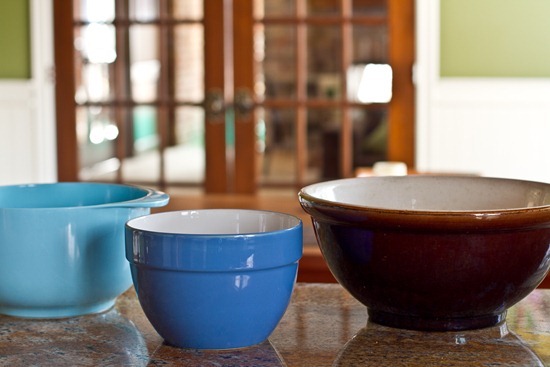 Pretty mixing bowls make me one happy baker. I am very fond of the large mixing bowl on the right that was originally Eric's grandma's bowl. I buy bright and colourful kitchen tools whenever possible because they really do make the experience more enjoyable!
10) Bodum Loose Leaf Tea Pot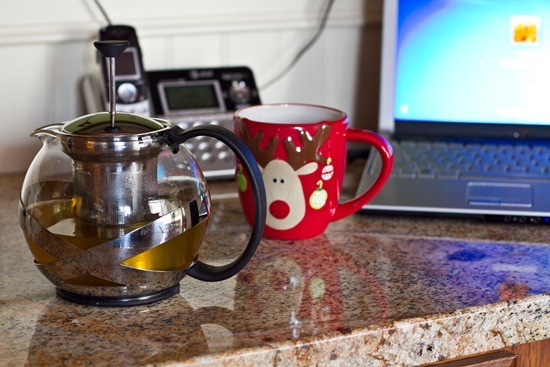 I have gushed about my love for this Bodum Loose Leaf tea pot many times and my love for it continues to grow. It represents a calming daily ritual in my life. The Rudolph cup, from Whole Foods, gets an honourable mention too. It will carry me through until Spring!
11) A Chef's Mat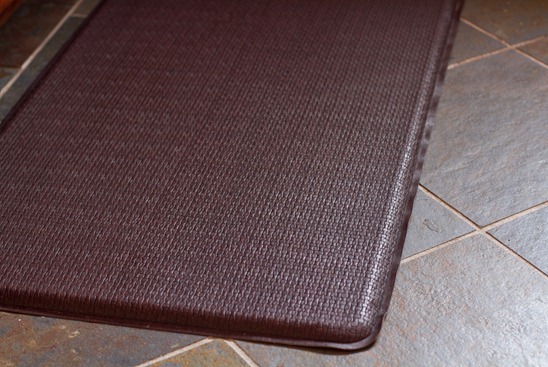 A gift from my mother-in-law, this Chef's Mat has eliminated the horrible heel pain that I used to suffer from after spending long hours on the slate floor. The Chef's mat is very soft with a gel-like interior and I always make sure to stand on it whenever I am spending long days in the kitchen. You can find this Chef's mat at Costco.
12) Silpat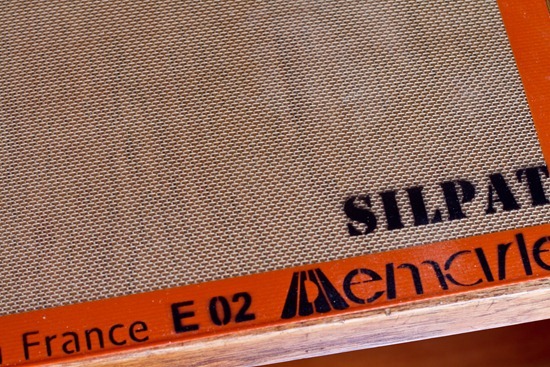 I received this Silpat at Christmas and it has quickly become one of my favourite kitchen tools that I own. It is amazing for a non-stick surface when rolling dough or lining a baking sheet.
13) Kitchenaid Stand Mixer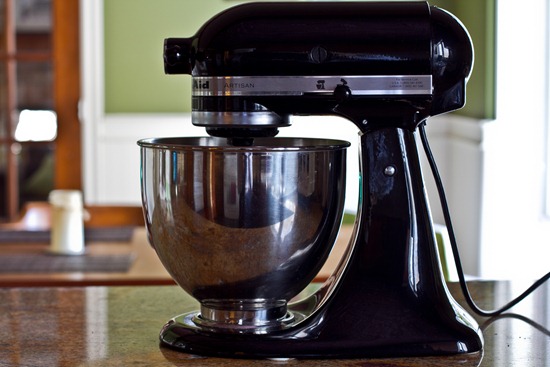 The Kitchenaid stand mixer lives up to its stellar reputation and more. I even polished off the flour just for this photo shoot!
14) Water & Vinegar and Eco-cleaners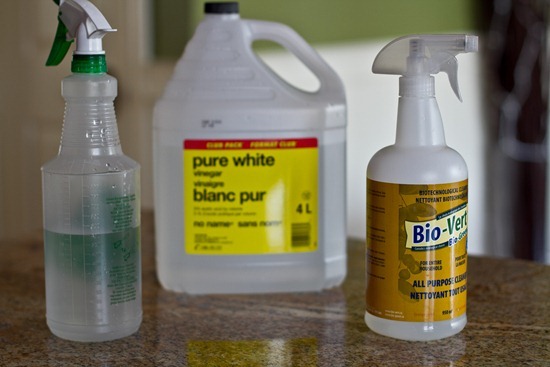 One of my goals last year was to stop buying cleaners filled with harsh chemicals. I have been testing a bunch of eco-friendly products and I really enjoy not having to breathe in a bunch of chemicals when I clean. I am very fond of water and vinegar too. It is the only thing I use to clean my hardwood floors.
15) Mason/Bell Jars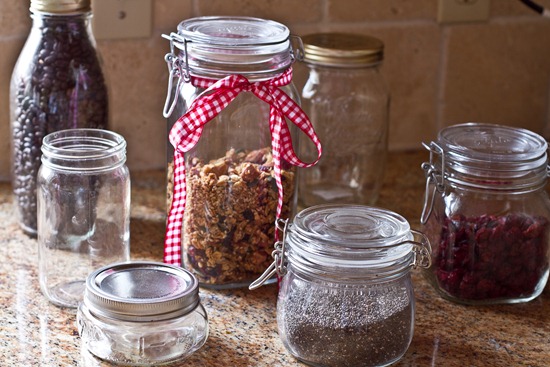 Mason jars are cropping up just about everywhere these days and for a good reason- they are highly functional and country chic. I love filling my jars with nuts, chia seeds, and granola, using them for smoothies, foodie gifts, and even as pen holders at my desk. The options are endless! Mason jars are also a great way to cut back on all that plastic. I purchased a dozen one-litre jars for about $10 at Canadian Tire.
16) Wusthof knives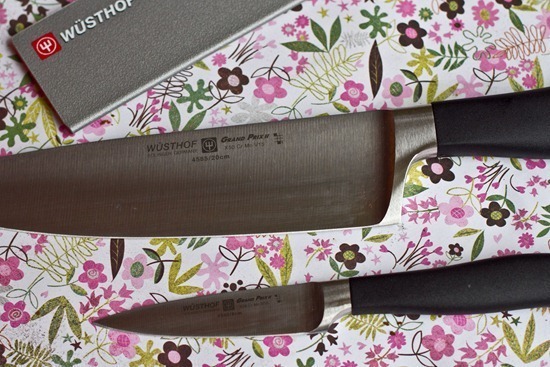 My heart went all a flutter for these Wusthof knives- a 20cm Chef's knife and a 9cm paring knife have made my life much easier.
You are probably surprised not to see any measuring cups on my list. While I use measuring cups daily, I am still on a quest for the perfect set of measuring cups. Any suggestions?
What are your favourite kitchen tools? Anything on your wish list?