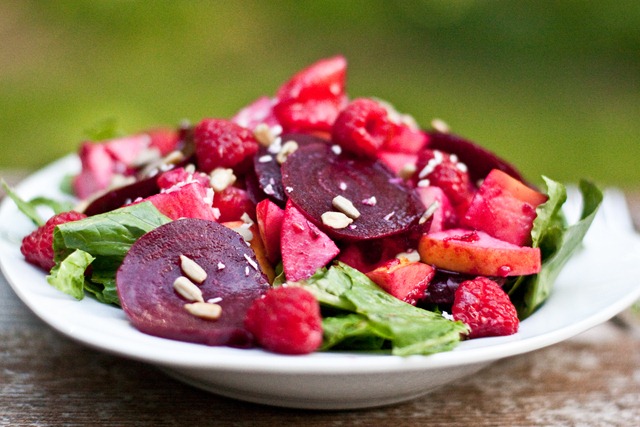 Good evening! I hope you have had a good start to your week. Another amazing bunch of comments on this morning's post. So many awesome thoughts, ideas, inspirations, and stories. Thank you for sharing!
My day has flown by and I got quite a bit crossed off the list. All day long I had to fight the urge to ditch all my work and go read, lol. However, I use the book as a 'treat' at the end of a work day. I am really looking forward to reading before bed tonight, cuddled up on the couch with Eric and Sketchie!
I also noticed an increase in my energy today after having such a relaxing and rejuvenating day yesterday. I decided this will have to become a Sunday tradition!
Speaking of energy…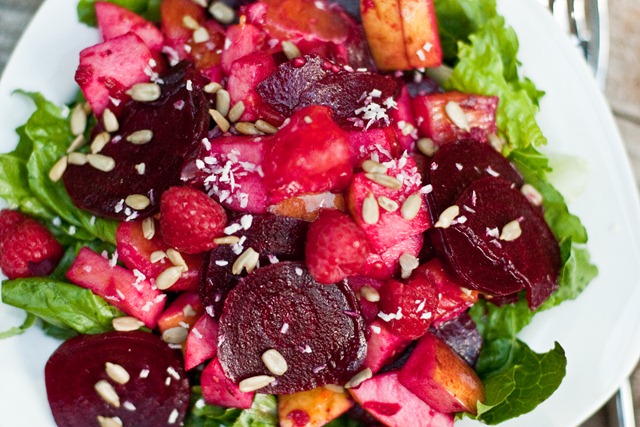 It may be no secret that I did not enjoy beets until my 26th year when I started juicing with them. I learned to love the taste of beets in a juice and I have had a beet juice at least once a week for the past few months. It is simply delicious!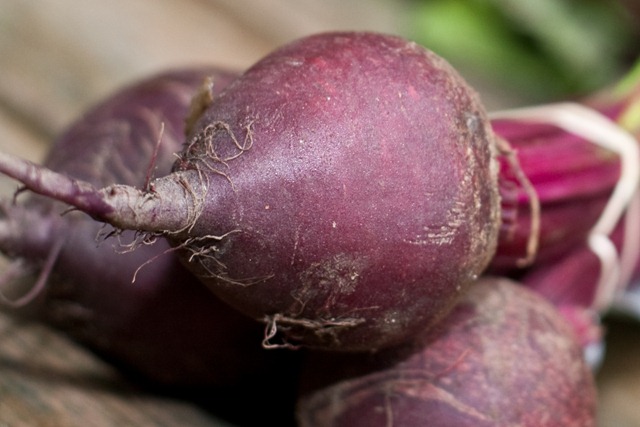 One thing I never got over was eating beets whole.
I still have bad memories of the canned beets my dad used to try to get me to eat at Thanksgiving. He would open the can and the beets would come out looking just like a can, complete with little ring imprints around this beet puree mold. Horrifying I tell you. If you have been there, you feel my pain. Ever since my childhood I have crossed beets off my 'must learn to enjoy' list. My dad still eats canned beets to this day and I always quietly chuckle to myself whenever we have a holiday meal together and I see the canned beets come out! To this day, he is the only person who dares to touch the canned beets. Bless his heart.
However, I now appreciate a couple things:
1) Canned beets are not the same as fresh beets

2) My tastes are growing and adapting over the years
These days, I have a desire to experiment more with my diet so I figured why not take the plunge and prepare some fresh beets? Who knows, I might actually enjoy them!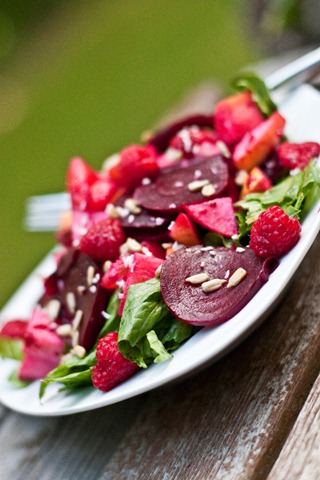 Beet, Apple, and Orange Salad in a Homemade Raspberry Vinaigrette
Adapted from Vegetarian.about.com.
Ingredients:
3 fresh beets
1 orange, peeled and cut into segments
2 apples, sliced
1 tbsp sunflower seeds, for garnish
Salad greens (spinach, romaine, etc.)
Homemade Raspberry Vinaigrette (see below)
Shredded coconut, for garnish
Fresh Raspberries, for garnish
Directions: Rinse beets and cut off ends. Toss beets in a medium sized pot filled half way with water. Turn burner heat to high and bring to a boil. Cook for about 20 minutes until beets are soft. While the beets are cooking, chop apple and peel and chop orange. Remove any seeds from orange. Remove beets from heat and drain. Set aside to cool for 10 minutes. Once cool, thinly slice the beets. Add the apple, orange, and beets to a medium sized bowl and mix. Make the Homemade Raspberry Vinaigrette (see below) and then pour over this mixture mixing it very well. Serve over top your choice of greens and sprinkle with sunflower seeds, fresh raspberries, and coconut. Serves 2.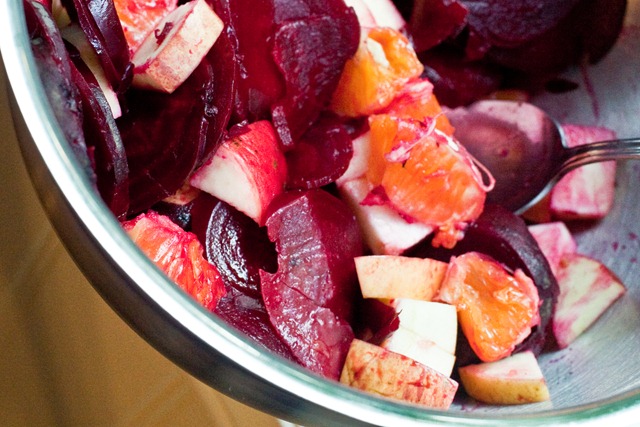 Homemade Raspberry Vinaigrette
Ingredients:
2 tbsp vinegar (I used apple cider for the sweeter taste)
1 tbsp cold-pressed sunflower oil (or your choice of oil, EVOO works well)
7-8 fresh raspberries, mashed with fork
Pinch of sea salt
1/2 tbsp pure maple syrup
Directions: Mix. [That was easy!]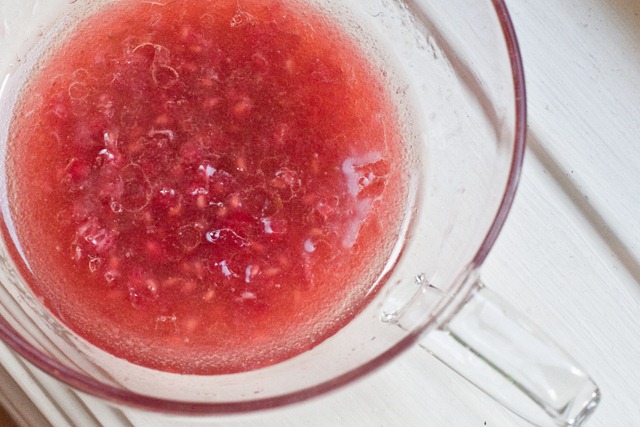 I loved this homemade raspberry vinaigrette…so easy!
A gorgeous, bright and colourful summer salad appeared before my eyes…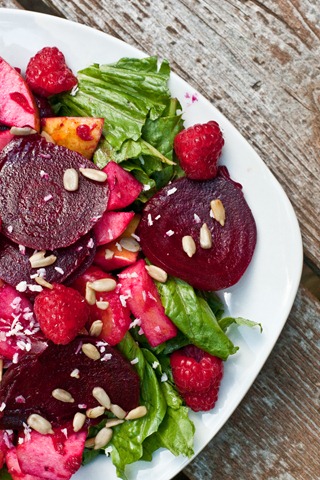 I was just smitten by how beautiful it was. It was love at first sight.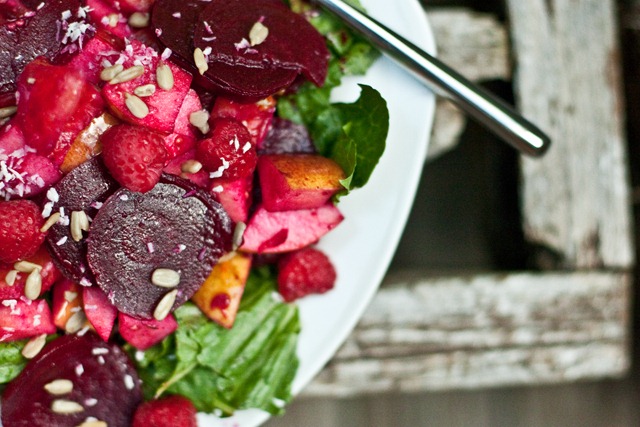 …and love at first bite!
I actually surprised myself and I loved this beet salad! I wasn't sure how I was going to feel about eating cooked beets, but I loved them. They definitely exceeded my expectations.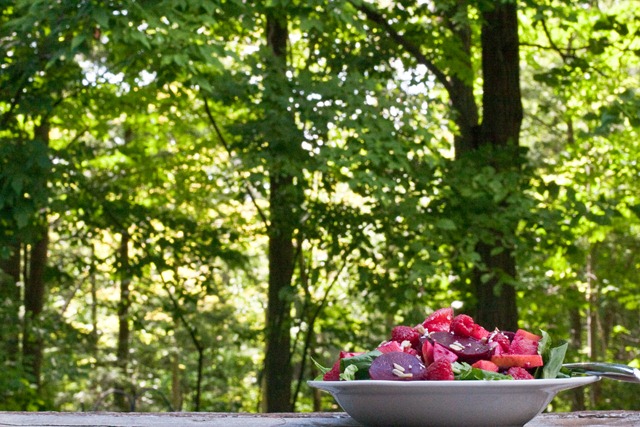 The one thing I still haven't gotten over is the smell of beets, specifically the smell of cooked beets, but I am sure I will get used to it over time. I think I need to slowly disentangle my bad memories of canned beets from the fresh ones.
Dessert was a new take on my Frosty No-Bake Glo Cakes!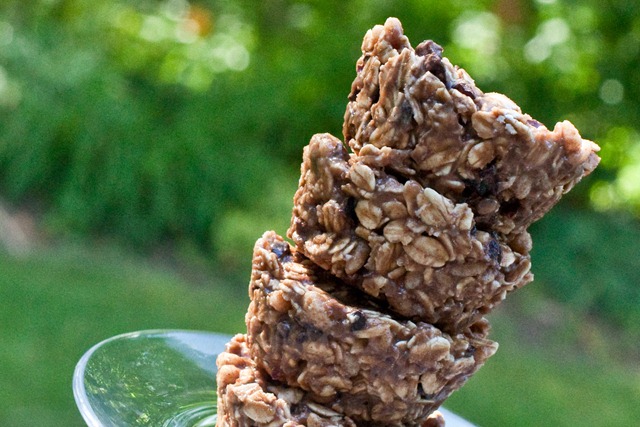 I will be sharing the recipe with you tomorrow morning, so hang tight! They were deelish and frosty. Mmmm me oh my.
Eric is taking me out on a date tonight. He won't tell me where we are going but he said to make sure I have air in my tires, my bike tires that is. haha. I'll bring along the camera and show you some pictures tomorrow morning! Have a great night.