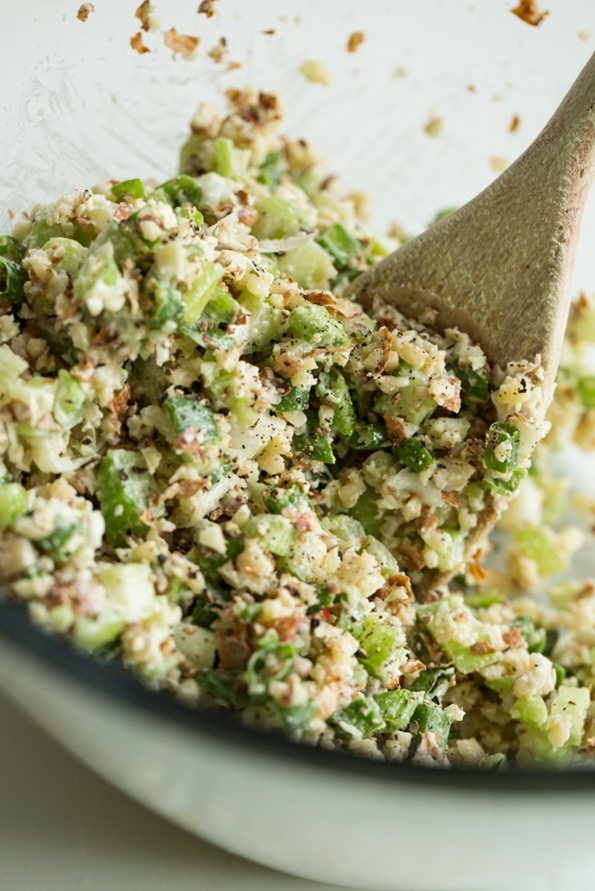 This summer marks my fourth year since I started experimenting with vegan recipe development. In what feels like the blink of an eye, I've shared over 400 recipes (and many more photos) with you on this blog. When I started out I didn't know how to cook a simple potato or chop an onion. Seriously. Thankfully, the wondrous internet reassured me that I was not the only person to ever type such a question into a search engine. Whew. Aside from cooking, I'd never shot a picture of food in my life, nor did it ever cross my mind to do so. Now, a day doesn't go by when I don't pick up my camera or chef's knife.
Eric, who claims he does not like cooking (but loves eating), mentioned how he hates when recipes say "season to taste". [I don't know what it's supposed to taste like if I've never made it before!] I can't help but smile when he says this because I used to be in his shoes, scared to make a simple ingredient decision for fear of ruining the entire thing. It gets easier though. My biggest mistake starting out was probably under-seasoning my food or avoiding salt all together. Now I know that adding salt to taste is something you get a sense for with experience. When the flavours pop, I know I've hit the sweet spot.
So while I don't quite believe the saying that practice makes perfect, I do think that practice builds experience and confidence. This is true for so many things in life. The more I work at it, the more fun it becomes. Now when I cook for pleasure, it's fun to throw things into a bowl and trust my instincts.
Another surprise for me on this journey has been about the food itself. I'm in awe of the recipes that I can make using simple plant-based ingredients. Each week brings about new inspiration and new discoveries. I feel like I've only touched the tip of the iceberg as to what I can create. It's exciting to look down and see a plate of food that looks as vibrant as I feel on the inside. Being able to share this passion with you, is really what I enjoy the most.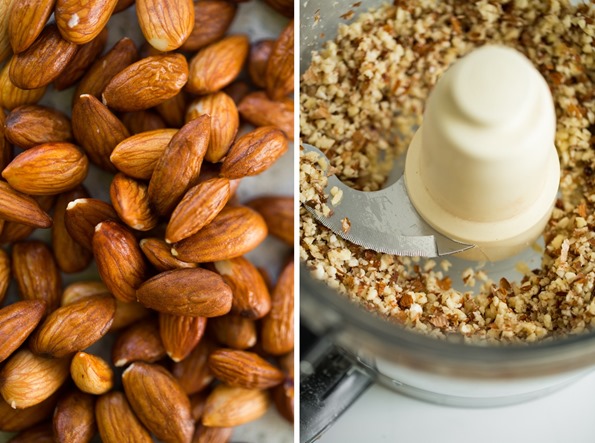 The base of this salad is made with plump soaked almonds. As I mentioned in my last post, soaking almonds in water for several hours allows the nutrients in the almonds to be absorbed better in the body. After soaking and rinsing, I processed the almonds into a flaked texture as the base for my salad. It worked perfectly and the salad has such a great, chewy texture.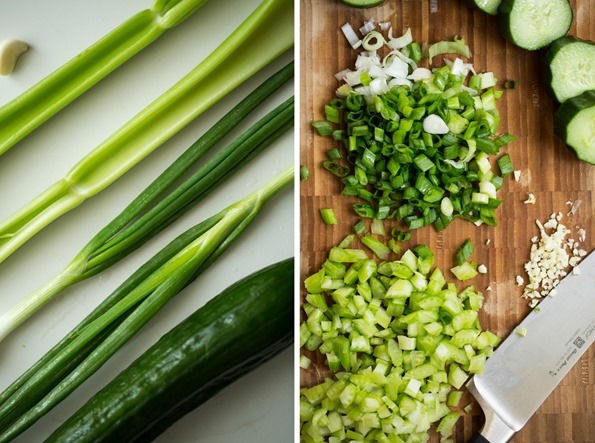 To bulk up the flaked almonds, I added celery, garlic, and green onion for more flavour and crunch. Finally some oil-based mayonnaise, Dijon mustard, salt, pepper, and lemon juice brought everything together. The end result is creamy, crunchy, a bit tangy, and seriously, seriously hard to resist. I couldn't stop eating it straight from the bowl! It got to the point where I was worried that I wouldn't have enough salad left to photograph. hah. This happens to me a lot actually. I'd be horrible on a cooking show because I'd just want to stuff my face the entire time while trying to pretend like I'm a civilized human being.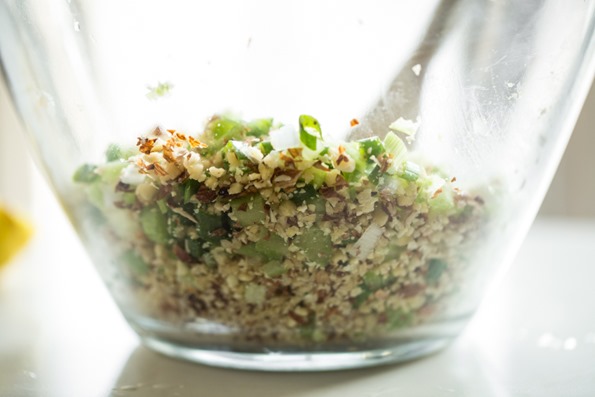 If you're looking for a fun summer finger food, you can serve it on top of cucumber slices for a refreshing, light appetizer. I used a metal teaspoon to carefully scoop a well into each slice. We enjoyed this for lunch and it was so refreshing! The only thing I would change next time is to peel the cucumber first. The skin was a bit hard to chew through.
You can also serve this mixture on top of a salad (love), stuffed into a pita or wrap (also love), or as a hearty dip for crackers (such as during a 10pm fridge raid).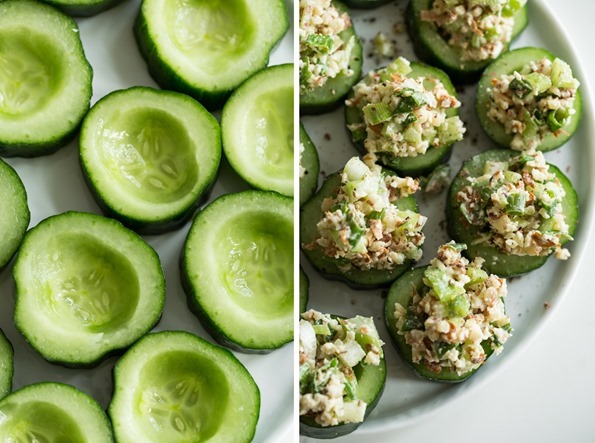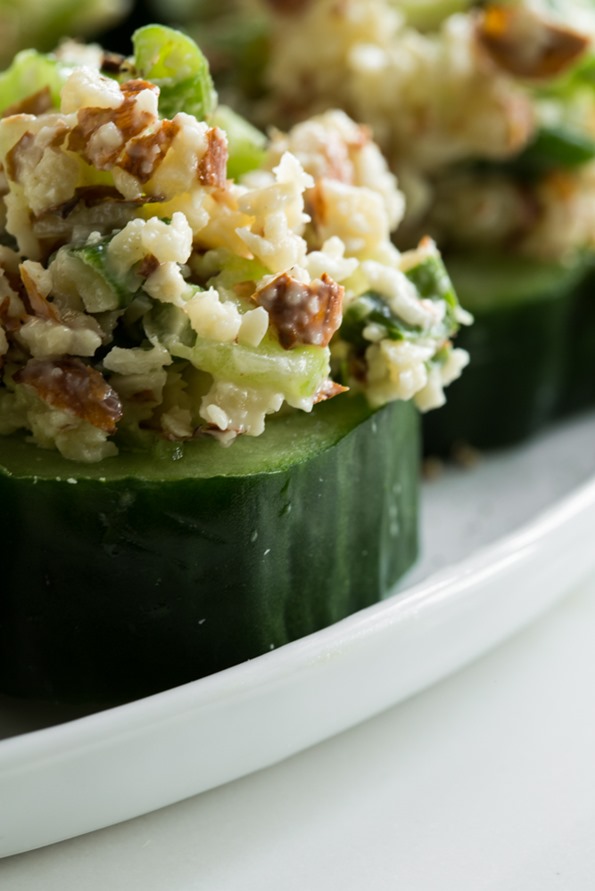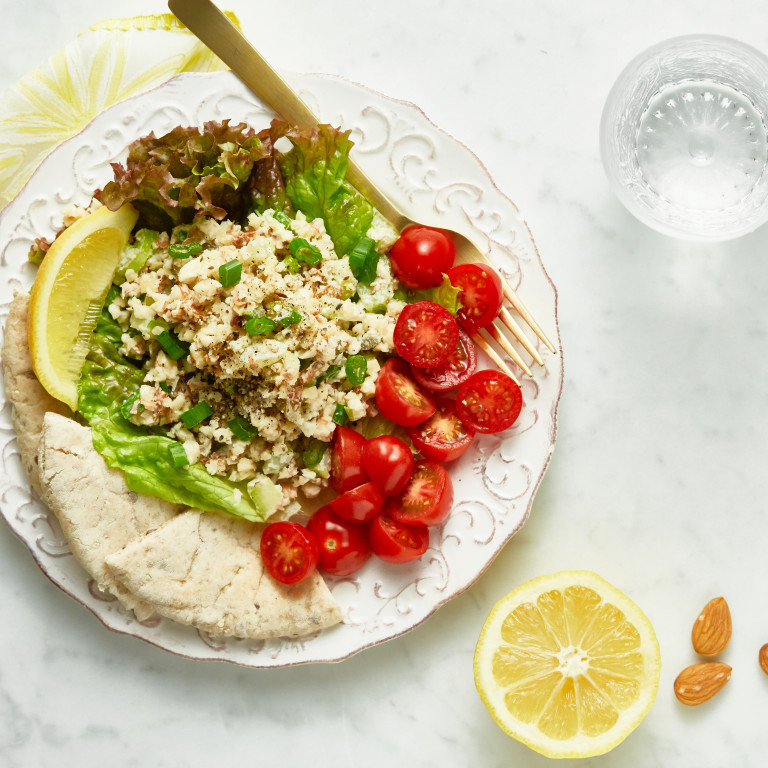 Flaked Almond "Tuna" Salad
Vegan, gluten-free, grain-free, no bake/raw, refined sugar-free

Yield
Serves 4
Soak time
3 to 9 hours
Prep time

Cook time
0 minutes
Total time

Rather than using tuna fish to create this salad, my plant-based version uses raw almonds which are soaked until plump and then processed until flaked in texture. Once the flaked almonds are mixed with some vegan mayo, Dijon, celery, green onion, lemon, garlic, salt, and pepper, it turns into a creamy, fresh, and crunchy topping for a salad, crackers, sandwich, or wrap.
Ingredients
1 cup (155 g) raw almonds, soaked
1 celery stalk (80 g), finely chopped
2 green onions (30 g), finely chopped
1 garlic clove (6 g), minced
3 to 4 tablespoons (45 to 60 mL) vegan mayo, to taste
1 teaspoon (5 mL) Dijon mustard
2 to 3 teaspoons (10 to 15 mL) fresh lemon juice, to taste
1/4 teaspoon fine grain sea salt, or to taste
Freshly ground black pepper, to taste
Pinch of kelp granules (optional, lends a "fishy" flavour)
Directions
Soak almonds in a bowl of water for 3-9 hours until plump. Drain and rinse well.
Add drained almonds into a food processor (there's no need to peel the almond skins unless you want to) and process until finely chopped. It should look a bit like flaked tuna. Place into a medium mixing bowl.
Add the chopped celery, green onion, garlic, mayo, mustard, and lemon into the bowl. Stir well to combine. Season to taste with salt and pepper. Add a pinch of kelp granules if desired.
Serve on top of a salad or lettuce wrap, or in a sandwich or wrap. Refrigerate leftover salad for up to 3 days.
Tip:
Make it soy-free: Use soy-free vegan mayonnaise, such as Vegenaise brand.
Nutrition Information
(click to expand)

The 2013 VegNews Veggie Awards are going down once again! I'm delighted to be nominated in the Favorite Blog category for the second year in a row. Once again, there are all kinds of incredible prizes up for grabs such as a week long, all expenses paid Caribbean Cruise (!), Breville juicer, weekly cookie deliveries, and more just by filling out the survey. If you think Oh She Glows is worthy of such an award, I would be so grateful for your vote of support (Favorite Blog category is found on page 5 of the survey, by the way).