Good evening!
I hope you have all had a rockin' + healthy Saturday!
My day has been great so far!
We cleaned all morning mostly, then I went to a new dentist today since we recently moved into a new area. Everyone there was so nice and friendly and I felt so comfortable.
The only problem is the dentist thinks that I should get a crown for my molar. I have always had issues with this molar and have a huge filling in it. I also had this tooth break a few years ago, and they had to rebuild it. Well, Doc thinks I need a crown at some point to build it up and help prevent future problems. :( Doh! He said it isn't urgent so I told him I will likely wait until next year when money isn't so tight. We have insurance, but it would still probably be quite expensive.
Just for my appointment today it was $67– and that was with insurance covering 80%!!!!! Dentists are so expensive. I got x-rays and everything so they charge a lot for those, plus I had an exam and cleaning. Oh and free toothbrush, toothpaste, and floss. lol. There is also a cavity POTENTIALLY developing on one of my wisdom teeth (I have two- two were removed). He says if I be really careful with flossing I can prevent it…or I can just get my two remaining wisdom teeth removed.
I would like to keep them if I can- they do keep me WISE, you know! :D
After that I went to my sister and brother in law's for a little family gathering for my sister's birthday! It was fun. :D I got to see my super cute niece who I adore. I also packed up some of my Glo Bakery cookies!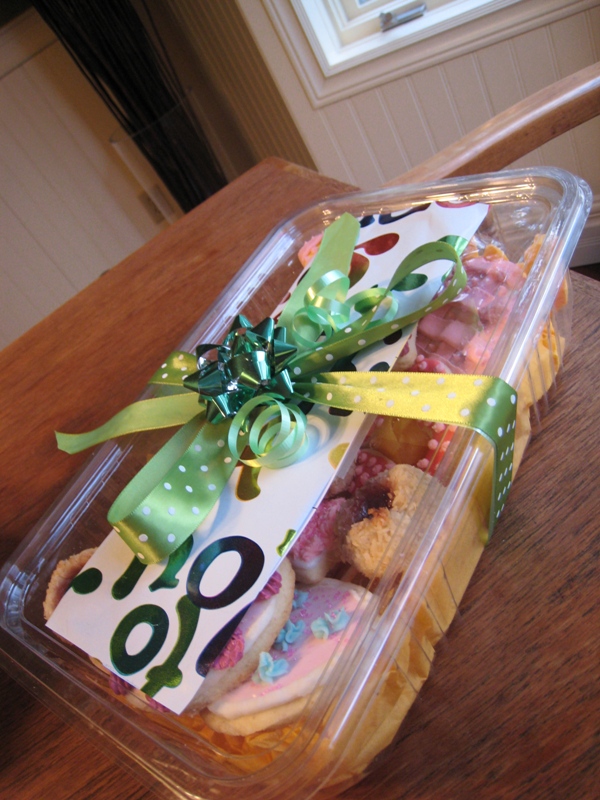 Then it was home for some blog stuff, a delicious dinner, and after this post I am getting ready to organize my office again. I still have lots to do…and I eventually need to organize all of my recipes and type them out! Good grief this is going to take me a looong time. It needs to get done though! :)
EDIT: Never mind, our friend just came over and are going to hang out for the night! The office can wait :D
~~~~~~~~~~~~~~~~~~~~~~~~~~~~~~~~~~~~~~~~~~~~~~~~~~~~~~~~~~~~~~~~~~~~~~~~~~~~~~~~~~~~~~~~~~
Don't forget to enter my giveaway of Jillian Michael's 30 Day Shred workout DVD!!!
Want a chance to win some amazing health bars from the UK?? My lovely friend Leah is giving away 5 of these in her 1st contest! I have received some of these from Leah before and they are amazing!
Speaking of videos…check out the awesome Veggiegirl sporting some seriously cute Oh She Glows Fit Gear!