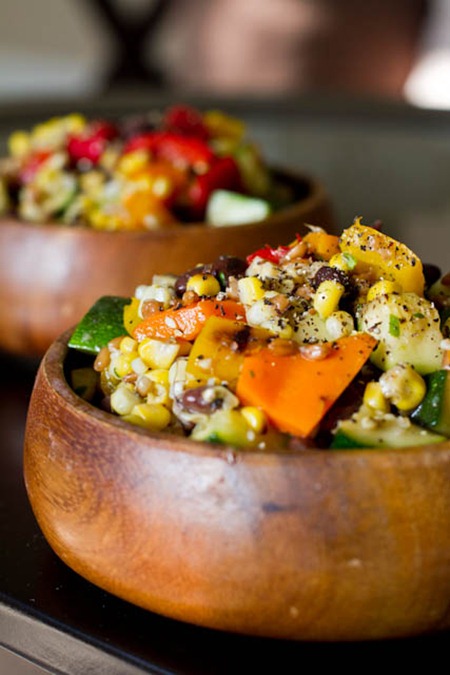 As much as I love Fall, the dog days of summer are still so bittersweet.
And a bit awkward.
Early September you can find me…
Wide-eyed in horror after an orange leaf spotting
Complaining of the heat and humidity while I rip off a layer of sheets in bed
So far resisting the urge to buy new school supplies…15 cent notebooks? Come on.
Saying things like, "I don't know what's worse weeding or raking leaves"
and, "Tropical vacation this winter, or bust."
and also, "How many years have we been out of school now?"
Putting on my fleece robe only to rip it off 5 minutes later after a tea-induced hot flash.
The period between the two seasons reminds me of…well, my entire adolescence. Awkward.
Thankfully, the last long weekend is a great time to turn on the BBQ, get outside, and enjoy the last flavours that summer has to offer. No f word required.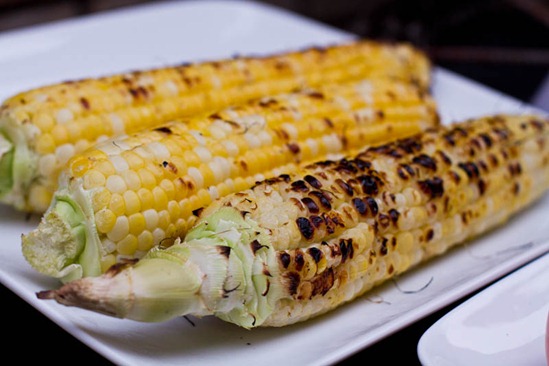 Unless your man burns his finger rotating the vegetables. I'm not mentioning any names.
And plus, the leaves on the ground are clearly confused because this flower tells me it's still summer!!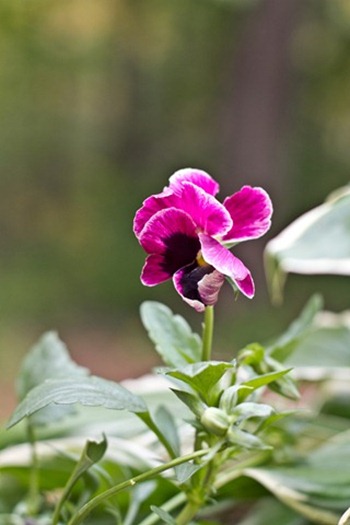 Either that, or it could be about 2 hours from death. It may also be dead in this photo, I can't be sure.
Confused seasons aside, this grilled salad makes a healthy compliment to any long weekend gathering. It's easy to throw together and you can even get your man to pitch in while you spend "hours" on the salad dressing. Or at least, that's what you'll tell him while you sip a margarita with your girlfriends after spending just a few minutes on the dressing.
It will be our little secret.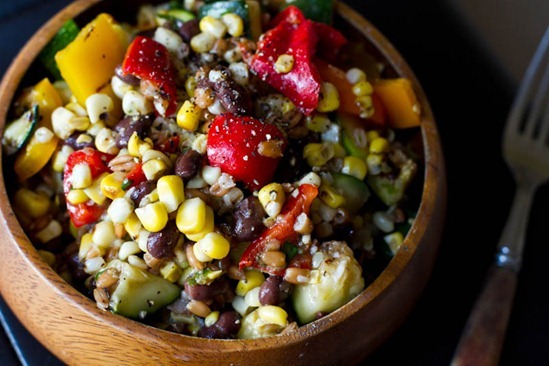 [print_this]
Long Weekend Grilled Salad
Light, fresh, filling, and easy to throw together for any long weekend gathering. The fresh corn lends a light sweetness to the zesty lime dressing. A generous dusting of salt and pepper before serving really makes everything come together. You can also make this the day before and let the flavours develop overnight in the fridge. Just throw it into a container and you're good to go!
Adapted from my Back on Track II Salad.
Yield: ~6 Servings
Salad:
3 bell peppers (any colour)
2 zucchinis, sliced in half lengthwise
6 ears of corn, husk removed
1.5-2 cups cooked black beans (or one 15oz can)
1/2 cup uncooked wheatberries (optional)
Dressing:
3 tbsp extra virgin olive oil
1/4 cup fresh lime juice (2 limes) I'm sure lemon works too
2 tbsp balsamic vinegar
2 small garlic cloves, minced
2 tbsp minced fresh cilantro (or herb of choice)
1 tsp maple syrup (or other sweetener)
1 tsp Dijon mustard
Salt/Herbamare & Pepper, to taste
1. Preheat the grill over medium heat. When it's ready add the corn, rotating every few minutes. After about 10 minutes, add the zucchini and bell peppers. No need to chop the peppers, you can leave them whole. Grill for another 10 minutes, rotating frequently, until lightly charred.
2. Meanwhile, cook your wheatberries on the stovetop (if using them) according to package directions. In a small bowl, whisk together the dressing ingredients and adjust to taste.
3. When vegetables are done on the grill, cool, and then remove corn and chop the peppers and zucchini. Mix the drained and rinsed beans, wheatberries, dressing, and vegetables together in a large bowl. Add a generous amount of salt and pepper, to taste. Will keep for a few days in the fridge.
[/print_this]
Simply grill the vegetables (or you could probably roast them in the oven too).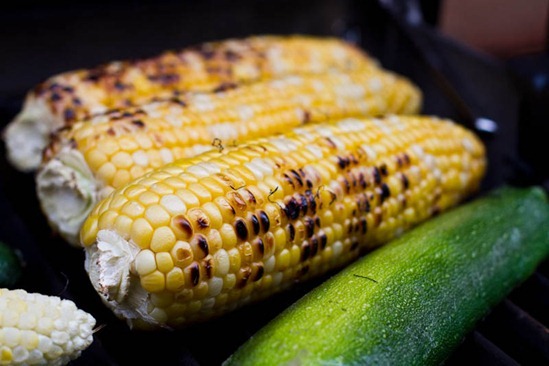 Mix together in a large bowl with beans,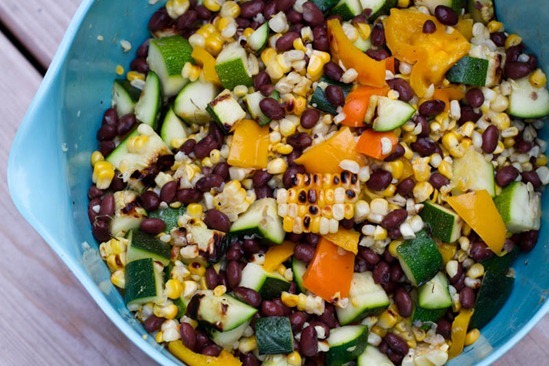 Add in some cooked grains if desired. I used wheatberries.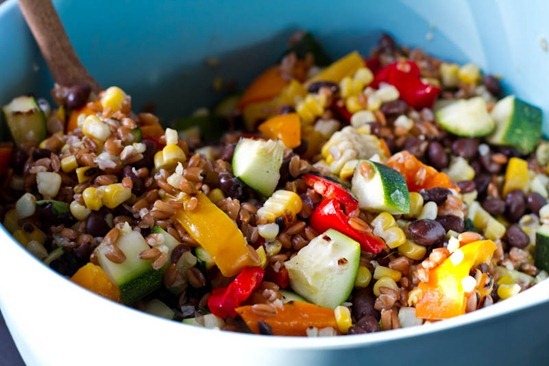 Whisk together your salad dressing!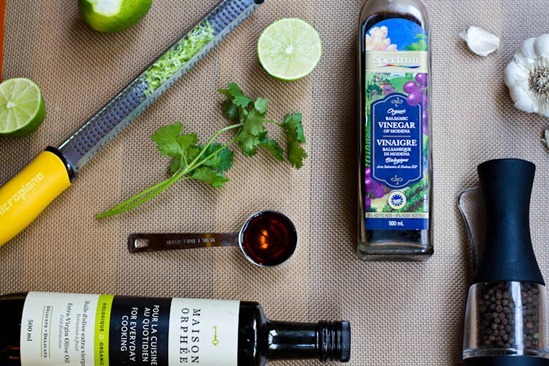 Easy stuff!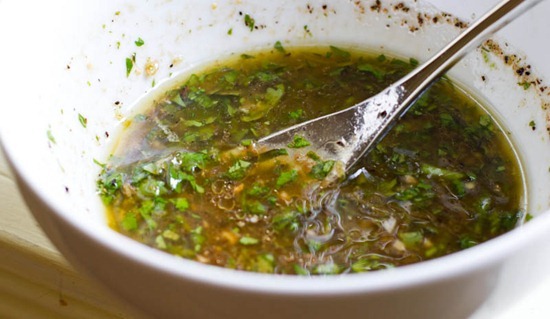 But don't worry we won't tell anyone.
Add the dressing on top and mix well!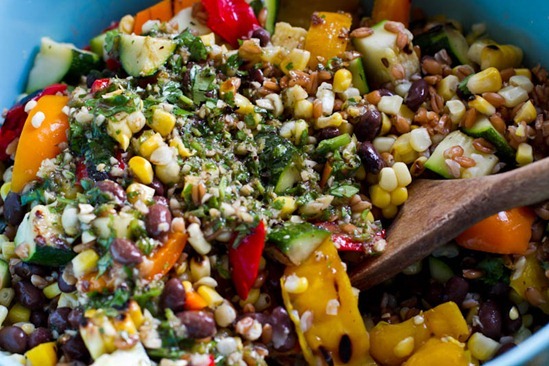 Chug Sip margarita.
Season generously with salt (I used Herbamare) and freshly ground black pepper.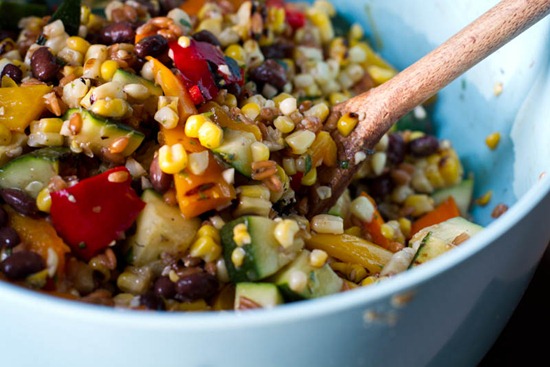 It's basically a multivitamin in a bowl. Which is always a good thing if you plan on enjoying your share of treats and drinks this long weekend like I do…muhauha.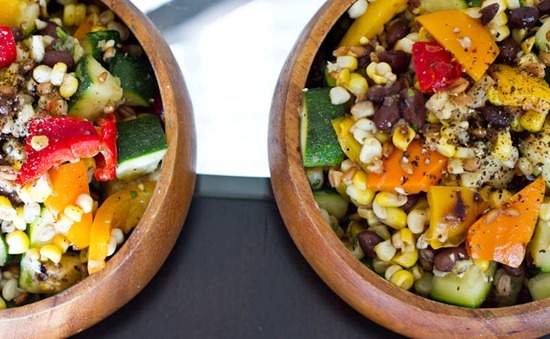 Have a fun, delicious, and safe long weekend everyone!