Greetings OSG readers!
I was both honored and thrilled to receive the opportunity to guest post for Ange as she takes a bit of a vacay and thought I would share with everyone MY personal "Road to Health" story!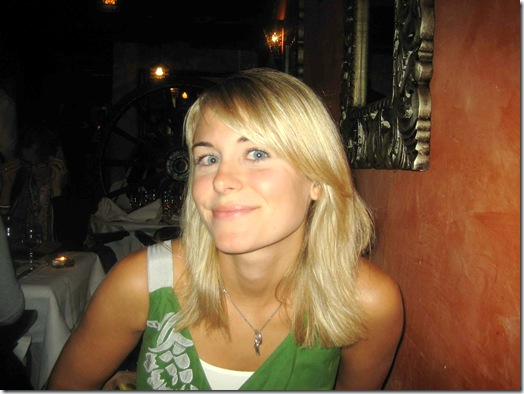 I grew up in a very healthy household. My mom was, and still is, the best healthy cook I know and I was basically a vegetarian the entire time I lived at home. My reasons to go sans meat included a very icky case of IBS that, I felt, was triggered often by red meat. I also had frequent tummy ulcers when I was a teenager and for that reason, stuck to a very clean (and rather bland) diet. I never drank alcohol in high school and was naturally quite thin. Then high school graduation took place.
And I sort of went crazy. Or not…I KNOW I went crazy! I had my first cocktail at senior prom (don't ask) and then spent the entire summer after graduation partying it up with my best friends and consuming one too many slices of graduation cake. I always thought I was immune to gaining weight since I had always been very, very slender growing up but suddenly the pounds stacked on! In no time at all I had gained the freshman 15 and I hadn't even been to college yet. ;)
I didn't really take notice of the extra lbs until freshman year at Elon. Suddenly in a world not my own and surrounded by gorgeous stick-thin girls, I felt incredibly self conscious. I pledged a sorority and quietly began to spiral downwards in the world of disordered eating. No, I never had anorexia or bulimia but I struggled day in and day out with my image. I never felt like I was good enough or pretty enough when compared to the other girls and felt constantly frustrated with my body since I seemed to be ALWAYS hungry. I kept up my ways of going out Thursday, Friday and Saturday evenings….mostly to fraternity parties or to the one college bar with a fake id and the weight just stayed tacked on. During this time, I exercised 6x a week and ate relatively healthy during the day but when night fell, I wouldn't look twice to consuming beer after beer with my friends.
I ended up falling into a deep depression and leaving school in January to take a semester off and catch my breath. All of my best friends from high school LOVED their schools and were having a blast and I masked my unhappiness with frequent parties and late night chex mix.
This cycle remained constant for, embarrassingly enough, almost three years. Finally, when I was a senior in college I stuck a fork in my senseless partying and started practicing yoga almost every day of the week at my local studio. I ditched the high school boyfriend that I had been clinging to for the past almost six years, and with that huge weight off my shoulders, I finally felt independent and ready to take control of my life once and for all. I moved into my very first house with one of my best friends and we both walked everywhere. She didn't drink at all so I stopped too, except for special occasions. I started to go to Church again and realized how lucky I really was to even still be alive after all the crazy decisions that I had made!
Yoga was the real saving grace in my life though. I hooked up with a great holistic personal trainer who taught me that I should HONOR my body above all and stop treating it like crap. Stop trying these crazy one week diets full of sugar-free and low-calorie foods and start nourishing my body with real, whole foods and a normal dose of exercise. I started noshing on Larabars and whole grains, ditching the chex mix and diet sodas once and for all. I also ditched the 25 cent beer nights and started having an occasional glass of good red wine with friends. All these changes brought upon a 12 lb weight loss during the course of three months. I felt wonderful and HEALTHY for the first time in years.
After graduation I studied in France and continued my road to health. In France I learned not to deprive yourself and its better to have a little bit of something rich than eat a lot of a fake counterpart (real ice cream versus artificial fat free yogurt). I continued my yoga practice in Europe and found that as I continued to honor my body by giving it what it really yearned for (good, healthy and whole foods), I stopped craving sweets so much and also slept better at night and had a clearer complexion. I became intrigued by the lives of French women and wrote a post on Kath's blog about the so-called "French Women Don't Get Fat" lifestyle.
Its been two years now that I have not only maintained my post-drinking weight loss, but also maintained my journey to good health. I still learn new things every day and have come to a comfortable place where I eat what I want in moderation and exercise to feel good both mentally and physically. My exercise comes in the form of power yoga, running, cycling and sporadic weight lifting. I used to exercise to burn off the calories I hadn't even consumed yet and now I work out for my sanity more than anything else. I crave the feeling of mental clarity that comes with finishing a challenging 90 minute yoga class or long run. And I love the way my body looks and feels when I am consistent.
I do eat meat now, but eat it sparingly. I strive to buy local and organic when possible and always go for organic greens and veggies that I juice because I hate the idea of drinking pesticides. I cook a lot from home and enjoy something sweet every single night after dinner. Once in awhile I'll have a good old fashioned crazy night with my girlfriends and I never feel guilty about anything because I know its not an every day occurrence. I'm constantly researching and reading up on latest food trends and doing my best to stay on top of recent studies. We are all individuals and our bodies have very different needs. I urge you to stop counting every calorie that passes your lips and instead look inward to see what it is you really need. Your body will tell you when you are full and when you are hungry. Don't pass by these signs. Our bodies are miraculous machines and so often we take advantage of that! You only have one body, treat it right!
~Jenna