Good evening!
The Farmer's Market bread returns for its' last hoorah! It was a bit stale today, so I made sure to warm it in the micro for 15 seconds and put extra Earth balance on it! Perfecto.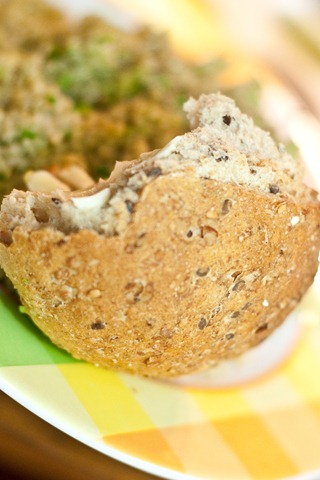 As for the whole wheat loaf I purchased, I tried freezing it. I have doubts it will taste fresh when I take it out though…I guess my eyes were bigger than my belly at the market on Saturday!!!! Another reason why grocery shopping when hungry is trouble.  :tongue:
For dinner tonight, I made garlic scape infused quinoa…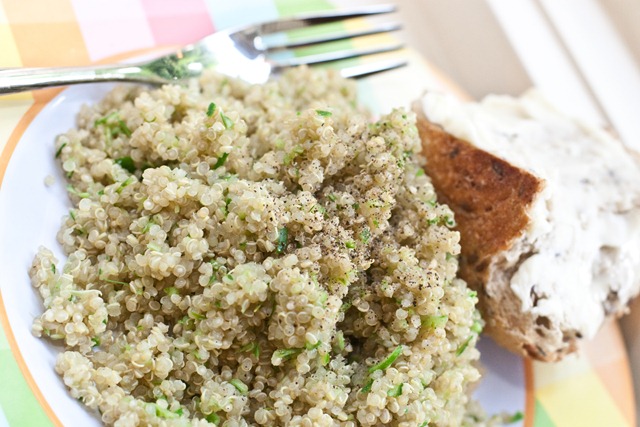 First I boiled the water with a vegetable bouillon cube until it had fully dissolved (this is crucial for not having bland quinoa!). Then I added the quinoa and a few processed garlic scapes, along with sea salt, 1 tbsp cold-pressed sunflower oil, and black pepper. I cooked the quinoa in this heavenly mixture for about 15 minutes or so.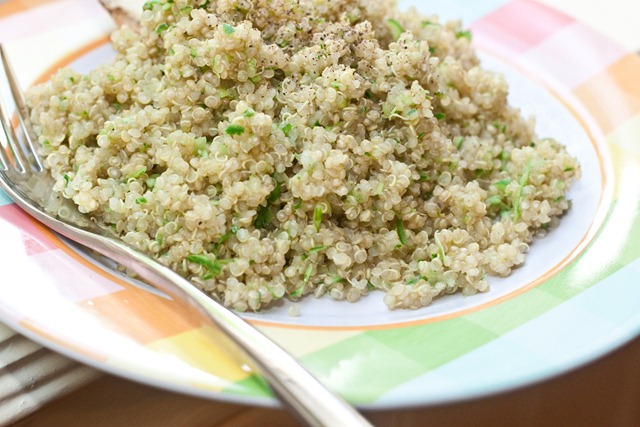 The kitchen smelled glorious! It was so tasty and fresh. Simple food is good food.
Because dinner was lacking some colour, I decided a juice would be made for an energizing dessert…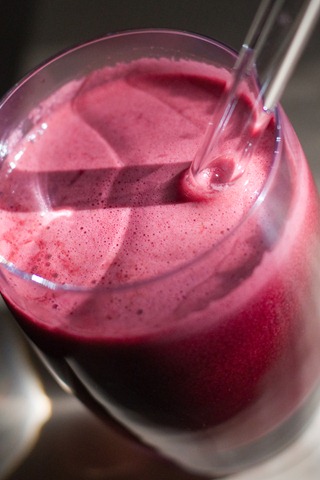 It was 1 beet, 2 carrots, 1/2 lemon, 1 tiny CSA apple. 
Last night, I had a hankering for my GF + Vegan chewy crackers, however this time I wanted to turn them into Glo Dough and also try my hand at dehydrating them in the food dehydrator.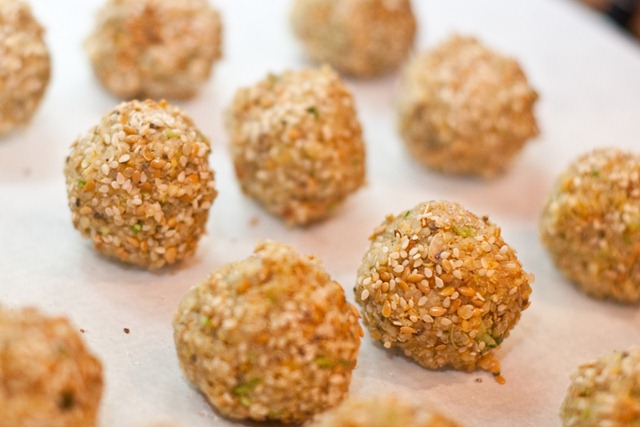 I took the original recipe that I created a while back and I changed it around. I was out of brown rice so I used all quinoa. Second, I added a ton of garlic scapes which gave it great pop of flavour. I also added a few other seasonings and seeds and I dehydrated them for about 3 hours.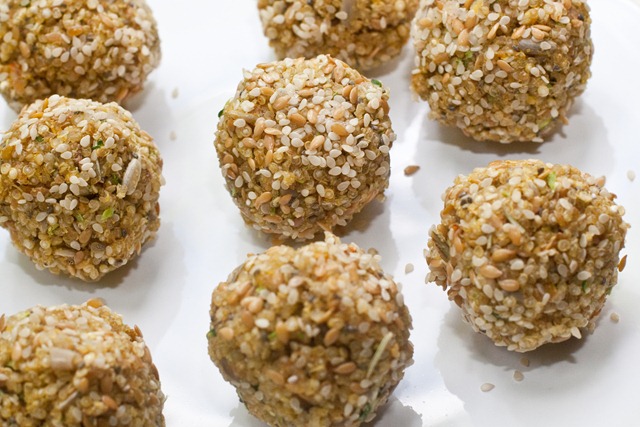 Despite not having brown rice, they were deelish. However, because I used only quinoa they didn't hold together very well and were extremely crumbly! It was missing the brown rice. When brown rice is cooked and processed it acts like a paste, holding everything together. Next time = brown rice!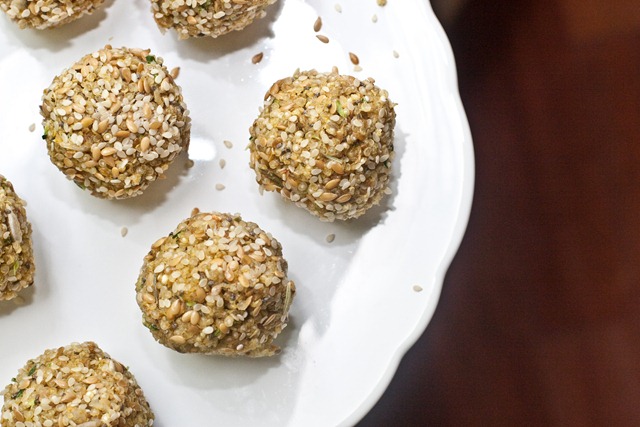 The balls held together much better than the flatbreads and crackers did…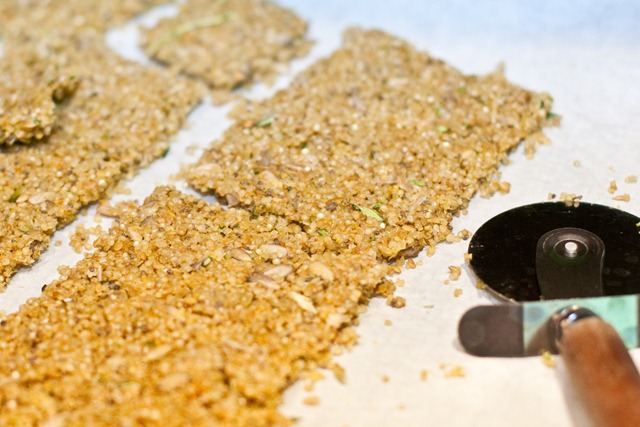 They are sooo addicting though. They were awesome slathered in hummus…I made a huge plate for lunch that I promptly inhaled and could not peel myself away to get the camera. Blogger fail, I know.
I suspect the crackers will be great sprinkled over salads too. I am going to work on the recipe a bit before I post it because I want to iron out the kinks first!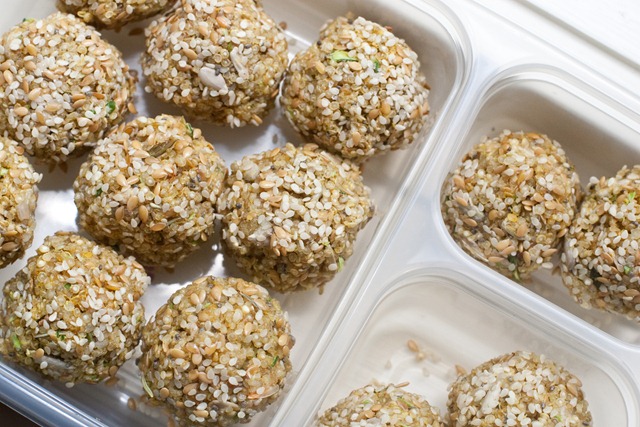 Check out day 4 of the amazing sprouting Green Onion! Note the smaller lil guys popping up! I added those yesterday. What shall we name it?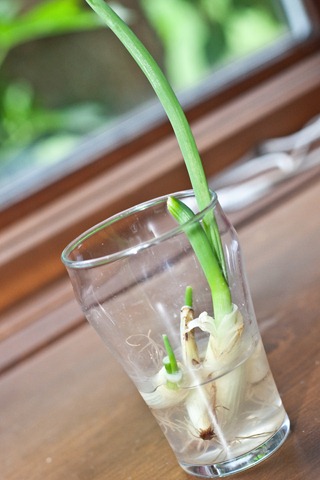 As for the trans-planted basil, it does not seem to be growing.  I have even been talking to it when I eat my breakfast al fresco!
Is Your Desk Job Harming Your Health?
This morning, I read an interesting article on Health.com about desk jobs and the toll they can take on our health. I find this topic particularly interesting because I suffered from a lot of health problems when I was sitting for 12-14 hours a day while a grad student and researcher. I would often have a ton of back, neck, and shoulder pain, headaches, lethargy, not to mention feeling stir-crazy all day long!
Health.com reports that sitting for extended periods of time can cause 'back pain, repetitive stress injuries, obesity and even an increased risk of diabetes and heart disease.' Also, it can flatten out the curve of the lower back and put strain on the upper body, shoulders, and arms. 
However, there are simple things that one can do to help reduce the negative impact that sitting for extended periods of time can have.
Health.com suggests…
1) Get moving! For 5 minutes every hour, get up and move around.
2) You need more than your daily gym workout. Just because you workout once a day does not mean you are 'covered' in terms of exercise if you are still sitting for 8-12 hours a day. Take several breaks throughout the day for 10-15 minutes to stretch and walk.
3) Practice good posture while sitting at your desk. An exercise ball or taking Pilates classes might help with this.
4) Have your desk assessed for proper ergonomic balance. Many workplaces now offer a physical therapist to come look at your workstation.
OSGMOM has always told me that I was a super active baby, toddler, and child always on the go. I could never sit still for long periods of time and was always moving around much to her chagrin.  I have always had a love for physical work, especially working with my hands and I get this from my mom who is very artistic and loves to draw and paint. It is no wonder that a desk job + 3-4 hours of driving each day did not jive well with my personality!
When I left my research job and commute and started up the bakery, I went from sitting for 12-14 hours a day to standing for at least 10 hours a day. It was a huge shift for me and I suffered from other health issues such as bad foot pain (especially heel pain), sore shoulders, arms, thumbs, and elbows from doing repeated physical labour with my hands. I started wearing comfortable sneakers and using my cushion mat from Costco (it's great by the way) and this has helped quite a bit, although it can still be hard to find a balance. Now I find that I look forward to sitting breaks to give my feet a rest, but if I am on the computer doing desk work for longer than 4 hours I really start to feel it in my back. I think with any job, it can be difficult to find that perfect balance for one's body!
Thinking back to my previous desk job, it would have been extremely hard for me to take mini walking breaks as this article suggests. I barely had enough time to go to the washroom at my old job and I was glued to my desk for hours on end. I think that it can be really hard for some employees to 'claim' that break time for their health, especially when their supervisor doesn't take breaks either and doesn't seem to encourage them.
At my old job we were supposed to get 1/2 hour for lunch and two 15 minute breaks, but I was lucky to have 10 minutes to inhale my lunch. Obviously, I was part of the problem by not 'claiming' my break in a more assertive manner, but sometimes it puts the employee in a precarious position because no one wants to look like a 'slacker' even if they are nothing of the sort.
Workplaces have made significant improvements over the past several years, but they have a long way to go before the majority of 'desk-jockies' are feeling at their optimum health.
I have lots of food for thought for you tonight…
Do you have a desk job or a standing/physical type job? Do you like it?
Do you feel like your workplace would support mini walking breaks during the day?
Do you implement any of the above suggestions into your day? 
Do you think that you get enough breaks at your current job and does your supervisor support breaks? How long and how frequent at your breaks? Do you take them?
On that note I am going to get up from this desk, stretch, and do some yoga. Have a great night!