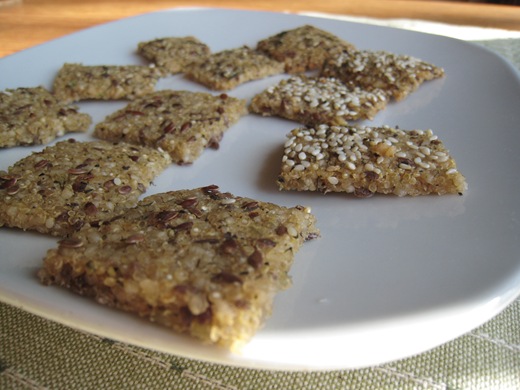 We've been home from our trip for 3 hours and I have already started to bake!
I got a huge craving for these homemade crackers I made earlier in 2009 and I just had to make them tonight. I think it had something to do with the sea of trans fat laden crackers and cookies that were being handed out on the airplane. They just would not do.
So I decided…
Unpacking < Baking crackers
Priorities, people!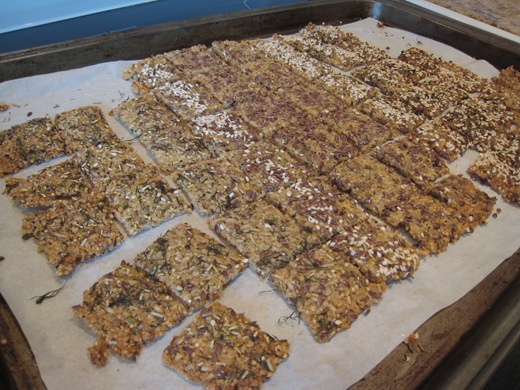 Gluten Free + Vegan Chewy Crackers
I am somewhat of a cracker snob.
My crackers must be hearty. They also must be filling, wholesome, and heavy on the seeds. I like to feel as much like a bird as possible when eating my crackers. I also like them to curb my hunger, not increase it.
I created this recipe for homemade chewy crackers earlier in 2009 and I thought I would share it with all of you before the New Year. Better late than never, right?
Ingredients:
1 cup uncooked brown rice
1/2 cup uncooked Quinoa
4 T ground flax
2 T sesame seeds
2 T whole flax seeds
1-2 T chia seeds
1 T water
1 t garlic
Herbs, to taste (dill was fun)
1 t tahini
1 t sea salt
Directions: Preheat oven to 300F. Cook rice and quinoa according to package directions in two separate small pots. Cool rice and quinoa after cooking. In a food processor, blend together cooked rice, quinoa, ground flax, water, herbs, tahini, salt. Stir in sesame, flax, and chia seeds (or just press them on top of dough like I did in some pictures).
Scoop mixture onto a greased baking sheet (or line with parchment paper). Flatten with wet hands and spread out. Roll with a pastry roller to smooth. Take a pastry cutter (or pizza slicer) and cut dough into desired cracker shapes. Bake in the oven for 35-40 mins. until golden. Watch carefully after 30 mins. to avoid burning the crackers. You might want to flip the crackers half way through cooking. Crackers will also firm up while cooling. Cool for 15 mins. on baking sheet and carefully break apart.
I love these crackers.
They are thick and chewy and oh so good.
You can make Plain Jane's…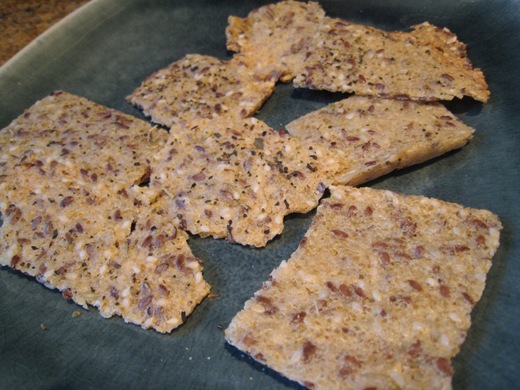 Or All Dressed.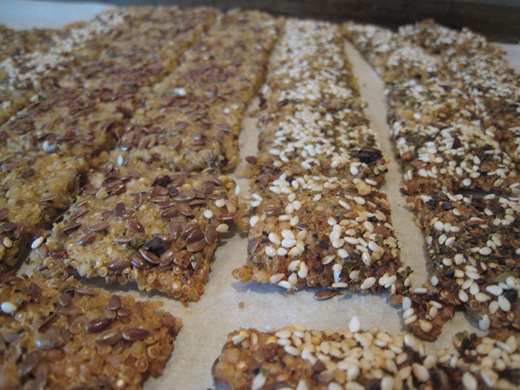 They are chewy, yet crisp.
You can cut them into squares, triangles, large flatbreads (for fun sandwiches), or skinny strips. The sky is the limit!
These also work for breakfast smothered in peanut butter and jam.
Ohhhhhh yaaaaaaaaaaa. Bow wow chicka chicka.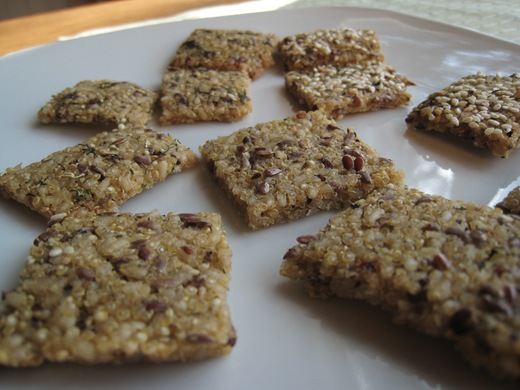 I hope you enjoy them as much as Eric and I do! :D
~~~~
Well, it is back to work for Eric and I tomorrow!
I am working on the new and super exciting Glo Bar Resolution Fit Pack– a variety of Glo Bars to help you get your New Year started off on the healthy foot! Stay tuned for details. :)