TODAY at 8am EST….Track me here!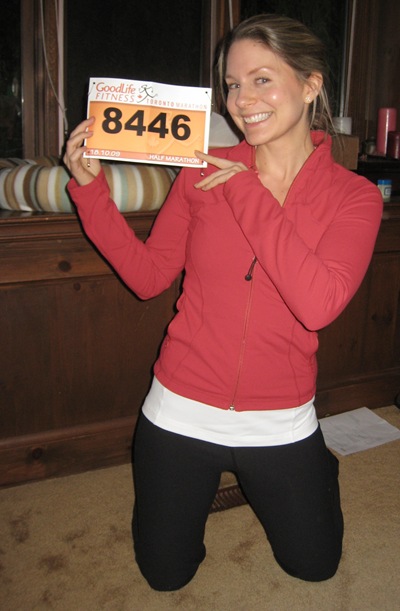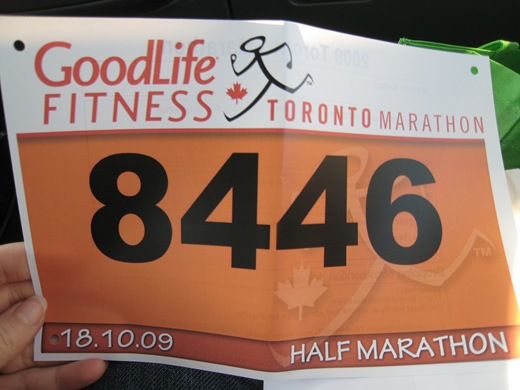 Am I nuts or what?!?!?!?!
It was kind of fun being spontaneous today and just deciding to do it! Ever since we drove to Toronto to register my nerves have been off the hook! I figured two things, 1) I know I am ready and well rested. I ran a half two weeks ago and I have barely run much since. My legs feel good and I am not sore, and 2) I deserve a little 'celebration' after these crazy 2 weeks!
On our way home tonight we went to one of our favourite restaurants- Baton Rouge!
I told Eric my 'treat' for all my hard work was running the half marathon tomorrow. He was like, 'TREAT!?' That doesn't sound like a treat to me.' hehe….only a runner would understand!! ;)
Eric's treat was going to his favourite restaurant! We were famished and I was excited to load up on carbs!
I had to skip the alcohol though…which was hard…because I wanted a huge glass of Merlot.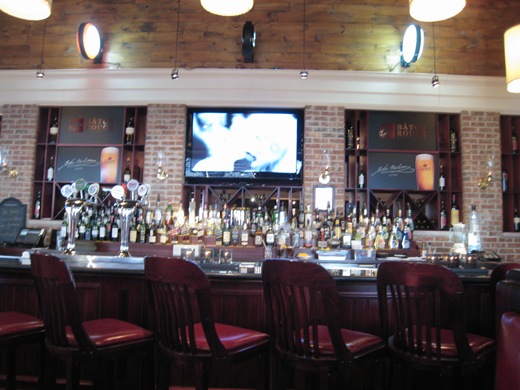 Cold H20 rocks! :(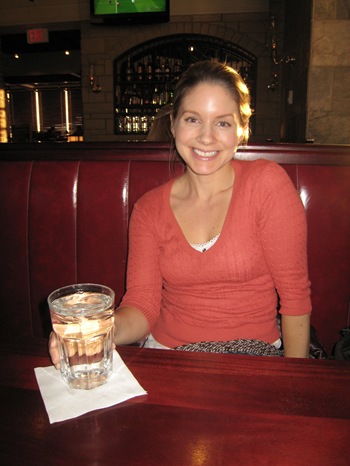 All Eric could think about was his beloved ribs and fries that were on their way. I think he eats meat like once a month now so when he does…oh boy, watch out!!! lol.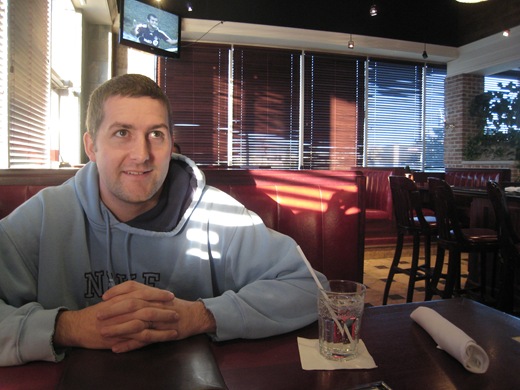 I ordered the Grilled Vegetable Sandwich with roasted cinnamon apples. Oh my GOSH was this ever delicious!
It was about the size of my head and I ate every last bite plus about a serving of Eric's fries.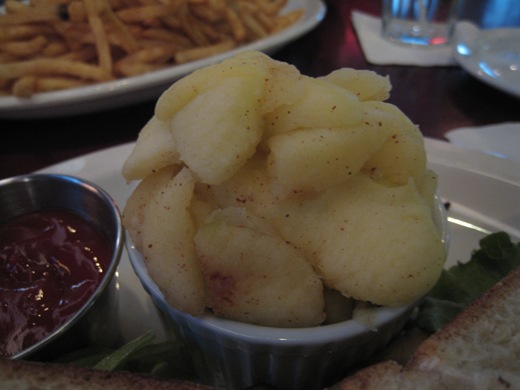 Filled with grilled portabella mushroom, zucchini, romaine, and peppers in a balsamic olive oil dressing.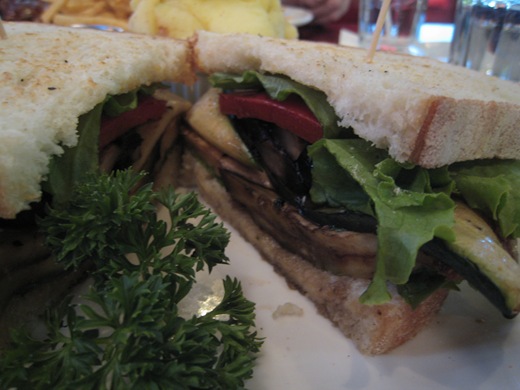 To my delight, the chef was more than willing to accommodate any vegan request! It was one of the easiest restaurants I have been to in terms of flexibility. I never expected this especially given that it is a STEAKHOUSE!
His ribs and fries: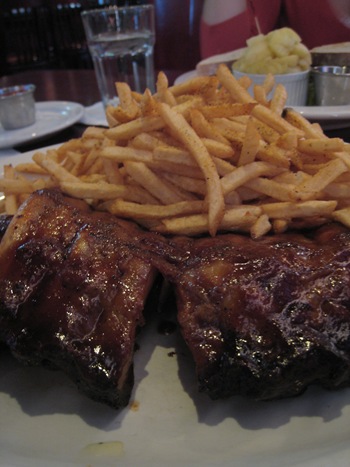 Oh boy! Those are the best fries ever let me add.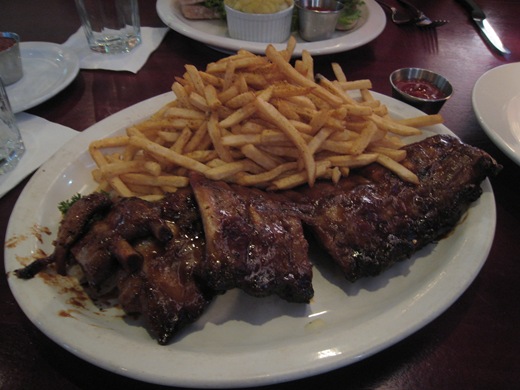 I was cracking up because Eric kept saying, 'Geeze everyone is going to think I am carbo-loading!!' lol.
He said he had to fuel up for his early morning tomorrow!
I don't blame him, poor guy. I told him he doesn't have to come tomorrow, but I think he thinks that is 'wife speak' for I'm going to say you don't have to come but I really hope you do. bahahaha. ;) Perhaps…
Dessert was bread and chocolate. Yup, that's right!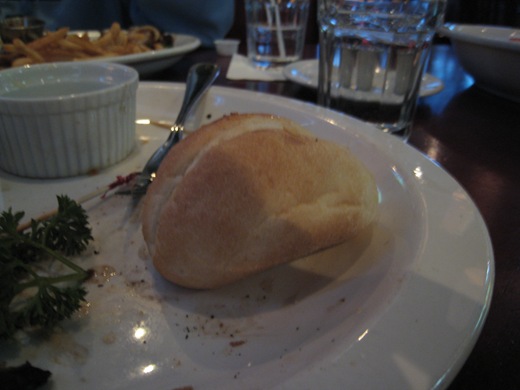 Dark chocolate once home: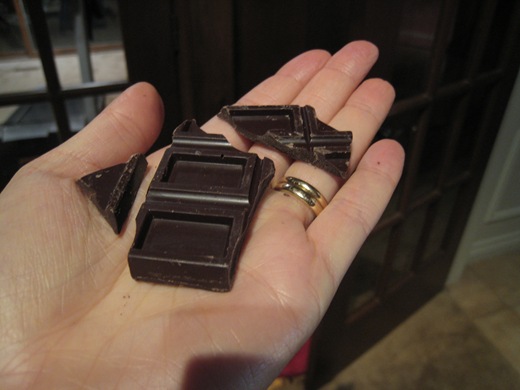 And an Endure Glo Bar: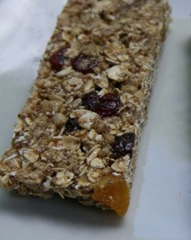 I've been one nervous nelly today. I think it is because I am not sure how I am going to fare in such cold temperatures tomorrow (32F). I hope it doesn't make things too hard on me. Eric's coworker ran this race one year and she said it was so cold the entire run was miserable and she would never do it again. I sure as hell hope that isn't my experience. Kind of freaked me out a little!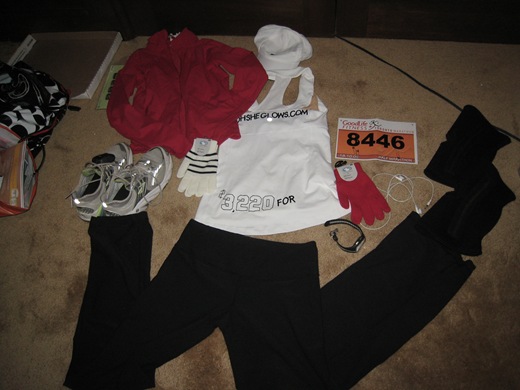 Right now I am *thinking* I am going to wear the white tank + red Shape Jacket + long pants. I am a bit worried that I may get too hot and I won't be able to do anything about it. There is no way I am 'tossing' this jacket either! That would be like leaving my baby on the doorstep of a stranger's house.
I hope that if I roll up my sleeves and unzip my jacket half way that will be enough to cool me down should I get hot. I also toyed with the idea of wearing shorts, and then my legs would be cool but my upper half warm. I don't know!! Ideas?? Has anyone run a race in 30-35F weather?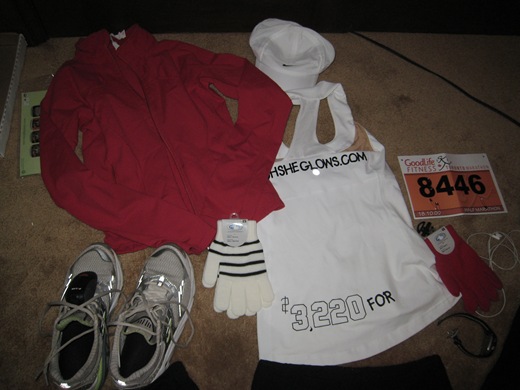 Oh and my pre-half splurge were 69 cent Wal-Mart gloves! hahaha. Sorry Lulu, couldn't afford ya this time. The gloves are good though because I can toss them if need be.
I really can't believe I am running another HALF tomorrow! Crazy. I am so excited!
Track my race LIVE: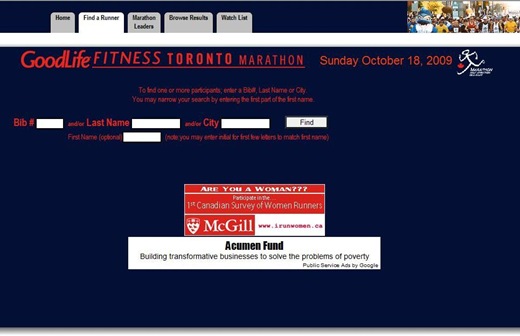 By the way, for those of you who had fun tracking me last time you can track me LIVE again tomorrow morning!
Click here to enter my BIB number: 8446
My race begins at 8am EST! I'd be lying if I said I didn't want to beat my last time (1 hour 57 mins. 45 seconds), however I am just not sure what the cold is going to be like for this half so I am not setting a time goal this time. I am going to do my best and that will be more than enough! :) This is my last 'hoorah' of the year and I want to have fun more than anything.
Stay tuned tomorrow for the race craziness!!! Weeeeeeeeeeeeeeeeeeee
[PS- Eric just said I am a lunatic and if you guys really knew how weird I was you wouldn't read this blog! hahaha!!!! Nice hubby eh?]