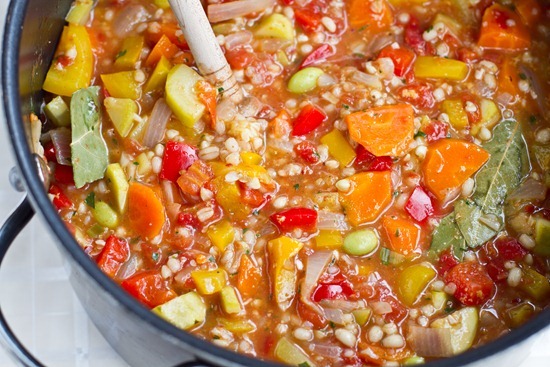 Thank you for your comments in yesterday's post! It really cheered me up when I read them this morning after another rough night of little sleep.
Lately, my eats have looked like this…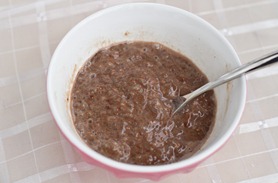 Blah. Those two pictures look about as exciting as I feel right now.
I think Eric got sick of watching me eat oatmeal, Coconut Bliss, and chia seed pudding all weekend, so he took matters into his own hands and made a kick-butt stew for dinner.
He grabbed every veggie he could find and he announced that a HEALING stew would be made for our unconventional Easter dinner.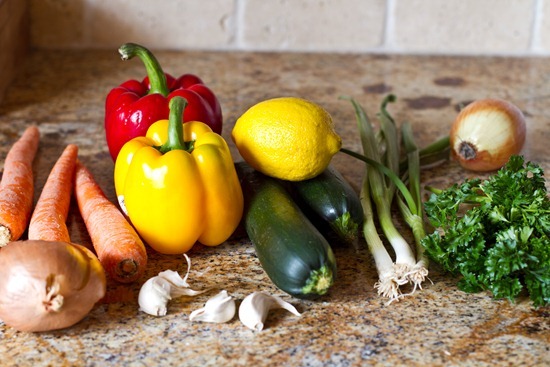 With a little guidance from a recipe on Whole Foods, healing magic happened.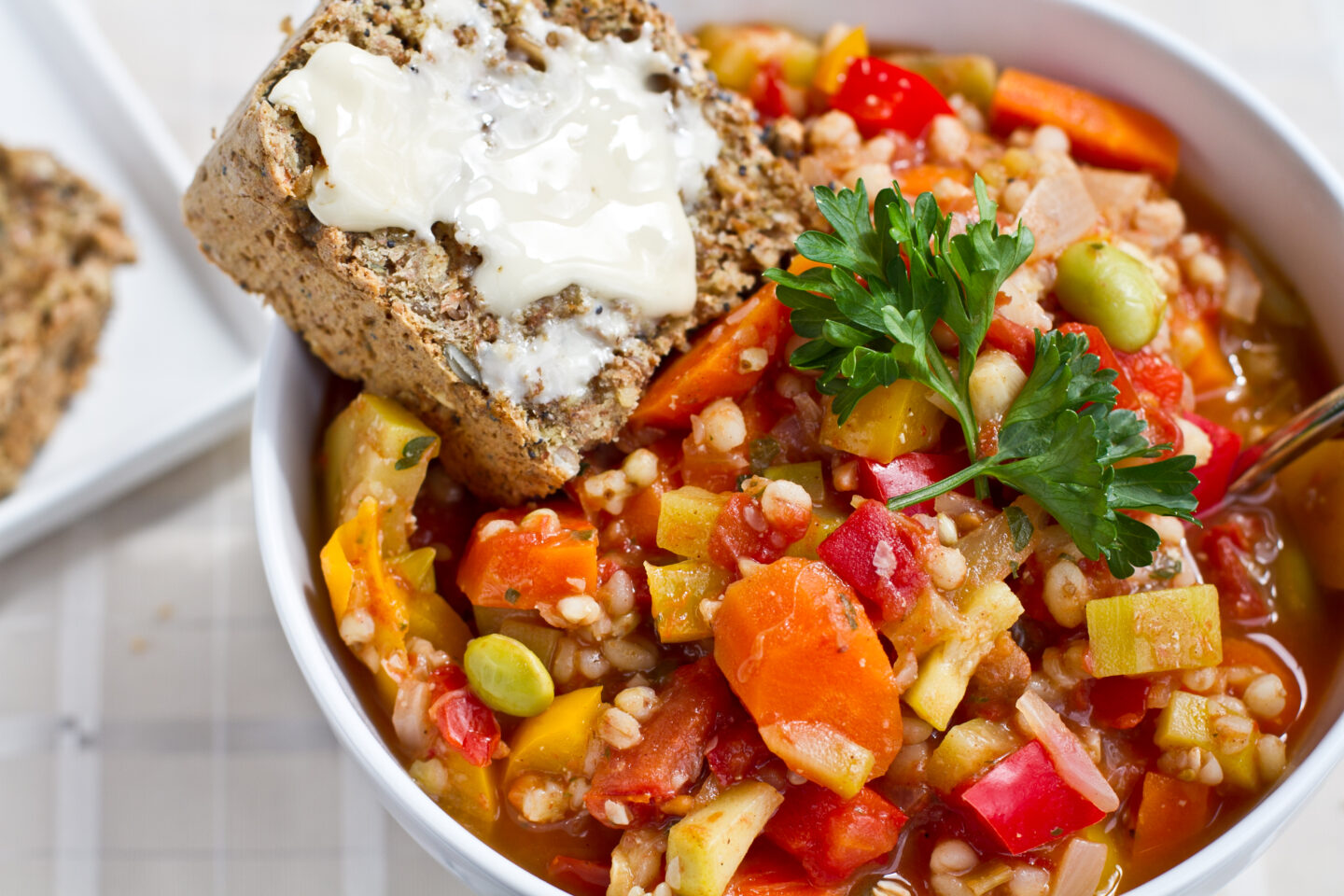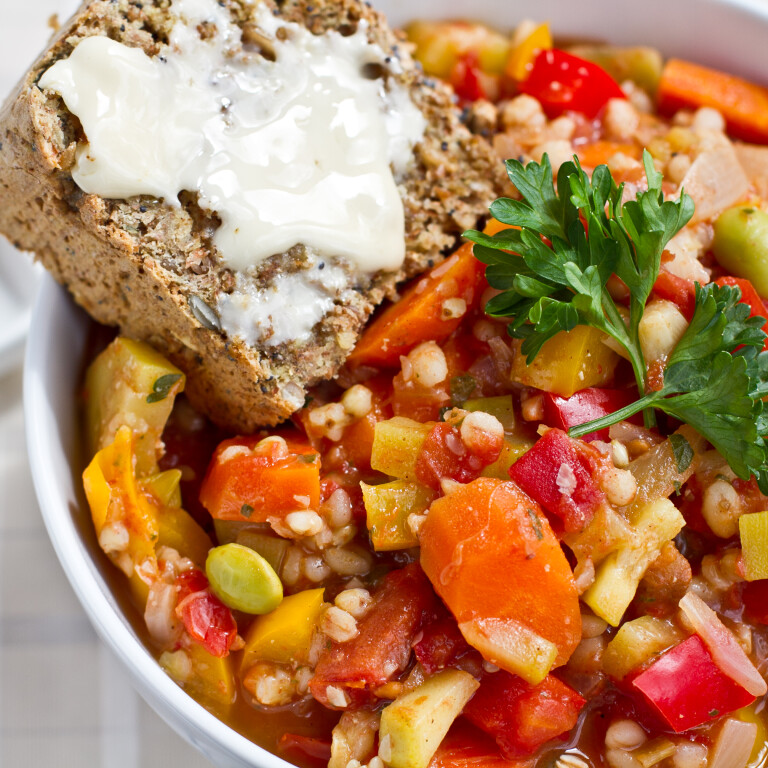 Husband's Healing Stew

Yield

Over 10 cups
Prep time

Cook time

Total time

Ingredients
1 tbsp extra virgin olive oil
2 small sweet onions, chopped
3 garlic cloves, minced
3 green onions, chopped
1 tsp ground cinnamon
1 tsp ground corriander
2 bay leaves (optional)
2 small zucchini, chopped
1 yellow pepper + 1 red pepper, chopped
3 carrots, peeled and chopped
4 cups organic vegetable broth (not low sodium), or more as needed
1, 28-oz can diced organic tomatoes (no added salt)
1/2 cup uncooked raw buckwheat groats, rinsed (or grain of choice)
1/2 cup uncooked pearled barley, rinsed (or grain of choice)
1/2 cup frozen Edamame (or bean of choice)
1.5 tbsp fresh lemon juice
2 tbsp minced fresh parsley
1/2 tsp garlic powder (optional)
5-10 shakes red pepper flakes, to taste
1/2 tsp kosher salt + Black pepper, to taste
Directions
In a large pot over low heat, add 1 tbsp olive oil and the chopped sweet onion, green onion, and minced garlic. Heat over low until translucent, about 5-8 minutes.
Stir in coriander, cinnamon, and two bay leaves and heat an additional minute or two. Now, add in the chopped vegetables (zucchini, peppers, carrots) and cook for about 5 more minutes. Add a bit more oil if necessary.
Stir in the diced tomatoes, vegetable broth, rinsed buckwheat and pearled barley (or grains of choice). Simmer on low-medium heat (dial 3-4) for 20 minutes, checking often to make sure it doesn't burn or thin out too much. Add a bit more broth or water if necessary and reduce heat when needed.
After 20 minutes, add in the lemon juice and additional seasonings- all to taste (minced parsley, garlic powder, red pepper flakes, and salt & pepper). Cook for another few minutes, remove bay leaves, and serve with fresh bread. Freeze leftovers or store in the fridge.
Tip:
You can have success using a wide range of vegetables, seasonings, and grains of your choice.
Always adjust the seasonings to taste and add them gradually. My taste buds are quite muted right now, so we made it spicy. :)
Nutrition Information
(click to expand)
Every good healing stew begins with garlic!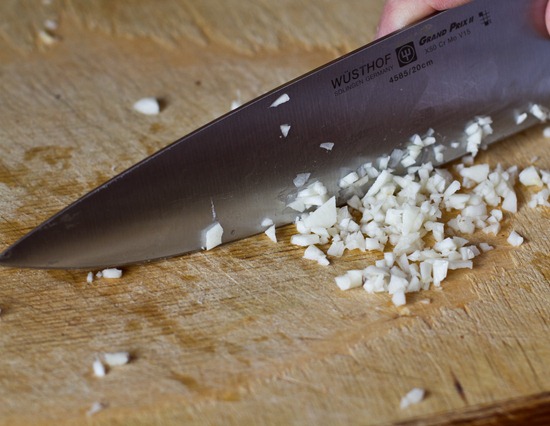 We used pearled barley and raw buckwheat, but you could use any kind of grains you want.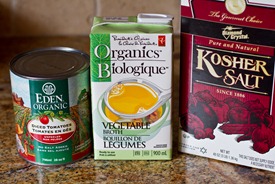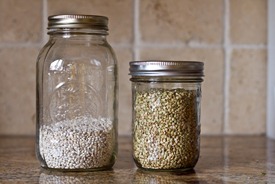 Oh and some frozen Edamame was thrown in at the last minute for extra protein.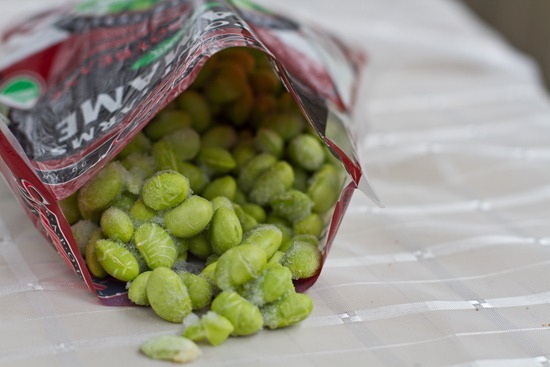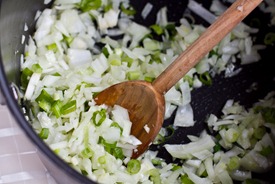 Like most soups, there is a lot of chopping to do, but other than that, it is fool-proof.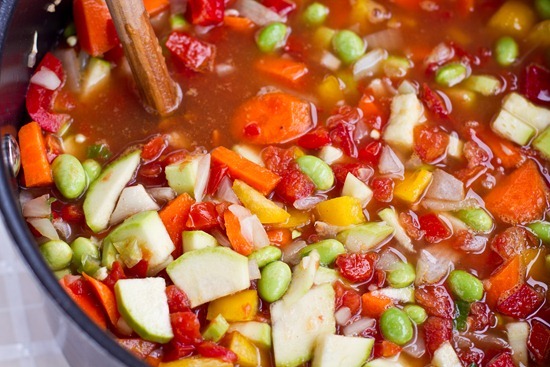 After simmering for 20 minutes the grains cooked up and the stew got nice and thick.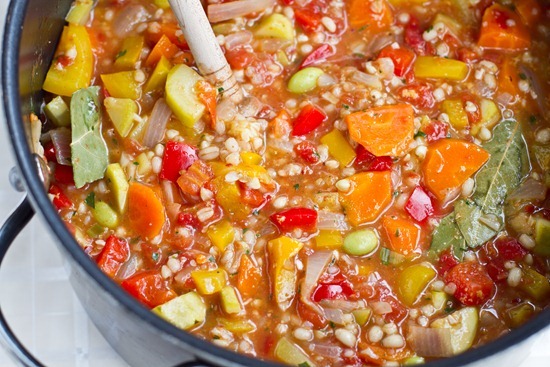 Eric asked me to add more seasonings, and I think I went a bit crazy with the red pepper flakes! He said it was quite spicy, but I didn't really taste it. ;) Oops.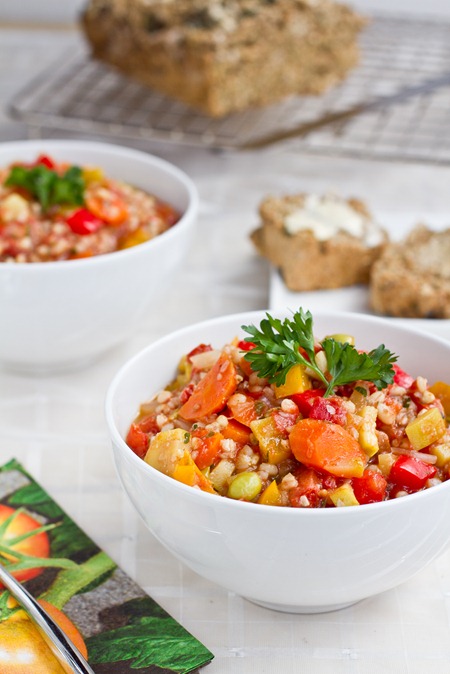 Served with fresh bread and Earth Balance….it was the perfect, healing meal.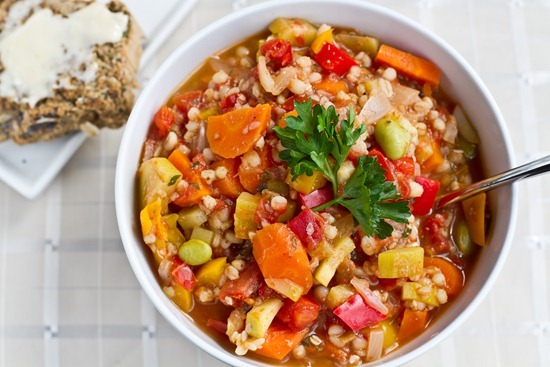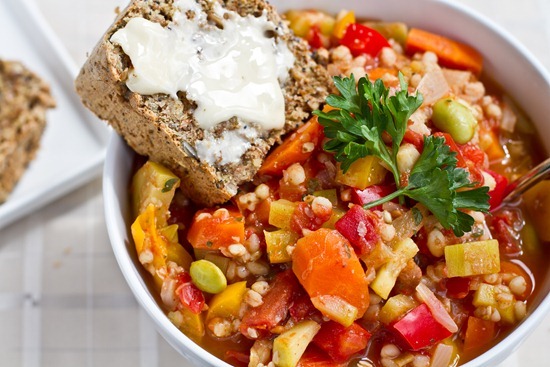 Even though I can't taste or smell that well right now, I know this was a good stew! There was a lot of love in it.
The best part about this stew was that my sinuses were clear after eating it. ;)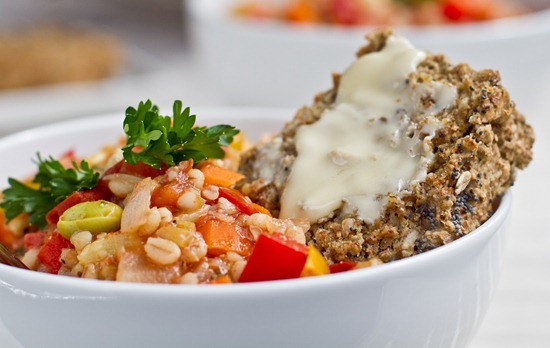 For dessert, we had a piece of Carrot Cake Loaf with Lemon Glaze– which defrosted wonderfully by the way- and was SUPER fresh! We are in love with it. I will be making this loaf again and again.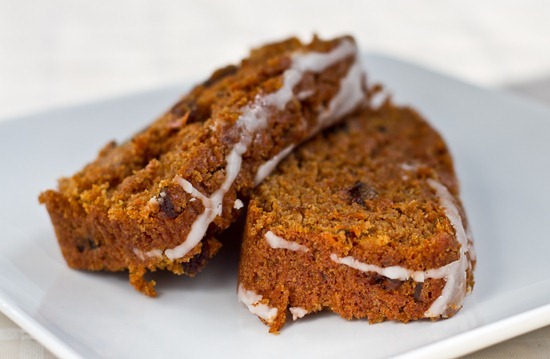 There are a lot of healing leftovers for me this week! Take that flu. I'll squash you like an ant.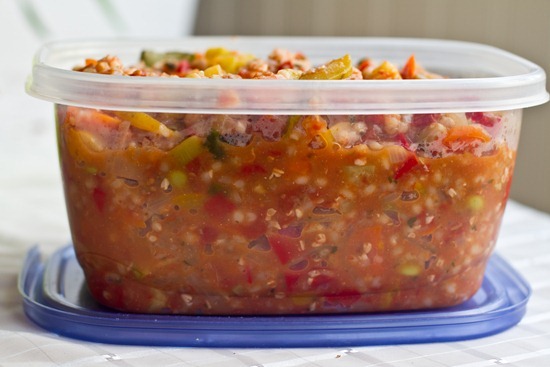 Before you go, I have a little assignment for you…
Quite a few of you expressed interest that you would love a follow-up after my Lessons in Self-Love post. Intuitive and mindful eating seemed to be a topic that you wanted to explore more.
I thought it would be cool to see if you have any questions pertaining to the following areas:
Intuitive & mindful eating
Binge eating
Calorie counting
Weight maintenance
Happy weight
Disordered eating
Body image/Self-confidence
Hunger signals
I will be happy to provide my own experiences if you have anything on your mind that you would like explored more. Just leave your question (or questions) below and I will pick some of them to answer in a follow-up post, Q & A format.