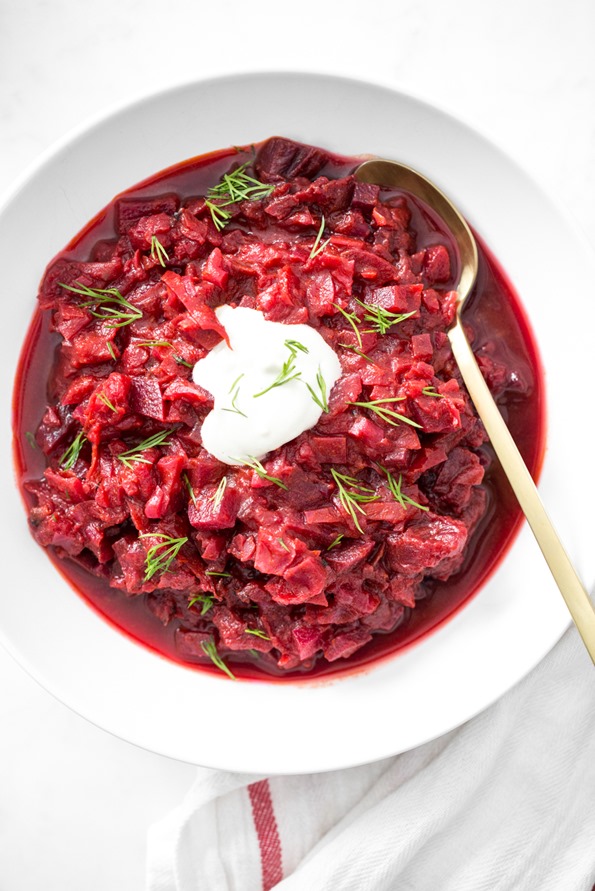 If you've been following my Insta Stories this year, you might've seen that one of my smaller goals for 2017 is to use reusable produce bags. It's something I've tried in the past but never stuck with, so when I told Eric about the goal he wasn't sure that I would actually do it. Especially since I've had a pretty bad case of new-mama brain lately. "This is going to last a week!" he chuckled. But here I am 6 weeks into 2017 and it's going great…mainly because proving him wrong is one of my greatest joys in life.
These are the bags I purchased on Amazon. I love that there are various sizes, and so far they're holding up well! Adriana has also claimed one and likes it when I add a few light groceries into her "grocery bag" while she sits in the cart. Just remind me not to put a clementine in there again; she thinks it's pretty funny when she bites through the skin.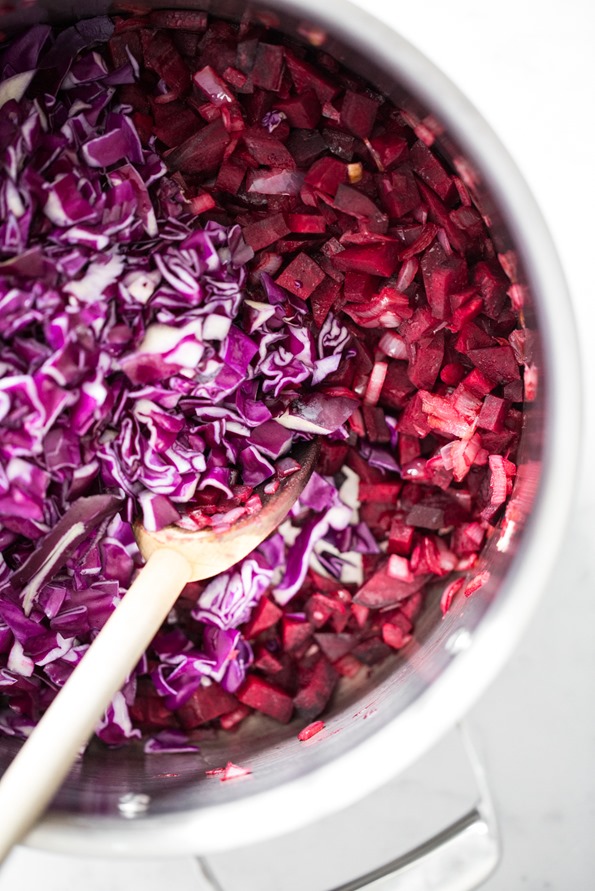 You may suspect we're living off of soup these days due to how many soup recipes I've shared over the past few months, and you might be right! Soup has been our go-to solution during the hectic postpartum season because I can make a big batch and the leftovers only get better as the days go by.
My aunt recently had us over for lunch, and she made this incredible borscht-inspired soup that I immediately knew I had to try to make at home. I couldn't believe how few ingredients she used for a soup that blew us all away. Her secret? A jar of marinara sauce forms the soup's base. My jaw dropped! I recreated the soup at home the very next day, and my jaw dropped again when Adriana ate 3 bowls of it in a row. She was covered in beet stains by the end, but it was worth it because I never thought she'd eat this kind of soup. Heck, I never thought I would enjoy beets in soup either, but it's our new obsession. So if you're worried about a beet and cabbage soup being a bit too earthy-tasting, I encourage you to give this one a try. It's surprisingly sweet, and really satisfying. I'm also convinced the healthy ingredients helped me fight off a cold that was going through our household, too. It's bursting with Vitamin C, iron, and B vitamins, making it a great immune-booster this time of the year!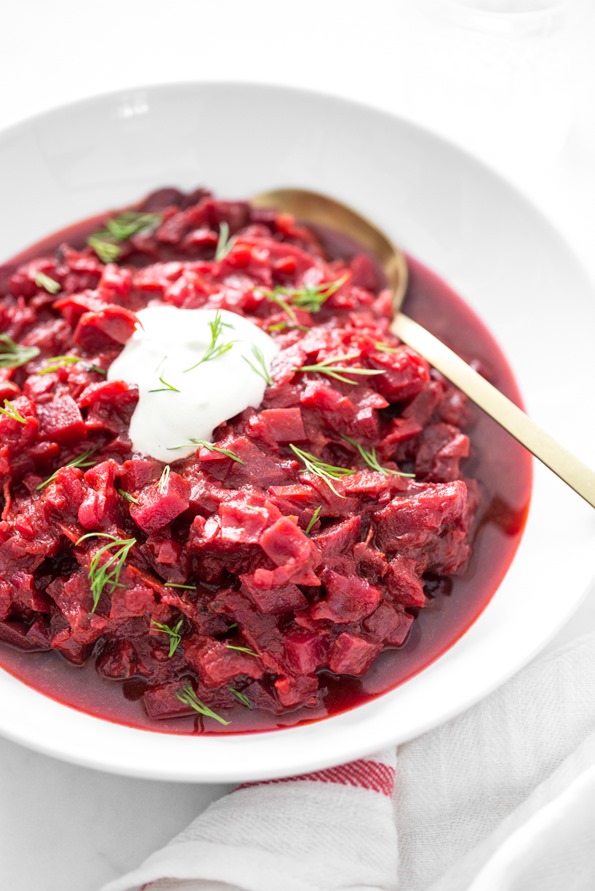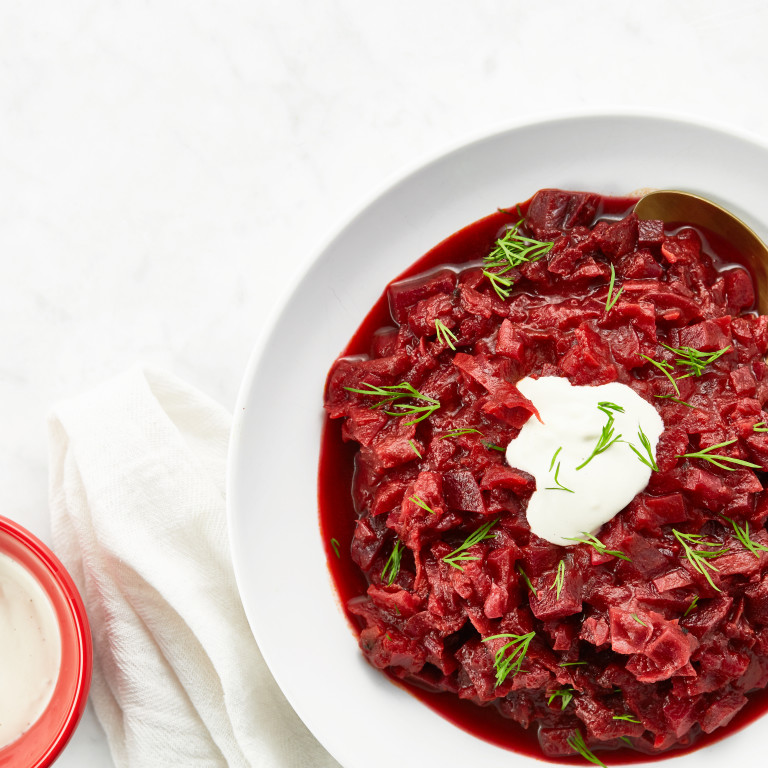 Hunky Heartbeet Cabbage Soup
Vegan, gluten-free, grain-free, refined sugar-free, soy-free

Yield

9 cups (2.1 litres)
Prep time

Cook time

Total time

You won't believe the gorgeous colours in this incredibly healthy, borscht-inspired soup, from the prep stage (gorgeous shades of plum and violet) to the final end result (a bold crimson red). It's the perfect soup to celebrate Valentine's Day (or really, to brighten up any chilly winter day). This soup takes an hour and a half to cook thanks to the raw beets, so be sure to give yourself enough time; the bonus is that you can cover it and walk away as it simmers. To avoid a longer cook time, chopping the beets very small (think pea- or almond-size) is key. A big thank-you to my Aunt Elizabeth for inspiring this soup.
Ingredients
2 tablespoons (30 mL) coconut oil
2 cups (280 g) diced red onion (about 1 medium/large)
5 cups (540 g) diced red cabbage (about 1/2 medium)
4 cups (500 g) peeled and diced raw beets (about 2 large/3 medium)

*

5 cups (1.25 L) marinara sauce

*

*

3 cups (750 mL) water
Fine sea salt or Herbamare, to taste
Cashew Sour Cream, for serving (optional)
Fresh dill, for garnish (optional)
Directions
Add the coconut oil into a large pot. Over medium heat, sauté the onion for about 3 to 5 minutes, stirring once or twice.

Add the diced cabbage and beets. Stir again. Continue sautéeing for another few minutes.

Add all of the marinara sauce and the water. Stir to combine. Simmer the soup, covered, over low to medium heat for 1 hour and 30 minutes to 1 hour and 45 minutes, or until the beets are fork-tender. Your cook time may vary depending on how fresh your beets are and how small you chopped them. (If it's your first time cooking the soup, you may want to check on it a few times and stir to to make sure it's not sticking to the bottom of the pot.)

Taste and season with salt to taste. Ladle

 into a bowl and serve with a spoonful or swirl of Cashew Sour Cream and chopped dill if desired, but it's great all on its own, too.

This soup will keep in the fridge in an airtight container for up to 1 week. It freezes beautifully, too: Simply cool the soup and place it into a freezer-safe container, leaving an inch of space at the top for expansion. Freeze for up to 2 months.
Tip:
* To prevent staining your hands, wear disposable gloves while peeling and dicing the beets.
** If you can find it, I highly recommend using White Linen Collection Marinara Sauce from Costco in this recipe. I use 1 full bottle, which works out perfectly to about 5 cups. It's my favourite store-bought marinara sauce (I have no affiliation with them, by the way, just passing along my personal recommendation!). My Fail-Proof Marinara Sauce from Oh She Glows Every Day is also lovely in this soup!
Nutrition Information
(click to expand)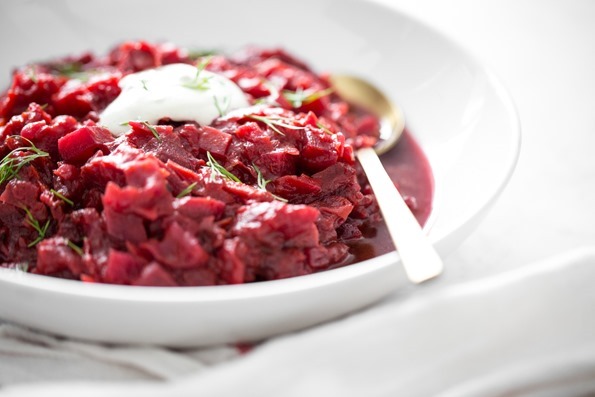 Blessings in a Backpack update:
If you remember, we committed to donating the January revenue from our paid Get Glowing app bundle (for both Android and iOS) to Blessings in a Backpack Canada. I'm thrilled to let you know that we raised enough money to feed 19 children, providing them with a backpack of food to take home every Friday, for an entire school year! A BIG thank-you to everyone who downloaded the bundle of recipes. We couldn't have done this without you!