I'm baaaaaaaack!
Miss me? Better yet…did you miss my tempting recipes popping into your feed each week? I sure have missed you all and this blog. Thankfully, it's finally time to kick up my heels and celebrate because I handed in my second cookbook manuscript yesterday. All 250 pages of it including 100+ recipes (most are new!), headnotes, chapter openers, introductory chapters, etc. I seriously can't believe I did it. Can someone pour me a drink…or 10?! I'm so excited to get my life back in order! And I'm so excited to start sharing recipes on here again at regular intervals. I have SO many ideas/goals/hopes/dreams for this space.
It's funny how different the first book writing process went compared to the second. When I submitted my first book's manuscript, I don't think I had ever felt so much doubt in my life. I had all this anxiety near the very end and concluded that a bunch of finalized recipes had to be re-worked at the last minute. All of a sudden, none of them were good enough. Eric was like, did you fall on your head…they taste amazing! Yes, writing recipes for print brought the cray cray out in me. I turned into a full-fledged RECIPE-ZILLA.
I kept coming back to the age old question – Is this book enough? – which I think deep down means, Am I enough? Am I good enough? Yea, I'm getting deep today. It's a question I've struggled with my entire life so I shouldn't have been surprised when this crippling doubt reared its ugly head. In the end, the first process taught me how to make peace with my work, the creativity I put out into the world, and with whatever the response to the book would be. That's a big one. I just had to let it all go.
I'm not saying I haven't had moments of doubt during the second book's creation because I surely have, but this time around I've felt much more focused, organized, and best of all, confident in my ability. It was something only experience could teach me, I think. Even Eric mentioned how calm I was this last week as I put the final touches on everything. (Ok, ok, I handed it in 4 days late, but when your editor gives you an extra weekend you take it!) Even though I know there is a lot of work ahead (many rounds of edits, design collaboration, press, etc), at least I (kinda, maybe) know what's to come.
But I'm totally not thinking about that right now. Now is the time to drink all the espresso! Can you tell I'm hyper? Just a bit. Yes, I'm getting festive with homemade pumpkin spice lattes, and I hope you'll join me. I'd say these are a serious upgrade from my 2010 attempt (cue nostalgia from a blog post 5 years ago!), but how could it not be with a homemade pumpkin spice syrup?! I am obsessed with this homemade latte recipe. Can't stop. This syrup is a game changer, and you'll find yourself dreaming up many ways to use it. Always a good detective, I bought a legit Pumpkin Spice Latte from Starbucks so I could compare them side by side. Guess which latte won?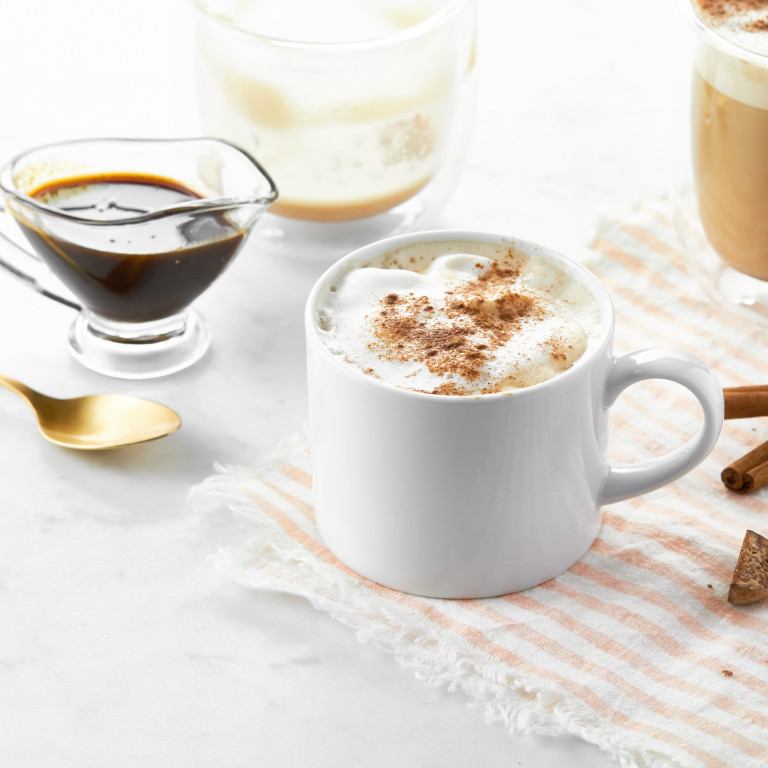 Pumpkin Spice Latte
Vegan, gluten-free, grain-free, oil-free, refined sugar-free, soy-free

Yield

3/4 cup syrup + 1 latte
Prep time

Cook time

Total time

I don't have an espresso machine, so I find the easiest way to make an authentic-tasting latte at home is to simply buy a few shots of espresso at the local coffee shop. I've tried using strong coffee as a substitute for espresso and I find it misses that incredibly rich, deep, and flavorful espresso flavour which I think is key for a latte. That said, feel free to experiment with strong coffee, too (you may want to increase the amount of coffee to at least a half cup or more). Lastly, I discovered that you can create super creamy and frothy almond milk by adding the heated milk into a small French press and pumping the plunger vigorously for 30 to 60 seconds . (Note: Be very careful as it can explode!) This may be an option if you don't have a milk frother. The Salted Pumpkin Spice Syrup is lightly adapted from Paleo'ish On A Dime.
Ingredients
For the Salted Pumpkin Spice Syrup:
1/2 cup (80 g) coconut sugar
1/2 cup (125 mL) pure maple syrup
1/3 cup (80 mL) unsweetened pumpkin purée

*

1 teaspoon cinnamon
1/2 teaspoon freshly grated nutmeg
1/4 teaspoon ground cloves
1/4 teaspoon fine sea salt, or to taste
1/4 teaspoon pure vanilla bean powder or 1 vanilla bean, seeded or 1/2 tsp pure vanilla extract
For the Pumpkin Spice Latte:
2 tablespoons (1 shot/1 ounce) espresso
1 cup (250 mL) unsweetened almond milk
3 to 4 teaspoons (15 to 20 mL) Salted Pumpkin Spice Syrup
Coconut Whipped Cream, for garnish (optional—I usually skip it)
Dash cinnamon or pumpkin pie spice, for garnish
Directions
For the Pumpkin Spice Syrup: Whisk together all syrup ingredients in a medium pot over medium heat. Simmer for about 5 to 6 minutes, stirring frequently, until smooth and slightly thickened. Remove from heat. Once cool, pour leftovers into a jar and secure lid.

Prepare the espresso or pick some up from a local coffee shop.

Add milk into a small pot. Heat over medium and bring to a simmer. Immediately remove from heat. Froth the milk using a milk frother or a French press. Tip: I use my French press to froth the milk. Simply add the heated milk into the press and secure lid (make sure it's closed and not vented). Pump the plunger vigorously for about 30 to 60 seconds. Be careful, as the hot milk can shoot out.

Pour hot espresso into a mug. Top with all of the frothy milk. Add 3 to 4 teaspoons of the syrup, to taste, and gently stir to combine. Top with a dash of cinnamon or pumpkin pie spice, and Coconut Whipped Cream, if desired. Serve immediately. The syrup will keep in an airtight container in the fridge for at least 2 weeks, most likely longer. You can use it in regular coffee, too, or try stirring it into a bowl of hot oatmeal for a seasonal twist!
Tip:
*If your pumpkin puree is on the grainy side (some brands are more than others), it might benefit from a quick blend or puree in the blender or food processor before using.
Nutrition Information
(click to expand)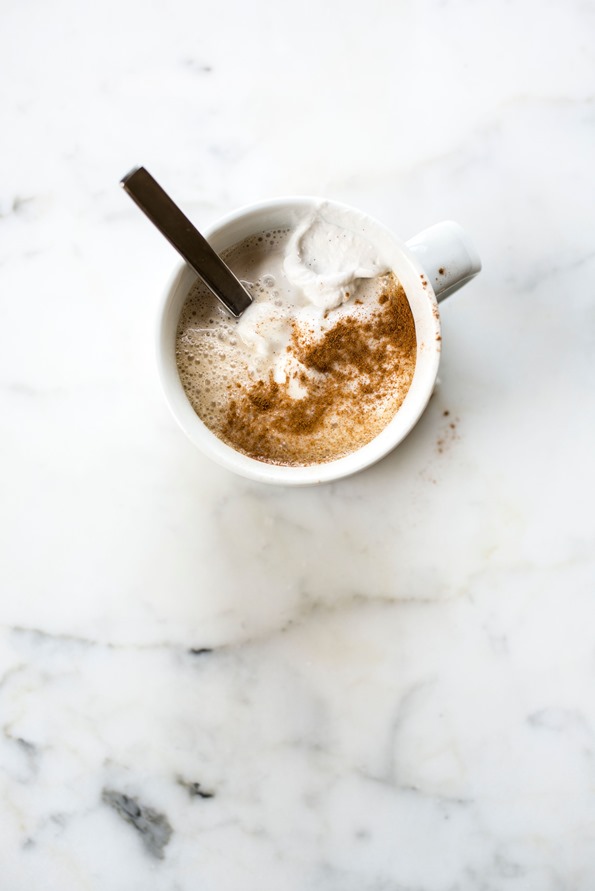 Photography credit: Ashley McLaughlin Photography